* Please note that while this speaker's specific speaking fee falls within the range posted above (for Continental U.S. based events), fees are subject to change. For current fee information or international event fees (which are generally 50-75% more than U.S based event fees), please contact us.
Top25 Speaker Voting

Sally Hogshead needs 15 vote(s) to make it into the Top 25 speakers on Speaking.com!
Speaker Booking Tip
"Tip: ask your speaker to do a book signing or attend a VIP meal with your guests. "
For Event Planners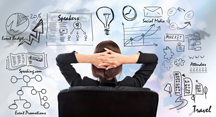 • Keynote Speaker Booking Toolkit.
• Booking a Celebrity Speaker.
• How to Find and Book the Right Speaker.
• Google+ Event Planning Forum.
• Tips for International Clients Booking U.S. Based Speakers.
Similar Speakers
Nido Qubein

Dr. Nido Qubein came to the United States as a teenager with little knowledge of English, no contacts and only $50 in his pocket. His…

Annie Duke

Championship poker player, Annie Duke draws from her twenty-year poker career and cognitive psychology studies to teach people how to make smart decisions in high…

Tal Ben-Shahar

Teaching to over 1400 Harvard University students, Tal Ben-Shahar's course on "Positive Psychology" was the most popular in the University, while another course, "The Psychology…

Your speakers bureau was a tremendous resource for the NHL as we planned and executed our NHL Club Business Meetings. Their assistance with securing our keynote was invaluable. They provided detailed information in a timely manner which was crucial to the success of the event. The execution was seamless!
National Hockey League
About SPEAKING.com
Established in 1994, we are exclusive agents for some of the world's leading experts, celebrities and professional speakers.
We offer event planners a fully staffed speaker logistics planning team, plus a personal SPEAKING.com Account Executive – a knowledgeable and trustworthy partner. We guarantee your satisfaction with your speaker and a smooth booking process.
Contact us today to book your favorite speaker.

"In a word, POWERFUL! We were elated with the response to her keynote."
Michelle Smith, Event Planner
"Sally's ability to analyze the present to build a better bridge to the future is simply FASCINATING!"
Sidney Frank Importing Company
"The F-Score ribbons were a huge hit and helped set the tone for attendees to get to know one another."
Katie Pereira, Event Planner
"Sally is a force of nature. When she walks in a room, the place lights up. When she speaks to that room, people learn."
800CEOREAD
"Sally is an energetic speaker and educator, with a powerful angle on what motivates people to take action. Her style is engaging, entertaining, and sure to make any audience fill a notebook with ideas when she's done."
Human Business Works
"Fascinating! Sally showed our 1,500 small business owners how to use their unique individual strengths, and actively use them to grow their own businesses."
Council of Small Business Enterprises
"Since hiring Fascinate, Inc., we've won every new business opportunity we have engaged in. We literally just signed more new business in the first month of 2011 than all of 2010, and more sizable business than any of the last four years."
Performics
"Not only does Sally's work provide us with new insights and creativity in developing our brand to the next level but it is also refreshing and fascinating to work with her."
JÄGERMEISTER INTERNATIONAL"
"I have worked with and around Sally Hogshead for well over a decade. I can say without reservation that she is one of the most talented creative people and business thinkers in our business. She is relentlessly upbeat, a consummate professional and a pleasure to work with. There is no problem too big or small for her prodigious talents."
JWT North America
"An absolutely mesmerizing speaker... she had our global marketing audience totally riveted."
Avon
"Sally's fresh approach to brand building and creating excitement about our brands stimulated a lot of us to re-think our approach to brand building and marketing our concepts."
SportClips
"In one hour, Sally transformed how our employees think and work. The lasting results have been incredible."
Performics
"Sally kept my audience fascinated from her first word to the end of her standing ovation. She delivers usable 'street level' value for business owners who want to attract, captivate and motivate their customers."
Quantum Club
"I had well over 100 people come up to me and thanked me for bringing in Sally as the opening keynote for Content Marketing World. She set the bar high indeed. She is a true inspiration to me, as well as my team."
Content Marketing World
"Sally's reputation stretches around the globe. Yet when she came to Dubai and taught my company how to create more fascinating ideas, she exceeded everyone's expectations. Sally has universal relevance."
JWT Gulf
"Five years after Sally's first keynote to our group of 4,000 creative professionals, people were still talking about her speech as 'life-changing.' We brought Sally back in 2011, and from the response I'm getting, I expect that people will still be talking about her speech five years from now!"
How Design
"Her information is concise, her communication is direct, her humor is off the charts, and her ability to connect with the audience is 110%. Hire Sally Hogshead NOW."
Jeffrey Gitomer, Best-Selling Author, Sales Bible and Little Red Book of Selling
"Outstanding... Sally's insights into how to be fascinating and represent a fascinating product will pay dividends for many months and years to co me. Our sales force walked out excited and with new ideas on how to do their jobs better."
The Wall Street Journal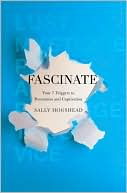 Fascinate: Your 7 Triggers to Persuasion and Captivation
What triggers fascination, and how do companies, people, and ideas put those triggers to use?
Why are you captivated by some people but not by others? Why do you recall some brands yet forget the rest? In a distracted, overcrowded world, how do certain leaders, friends, and family members convince you to change your behavior? Fascination: the most powerful way to influence decision making. It's more persuasive than marketing, advertising, or any other form of communication. And it all starts with seven universal triggers: lust, mystique, alarm, prestige, power, vice, and trust.
Fascination plays a role in every type of decision making, from the brands you choose to the songs you remember, from the person you marry to the employees you hire. And by activating the right triggers, you can make anything become fascinating.
To explore and explain fascination's irresistible influence, Sally Hogshead looks beyond marketing, delving into behavioral and social studies, historical precedents, neurobiology and evolutionary anthropology, as well as conducting in-depth interviews and a national study of a thousand consumers, to emerge with deeply rooted patterns for why, and how, we become captivated.
Hogshead reveals why the Salem witch trials began with the same fixations as those in Sex and the City. How Olympic athletes are subject to obsessions similar to those of fetishists. How a 1636 frenzy over Dutch tulip bulbs perfectly mirrors the 2006 real estate bubble. And why a billion-dollar "Just Say No" program actually increased drug use among teens, by activating the same "forbidden fruit" syndrome as a Victoria's Secret catalog.
Whether you realize it or not, you're already using the seven triggers. The question is, are you using the right triggers, in the right way, to get your desired result? This book will show you.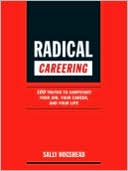 Radical Careering: 100 Truths to Jumpstart Your Job, Your Career, and Your Life
Do you have a career worth loving?
Do you want to become the most powerful, valuable, fulfilled version of yourself? If so, you're a careerist. Advertising and entrepreneurial rockstar Sally Hogshead reveals 100 Radical Truths for closing the gap between your current reality and your utmost potential, including:
#15: Aspire to be the dumbest person in the room
#31: You can be comfortable, or outstanding, but not both
#67: Mistakes are tuition
#96: Expressing your truest self is the ultimate competitive advantage
#100: Make your memoirs worth reading
With groundbreaking research and startling new ideas for success, Radical Careering will become the indispensable owner's manual to your future. Get ready to turbocharge your career with smarter goals, higher market value, and killer results.

Why are you captivated by some people, but not others? How do certain leaders convince you to change your opinion? Advertising icon Sally Hogshead has the answers. In her acclaimed book, FASCINATE, Hogshead brings a strategic marketing approach to the art of influence. Often compared to the work of Malcolm Gladwell and Seth Godin, Hogshead's research weaves together neurology, economics, history, biology, and pop culture.
Sally's energetic style and research-based content instantly command an audience's attention. She's best suited for main stage keynotes, and other events that demand a speaker with authority, power, and passion. A few of her most popular topics include:
THE FASCINATION ADVANTAGE:
Unlocking Your Personality's Natural, Hardwired Strengths
You can fascinate— Sally Hogshead's research proves it. Drawing upon her studies of almost 100,000 people, Sally reveals how to persuade customers and co-workers, using your personality's natural, hardwired advantages.
You don't learn how to be fascinating. You unlearn how to be boring.
When you activate your natural fascination advantages, people completely focus on YOU. They're not checking emails, or thinking about their next meeting. In this state of fascination, they're more likely to respect you, remember you, and buy from you.
In this keynote, Sally will explore the science of fascination as it relates to personal branding. You will learn the brain's hardwired "triggers," and how to:
» Identify what makes your own personality most persuasive
» Apply this "fascination advantage" throughout your personal brand
» Make stronger first impressions with customers and employees
» Rapidly earn respect and trust
» Command attention in meetings
THE 9-SECOND ATTENTION SPAN:
How to Create a Fascinating Brand in Social Media and Beyond
We live in a world with ADD. While the average attention span used to be 20 minutes today, the average attention span is roughly 9 seconds. Nine seconds. That's the same as a goldfish! Your brand might only get 9 seconds to communicate a message… especially in social media.
Lesson one: Stand out, or don't bother.
Sally Hogshead has developed a research-based system to make brands more fascinating. Drawing upon her 20 years of award-winning brand experience, and proprietary market research published in 14 languages, Sally teaches her step-by-step system for harnessing a consumer's attention.
Your audience will experience a thrilling journey through neurology, economics, history, and the science of the brain's hardwired fascination triggers. They will learn how to:
» Build trust and respect, using the brain's hardwired patterns
» Out-think the competition, rather than out-spend them
» Build word-of-mouth excitement in marketing and social media
» Increase prices and drive bottom-line growth
» Create raving, loyal fans
» Have the biggest budget OR be the most fascinating
COMPLIMENTARY ADD-ONS FOR EVERY KEYNOTE
The Fascination Advantage personality test All participants receive one free code for The Fascination Advantage Starter Kit (normally $17). This personality test, developed by Sally Hogshead, is based on research of almost 100,000 participants. This test is not about how you see the world, but how the world sees you.
Your group's custom "Fascination Fingerprint" Sally's team will do a custom analysis on your audience, revealing their "fascination fingerprint."

Sally Hogshead: TEDxAtlanta - How to Fascinate
"Brands intentionally activate every one of these seven triggers every day, but so do people," explains Sally Hogshead, discussing how the triggers with which the brain is hardwired to react can be activated in order to make people pay attention to you. She exhorts her audience to "Identify what makes you fascinating, then use more of it, expand it, and express it."
Keynote Speech
Sally Hogshead Live at Content Marketing World