* Please note that while this speaker's specific speaking fee falls within the range posted above (for Continental U.S. based events), fees are subject to change. For current fee information or international event fees (which are generally 50-75% more than U.S based event fees), please contact us.
Top25 Speaker Voting

Sally Helgesen needs 9 vote(s) to make it into the Top 25 speakers on Speaking.com!
Speaker Booking Tip
"Tip: find a speaker in your local area to save on travel costs. Most speakers will also reduce their keynote fee for local events. "
For Event Planners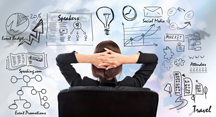 • Keynote Speaker Booking Toolkit.
• Booking a Celebrity Speaker.
• How to Find and Book the Right Speaker.
• Google+ Event Planning Forum.
• Tips for International Clients Booking U.S. Based Speakers.
Similar Speakers
Victor Antonio

Leading sales expert Victor Gonzalez uses buyers' perspectives to help organizations up their sales by nudging, not pushing. The riveting speaker's programs cater to entrepreneurs…

Samuel Betances

A passionate believer in equality, as befits a biracial, bicultural and bilingual citizen of the world, Dr. Samuel Betances challenges his audiences to embrace diversity…

Julianne Malveaux

Noted academic, economist and expert on African-American/Black History, Dr. Julianne Malveaux's insightful and colorful writing and broadcasting is shaping public dialogue on race, culture and…

Finding the appropriate speaker for an event is a challenge. Your stellar speakers agency made the process extremely easy. I would recommend your agency to anyone.
Mercury University
About SPEAKING.com
Established in 1994, we are exclusive agents for some of the world's leading experts, celebrities and professional speakers.
We offer event planners a fully staffed speaker logistics planning team, plus a personal SPEAKING.com Account Executive – a knowledgeable and trustworthy partner. We guarantee your satisfaction with your speaker and a smooth booking process.
Contact us today to book your favorite speaker.

"Sally Helgesen is a brilliant thinker who can turn her great ideas into practical advice. No one can provide greater insight for women on seeking to be leaders or for organizations trying to develop talented women."
Marshall Goldsmith,
author ofMojo: How to Get It, How to Keep It, How to Get It Back

"The feedback from participants was overwhelming -- Sally packed a wallop with her insights."
Chris St.Clare,
Partner & Women′s Advisory Board,
KPMG

"Powerful and engaging."
Mary Howell,
EVP,
Textron Corp

"Sally strikes a raw nerve on the most pressing topic of the day. Full of practical solutions and great ideas."
Alicia Whitaker,
MD Global HR,
CreditSuisse

"Sally is provocative yet practical in offering proven strategies for leveraging the power of in the global marketplace."
Bill Mills,
VP, Talent Management,
United Way of America

"Great takeaways and plenty of aha′s."
J. Michael Keeling,
President,
ESOP Association

"Sally hit it out of the park! Her deep research and personal passion resonated immediately with our audience. Her insights were practical and actionable. A huge plus, highest rating."
Trudy Bourgeois, The Network of Executive Women's Leader's Forum

"Sally provided great insights on what makes women effective leaders. I find myself sharing what she said with colleagues male and female!"
Lynn B Nichols, President and CEO, Massachusetts Hospital Association
The Female Vision: Women′s Real Power at Work
Women and men experience the world differently—not only do they see things differently, but they see different things. Men tend to have a bottom line, sharply focused, linear way of thinking that excludes any role for emotion or empathy. Women are more empathetic, more aware of the critical impact of interpersonal factors both within and without the organization. Both perspectives are important, but at the moment organizations only reward traditionally male skills and points of view.

Based on extensive research and workplace experience, The Female Vision demonstrates that what women perceive in organizations and beyond that goes unnoticed and unrewarded is exactly what so many companies need to succeed. Helgesen and Johnson delve deeply into the stories of a number of women whose vision improved their companies—although often they had to struggle not only against unresponsive organizations, peers, or others, but also against their own personal fears. They show how companies can create environments that welcome and encourage women to share what they notice, to the benefit not only of the women themselves but also, perhaps ironically, to the all important bottom line.
Order Here


Thriving In 24/7: Six Strategies for Taming the New World of Work
24/7: Twenty four hours a day, seven days a week. Not long ago, the phrase might have been used to describe the challenges of being a working mother. But now, in the wired world of the new millennium, men as well as women struggle with a new way of life. More and more, work invades our home lives, and leisure time is often so regimented that it begins to seem like work. Our relationship to time is transformed by technologies that operate at a speed beyond conscious thought. And as the stages of our lives become less and less predictable, it becomes increasingly difficult to prepare for the future.

Sally Helgesen′s lucid new book will help readers restore their equilibrium. She both describes the 24/7 phenomenon and offer six strategies for dealing with it—strategies that anyone can master. She focuses especially on the ability to improvise, to be partners in change with our employers, to be open to innovation, and to "customize our lives." And based upon hundreds of interviews with men and women adept at navigating the 24/7 world, as well as personal experience, she weaves in anecdotes that illustrate the strategies in action.

Thriving In 24/7 is an indispensable handbook for anyone who wants not merely to survive but to thrive in the new world of work.
Order Here


Female Advantage: Women′s Ways of Leadership
Now in Currency paperback — Sally Helgesen′s classic study of female leaders and how their strategies represent a highly successful revision of male leadership styles. Sixty thousand copies in print! In her bestselling 1990 book, Sally Helgesen discovered that men and women approach work in fundamentally different ways. Many of these differences hold distinct advantages for women, who excel at running organizations that foster creativity, cooperation, and intuitive decision-making power, necessities for companies of the twenty-first century.

Helgesen′s findings reveal that organizations run by women do not take the form of the traditional hierarchical pyranaid, but more closely resemble a web, where leaders reach out, not down, to form an interrelating matrix built around a central purpose. The strategy of the web concentrates power at the center by drawing others closer and by creating communities where information sharing is essential. She presents her findings through unique, closely detailed accounts of four successful women business leaders — Frances Hesselbein of Girl Scouts USA, Barbara Grogan of Western Industrial Contractors, Nancy Badore of Ford Motor Company′s Executive Development Center, and Dorothy Brunson of Brunson Communications. Helgesen observes their meetings, listens to their phone calls and conferences, and reads their correspondence. Her "diary studies" document how women leaders make decisions, schedule their days, gather and disperse information, motivate others, delegate tasks, structure their companies, hire, and fire. She chronicles how their experiences as women — wives, mothers, friends, sisters, daughters — contribute to their leadership style.
Order Here



Acting on the Female Vision
For women's leader ship conferences, retreats and events

Women′s distinctive vision— the power of what they notice, what they value, how they connect the dots– should be a competitive advantage in today's global marketplace. Yet because women′s ways of seeing have not been recognized or understood, women's potential to make strategic contributions is rarely fully engaged.

In this keynote, Sally draws on insights from two decades of groundbreaking research to help women use the power of what they see to position themselves as visionary leaders. Using vivid examples, she provides a clear blueprint that shows women how to:

Articulate a strong vision based on what they most authentically notice
Frame their intentions in a language that compels attention and respect
Enlist allies who support what they are trying to achieve
Hold themselves accountable for their own progress
Build the strong presence that visionary leadership requires

Sally also shows how organizations can make better use of women's visionary capacity to:

Develop information about internal and external relationships, shifting markets, and potential conflicts
Analyze data in a comprehensive and nuanced way
"See around the corners" to anticipate future business needs
Make decisions that address both long and short term goals
Improve customer experience at every point in the transaction

Participants will come away from this program with:

Enhanced understanding of what they have to contribute to their organizations
Tools for increasing their visibility and influence
Practical ways to leverage relationships rather than just build them
A proven means for strengthening their webs of support among both men and women
Simple techniques for enhancing leadership presence

Acting on The Female Vision can be delivered in formats ranging from a 45 minute keynote to a half day seminar. The major practices also provide rich material for breakouts or workshops that follow on from a keynote.

Sally has delivered customized versions of this content for women in financial services, health care, technology, consumer products, legal and consulting firms, associations, media, education, the military and non-profits.

Leading in 24/7
Leading in an intense, demanding, 24/7 global environment requires a distinctive set of skills. In this seminar, Sally describes the forces that are transforming opportunities in the marketplace and defines skills leaders will need to take advantage of them.

Fast Forwarding The Female Advantage
In this keynote or seminar, Sally shows why skills women bring to organizations are precisely what organizations need today. She also addresses the major challenges women still face as leaders: achieving visibility, building support, setting boundaries, and influencing up.

Leading from the Center of the Web
Sally draws on her classic book, The Web of Inclusion, to show how leaders can leverage the power of internal and external webs to engage the talents and ideas of people at every level in the organization. By breaking down the industrial era divide between what people see and what they do, leaders can achieve extraordinary results. From Diversity to Inclusion
For diversity, inclusion and innovation conferences and employee resource group events


Diversity defines the talent base in organizations today—both demographic diversity and diversity of values. Yet organizations still struggle to engage the best talents of diverse employees in meeting core strategic and business needs. As a result, diversity efforts remain silo'd, internally focused and underleveraged.

In this keynote, Sally draws on 17 years of work with diverse teams around the globe to show how organizations can engage the full talents of all employees in meeting marketplace demands by creating the conditions in which inclusive leadership can thrive. Recognizing that inclusion is not an ideal but a practice, she demonstrates how to define, encourage, model, mentor, measure and reward inclusive behaviors.
Keynote Speech - Google Talks
Drawing from 25 years of research and fieldwork focused on women leaders, Sally Helgesen presents trusted guidelines on developing a leadership style and managing women team members in a way that maximizing their talents. She navigates the audience through research that led to two "red hot" insights regarding the way women manage their careers and position themselves in their organizations.
Sally's research was inspired by the lack of literature addressing how women could leverage their leadership styles: instead every paper she found stressed the need for women to change their leadership styles so that they would be more similar to men's. "There was no acknowledgement that women might have something to contribute," she recalls. "Or that what they might have to contribute could be valuable to organizations in helping them change and thrive in a rapidly changing environment."
Women's Leadership Summit Keynote Speech
Speech Excerpt