* Please note that while this speaker's specific speaking fee falls within the range posted above (for Continental U.S. based events), fees are subject to change. For current fee information or international event fees (which are generally 50-75% more than U.S based event fees), please contact us.
Top25 Speaker Voting

Roxanne Emmerich needs 6 vote(s) to make it into the Top 25 speakers on Speaking.com!
Speaker Booking Tip
"Tip: find a speaker in your local area to save on travel costs. Most speakers will also reduce their keynote fee for local events. "
For Event Planners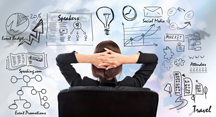 • Keynote Speaker Booking Toolkit.
• Booking a Celebrity Speaker.
• How to Find and Book the Right Speaker.
• Google+ Event Planning Forum.
• Tips for International Clients Booking U.S. Based Speakers.
Similar Speakers
Lior Arussy

The recipient of CRM Magazine's "Influential Leader Award", Lior Arussy is known as a man who gets results in the fields of customer experience and…

Michelle Gielan

Michelle Gielan, national CBS News anchor turned positive psychology researcher, is the bestselling author of Broadcasting Happiness. Michelle is the Founder of the Institute for…

Mike Robbins

Author of three books, Focus on the Good Stuff, Be Yourself Everyone Else is Already Taken, and his latest, Nothing Changes Until You Do, Mike…

My Account Executive was able to work within my quick turn around time and price limitations to find the perfect speaker for the job. Although I thought finding and booking a speaker for our sales meeting would be the most difficult part of the planning process, your agency made it the easiest.
Ales Group USA, Inc.
About SPEAKING.com
Established in 1994, we are exclusive agents for some of the world's leading experts, celebrities and professional speakers.
We offer event planners a fully staffed speaker logistics planning team, plus a personal SPEAKING.com Account Executive – a knowledgeable and trustworthy partner. We guarantee your satisfaction with your speaker and a smooth booking process.
Contact us today to book your favorite speaker.

"Perfect! Finally the toughest subjects presented with straightforward, common-sense solutions."
Warren Chirhart, Customer Satisfaction Manager, 3-M

"As a leader you have no choice-step up or step out! Let the Breaking the Rules authors teach you how to thrive in today's workplace."
Deb Ravetta, Vice President, Ameritech Cellular

"Concise and straightforward. A great resource for busy managers!"
Tim Shirley, Performance Manager, Coca Cola

"As leaders, managers and coaches, we are challenged each day with the demands for shorter cycle time, improving customer service and the need for focused team effort. The Breaking the Rules series, filled with implementable, collaborative business ideas, can help leaders at all levels reinforce the skills necessary to be successful in today's fast-moving business environment."
Bob Puissant, Vice President, Inacom

"If only you could park a dozen or so great ideas-just the facts, and a couple of quick tips to focus your actions-someplace where they'd be handy when you need them. Done. Here they are. Simple. Concise. Proven. Practical. Just add sweat equity and you're ready to go."
Dick Schaaf, author of Keeping the Edge

"Innovative, creative, yet practical. What a combination!"
Jack Frick, Manager of Performance Development, SECURA Insurance

"A wealth of real wisdom-approachable, efficient, effective!"
Robert Shavor, faculty member, University of Wisconsin-School of Business

"Read the Breaking the Rules series. It's thought provoking and insightful-just plain good stuff. Perfect food for your brain!"
Tim Richardson, co-author of Transformational Thinking

"Finally! Management made F-U-N! A comfortable read with put-'em-to-work ideas."
T. Scott Gross, author of Positively Outrageous Service and Showmanship

"The audience participation was fantastic and everyone left with a great, optimistic feeling about our future."
Kimberly Snavely, The Coffee Beanery, Ltd.

"You were easily one the favorite presenters. Everyone's evaluations rated you as an 'A' (excellent), with many adding spontaneous comments such as 'fabulous' and 'inspiring."
Thomas O'Dowd, Director of Meetings, Alliance of American Insurers

"Your presentation was excellent and you opened our conference in a positive, ′WOW′ kind of way. I have told all the other meeting planners at the American Bankers Association that ROXANNE EMMERICH RULES!"
John Blanchfield, American Bankers Association

"Your opening keynote was met with top marks. Your enthusiasm, professionalism and energy truly resonated with everyone and both your presentations were the top rated of the conference."
Penny Dudley, Executive Director, Financial Women International

"Your last visit continues to pay off handsomely. The standards you helped us develop are still talked about at every staff meeting years later."
Clarence Jones, Chairman/CEO, Farmers & Merchants Bank

"By unanimous consent, our management team has requested that Roxanne return and keep working with us!"
Dave Roberts, Director of Human Resources, CES International
Thank God It's Monday! is about loving what you're doing and creating massive results. Roxanne Emmerich introduces you to two CEOs: one desperately struggling to stay afloat and another who's discovered a better route to growth and profitability. As you join them both on their journey, you'll gain valuable insights for jumpstarting positive change from anywhere in the organization…replacing dysfunctional organizational behaviors with passion and creativity…overcoming setbacks…making vision and values actually work!

Whether you're on the front line, in an office, or running the show, you'll see how to:

Replace dysfunctional behaviors with passion and creativity
Overcome setbacks with a "bring it on" attitude
Breathe results-generating life into vision and values
Think big and make big things happen

Thank God It's Monday! presents a unique approach that makes an impact on three groups at once:

Employees discover how to win at work and love their work
Companies turn around results quickly and profoundly
Customers experience a powerful and visible commitment to their success

You will shift from a "why we can't" to a "how we can" workplace...in one day! Your customers will go crazy about you. You will find yourself loving to go to work where everyone exclaims, Thank God It's Monday!
Order Here
Roxanne′s Most-Requested Speaking Topics
Roxanne Emmerich offers a number of custom speaking programs to ignite your organization′s sales and service culture. Each program Roxanne offers is 100% customized to achieve the breakthrough results and positive motivation you need.
Profit-Growth Essentials
How to Master the 7 Breakthrough Strategies of Top-Performing Businesses
Did you ever get the feeling there′s a better way to skin this cat? While researching her new book, "Profit-Growth Banking: How to Master 7 Breakthrough Strategies of Top-Performing Banks," Roxanne Emmerich discovered that the differences in strategy between the top performers and the rest of the herd in any business venture are profound.
In this dynamic presentation, Roxanne offers ways you can:
Catapult your revenue and profits--regardless of the economy.
Create winning positioning that attracts more high-profit customers
and high-potential members. Understand why almost every business is ′dead wrong′ when it comes to their their sales and marketing strategies.
Create an environment where people thrive and work with enthusiasm that breathes new life into your business′ bottom line.
Explore why many well-meaning management practices actually sabotage results.
Understand how to attract and motivate top performers.
Find out how to do more with less and better than ever by outsmarting your competition.
Thank God It′s Monday
How to Build a Motivating Workplace
Based on her best-selling business book by the same name, this presentation by Roxanne is all about your employees and your workplace.
Specifically, are your people bringing all of their passion, commitment, skills and enthusiasm to the workplace every day? Do you need a way to bring together your fragmented teams to work for one larger vision? Are dysfunctional viruses such as whining, gossip, and sabotage contaminating the spirit of winning you want to create? Roxanne also explains why almost every business is ′dead wrong′ with their approach to motivating employees!
Other topics covered in this presentation include:
Explore why many well-meaning management practices actually sabotage results.
Understand how to attract and motivate top performers.
Profound Transformations
How to Radically Transform Your Company for More Profit-Rich Growth
Some people insist that it takes two years to "transform a culture." Roxanne Emmerich says, "Only if you say so!"
If you′re ready to witness a miracle before your very eyes, know that it is possible. Roxanne has seen it happen after a one-day program; hundreds of companies have doubled their service scores within 30 days. And almost as many have seen sales growth increases from 30 percent to well over 100 percent.
The real miracle is seeing how these organizations have become alive and passionate places to work, with focused energy and iron-clad systems for integrating strategy, marketing, sales, and service (we know this doesn′t sound possible-but it is.)
Other topics covered in this presentation include:
Dramatically increase your service scores in 30 days.
Increase sales growth.
Integrate marketing, sales and service effectively.
Demo Video
Sharing the amusing story of her first trip to the Mall of America, Roxanne Emmerich speaks on the dangers of falling into patterns and losing your identity at work. While perusing the stores, she and the shop employees literally exchanged the same dialogue of "Can I help you?" and "No, just looking" 20 or so times.
One young salesman however broke the mold greeting her with the words "Stay there" when she walked into his store. He brought her a blue sweater, draped it over her shoulders, and dragged her to a mirror, saying, "Look at what this blue sweater does to your blue eyes. You'd have to carry a baseball bat just to beat away the men."
"I own that sweater," Roxanne reports. "Along with half of the things that were in that store because this young man knew how to be extraordinary." Driving home that day, she began to ask herself, "What are the ways in which you are desperately trying to fit in and not being who you are?"