* Please note that while this speaker's specific speaking fee falls within the range posted above (for Continental U.S. based events), fees are subject to change. For current fee information or international event fees (which are generally 50-75% more than U.S based event fees), please contact us.
Top25 Speaker Voting

Ross Shafer needs 6 vote(s) to make it into the Top 25 speakers on Speaking.com!
Speaker Booking Tip
"Tip: some speakers might provide one of their popular book titles as a free gift to your audience. "
For Event Planners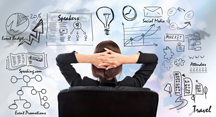 • Keynote Speaker Booking Toolkit.
• Booking a Celebrity Speaker.
• How to Find and Book the Right Speaker.
• Google+ Event Planning Forum.
• Tips for International Clients Booking U.S. Based Speakers.
Similar Speakers
Reggie Brown

Even SPEAKING.com can't get you the current President of the United States for your event (yet!), but comedian Reggie Brown is very much the next…

Steve Rizzo

Steve Rizzo is a personal development expert, comedian, motivational speaker and author known for his popular PBS special. As a comedian, he was chosen as…

The Water Coolers

For nearly 15 years, THE WATER COOLERS have entertained audiences around the world, as far reaching as Singapore and Australia, with their high energy, uncommonly…

Our Account Executive was a pleasure to work with to arrange our keynote presenter for the Sustainable Brands Sydney Conference. He was swift to respond and his communication was always clear. If I am looking for international speakers, I will think of SPEAKING.com in future.
Sustainable Brands
About SPEAKING.com
Established in 1994, we are exclusive agents for some of the world's leading experts, celebrities and professional speakers.
We offer event planners a fully staffed speaker logistics planning team, plus a personal SPEAKING.com Account Executive – a knowledgeable and trustworthy partner. We guarantee your satisfaction with your speaker and a smooth booking process.
Contact us today to book your favorite speaker.

""What a blast! An awesomely funny guy!" James Dillion – US Bancorp


"Your second appearance was even better than the first." Jean Matheson - Children′s Hospital


"I fell off my chair. My sides ached. What does that tell you?" Drew Keller - Microsoft


"Exemplary performance and the perfect finishing touch." Jerry Bower – Apple


"You were some kind of ON that night in Washington D.C. Everybody is still quoting you. You seem to know our business better than we do! Dave Raymond - American Council of Consulting Engineers


"You accomplished all three of my goals and you did it in a very entertaining and poignant way. Thanks so much!" Robert Seals – Dolce International


"You way exceeded our expectations; which were already high from your demo tape." Karen Hansen – NCR


"As I am sure you could tell from the audience response, (3,000 women) you were a huge success! Every joke was a hit!" Lisa Van Horn – Discovery Toys
"Absolutely superb – dynamic and entertaining. The audience couldn′t stop laughing. Thanks again for making our program such a hit." Leland Lowe – Intl. Council of Shopping Centers


"You were funny the first three times we hired you and even funnier the fourth!" Ed Poplawksi – Costco Wholesale – Chamberlain Assoc.


"You are a funny man…and I saw a number of both men and women laughing very hard. Our group thoroughly enjoyed you." Elizabeth Vago – American Iron and Steel Institute


"Once again you were the hit of the convention. No wonder we keep having you back!" Janet Ramble – Washington State Auto Dealers Assn.


"Your expertise and professional insight contributed not only to a successful day but to the professional development of our staff." Andrea McLean - Heery International


"With so many positive comments and from the reaction of the group, you really captured the essence of our event." Scott Koerner – Zones Business Solutions


"Once again your performance was outstanding and left us in stitches!" Margi Lemish – Big O Tires


"Your performance was exceptional; especially given such short notice. You established a standard of excellence for future years" Neill Dixon – Canadian Music Awards


"You are still the buzz of the office." Stephanie Reynolds – Sprint


"Your performance was the perfect end to a perfect day. You were a tremendous hit!" Jaqueline Dunbar – Ayco International


"I′ve been putting on convention programs for a decade and without a doubt your stand up routine was the best ever." H. Mike Miller – Associated Oregon Loggers

Grab More Market Share: How to Wrangle Business Away from Lazy Competitors
In troubled times, businesses need to shake off theiruncertainty and look around. Previously intimidating competitorsare often hamstrung by inflexible business models and unable toaccommodate shifts in the market. As consumer habits change toreflect new economic realities and cultural trends, huge chunks ofthe market go up for grabs. And that′s when smart companies whoare paying attention can step up and "steal" their share.

If you want to grow in a slowly recovering economy,a stagnant economy, or even a declining market, your best andonly plan is to remain reactive to the market′s needs and wrangle away somebody else′s market share. Grab More Market Share teaches professionals how not to settle for 1 percent growth. Author Ross Shafer uses rock-solid case studies to show leaders how to leverage shifting public consciousness to swing dollars towards their organizations.Refining this discipline allows business professionals to predict the next changes in buying habits and execute strategic plans thatsnag 10 to 15 percent market share from competitors. Spot those opportunities, and grab your share.
Order Here




Nobody Moved Your Cheese!
Nobody Moved Your Cheese is a fun, yet challenging look at the so called business and cultural "experts" of our time.

Ross Shafer is a former pet shop manager turned comedian/TV talk show host who has spent nearly twenty years on the corporate lecture circuit as an after dinner speaker and entertainer. And most of the time, he is there with world famous authors and lecturers. This book dares to expose just how irrelevant their "expert advice" is to your life.

Ross takes on some of our most revered cultural icons in the chapters, NOBODY MOVED YOUR CHEESE, THOSE CHICKEN SOUP BOOKS ARE FOR FOOLS, ANTHONY ROBBINS HASN′T DONE A DAMN THING, THE ONE-MINUTE MANAGER GOT LAID OFF, and 10 THINGS DR. LAURA SAYS TO GET YOU TO BUY HER BOOKS.

Plus, Ross slaps conventional wisdom in the face in chapters like, YOUR JOB IS TERMINAL. . . AND OTHER GOOD NEWS, GOAL SETTING IS STUPID, BACK UP YOUR LIES WITH THE TRUTH, and GOOD CUSTOMER SERVICE CAN BANKRUPT YOU.

This is a book about taking extreme responsibility. Ross promises that it will shock you and empower you at the same time. You′ll never feel insecure about your job or career choices again.
Order Here





How To Wrangle Market Share From Lazy Competitors
The world′s top economists are predicting a dismal 1-2% average growth through 2015. So, the only way to grow your organization is to take market share away from your lazy competitors. Ross can show you how progressive companies are getting 15-25% growth; even when their available market is stagnant or declining.

Are You Still Relevant?
We all saw globally-recognized brands shrink or die during the recession. Conversely, we witnessed young, nimble companies swoop in to dominate market share.

Could that happen to you? Ross dissects the reasons for the staggering success stories—and he pinpoints the warning signs that were ignored by those who failed.

Remaining Relevant (to your customers and team members) is the ONLY way to substantially grow your organization during a recovery. If you're relevant, you can take market share away from your competition. But it won′t be easy. You will have to accelerate your "A" Game to earn that market share. And, you will have to re-double your efforts to retain the base you already have. 

Ross unveils inspiring case studies that span the landscape of retail, manufacturing, B2B, construction, and healthcare. He describes what it will take for your organization to reap incredible rewards during "The Recovery."

Customer Urgency and Empathy
While this program is a high energy Keynote on its own, many of our clients often expand this topic into a Break Out session.

Due to accelerating technology, your customers′ expectations have changed. They can get their TV, music, shopping, and friends all "on demand" 24/7/365. They expect customer "service" to mean customer "Urgency!" They want what they want - when they want it - and how they want it. So, if you don′t deliver at (nearly) Internet Speed, they will consider you substandard, lazy, or that you don′t need the business.

On top of that, they want you to empathize with their busy schedules, their lack of education (re: your products/services) as well as their personal vulnerabilities and frustrations. Ross will show you how to make sure you are consistently aware, empathetic, and urgent so you can retain your current customer base...while you are wrangling customers away from your competitors.

Nobody Moved Your Cheese
High energy and hilarious keynote - perfect for setting the opening tone or the closing message for your conference. From small town pet shop manager...to Emmy award winning TV host..to renowned business author and speaker, Ross is a fierce proponent of taking personal responsibility (and being accountable) for what happens in your professional and personal life.

THE ULTIMATE EMCEE
Ross hosts a select number of multi-day events for his high-end clients each year.

Because Ross is a trained talk and game show host (helmed over 1,000 network broadcasts) he is the perfect choice for moderating your executive panel discussions and complex award banquets. Ross will keep the programs lively and on task; drawing on his vast experience and lightening wit to navigate (and rescue) even the most unpredictable situations.

TALK SHOWS
Ross is adept at handling back-to-back breakout sessions that may feature a myriad of presenters. He has hosted such luminaries as President George Herbert Walker Bush, Jack Welch, Colin Powell, Bob Dole, James Carville, Larry Bossidy, Tom Peters, Marcus Buckingham, and Archbishop Desmond Tutu, to name a few. Since many high profile presenters are more comfortable being interviewed by a "pro," Ross is able to show the utmost respect from the opening introduction throughout the Q & A - yet he doesn't shy away from the probing questions your people want answered.

GAME SHOWS
Finally, Ross is a popular favorite for hosting custom game shows. Not only do these formats lend themselves to imparting important training information about your company (in a fun way), they also encourage participation of the entire audience. Ask us how Ross and his game partners at (Game Show America) can create a custom "TV" show for you.
Demo Video
Fearless, Fun, Authentic
They Don′t Want Customer Service Anymore