* Please note that while this speaker's specific speaking fee falls within the range posted above (for Continental U.S. based events), fees are subject to change. For current fee information or international event fees (which are generally 50-75% more than U.S based event fees), please contact us.
Top25 Speaker Voting

Ross Bernstein needs 4 vote(s) to make it into the Top 25 speakers on Speaking.com!
Speaker Booking Tip
"Tip: find a speaker in your local area to save on travel costs. Most speakers will also reduce their keynote fee for local events. "
For Event Planners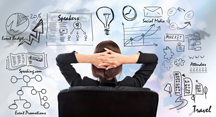 • Keynote Speaker Booking Toolkit.
• Booking a Celebrity Speaker.
• How to Find and Book the Right Speaker.
• Google+ Event Planning Forum.
• Tips for International Clients Booking U.S. Based Speakers.
Similar Speakers
Roger Crawford

Former athlete, Roger Crawford has been teaching audiences all around the world how to achieve the impossible and redefine what's possible through his personal success…

Eric Shanteau

Olympic Athlete, Cancer Survivor On his way to the 2008 Olympics, Eric has ridden a rollercoaster that included being diagnosed with testicular cancer, swimming the…

Derek Daly

Derek Daly has had an extraordinary career in motor racing, both behind the wheel and behind the microphone. From the age of twelve he determined…

Working with your speakers bureau has been a pleasure. Everyone on your team was extremely responsive and informative, and really helped us to customize our event. I will be sure to reach out to your agency again in the future with any speaker needs that I may have.
The Advisory Board Company
About SPEAKING.com
Established in 1994, we are exclusive agents for some of the world's leading experts, celebrities and professional speakers.
We offer event planners a fully staffed speaker logistics planning team, plus a personal SPEAKING.com Account Executive – a knowledgeable and trustworthy partner. We guarantee your satisfaction with your speaker and a smooth booking process.
Contact us today to book your favorite speaker.

Partial Client List:

ASSOCIATIONS
American Marketing Association
American Orthopedic Societies for Sports Medicine
Association for Applied Sport Psychology
Association of Residential Resources Minnesota
Builders Association of the Twin Cities
City Engineers Association of Minnesota
Concrete Paving Association of Minnesota
EO Entrepreneurs′ Organization
Event & Arena Marketing Conference
Independent Community Bankers of Minnesota
Lions Clubs International Leadership Forum
Mid-Minnesota Federal Credit Unions
Midwest Energy Association
Minneapolis Builders Exchange
Minnesota Public Works Association
Minnesota Recreation and Park Association
Minnesota School Boards Association
Minnesota South Dakota Equipment Dealers Association
National Collegiate Athletics Association
National Association of Insurance and Financial Advisors
National Utility Training and Safety Education Association
North Central Electrical League
North Dakota Propane & Gas Assoc.
South Dakota Safety Council
USA Hockey
U.S. Anti-Doping Agency
Western Telecommunications Alliance
Wisconsin Concrete Pavement Association
Wyoming Contractors Association

CORPORATIONS & SALES GROUPS
3M
Accenture
Associated Healthcare
Bank Forward
Best Buy
Boston Scientific
Cargill
Catalyst Rx
Cenex
Ergodyne, Inc.
FurnitureDealer.net
Furniture Today Leadership Conference
General Dynamics
Hinshaw & Culbertson Sports Law Conference
Insurance Forward
Interactive Advisory Software
Japs-Olson Company
John Deere
Keller Williams Realty
LHR Hospitality Management
Mayo Clinic
Mosaic
New Horizon Child Care
North American Banking Company
TEC (Chief Executive Officers Group)
The Brick (Canada)
Thomson Reuters
U.S. Air Force
Vistage International (Chief Executive Officers Group)
Wisconsin Manufacturing Extension Partnership
WPS Health Insurance
Walter Bond's Celebrity Sports Boot Camp

PROFESSIONAL DEVELOPMENT GROUPS
Achieve HR
Beauty of Motion Conference for women
Meeting Planners International
Midwest Society of Association Executives
National Speakers Association
Pi Kappa Alpha (International Fraternity) National Conference

GOVERNMENT & NONPROFIT
Earle Brown Heritage Center
Lions Clubs of the Midwest & Central Canada
Morrie Miller Foundation
National Multiple Sclerosis Society
Rotary International
University of Minnesota

Testimonials:

"Ross, you hit it out of the park! Thank you for speaking to the extended leadership team at OptumHealth. Your energy was contagious and the feedback has been overwhelmingly positive. Leaders appreciated you weaving our business values and issues into your presentation, and it was refreshing to have so many winning sports stories that apply to our workplace and competitive landscape. You have the ability to tell very impactful and inspiring stories; we appreciated having you join our team for the afternoon!"
— Sue Mulkern, Vice President, OptumHealth

"Ross was brought in as a motivational speaker for the Midwest Showman′s Association's yearly banquet last year, which I attended. It seems an unlikely audience with concessionaires, fair managers, food vendors, and carnival operators so I didn′t know quite what to expect. Ross delivered a very motivating presentation about leadership, team work, and general business practices. I would highly recommend Ross for your next leadership event. His books are great too!"
— Jessica Hayson, Senior Recruiter, Aerotek

"Ross′ insights and experiences with Herb Brooks and the 'Miracle on Ice' bring to life the essential elements of leadership and teamwork that Herb instilled in all of his teams. These lessons are invaluable for leaders, for teams, and for life."
— Angela Selden, Managing Partner, Accenture

"Since becoming the Director of Athletics at the University of Minnesota, the most energetic, entertaining and motivational person I have met is Ross Bernstein. He has a passion for sports and a love for people, and is worth the 'price of admission.' He loves history, as is evident by his many books, and uses many serious and humorous anecdotes from his research in his presentations. Ross has a message for everyone."
— Joel Maturi, Gopher Athletics Director

"Ross was able to convey to our audience his emotion and closeness to Herb Brooks and at the same time was able to deliver the keys to Herb's success: hard work, the ability to relate to the common person, and how to make changes as needed in order to survive. Ross had the audience's undivided attention during the entire presentation."
— Kevin Larson, CEO, Consolidated Telecommunications Co.

"Ross Bernstein's passion, admiration and respect for Herb Brooks was evident. His sharing of experiences and the lessons learned were inspirational and provided concepts I could use both personally and professionally. A must do experience even for those of us who are not hockey fans."
— Tim Rice, President, Associated Healthcare

"From the moment I first met Ross while he was doing a book signing at a Wild game, I knew that he would be the perfect choice as our guest speaker at our annual Leadership Conference in St. Paul. His passion and enthusiasm for life, and for hockey, are contagious. Herbie's life lessons, as told through Ross, spoke volumes to our group of business owners. I would hire him again in a heartbeat!"
— Laurie Johnson, Event Marketing Coordinator, Ergodyne Corporation

"I so very much enjoyed meeting Ross at our executive meeting in Chicago. His passion and enthusiasm was contagious in his presentation of Herb Brooks' leadership style and approach for creating a united vision and strategy for success. There are very few stories that can rally a team of executives like the 1980 US Olympic hockey team's seemingly impossible gold medal win. Ross' messages are spot-on for business in today's environment."
— Kristen Richardson, Vice President, Accenture
Raising Lombardi: What It Takes to Claim Football′s Ultimate Prize
To raise it means you′ve won it, and to win it means you′ve survived an epic journey fraught with peril and untold adversity. The highly anticipated sequel to Raising Stanley has arrived. Ross Bernstein, the best-selling author of nearly 50 sports books, including The Code: Football′s Unwritten Rules and Its Ignore-at-Your-Own-Risk Code of Honor, interviewed more than 100 current and former NFL players and coaches who all had one thing in common—they were all champions.
Order Here




Raising Stanley: What It Takes to Claim Hockey′s Ultimate Prize
Steeped in a tradition that spans three centuries, the Stanley Cup is the most storied trophy in all of professional sports. To raise it means you′ve won it, and to win it means you′ve survived an epic journey fraught with untold difficulties. Ross Bernstein, the best-selling author of more than 40 sports books, including The Code and Slap Shot Original, interviewed more than 100 current and former NHL players and coaches who have had privilege of raising Lord Stanley′s holy grail above their heads after winning hockey′s ultimate prize.
Order Here




The Football Code: Football′s Unwritten Rules and Its Ignore-at-Your-Own-Risk Code of Honor
For all of its pageantry, a football game is a violent go-minute turf war.

Bounded not only by the league′s rules, players adhere to and enforce an unwritten honor system known simply as The Code. As mysterious as it is sacred, the code prescribes an internal system of justice known only to those within the sport itself. Until now...

Ross Bernstein, best-selling author of The Code: The Unwritten Rules of Fighting and Retaliation in the NHL and The Code: Baseball′s Unwritten Rules and Its Ignore-at-Your-Own-Risk Code of Conduct, offers an unprecedented glimpse of football′s unspoken rules regarding sportsmanship, retaliation, and intimidation. The result of more than 100 interviews with some of the biggest names in the game, The Code is a systematic description of every major unwritten rule in the game today from excessive end-zone celebrations, trash talking, and going after the quarterback, to using stickum and silicone, sign-stealing, and the use of perform-enhancing drugs.

Along the way you ll read about some of the most memorable violations of the code including Dexter Manley′s profanity-laced trash-talking episode that was too graphic for NFL Films highlights; the bench-clearing brawl between the Vikings and Chargers that inspired the league′s rules on fighting; and Spygate, the most notorious example of on-field espionage in the league′s history.

For the first time, get the complete, no-holds-barred truth about the implicit rules of football directly from the players, coaches, and referees who live their professional lives by the code.

The Code is an indispensable guide to the inner workings of football′s internal system of justice and sportsmanship, all described by the men who have enforced it. You ll never watch a game the same way again.
Order Here





SIGNATURE KEYNOTE:
THE CHAMPION'S CODE: LIFE LESSONS OF VALUES & INTEGRITY FROM THE SPORTS WORLD TO THE BUSINESS WORLD
The DNA of a champion is rare indeed and the code of honor by which they choose to live is truly unique. Ross Bernstein spent five years researching and interviewing more than 500 professional athletes, coaches, referees, umpires and media personalities for his nationally best-selling series of "Code" books, which chronicle the unwritten, unspoken rules in sports.
Ross uses that wealth of information to educate, enlighten and entertain his audiences — challenging them to question their own personal and professional principles and values. In his program, Ross identifies more than 100 unique characteristics and traits that are common among champions, which he then ties into poignant stories and life lessons from the world of sports. Ross talks about taking responsibility and about doing things the right way, with respect, to not just survive in the "new economy" — but to thrive in it on your own terms.
Champions win with integrity and without taking short cuts or compromising their standards. They know that anybody can win on any given day. To win consistently over time requires a special work ethic and outlook on life. Their standards and expectations are higher, which is what makes them "true professionals," or the best of the best. They know how to make critical decisions and to stay focused, even under pressure. They respect the game, they respect the opposition, and they respect figures of authority. Champions view ethics differently, too. They know that winning "at all costs" is fleeting, whereas winning with integrity is meaningful and everlasting.
They also understand that there is a fine line between cheating and gamesmanship, and they know where that line is at all times. You see, the unspoken code of honor in professional sports allows the players to police themselves. If a player cheats or purposely shows up or disrespects an opponent out on the ice, diamond or gridiron — then they will have to be held account-able — or else be prepared to suffer the consequences.
From a PGA golfer voluntarily choosing to disqualify himself after winning a major championship upon learning he had inadvertently broken a rule; to an Olympic sprinter illegally taking steroids to gain an edge; to a Major League Baseball pitcher beaning an opponent after catching him stealing the signals to his catcher; to an NHL hockey player dropping his gloves and fighting an adversary twice his size in order to stand up for a teammate that has been disrespected — that "fine line" is both fascinating as well as thought-provoking. It all relates to business though, and that's what makes this keynote or break-out program so popular — from Fortune 500 sales groups to trade association conferences — the reviews have been nothing short of fantastic.
This action-packed presentation features hundreds of photos and is chock full of inspirational stories, insightful wisdom and valuable takeaways. In it, Ross encourages his audience members to create their own code — or mission statement — which they can take back to the office and start using immediately— in order to be more productive, creative and accountable.
BREAKOUT PROGRAM:
DO YOU BELIEVE IN MIRACLES? LESSONS IN TEAM-BUILDING, LEADERSHIP & MOTIVATION
"Do you Believe in Miracles? Well, believe it or not, legendary coach Herb Brooks didn't. Sure, he was a dreamer, but there were no short-cuts or divine interventions in his vocabulary — for him it was all about hard work, commitment and passion — and through those ideals he truly changed the world. Ross Bernstein is proud to share the inspirational story of the man behind the fabled 1980 gold medal-winning U.S. Olympic "Miracle on Ice" hockey team — which pulled off the greatest upset in modern sports history.
Ross, who had actually been working with Brooks on writing a series of motivational/self-help books at the time of his tragic passing in 2003, decided to honor the legacy of his friend and mentor by turning their project into a living memorial. The result was "Remembering Herbie" and "America's Coach," a pair of nationally critically acclaimed motivational-biographies which chronicle the secrets of Brooks' success through hundreds of interviews from former players, teammates, coaches, friends and family. Proceeds from the sale of the books proudly benefit the Herb Brooks Foundation, of which Ross currently serves as the President of the Board of Directors.
In his program, Ross speaks about the influence Brooks had on the world of sports; his unorthodox leadership style; his philosophies on roles and role players; his thoughts on mentorship and community service; how he was able to adapt and change in different work environments; how he fostered team chemistry; and about his unparalleled motivational tactics.
Brooks was a winner in every sense of the word and the culture he created with his teams consistently delivered winning results — that was the bottom line. An innovator who wasn't afraid to try things that were completely revolutionary and even controversial, Brooks demanded excellence from everybody around him and earned their respect through leading by example. He was the ultimate team player who lived by the adage that "the name on the front of the jersey was always more important than the name on the back" — a message any company or organization, big or small, can be proud of. Putting many of the life-lessons and ideologies he learned from the fiery coach into a practical business application, Ross' interactive, entertaining and thought-provoking presentation aims to inspire others to follow their dreams and maybe, just maybe, even create their own miracles. If you've got any sports fans in your group, or if you got goose bumps watching the Disney movie "Miracle," which starred Kurt Russell as Brooks, then this uplifting 60-minute keynote will be the perfect way to open or close your next conference.
BREAKOUT PROGRAM:
RAISING STANLEY: HOW BECOMING THE BEST OF THE BEST IN HOCKEY TRANSLATES TO SUCCESS IN BUSINESS AND IN LIFE
To raise the Stanley Cup means that you have reached the pinnacle of professional hockey success; it means you are a champion — the best of the best. Each player's epic journey to get to that sacred place has a unique and meaningful story behind it, however, and those stories are at the very core of Ross' program.
For more than two years Ross researched, met and interviewed upwards of 200 players and coaches who all share one common denominator — they had the distinct privilege of hoisting Lord Stanley's holy grail. You see, to raise it means you have won it. Hockey players are extremely respectful as well as superstitious when it comes to the Cup. In fact, no player will ever even touch it unless he has won it. So, when he actually gets to raise it above his head for the first time, it is undoubtedly one of the proudest and most profound moments of his life.
Some stories will make you laugh out loud; like the one about Shjon Podein, who was so excited about winning the Cup in 2001 with the Colorado Avalanche that he refused to take off his equipment for the next 24 hours. That's right. Wanting the moment to last forever, he kept his entire uniform on — skates and all — and partied like a rock star all night long throughout the streets of Denver. Some will make you cringe; like the one about Mike Modano, who, despite suffering from incredible pain, insisted upon getting his broken wrist shot up with Novocain between each period of every playoff game because he didn't want to let his teammates down during Dallas' 1999 Stanley Cup run.
Some will bring tears to your eyes; like the one about Phil Esposito, who talked about how tough it was for him to slip his 1970 Boston Bruins championship ring off his dad's finger at his funeral just before they had to close his casket. And some will inspire you; like the one about Brendan Shanahan, who took the Cup to his father's grave site the morning after leading his Detroit Red Wings to the title in 1997 so he could personally thank him for all the sacrifices he had made for him over the years — from 5AM practices to getting a second job — just so he could live out his childhood dream.
The raw emotion and personal stories of determination, courage and perseverance will resonate with your audience as Ross weaves the life lessons and wisdom that he gathered over his two year odyssey into practical business takeaways that can be taken back to the office and put to use immediately. In his program, Ross talks about the "metaphorical Stanley" in all of our lives, that goal or light at the end of the tunnel that we are all pursuing as we climb the corporate ladder, and about how we can all achieve success through hard work, passion and dedication. Audience members will learn about teamwork, toughness, roles and role players, and leadership in ways they simply never imagined. If you've got any sports fans in your group, then this uplifting, PowerPoint-photo-packed, 60-minute program will be the perfect way to open or close your next conference or event.

Demo Video
Ross Bernstein brings the world of sports into the boardroom with his multimedia presentations that are based on his lifelong experience of professional athletes and coaches. He asks his audience, "What is your passion, what is it you like to do, and what's your legacy? How are you going to be remembered when it's all said and done? Did you matter? Did you make a difference? I'm a storyteller, I write three books a year, and I'm convinced that everybody has a story."
Talking about his relationship with legendary ice hockey coach Herb Brooks, he says, "He inspired me. There's a big difference between motivation and inspiration. I can motivate anyone in this room right now, I can hold knife to your throat and get you to do anything, but to inspire you, that's magic, that's Oprah material. Herb Brooks inspired me, I didn't ask for it, it just happened."
After Brooks died in a tragic car accident, Ross wrote books about him and became president of the Herb Brooks Foundation, helping to spread hockey across America. He explains that he does this, "Because we want everyone drinking our Kool-Aid, because that's our passion. What's your passion? I don't care if you don't know anything about hockey, you've got to have a passion. You've got to ask yourself about your legacy, this is all you get, you can't take any stuff with you. What do you live for, what do you want to do, what do you want to be leader of? It's not too late."