* Please note that while this speaker's specific speaking fee falls within the range posted above (for Continental U.S. based events), fees are subject to change. For current fee information or international event fees (which are generally 50-75% more than U.S based event fees), please contact us.
Top25 Speaker Voting

Rory Vaden needs 6 vote(s) to make it into the Top 25 speakers on Speaking.com!
Speaker Booking Tip
"Tip: speakers bureaus provide added value that you cannot get by booking speakers directly. "
For Event Planners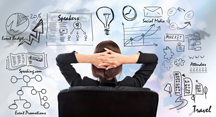 • Keynote Speaker Booking Toolkit.
• Booking a Celebrity Speaker.
• How to Find and Book the Right Speaker.
• Google+ Event Planning Forum.
• Tips for International Clients Booking U.S. Based Speakers.
Similar Speakers
Myrtle Potter

For over three decades, Myrtle Potter has dedicated herself to the needs of patients and consumers worldwide as a leader of some of America's most…

Vernice "FlyGirl" Armour

It's all about the "Breakthrough Mentality": using it, Vernice "Fly Girl" Armour flew from beat cop to Marine Corps pilot in just three years and…

John Mattone

One of only nine executive coaches in the world to hold the prestigious Master Corporate Executive Coach certification, John Mattone is globally recognized as a…

SPEAKING.com / Core Agency were very helpful in every way possible. I would recommend them to others and we will most definitely secure all our future conference speakers through them again.
Babcock & Wilcox
About SPEAKING.com
Established in 1994, we are exclusive agents for some of the world's leading experts, celebrities and professional speakers.
We offer event planners a fully staffed speaker logistics planning team, plus a personal SPEAKING.com Account Executive – a knowledgeable and trustworthy partner. We guarantee your satisfaction with your speaker and a smooth booking process.
Contact us today to book your favorite speaker.

Partial Client List:

ADT
AIG
AFLAC
American Income Life
American Marketing Association
Arbonne
Avon
Bank of America
Bank of the West
Bankers Life and Casualty
Chevrolet
Chrysler
Clear Channel
Coldwell Banker
Colorado State University
Comdata
Comerica
Cox Media
Crown Council
DeRoyal
Direct Selling Association
ERA Real Estate
FBLA
HCA
Helms Briscoe
Hilton
Honda
Johnson Controls
Kansas Department of Transportation
Keller Williams
Lexus
Lucas Group
Mass Mutual
Mary Kay
Mercedez Benz
Morgan Stanley Smith Barney
NAIFA
National Speakers Association
Nissan
New York Life
Oce
Project Management Institute
Provident Integrity Music
Raymour & Flanigan
RSM McGladrey
The Southwestern Company
Shaw Worldwide Carpet
Staubach Commercial Real Estate
Ticor Title
Toastmasters International
Toll Brothers
Tom James
Toyota
Trane
Transworld Sytems
Unifirst
United Healthcare
United Title
Wachovia
Waddell and Reed
Wells Fargo
Western Southern Life Insurance
Wildtree
World Financial Group
Yellowbook
Young President's Organization

"Rory was delightfully entertaining and poignantly powerful. He is one of the few speakers I've ever heard where I actually remembered his message long after he was gone."
George Mora,
#1 Keller Williams Team Worldwide
Take the Stairs: 7 Steps to Achieving True Success
Do you ride the escalator-or take the stairs?

No matter how you define success, it always requires one thing: self-discipline. But as popular speaker and strategist Rory Vaden explains, we live in an "escalator world"-one that′s filled with shortcuts, quick fixes, and distractions that make it all too easy to slide into procrastination, compromise, and mediocrity. What seems like an easier path is really much harder in the end-and, most important, it won′t take you where you want to go.

How do successful people stay focused and achieve results? This lively and insightful guide presents a simple program for taking the stairs-that is, for overcoming the temptations of quick fixes and procrastination, conquering creative avoidance, and transcending personal setbacks in order to tackle the work that leads to real success.

Whatever your goals are, Rory Vaden′s proven approach will get you there-one stair at a time.
Order Here





Take The Stairs
Success means doing things you don't want to do
[Signature Motivational Speech 45 – 90 minutes]
Success is different for each of us but the path to get there has the same obstacles: fatigue, rejection, failure, distraction, burnout, complacency, and countless others.
And yet there is one common characteristic and one universal trait that virtually every single successful person must have before they add anything else; discipline – the discipline to do the things they don't want to do. Self-discipline strategist and motivational speaker Rory Vaden shares key insights and erases common misconceptions about how to build lasting self-discipline.
After hearing Rory's hilarious and compelling speech, your audience will:
Disregard their fear and take immediate action.
Develop an awareness of their own creative avoidance.
Stop making excuses and stop procrastinating.
Engage in happier, healthier more productive lifestyles.
Quit looking for shortcuts and get back to work.
Adopt an overall results-oriented attitude of discipline.
Be more disciplined and Take The Stairs more often in the mall, the airport, and in life situations
Rory Vaden has one of the most unique deliveries in the speaking world today. His charismatic presence and slightly irreverent message is gracefully delivered with a natural charm and just the right touch of humor. While he is definitely entertaining, you will see that his focus is moving the audience to action and creating results that long outlast his presentation.
Leaders Take The Stairs
Creating a Culture of Discipline in Your Organization
[Main Stage Speech 45 – 75 minutes]
Companies and organizations that make the leap to greatness have an almost fanatical mindset and mission of making short term sacrifices for a long-term vision.
It drives every part of their business, including accounting, hiring, training, leadership, marketing and so forth. But if you look in MBA curriculums or HR training programs, you won't find anything that teaches leaders this pivotal skill. Here you will learn practical steps from entrepreneur and motivational speaker Rory Vaden for infusing your organization with a mentality of discipline.
After hearing Rory's challenging and thought-provoking speech, your leaders will:
Develop stronger systems of accountability for measuring activity and results.
Critically evaluate every instance of company spending.
Have a game plan for popularizing the paradigm of discipline within the organization.
Be equipped to clarify the "Pain Paradox" for their team to get buy-in.
Enthusiastically adopt and model an attitude of discipline.
Be more disciplined and Take The Stairs more often in the mall, the airport, and in life situations.
No Laughs to Know Laughs
How to be Funny to Make More Money
[Breakout Session Workshop 45 minutes - 4 hours]
Work is always more fun if you can laugh along the way but it's a rare gift to be able to make other people laugh. In fact, most of us think you are either born funny or you′re not, and it′s one of the most disempowering misconceptions of all time. Two-Time Toastmasters World Champion of Public Speaking Finalist and motivational speaker and humorist Rory Vaden explodes this humor rumor by teaching ordinary people the secrets of how to make people laugh. Believe it or not, humor can be learned as long as you have a little discipline.
After hearing Rory's pragmatic and delightful program, your audience will:
Understand the psychology of what causes a laugh to happen. Have guaranteed formulas for getting laughs tomorrow. Learn how to overcome the fear of trying humor. Realize the benefits of adding laughter to their lives and the lives of those around them. Be disciplined about controlling their activity and their attitudes. Be more disciplined and Take The Stairs more often in the mall, the airport, and in life situations.
Top Producers Take The Stairs
Advanced Sales Training and the Habit of Self-Discipline
[Breakout Session Workshop 45 minutes up to 2 full days]
The number one cause of failure in sales is "creative avoidance". Salespeople are constantly torn between the support work required to fulfill their service to their customers and with going out and prospecting for new business. Sales training is important to the success of a great salesperson, but what's more important is cultivating a habit of self-discipline. The real secret to success in sales is being able to do the things you don't want to do. Executive sales consultant and sales coach Rory Vaden shares a customizable combination of motivation and sales training techniques to help your producers reach the next level.
After hearing Rory's practical and empowering speech, your salespeople will:
Overcome their call reluctance and take immediate prospecting action.
Become more focused on their critical success factors.
Feel comfortable and confident asking for the sale.
Have tools for dealing with gatekeepers, qualifying correctly, and selling on value over price.
Be disciplined about controlling their activity and their attitudes.
Be more disciplined and Take The Stairs more often in the mall, the airport, and in life situations.
The Audience is NOT in their Underwear
The Discipline of Mastering Presentation Skills
[Breakout Session Workshop 45 minutes - 4 hours]
Whether in front of an audience of 1 or 1000, presenting can be scary. Everybody knows that presentation skills are more important than ever and that there is an unspoken expectation that every presenter should be entertaining and engaging. What most people don't know is that there are secret presentation techniques that even the best speakers in the world rely on to look better than they are. Applying these universal formulas is certain to not only increase your confidence as a presenter, but your income, as well. Toastmasters World Championship Finalist and professional speech coach Rory Vaden will help you overcome the fear of public speaking and enlighten you with some of the best techniques ever available.
After hearing Rory's empowering and refreshing program, your audience will:
Be equipped to utilize the 4 quadrants of vocal variety to maximize persuasion and influence.
Instantly improve their charisma and confidence in front of groups.
Know the most effective ways of opening and closing a presentation.
Understand the techniques for keeping any audience engaged the entire time.
Have a story telling formula that is guaranteed to create emotional connection to any audience.
Be more disciplined and Take The Stairs more often in the mall, the airport, and in life situations.
Next Generation Marketing: Making Social Media Work For You In 30 Minutes Per Day
350 million people are on Facebook, 76 million are on Linked In, and the Tweeters are growing at an exponential rate. Social Media is not a fad, but an inevitable medium of future business communication. Yet some people are full of star-gazed cyber myths of becoming overnight millionaires or making their brand an overnight internet phenomenon. Some have the improper expectation that it's the next "escalator" to success. It's important to understand the reality of what social media will and won't do and, most importantly, how to use social media effectively in your business. Social media expert Rory Vaden shares the discipline of managing these new tools to get real results for your business.
After hearing Rory's entertaining and educational program, your audience will:
Understand blogs, Facebook, Linked In, and Twitter and how to use them for business.
Know how to grow their personal network to generate warm business leads.
Be able to use social media for free marketing, brand building, and effective follow up
Create a 30 minute to-do list for how to maximize their daily social media use.
Be more disciplined and Take the Stairs more often in the mall, the airport, and in life situations.
Keynote Speech Clips
In these speech clips, Rory begins with an expression that he says his mother always used to say, "Success is all about the choices that we make." He asks the audience to think about the last time they were in front of a set of stairs and an escalator. "Did you take the stairs?" he asks. "Most people choose the escalator," he explains. "It's almost like we are naturally programmed to search for convenience, to look for the easy way."
Rory concludes that the one thing that is true about success is that "success is not about taking the escalator. Success is about taking the stairs. It's about doing the things that we know we should be doing, even when we don't feel like doing them." He goes on to discuss the "one simple word" that he says success comes down to, "discipline."
Keynote Speech