* Please note that while this speaker's specific speaking fee falls within the range posted above (for Continental U.S. based events), fees are subject to change. For current fee information or international event fees (which are generally 50-75% more than U.S based event fees), please contact us.
Top25 Speaker Voting

Ronald Culberson needs 6 vote(s) to make it into the Top 25 speakers on Speaking.com!
Speaker Booking Tip
"Tip: speakers bureaus provide added value that you cannot get by booking speakers directly. "
For Event Planners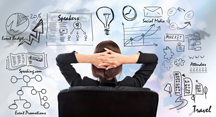 • Keynote Speaker Booking Toolkit.
• Booking a Celebrity Speaker.
• How to Find and Book the Right Speaker.
• Google+ Event Planning Forum.
• Tips for International Clients Booking U.S. Based Speakers.
Similar Speakers
Paul Vitale

Paul Vitale began his career with the largest marketing firm in Arkansas, Cranford Johnson Robinson Woods, where he worked with a team responsible for all…

Debra Peppers

National Speakers Association National Teachers′ Hall of Fame Radio & Television Talk Show Host 25 Year Professional Speaker / Trainer Author & Humorist Dr. Debra…

Jimmy Cabrera

Raised in a segregated Latino community, Jimmy Cabrera made his way out of prejudice and racism to become one of the most successful inspirational speakers…

My Account Executive was able to work within my quick turn around time and price limitations to find the perfect speaker for the job. Although I thought finding and booking a speaker for our sales meeting would be the most difficult part of the planning process, your agency made it the easiest.
Ales Group USA, Inc.
About SPEAKING.com
Established in 1994, we are exclusive agents for some of the world's leading experts, celebrities and professional speakers.
We offer event planners a fully staffed speaker logistics planning team, plus a personal SPEAKING.com Account Executive – a knowledgeable and trustworthy partner. We guarantee your satisfaction with your speaker and a smooth booking process.
Contact us today to book your favorite speaker.

"Your presentation at our staff retreat was superb. The most significant result is that staff communicates a different perspective about organizational change and their responsibility to treat each other well. There has been so much more laughter here and good will since your visit, Ron. You truly are an ambassador for not only humor but heartfelt caring, personal congruence and mindfulness."
Patricia Murphy, RN, MA, CEO, Hospice of Martin and St. Lucie
"It was obvious from your presentation that you had a working knowledge of our organization. We delighted in the way you wove wisdom in with your humor. You superbly related to each participant, making the material come alive to everyone who was fortunate enough to have been present to hear your delivery. Perhaps the most impressive aspect of your presentation was the human element."
Gerard R. Kelly, PhD, VA Community Liaison, US Dept. of Veterans Affairs
"Our entire leadership team agreed that this was one of the best workshops they had ever attended. Along with Ron's adept use of humor (the room was full of laughter) he is a skilled teacher. This workshop was full of tools and strategies that leaders could immediately apply. Since the workshop, numerous participants have commented on ways they have found to implement what they learned. Unlike many trainings, where the participants emerge feeling enthused and renewed for the first week, this workshop has staying power."
Kate Davis, Director of Learning and Development, Montgomery General Hospital
Partial Client List:
Abbott Laboratories
ACS Midas+
American Academy of Physician Assistants (AAPA)
American Cancer Society (ACS)
American Case Management Association (ACMA)
American Red Cross
American Society of Health-System Pharmacists (ASHP)
AstraZeneca
Carolinas Center for Hospice and End of Life Care
Cigna Dental
Dialysis Corporation of America
EDS
Environmental Protection Agency
FDIC
Health Information Management Systems Society (HIMSS)
Hospice Network of Maryland
Hospice of the Florida Suncoast
Inova Health System
International Association of Amusement Parks and Attractions
Legal Assistant Management Association
Pennsylvania State Association of Township Supervisors
Ronald McDonald Charities
Safeway, Inc.
Sunrise Senior Living
The Embassy of Australia
The International Finance Corporation
The National Hospice and Palliative Care Organization
The Smithsonian Institution
The World Bank
US Department of Agriculture
US Department of Health & Human Services
US Department of Interior
US Department of Justice
US District Courts
US Office of Personnel Management
US Senate
Wells Fargo
West Virginia School of Osteopathic Medicine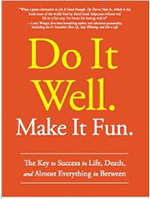 Do It Well. Make It Fun.: The Key to Success in Life, Death, and Almost Everything in Between
According the Bell Curve, most people are average. But who wants average? Would you want an average car mechanic, an average meal, or worse yet, an average brain surgeon? Didn't think so. But you don't have to settle for average when success is only two steps away.
Based on the idea that excellence is the key to success in most aspects of life and death (in a pre-death kind of way)—Do It Well. Make It Fun. is a refreshing take on taking excellence to new heights.
In this entertaining, practical guide Ron provides an easy-to-implement two-step process that will lead to greater success in your career and your life: (1) Do it Well, and (2) Make it Fun. By applying this formula, you'll learn how to spice up boring meetings, relax in stressful situations, neutralize interoffice conflict, add zest to dull relationships, make project management a bit more enjoyable—and more.
Drawing from life observations and experiences, Ron shares hilarious anecdotes and serious lessons he has learned from his years as a social worker, middle manager, and senior leader. Ron's simple suggestions will help you take life fun day at a time to revitalize your routines, your relationships, and to achieve greater success.
If you want a speaker for your conference, meeting, or event who engages the audience with great content, inspiring stories, and hilarious humor, then Ron Culberson is the speaker for you. He has been captivating audiences for 15 years and has reached over 120,000 people in more than 1,000 organizations.
Ron has extensive experience with healthcare organizations, education systems, government agencies, and human services groups.
Do It Well. Make It Fun.
Realizing the Power of Combining Excellence with Humor
In this hilarious program, participants learn how combining excellence with humor can lead to greater levels of success in life and work.
Recognize the flawed thinking that seriousness is more important than excellence.
Identify the skills you need to do your job and how to improve them.
Embracing the values you need to do the right thing rather than the easy thing.
Breaking the cycle of negativity to see opportunities for fun and humor.
Tapping into the power of humor to for creative problem solving.
Using humor to communicate and connect with others more effectively.
Improving the processes in your life and work and making them more fun.
Managing to Be a Great (and Fun) Leader
Great leaders are worth following. Period. In this powerful, yet funny program, participants will understand what it takes to be a great leader who creates an environment that attracts and keeps good people.
Taking responsibility for achieving leadership excellence.
Developing the skills to be a great leader (Vision, organization, communication, etc.)
Embracing the proper values to make you a leader worthy of respect.
Creating a culture where both excellence and fun thrive.
Motivating and inspiring staff to go where you want them to go.
Genuinely Speaking
How YOU can Make Your Message More Memorable
Great speakers capture the hearts and the minds of their audiences. Whether speaking to a group of 1000 or to your staff in meeting, your goal is to convey information in the most effective way possible. In this program participants will learn how to create congruence between their own gifts and skills and their message to make a powerful impact on their audience.
Identifying the gifts and skills that can lead to your own unique perspective.
Knowing your audience so that you give them what they need.
Creating a powerful presentation structure.
Combining valuable content with illustrative material to make your message come alive.
Using humor to engage the audience and keep their attention.
Tapping into the metaphorical power of storytelling to bring your message home.
Making Any Process Work... Without it Feeling Like Work
Everything you do is a process. Every process can be improved. Every process can also be made more fun. In this invaluable and fun program, participants will learn how to identify and break down processes so that they are more effective, productive, and enjoyable.
Recognizing and breaking down processes.
Developing a plan for every process and project.
Creating excitement for the process.
Establishing fun benchmarks along the way.
Rewarding and acknowledging those who help accomplish the goals of the process.
Celebrating the end result.
Ron Culberson: Demo Video
Ron comments on the negativity in the world, pointing out that not only do people seem drawn to it, but that they try to "out-negative" one another.
"Somebody comes up to you and goes, 'Man, I've had this cold for a week.' [and you respond] 'I had a cold for seven years once,'" Ron dramatizes. "We love to take it up a notch. I have a motorcycle. I tell people I have a motorcycle and you know what they want to tell me? Somebody they know died on a motorcycle. I don't really need that information."
Ron Culberson: Life is Like a Dead Pig
Ron demonstrates storytelling's tremendous power to communicate a message, describing a life-changing encounter he had as a child with a swollen dead pig on a family tubing trip down an Appalachian river.
"I realized as soon as I saw that pig that the current was taking me right toward it. My first reaction was involuntary, but we were in water, so that was okay," he remembers. "My second reaction was to realize that my entire psychological well-being was contingent on me not hitting this pig. I'm thinking to myself if I hit that pig, I'm going to be the guy at future family reunions that people stand off to the side and go, 'He weren't right ever since he hit that pig.'"
Recounting how he was able to swim to the shore to avoid the pig, Ron compares the river to our journey in life, noting, "We were by ourselves in those tubes. You are by yourself in life for the most part. You have to figure out how to maneuver; we all have to figure out how to maneuver, because if you don't learn how to maneuver through the rapids in the slow parts effectively, you're going to hit that pig, or worse yet, you will be the pig."
Ron Culberson: Burying St. Joseph Statue