* Please note that while this speaker's specific speaking fee falls within the range posted above (for Continental U.S. based events), fees are subject to change. For current fee information or international event fees (which are generally 50-75% more than U.S based event fees), please contact us.
Top25 Speaker Voting

Ron Kaufman needs 6 vote(s) to make it into the Top 25 speakers on Speaking.com!
Speaker Booking Tip
"Tip: speakers bureaus provide added value that you cannot get by booking speakers directly. "
For Event Planners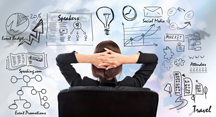 • Keynote Speaker Booking Toolkit.
• Booking a Celebrity Speaker.
• How to Find and Book the Right Speaker.
• Google+ Event Planning Forum.
• Tips for International Clients Booking U.S. Based Speakers.
Similar Speakers
Liz Wiseman

Liz Wiseman is president and founder of the leadership research and development firm, Wiseman Group, which operates out of Silicon Valley. Her services have been…

Kevin O'Leary

Businessman and investor, Kevin O'Leary makes or breaks entrepreneurs' dreams as a venture capitalist on ABC's Shark Tank. The founder of the successful SoftKey Software…

Paul Orfalea

Bestowed with the task of Xeroxing his study group's research paper, Paul Orfalea discovered a hopelessly long line of people at his local copy center.…

Once again our agent did an outstanding job. Not only did he provide me with a number of options for potential speakers but he helped with seeing who was available, when they could speak, and getting everything done in a timely fashion. I look forward to working with him again.
Auburn University
About SPEAKING.com
Established in 1994, we are exclusive agents for some of the world's leading experts, celebrities and professional speakers.
We offer event planners a fully staffed speaker logistics planning team, plus a personal SPEAKING.com Account Executive – a knowledgeable and trustworthy partner. We guarantee your satisfaction with your speaker and a smooth booking process.
Contact us today to book your favorite speaker.

"Ron provided a 150 minute power session on Customer Service to around 800 delegates and the results were "Unbelievable"! We have had excellent feedback that has included delegates noting that Ron really understood our market place and business. To this end, I must say that Ron did his homework well and presented his material in a contemporary context that incorporated numerous references to the issues of the day."
Brad Fox, CEO, Association of Financial Advisers
"Ron set the tone for the conference by immediately connecting with our audience. Schlumberger is committed to excellence in customer service for our external clients and Ron's taught us the importance of customer service internally. At the conclusion of the event, we now feel we have a better plan for implementation and are excited about the benefits that his education has provided."
Stephanie Cox, Vice President Human Resources, Schlumberger
"We worked with Ron over an 18 month period to deliver his programs throughout our business. During this time we found Ron to be a superb catalyst for change, inspiring all those around him to up their game and put the customer at the center of all they do. His secret lies in his infectious enthusiasm, simple ideas superbly delivered and his ability to connect."
Richard Bolton, CEO/Managing Director, ELQ Hypotheken NV
"Ron joined us at our annual Beeline Customer Conference to share his incredible message and experience surrounding Customer Service cultures. Ron is one of the most dynamic, engaging and motivating presenters I have seen. Our team is using many of his concepts and practices to continually improve our Customer Service model. Ron is a must see!"
Mike Wachholz, Global President, Pontoon
"It's with ease and actual honor to be able to recommend Ron's work. When you have a model that is simple in its approach, yet delivered and communicated with such abundant passion & enthusiasm, it's by no means a coincidence that Ron is a 'World Leader' in the field of Service and Customer Experience. Ron's engagement with an organization is sincere, honest and genuine to the point that you don't just 'feel' that he cares about your success as a company or an individual, you 'know' 100% for sure that he feels your pain and shares your determination for success."
Kevin Goodburn, SVP Consumer Banking & Head of Customer Experience, First Gulf Bank
"I have never seen anyone put so much valuable information in such a short period of time and do it so delightfully."
Paul Snider, Program Committee Chair, Harvard Business School Alumni Association
"We are in a commodity business and we are constantly trying to find ways to differentiate ourselves based on value of the service we provide. If you want to separate yourself from the competition, call Ron. He is the one who is going to teach you how to stand out and succeed in service."
Mike Haddad, CEO, Schreiber Foods Inc.
"Ron is truly passionate about educating others on uplifting service and really opened our eyes to the little things we can change in our approaches that add tremendous value to ourselves and others."
Sandra Leung Li, Google
"Ron Kaufman's passion regarding providing Uplifting Service is inspirational to anyone who is in the vicinity of his presence. His ability to provide a system to help your business improve its approach to world class service is both easy to implement and complex enough to provide sustainability and results, no matter your size or industry."
Rocki Howard, VP, Talent Acquisition, Adecco
"We were inspired by the powerful principles of service excellence that Ron Kaufman taught us. Our heads are buzzing with ideas on how we could implement them in Valamar. The workshop has really given us wings and has also shown us where we want to go."
Ivana Budin Arhanić, Management Board Member, Valamar Adria Holding
"Our last meeting featuring Ron Kaufman was a great success. There was a tremendous level of energy in the room and everyone left with new tools and ideas to use in their businesses and personal lives."
Gary Anzalone, CEO Club of New York City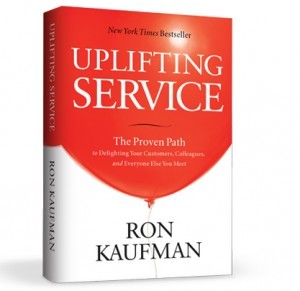 Uplifting Service: The Proven Path to Delighting Your Customers, Colleagues, and Everyone Else You Meet
We are deep in a service crisis. In the operating room, surgeons and their teams communicate in a very precise language; airplane pilots follow a strict protocol to take off and land safely every time; and, when launching a new product, companies lay out a plan that all employees follow. But when it comes to building a strong service culture, the path to success is usually much less clear. We relegate service to a single department guided by anecdotal wisdom and less-than-helpful clichés like "the customer is always right."
With global economies transforming at record speed, we are largely unprepared for the service demands we face day and night from around the world. We promise our customers satisfaction and then allow internal politics and inefficient methods to frustrate our ability to deliver. With service so much a part of our daily lives, both in and outside the workplace, why aren't we doing it better?
New York Times bestselling author Ron Kaufman knows the answer to this question, and not only believes we can do it better, but shows us how. In Uplifting Service he takes you on a journey into a new world of service that is guided by fundamental principles and actionable models. After more than two decades helping leaders transform their service cultures, Kaufman has discovered that while each successful team is different, the architecture they apply to build an uplifting service culture is the same.
In this New York Times, USA Today, and Amazon.com bestselling book, Kaufman lays out the steps you can take to build a sustainable culture that delivers outstanding service every day. He offers the tools and practices that have been proven effective in businesses, governments, communities, and homes; on every continent; and in many languages. Through perspective-changing insights and case studies, you will learn how the world's best performing companies have changed the game through service—and how you too can follow this proven path to an uplifting transformation.
Service Keynote
Uplifting Service: Exceeding Customer Expectations one Action at a Time
Speech Description
In today's global economy, customer expectations in almost every industry are rising. What was once considered a perk, bonus or plus is now a promise clients expect – and even demand – time and again. And while everyone may agree that providing superior service is essential to continued success in a competitive world, too many executives still regard service as "the fuzzy stuff" they don't know how to measure, manage or make happen on a companywide scale.
Uplifting Service is an entertaining and interactive presentation that shows everyone from the C-suite to the front lines specific actions and concrete steps to fly over customers' rising expectations and immediately improve the quality of service delivered at all levels of the company. Packed with real-life examples, powerful principles and tried-and-true techniques, this session will educate, motivate and inspire everyone on your team to take new action now.
Key Learning Points:
The secret to seeing the world from your customers' point of view.
The six proven steps to going from "basic" to "unbelievable" service.
Transforming complaints into opportunities, creating positive word of mouth and valuable customers for life.
Three strategies and tactics for managing customer expectations.
Bouncing your way back through service recovery.
Shifting from blame, shame and justification to taking personal responsibility.
Leadership Keynote
Leading the Service-Focused Culture: Creating Superior Service from the C-Suite
Speech Description
A superior service culture does not happen by accident but instead requires committed managers willing to walk their talk – and motivated staff inspired to deliver on-the-spot service daily. But beyond this, the driving force of a service-focused culture is a group of inspired leaders who are convinced of, and committed to, the long-term value of Uplifting Service.
Leading The Service-Focused Culture facilitates your senior leadership team in building the alignment needed to embrace a common service vision – and then take the actions required to make that vision a reality. In this hands-on session, participants review the culture-building activities currently in use in the organization; identify opportunities for new service initiatives; learn best practices for becoming a service-focused culture and commit to taking action to align and strengthen the service focus.
Key Learning Points:
Best practices for engaging everyone from the top down in a continuous cascade of positive actions for Uplifting Service culture.
Quantifying benefits of a service culture in terms of customer experience, competitive positioning, talent development and business results.
Choosing compelling language to create an engaging service vision.
Communicating the vision effectively with all service providers.
Creating the alignment and service commitment to help cross functional teams communicate more effectively with each other and within their own departments.
Culture Keynote
Capturing the Power of a Superior Service Culture: Creating a Sustainable Competitive Advantage
Speech Description
In a world where customers and staff have increasing options, companies with a powerful service reputation and an Uplifting Service culture are attracting and retaining the best talent, achieving market leadership and enjoying sustainable success. In fact, building a service-focused culture today is no longer an option — it's a competitive necessity. This session provides senior executives with the opportunity to step back and answer the question, "Is the service culture that exists in my company today providing me with a strong competitive advantage for tomorrow? If so, what can I do to keep it growing stronger? And if not, what can I do to make it better right now?" Packed with case studies and best practice examples from companies around the world, Capturing The Power Of A Superior Service Culture shows you why some organizations succeed beautifully – and others fail miserably. Participate in this presentation to find out what works, what doesn't, what your organization should do, and what you must avoid.
Key Learning Points:
Why an Uplifting Service culture earns you a sustainable advantage.
How to engineer your service culture with a proven three-part architecture and implementation roadmap.
How to align The 12 Building Blocks of Service Culture™ to get more impact from the activities you are already doing.
How to track, improve and measure the value of your service culture.
Why a weak service culture leads to more complaints, lower margins and higher staff turnover – and how you can avoid these problems.
Customer Service Keynote Speaker Demo
Leadership Keynote
Ron Kaufman delivers a keynote speech on leadership. He emphasizes that "Leadership can be expressed at any level. You don't have to be a CEO to be a service leader….you don't need to be the leader in order to take the lead, in service."
He goes on to describe his seven rules of service leadership, which are "specific behaviors that [he] noticed great leaders of service organizations consistently do." The first rule is that "a leader needs to be the one who declares that service is a top priority." The top leaders in a company must be the ones to declare that the company will change, in order for that change to be lasting.
The Seven Rules of Service Leadership
What Are the Nine Behaviors of "Truly Loyal Customers"