* Please note that while this speaker's specific speaking fee falls within the range posted above (for Continental U.S. based events), fees are subject to change. For current fee information or international event fees (which are generally 50-75% more than U.S based event fees), please contact us.
Top25 Speaker Voting

Ron Garan needs 6 vote(s) to make it into the Top 25 speakers on Speaking.com!
Speaker Booking Tip
"Tip: speakers bureaus provide added value that you cannot get by booking speakers directly. "
For Event Planners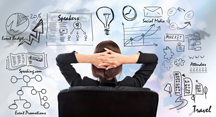 • Keynote Speaker Booking Toolkit.
• Booking a Celebrity Speaker.
• How to Find and Book the Right Speaker.
• Google+ Event Planning Forum.
• Tips for International Clients Booking U.S. Based Speakers.
Similar Speakers
Boomer Esiason

American football hero, Boomer Esiason is the most visible national figure in the fight against cystic fibrosis, a life-threatening genetic disease that affects the lungs…

Jack Canfield

Originator of The Chicken Soup for the Soul® series, Jack Canfield launched a series of anthologies that has inspired millions of people around the world…

Mick Ebeling

Name one of the "50 Most Creative People" in the world, Mick Ebeling specializes in using imagination and technology to win small victories for humanity…

Your speakers bureau was a tremendous resource for the NHL as we planned and executed our NHL Club Business Meetings. Their assistance with securing our keynote was invaluable. They provided detailed information in a timely manner which was crucial to the success of the event. The execution was seamless!
National Hockey League
About SPEAKING.com
Established in 1994, we are exclusive agents for some of the world's leading experts, celebrities and professional speakers.
We offer event planners a fully staffed speaker logistics planning team, plus a personal SPEAKING.com Account Executive – a knowledgeable and trustworthy partner. We guarantee your satisfaction with your speaker and a smooth booking process.
Contact us today to book your favorite speaker.

"Ron is an extremely compelling speaker who masterfully blends his diverse professional experience and experience as an ambassador for the social business movement into a message that has left a profound positive impact on countless individuals and organizations. Using stunning imagery and compelling dialog, Ron puts the issues and challenges facing all organizations into a whole new perspective – an orbital perspective. We recommend Ron as an inspirational speaker at all our conferences and to our corporate clients."
Hans Reitz, Founder/Managing Director, Grameen Creative Lab
"Ron Garan delivered an extremely inspirational and thought provoking address at the Association of MBAs' Conference. His personal insight into a field that very few of us will ever get to experience combined with strong messages and lessons for the audience ensured that his participation was one of the highlights of the event. Delegate feedback reflected this. I would not hesitate to recommend Ron for other conferences as someone who has a unique story and is able to tell it in a way that delivers at both the inspirational and educational level." .
Sir Paul Judge, President, Association of MBAs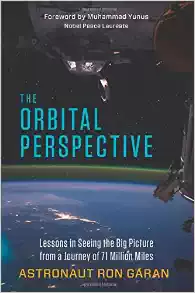 The Orbital Perspective: Lessons in Seeing the Big Picture from a Journey of 71 Million Miles
For astronaut Ron Garan, living on the International Space Station was a powerful, transformative experience—one that he believes holds the key to solving our problems here on Earth.
On space walks and through windows, Garan was struck by the stunning beauty of the Earth from space but sobered by knowing how much needed to be done to help this troubled planet. And yet on the International Space Station, Garan, a former fighter pilot, was working work side by side with Russians, who only a few years before were "the enemy." If fifteen nationalities could collaborate on one of the most ambitious, technologically complicated undertakings in history, surely we can apply that kind of cooperation and innovation toward creating a better world. That spirit is what Garan calls the "orbital perspective."
Garan vividly conveys what it was like learning to work with a diverse group of people in an environment only a handful of human beings have ever known. But more importantly, he describes how he and others are working to apply the orbital perspective here at home, embracing new partnerships and processes to promote peace and combat hunger, thirst, poverty, and environmental destruction. This book is a call to action for each of us to care for the most important space station of all: planet Earth. You don't need to be an astronaut to have the orbital perspective. Garan's message of elevated empathy is an inspiration to all who seek a better world.

The Orbital Perspective Lessons Learned from a Journey of 71 Million Miles
Explore topics affecting society, business, the environment, and our lives through the lens of the orbital perspective: trends, patterns and truths emerge that can shift our understanding and perception in a profoundly positive way. Discussing a long-term, big-picture perspective has the power to transform ourselves, our communities, our companies, our nations and the world.
Leadership in the 21st Century: The Key is We
The true leaders of the 21st century will be those who understand that we can no longer go it alone. The problems facing our world are too big, the challenges too critical and potential catastrophe too imminent to adhere to the old way of doing things. We must be able to find ways to set aside our differences and work together toward our common goals. The successful companies of the future will also realize that they can do well by doing good. Ron Garan knows firsthand that the definition of Corporate Social Responsibility (CSR) is being turned on its head.
Exploration is in Our DNA: Change is Risky Business
The desire to see over the next hill has propelled humanity to ever-increasing capabilities. In society's rapidly changing landscape, not exploring new ways to push human capabilities is no longer an option. With any change comes risk. Ron Garan pulls from decades of risk management experience as a seasoned fighter pilot and astronaut and drives home the point that today, the riskiest course of action is to do nothing. Organizations need to embrace change and understand that the riskiest course of action is to keep doing the same things the same way.
Innovation: Beyond the Buzzword
Innovation is not doing the same thing better, it's doing something completely new and radically better. The fundamentals of business are transforming and the impossible is becoming possible on a daily basis. Ron Garan illustrates how exponentially increasing technology is causing trends and economic engines to develop that, if embraced and accelerated, could have a profound, positive effect on the environment, society, and a business's bottom line.

Ron Garan - Connecting Humanity's Changemakers
Former astronaut and aquanaut, Ron Garan affirms that we already have all the technology necessary to fix all the problems the world faces. What's stopping us then from solving world hunger or shifting to clean energy sources?
"The main reason…lies in our inability to effectively collaborate on a global scale," Ron reveals; however he points to the space program and historically remarkable achievements like the construction of the International Space Station to show that the world's most powerful countries are indeed capable of working together. "It [the ISS] was built in space by 15 different nations. These nations weren't always the best of friends; they had to overcome different political systems, different cultural bias, different languages in some cases, and they somehow were able to set aside their differences to accomplish this amazing feat."