* Please note that while this speaker's specific speaking fee falls within the range posted above (for Continental U.S. based events), fees are subject to change. For current fee information or international event fees (which are generally 50-75% more than U.S based event fees), please contact us.
Top25 Speaker Voting

Roger Martin needs 5 vote(s) to make it into the Top 25 speakers on Speaking.com!
Speaker Booking Tip
"Tip: ask your speaker to do a book signing or attend a VIP meal with your guests. "
For Event Planners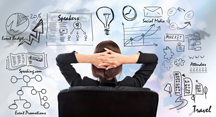 • Keynote Speaker Booking Toolkit.
• Booking a Celebrity Speaker.
• How to Find and Book the Right Speaker.
• Google+ Event Planning Forum.
• Tips for International Clients Booking U.S. Based Speakers.
Similar Speakers
Tom Oliver

Award-winning speaker and philanthropist Tom Oliver combines leading business practices with social corporate responsibility - a holistic recipe for success in the 21st century. He's…

Jeffrey Hayzlett

Expert in leadership, change management and communication, Jeffrey Hayzlett is a bestselling author whose creativity and entrepreneurial skills make him much in demand as a…

John Gray

The best-selling relationship author of all time, John Gray inadvertently coined a pop culture catch phrase with the title of his best-selling book Men Are…

Working with your speakers bureau has been a pleasure. Everyone on your team was extremely responsive and informative, and really helped us to customize our event. I will be sure to reach out to your agency again in the future with any speaker needs that I may have.
The Advisory Board Company
About SPEAKING.com
Established in 1994, we are exclusive agents for some of the world's leading experts, celebrities and professional speakers.
We offer event planners a fully staffed speaker logistics planning team, plus a personal SPEAKING.com Account Executive – a knowledgeable and trustworthy partner. We guarantee your satisfaction with your speaker and a smooth booking process.
Contact us today to book your favorite speaker.

"... incredibly good on his feet in front of an audience. If want to get your company serious about innovation, tell them to give Roger Martin a call!"
Bruce Nussbaum,
Editor,
Business Week On-Line

Partial Client List:

AIGA Make/Think Memphis
DMI San Francisco
Skoll World Forum (Oxford)
P&G
Target
Microsoft
Procter & Gamble
Four Seasons Hotels and Resorts
Genentech
University of Dayton Center for Learning and Executive Development
Design of Business: Why Design Thinking is the Next Competitive Advantage
Most companies today have innovation envy. They yearn to come up with a game-changing innovation like Apple′s iPod, or create an entirely new category like Facebook. Many make genuine efforts to be innovative-they spend on R&D, bring in creative designers, hire innovation consultants. But they get disappointing results.

Why? In The Design of Business, Roger Martin offers a compelling and provocative answer: we rely far too exclusively on analytical thinking, which merely refines current knowledge, producing small improvements to the status quo.

To innovate and win, companies need design thinking. This form of thinking is rooted in how knowledge advances from one stage to another-from mystery (something we can′t explain) to heuristic (a rule of thumb that guides us toward solution) to algorithm (a predictable formula for producing an answer) to code (when the formula becomes so predictable it can be fully automated). As knowledge advances across the stages, productivity grows and costs drop-creating massive value for companies.

Martin shows how leading companies such as Procter & Gamble, Cirque du Soleil, RIM, and others use design thinking to push knowledge through the stages in ways that produce breakthrough innovations and competitive advantage.

Filled with deep insights and fresh perspectives, The Design of Business reveals the true foundation of successful, profitable innovation.
Order Here




Opposable Mind: Winning Through Integrative Thinking
If you want to be as successful as Jack Welch, Larry Bossidy, or Michael Dell, read their autobiographical advice books, right? Wrong, says Roger Martin in The Opposable Mind. Though following "best practice" can help in some ways, it also poses a danger: By emulating what a great leader did in a particular situation, you′ll likely be terribly disappointed with your own results. Why? Your situation is different.

Instead of focusing on what exceptional leaders do, we need to understand and emulate how they think. Successful businesspeople engage in what Martin calls integrative thinking-creatively resolving the tension in opposing models by forming entirely new and superior ones. Drawing on stories of leaders as diverse as AG Lafley of Procter & Gamble, Meg Whitman of eBay, Victoria Hale of the Institute for One World Health, and Nandan Nilekani of Infosys, Martin shows how integrative thinkers are relentlessly diagnosing and synthesizing by asking probing questions-including "What are the causal relationships at work here?" and "What are the implied trade-offs?"

Martin also presents a model for strengthening your integrative thinking skills by drawing on different kinds of knowledge-including conceptual and experiential knowledge.

Integrative thinking can be learned, and The Opposable Mind helps you master this vital skill.
Order Here




The Future of the MBA: Designing the Thinker of the Future
The MBA is probably the hottest ticket among the current university graduate degree offerings—every year, more than 120,000 students enroll in MBA programs in the United States, and the estimates in Europe do not lag far behind. In addition, job prospects have never looked better for business school graduates; corporations are hiring more business school graduates every year, and compensating them more handsomely.

The Future of the MBA provides a sorely needed detailed and systematic review of the major contemporary debates on management education. At the same time, it makes a striking new proposal that will certainly have an impact in business schools: that managers need to develop a series of qualitative tacit skills which could be appropriately developed by integrative curricula brought from different disciplines, including sociology, philosophy, and other social sciences.

Moldoveanu and Martin, both involved in the greatly respected integrative business education program at the Rotheman School of Management, provide a guide on how to design a reliable integrated program for management students. One of the main assets of the book is that it relies not just on speculative thinking, but on real life experience, and that it also includes case studies that will appeal to practicing managers.

As an authoritative reference on MBA education, it will appeal to faculty and staff of business schools, as well as students in related fields like education and public policy.
Order Here





Integrative Thinking
Integrative Thinking is the ability to constructively face the tensions of opposing models, and instead of choosing one at the expense of the other, generating a creative solution of the tensions in the form of a new model that contains elements of the individual models, but is superiors to each.
I am devoted to helping students and executives improve their decision-making by distilling the thinking approach of highly successful leaders and imbedding it in MBA and executive curricula. Many years ago, I came to the conclusion that watching what highly successful leaders do is confusing and unhelpful. They do what they do because of the specifics of the situation; which is likely to be different from yours.
However, my research has shown that while their actions vary widely, their method of thinking and deciding has strong common themes. I call it Integrative Thinking and am demonstrating with business students and corporate and NGO executives that it can be taught.
Design Thinking
Design Thinking balances analytical thinking and intuitive thinking, enabling an organization to both exploit existing knowledge and create new knowledge. A design-thinking organization is capable of effectively advancing knowledge from mystery to heuristic to algorithm, gaining a cost advantage over its competitors along the way. And with that cost advantage, it can redirect its design thinking capacity to solve the next important mystery and advance still further ahead of its competitors. In this way, the design-thinking organization is capable of achieving lasting and regenerating competitive advantage.
Analytical thinking is great for exploiting knowledge within the existing stage – i.e. refining an existing heuristic or honing a current algorithm. Intuitive thinking is great for advancing knowledge to the next stage – i.e. exploration of mysteries to make them heuristics or heuristics to make them algorithms. Analytical thinkers focus almost exclusively on generating reliability – the ability to produce a consistent, replicable outcome – while intuitive thinkers focus on validity – the production of a desired outcome, whether or not it is consistent or replicable.
I am committed to helping exploitation and reliability-driven analytical thinkers and exploration and validity-driven intuitive thinkers understand why and how they need each other and why the higher goal for each is to develop their design thinking capacity. This is the capacity to combine the best of analytical and intuitive thinking into a reasoning capability that balances exploitation and exploration; that seeks reliability and validity; that provides the fastest and best movement through the Knowledge Funnel; and provides lasting competitive advantage in the 21st century.
Strategic Choice Architecture
Strategic Choice Architecture is the process by which strategic choices are identified and structured so that they can be made in a way that leads naturally to productive action for the organization.
I am devoted to helping senior management teams improve the architecture of their strategy choices. They often find themselves struggling to determine what choices really need to be tackled to advance the cause of their organizations. And when they tackle whatever choices they think important, they tend to struggle to make the choices and even more to see those choices convert to action. As a result, there is perceived to be a crisis of 'implementation' in organizations. Rather I see the problem as one of how strategic choices are made. I have created a process called Strategic Choice Structuring which is designed to help management teams focus on the high-value choices, make inspired choices, and make them in a way that leads to productive action. It is a process that major companies like Procter & Gamble and Dun & Bradstreet utilize throughout their strategic processes.
Incentives, Executive Compensation and Governance
Incentives, Executive Compensation and Governance are three important topics that are linked to one another. The corporations that are such a big part of the productivity and prosperity equation require governance that ensures that they are using their financial, human and physical assets constructively. A key facet of the governance of modern corporations is the compensation of executives, especially of the CEO, for which the board of directors has sole authority. Executive compensation, in turn is a function of how we think about incentives that can be used to shape and encourage executive behavior and action.
Jurisdictional Competitiveness and Prosperity
Jurisdictional Competitiveness and Prosperity defines the relationship between the competitiveness of a jurisdiction – whether city-region, state or province, or nation – and the degree to which its inhabitants enjoy high and rising prosperity. Prosperity is a function of the institutions and infrastructures that enable financial, human, knowledge, social and physical assets to be combined so as to produce more valuable outputs than those of competing jurisdictions.
Social Innovation
Social Innovation refers to strategies, concepts or ideas that are aimed at strengthening civil society and making the world in which we live a better place for society broadly. There are many forms of social innovation with many goals. My interest is particularly in two areas of social innovation. The first is the role that corporations can play in being better citizens, showing better stewardship for their world. The second is in the practice of social entrepreneurship— that is, entrepreneurial activities aimed more so at making the world a better place than making the entrepreneur rich.
I am devoted to helping those interested in corporate citizenship and social entrepreneurship have better theories and tools with which to shape their actions. I believe that many good-hearted CEOs what like their company to be a better corporate citizen, but lack the tools for doing that. The only tools and techniques they know and are comfortable with are tools designed to help them maximize shareholder value. I believe that if we can provide them with better tools, backed by better theory, they will be empowered to help their companies become better citizens and help make our world a better place. To that end, I worked with entrepreneur Michael Lee-Chin, founder of AIC, to found the AIC Institute for Corporate Citizenship at the Rotman School. I have been working hard, along with Executive Director Rod Lohin and Research Fellow Alison Kemper on advancing the theory and practice of corporate citizenship through the AIC Institute.
I also believe that social entrepreneurs have the potential to change the world in stunning ways. However, it is a relatively new concept and the field needs building. My devotion is to building the theory of social entrepreneurship and providing insights on successful methods that have the promise of providing assistance to social entrepreneurs around the world. One of the most important supporters of social entrepreneurship is Jeff Skoll whose foundation, the Skoll Foundation, invests in, connects and celebrates social entrepreneurs. As a founding board member of the Skoll Foundation, I have worked with its President and CEO Sally Osberg on creating a better definition of social entrepreneurship to help the Foundation better target its investments.

How Strategy Really Works: Roger Martin
"Strategy is about making five choices. If you make those choices and make them well it will help your company, your organization, be as good as it can be," explains Roger Martin as he teaches his audience how to implement effective strategies for success. He emphasizes the importance of developing these strategies: "If you don't make these five choices I would argue that you might get lucky… but you won't have sustained excellence of any sort."
Talent vs. Capital: Roger Martin
Day II PLENARY V: Roger L Martin about "How Should Leaders Embrace Complexity?
Roger Martin: Demo Video