* Please note that while this speaker's specific speaking fee falls within the range posted above (for Continental U.S. based events), fees are subject to change. For current fee information or international event fees (which are generally 50-75% more than U.S based event fees), please contact us.
Top25 Speaker Voting

Rod McKinnis needs 6 vote(s) to make it into the Top 25 speakers on Speaking.com!
Speaker Booking Tip
"Tip: ask your speaker to do a book signing or attend a VIP meal with your guests. "
For Event Planners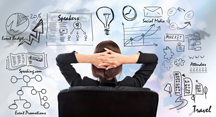 • Keynote Speaker Booking Toolkit.
• Booking a Celebrity Speaker.
• How to Find and Book the Right Speaker.
• Google+ Event Planning Forum.
• Tips for International Clients Booking U.S. Based Speakers.
Similar Speakers
Marilyn King

Former Olympian Marilyn King is an extraordinary speaker, providing business leaders and educators with the tools and skills they need to dig deep–and reach for…

Albert Mensah

Called the "Ambassador of Opportunity", Albert Mensah worked his way from a mud hut in an impoverished part of Ghana to the world stage. Mensah's…

Mary LoVerde

Mary LoVerde is one of the country's leading experts and strategists in work-life balance. Since 1994, she has helped boost levels of engagement, connection, profitability,…

SPEAKING.com / Core Agency were very helpful in every way possible. I would recommend them to others and we will most definitely secure all our future conference speakers through them again.
Babcock & Wilcox
About SPEAKING.com
Established in 1994, we are exclusive agents for some of the world's leading experts, celebrities and professional speakers.
We offer event planners a fully staffed speaker logistics planning team, plus a personal SPEAKING.com Account Executive – a knowledgeable and trustworthy partner. We guarantee your satisfaction with your speaker and a smooth booking process.
Contact us today to book your favorite speaker.

"We saw 53% revenue growth in the first 3 months during a tough economy...really Rod, I was tremendously impressed and hardly a day goes by that we don′t use your name and discuss what you brought us."
Scott Rovn,
VP of Sales and Marketing,
NASCAR

"I went on a tear after your presentation and ended up 150% in October...your techniques and motivations have been very helpful and enabled me to get promoted."
Rob Gitell,
Sales V.P.,
Thomson Reuters

"Rod McKinnis is strategically brilliant."
John Bunch,
President Retail Distribution,
TD Ameritrade

"Rod McKinnis is FABULOUS! After his keynote we re-booked him for our sales training initiative, I highly recommend him."
Sheila Richardson,
General Manager,
U.S. Department of Justice Unicor
Sales Is Simple
Rod McKinnis provides a powerful and easy-to-read tutorial to dramatically enhance your sales results though a deeper understanding of human behaviors and the underlying life needs that drive them.
Order Here





Rod specializes in revitalizing sales organizations by redefining the sales industry with his powerful, passionate and increasingly popular presentations:

High Performance Sales/Productivity - Trying to Reach the Next Level?
How to Build a High Performance Sales Team in 6 Months™ 
How to Double Sales Revenue in 12 Months™ 
What Top Performing Salespeople Won′t Tell You™   
Want to become a World Class selling organization? Find out why the New York Times has documented Rod′s innovative sales system and the World Chronicle refers to Rod as the "Sales Master". Each of these presentations are packed with powerful illustrations and a proven, cutting edge sales approach. 
Key Benefits for the Audience:
Immediate and Sustained Increase in Sales Productivity
Improved Sales Results
More Sales Revenue
"Rod McKinnis will change the world of selling as we know it." Walter Bond - Walter Bond Seminars
Performance Improvement/Motivation - Does Your Team Need a Boost?
Revitalize! Get Unstuck™
Sales Is Simple™
Why 83% of Sales Teams Will Fail and How to Avoid It™ 
Has your team stalled? If you keep doing the same practices you will achieve the same results. Find out how Rod′s humor, energy and thought provoking presentations will jumpstart any sales or non-sales team. Rod′s innate ability to connect with audiences using impactful stories from his experiences with thousands of sales reps and employees will enable modified behavior going forward. 
Key Benefits for the Audience:
Revealed talents and heightened awareness of internal behavior
Modified employee behavior - professionally and personally
Improved Employee and Customer Satisfaction    
"Using Rod's practices we have turned 2 multi-million dollar sales organizations in our company from worst to first in 6 months"  Matt Robinson - Fortune Global 500 SVP of Training
Strategic Planning/Business Growth - Need a Competitive Edge?
Innovate Your Sales Force™ 
Maximize Your Customer Experience™ 
Your Sales Force of the Future™
Want to improve bottom line results, customer and employee satisfaction? Find out how to differentiate your sales team from your competition. Rod′s innovative sales approach will equip your sales force to execute an effective sales strategy in any sales environment and enjoy doing it. 
Key Benefits for the Audience:
Sales Reps learn how to connect efficiently and effectively with customers and prospects
Improved customer satisfaction
Shortened sales cycles       
"I went on a tear after we met and ended up 150% for October…your techniques and motivations have been very, very helpful to me and I so appreciate your help!!" Rob Gitell - Thomson Financial 
Rod outlines a proven cutting edge approach in all programs with a fresh vigor, innovation and compelling wit. Additionally, each program is rooted in over 30 years of sales and behavioral research geared to interupt the conventional wisdom of selling and team behavior. 
"Personality having an influence on sales productivity and results is the biggest myth that exists in the sales industry today...our startling discovery changes everything!" Rod McKinnis  
The important research, coupled with Rod's actual experience and smooth yet energetic delivery differentiates Rod from rest of the pack. He is an absolute hit for sales conferences…
"I recently did a half day sales seminar along with Rod McKinnis, I must be completely honest, it was bitter sweet for me. Having Rod for the seminar increased the value tremendously for the client, which is the sweet part. Rod presented for only 45 minutes and I spoke for 3 hours and after the seminar the meeting attendees talked more about Behavior Selling, than they did about my portion of the training. The bitter part is that I was the one voted ′Speaker of the Year′ for 2005."
Walter Bond - Walter Bond Seminars
**Coming Soon** 
Sales Is Simple - The book that will change the lives of millions.
A Few Notables:
Arizona Small Business Association, AG Edwards, Citigroup, Met Life, National Sales Network, New York Life, Pre-Paid Legal, Re/Max, Thomson Financial, Toronto Dominion Bank, US Bank, Washington Mutual, Wells Fargo, West USA Realty.
Rod McKinnis, Sales Expert: Keynote
Rod McKinnis shares the formula he and his team put in place to grow a multi-billion dollar business unit nearly 50% in 18 months. He attributes this accomplishment not to luck, but to concepts that made getting clients and prospects on board an amazingly simple process.
Rod walks the audience through the methodology behind Starbucks' success to demonstrate how the company has been able to create such an emotionally fulfilling customer experience to the point where we're willing to pay a price for coffee that's 280% more than the lowest available cup. "The game has changed," Rod notes. "Not only do we have to meet the business need but we have to meet the emotional need…if you do both, that's where the magic happens."