Top25 Speaker Voting

Robyn Benincasa needs 7 vote(s) to make it into the Top 25 speakers on Speaking.com!
Speaker Booking Tip
"Tip: speakers bureaus provide added value that you cannot get by booking speakers directly. "
For Event Planners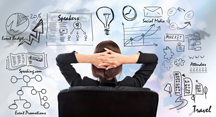 • Keynote Speaker Booking Toolkit.
• Booking a Celebrity Speaker.
• How to Find and Book the Right Speaker.
• Google+ Event Planning Forum.
• Tips for International Clients Booking U.S. Based Speakers.
Similar Speakers
Warren Macdonald

A catastrophic moment redefined Warren Macdonald's life in April 1997 when a one-ton boulder fell on him during an excursion on a remote Australian island.…

Daniel Sieberg

Award-winning TV correspondent and official Google spokesperson, Daniel Sieberg has covered technology for 20 years, reporting for CBS, ABC, BBC News, NPR, and PBS, among…

Robert Swan

The first person ever to have reached both the north and south poles on foot, explorer and adventurer Robert Swan knows what it takes to…

Our Account Executive is an extraordinary person. Always available, very kind and funny. Eager to help and always quick to respond. I have so much fun working with him. A very delightful experience. I hope continue working together for years to come!
Credicorp Bank
About SPEAKING.com
Established in 1994, we are exclusive agents for some of the world's leading experts, celebrities and professional speakers.
We offer event planners a fully staffed speaker logistics planning team, plus a personal SPEAKING.com Account Executive – a knowledgeable and trustworthy partner. We guarantee your satisfaction with your speaker and a smooth booking process.
Contact us today to book your favorite speaker.

"The time and thought that you committed to your presentation was abundantly clear to all attendees and you made a profound impact on the VMI Community. The example of your contributions to our nation related directly to the conference theme, ′Answering the Nation′s Call for Leaders of Character.′ Thank you for answering the call and for inspiring those around you to do the same."
Virginia Military Institute
(Event booked by Speakers Platform)
"Thank you so much for ROCKING the closing of our program! Everyone LOVED your presentation – we are hearing great things! We are most definitely looking forward to having you at future programs."
Deloitte
(Event booked by Speakers Platform - Multiple Events)
"My path to being a Deloitte summer associate has been a long one….I studied architecture in India, and went on to practice it in Europe and the US before starting my own company in Chicago. Since then, I moved on to developing and managing a convention center and I was finally able to go back to school for my MBA last fall. Nowhere in all my years have I heard someone articulate the basic tenets of leadership and teamwork as well as you did. Needless to say, you left us all impressed!"
Deloitte
(Event booked by Speakers Platform)
"Robyn was outstanding. Everyone was able to relate to her. Her talk set a positive, upbeat and highly motivating tone for our meeting. Comments were unanimous that this was the best sales meeting the company had ever held."
DUSA Pharmaceuticals, Inc.
(Event booked by Speakers Platform)
"The conference went great!!! You were so effective in teaching teamwork, setting the tone is an understatement!!! We really got it!! That evening we did set up our committee by vote. We also redistributed 300 existing client business accounts for service with eager cooperation from everyone. The next day we increased the state′s incentive fund contribution, set up a recruiting fund and training fund. These are monies that are deducted from everyone′s statements and used to cover contest, conference etc. Anyway, that went very well too.
Our moral has improved 100%. The meeting surveys were all positive and gave you lots of luv for your roll in our conference."
- Steven W. Kaiser, State Sales Coordinator, Aflac Hawaii/Guam
"Hey Robyn... i saw you speak at leadership academy in 2006 and you were my ABSOLUTE favorite speaker..I got goosebumps when i saw your video footage and so admire all your dedication and strength! You so inspire me and when I have a hard time with workouts...I think of how kick-ass u are...and keep going! So much love to you Robyn...u rock!"
- Jennifer Brown, Anthony Robbins Leadership Academy
"...It′s been just over a year since we did that meeting with you and people still talk about being the best teambuilding meeting we′ve ever held."
- Irwin I. Golub, Northrop Grumman IT Solutions Team
"I have known Robyn Benincasa for a number of years, and have utilized her talents as both a speaker, as well as a leader of team oriented events. While the SVP for the Western U.S. for Starbucks Coffee, I selected her as both the lead speaker, as well as the team leader, for our annual Store Manager Leadership Conference, held in Tacoma, Washington. The event was an overwhelming success. In fact, 6 years later, they are still talking about the key learnings, the fun, and the excitement of working together as a team. She also addressed the national Leadership Conference for Starbucks Coffee, speaking to about a 1000 attendees, including the Board of Directors, Howard Schultz, the founder, as well as the senior leadership team, the corporate office, and the entire field organization for Starbucks. She was a great success.
Likewise, 2 years ago I was the C.O.O. for It′s A Grind Coffee Houses, and we invited Robyn to facilitate a one day team building event, as well as deliver the keynote address at the first ever national Franchisee Convention. She went above and beyond, ensuring the success of the event, and providing much in the way of key learnings the each Franchisee could take back to their individual businesses. I can recommend Robyn and her team to provide an exceptional event that will thrill the audience short term, and provide meaningful change in the long-term as she provides key insights into the synergies of building a World Class team. If you have any further questions, please do not hesitate to call."
-- John Alderson, Zone V.P. Starbucks/C.O.O. It′s a Grind
"Robyn has a singular energy which she transmits to her audience, allowing them, at least vicariously, to live what she has experienced. Her story is a call-to-action to be more active at whatever level in the great outdoors."
--Lee Plesser Smith, Marketing Manager, Timberland
"Your "8 Essential Elements of Human Synergy" was by far the presentation was absolutely the best of all the sessions I attended at this years HDI Conference. In fact it was the best corporate presentation I have ever seen. I really DID leave the session inspired."
- Frank Hartnagel, IT Asset Management Analyst, HDI
"Robyn, thanks again for the awesome presentation you gave to our HR meeting this past Monday. It was by far the best and most inspiring talk I have ever heard. I have taken to heart some of the key messages from your talk and have and will use them in my personal as well as my work life. You really made a difference and for that I am grateful."
-- Edward Hayes, Siemens Medical Solutions, Director, Human Resources
"I cannot thank you enough for your dedication and phenominal delivery at the Teambuilding/Bikebuilding event at our National Managers Meeting. I received SO many wonderful, positive comments about Robyn′s presentation. The audience felt you were very authentic, passionate and that you really understood ′Jamba′. I/we were thrilled. I suspect there will be many upcoming occasions for us to work together. I look forward to it!"
-- Renee Kempler, Jamba Juice, Director of Retail Marketing
"We had so much fun with you. I literally received so many compliments on your message and comments about how your talk touched people - some wanted to go home and share with their husbands/wives/families. Several others said you were the best speaker they had ever heard (my opinion too by the way) and that more in Nestle should hear you! You SO over-delivered both in your speech and in your willingness to spend time with our team. I couldn′t have asked for a more perfect message to be delivered at just the right time."
-- Lisbeth Armentano, Director of Communications & Promotions, Nestlé Nutrition Division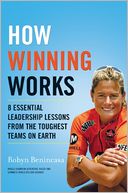 How Winning Works
Robyn Benincasa has made an art form of extreme performance by competing and winning at the highest levels of sport and business. In her fifteen-year career as a professional adventure racer, she has biked through jungles in Borneo, climbed Himalayan giants in Nepal, trekked across lava fields in Fiji, rafted rapids in Chile—and racked up multiple world championship titles along the way. In her spare time, she is a firefighter and a sought-after keynote speaker on the subject of teamwork and leadership.
In How Winning Works, Benincasa shows you how to climb to new levels of professional and personal success. She shares the eight essential elements of teamwork, learned through her extreme adventure racing, that create synergy with all the teammates in your life, from colleagues and customers to family members and friends:
Total Commitment
Empathy and Awareness
Adversity Management
Mutual Respect
"We" Thinking
Ownership of the Project
Relinquishment of Ego
Kinetic Leadership
This field guide to success shares the same training tools and exercises that have become wildly popular in the leadership seminars Benincasa gives to corporations, including Starbucks, Deloitte Consulting, 3M, Verizon, Nestlé, Boeing and many others. Stories from her adventure racing also illustrate how winning teams interact under the world's most extreme conditions, from jungles to mountain peaks.
Whether you're trying to beat the competition to market with a new product, scale a looming mountain of deadlines or simply get your kids to clean up their rooms, the advice in this book will take you on an adventure you'll never forget, and coach you over the finish line to success.
Building World-class Teams: The 8 Essential Elements of Human Synergy
What do the world's most successful teams have in common? They have the ability to upgrade their teamwork to human synergy—"the magic that allows groups of ordinary people to accomplish extraordinary things together."
Robyn Benincasa takes groups on a fast-paced multimedia adventure which visually and viscerally imparts the mindset that allows teams to adapt, overcome, and win as one against all odds, especially when the stakes are high, the goals are audacious, and constant change is the only thing a team can count on. World-class teams will discover that achieving at peak levels isn't only about reaching up and trying harder as an individual, but reaching out and creating human synergy.
During her teambuilding keynote, this World Champion adventure racer, CNN Hero and San Diego firefighter gets attendees buzzing with inspired ideas about how to raise their team to the next level, both personally and professionally. They'll take home simple and easily applied skills that allow them to create human synergy with all of the teammates in their lives.
The eight essential elements of human synergy Benincasa covers in her keynote are:
Total commitment
Empathy and awareness
Adversity management
Mutual respect
"We" thinking
Ownership of the project
Relinquishment of ego
Kinetic leadership
Extreme Performance: Why Winners Win
What are the common attributes of people who make a lifelong habit of winning and succeed against all odds?
Drawing inspiration from Robyn Benincasa's team of World Champion adventure athletes, as well as "winners" from all walks of life, this program uncovers the common traits and attitudes of the world's most consistent high performers.
The "best of the best" experience times of great challenge and change just like everyone else. But with characteristic courage, luck (opportunity + preparation), adversity management skills, and a keen ability to create synergy with their colleagues, they possess the ability to continually motivate and inspire themselves and those around them in any endeavor.
Attendees will experience the thrill of peak performance and exceptional leadership through Benincasa's incredible stories and breathtaking video footage of extreme performers in action. They will leave energized and empowered to create consistent world class results in every aspect of their professional and personal lives!
Leading Through Change
How do the world's most consistently high-performing leaders always find a way to get their teammates to the finish line and achieve their goals against all odds? Great leaders experience times of great turbulence, challenge and change in every aspect of their lives, but it is their attitude and mindset that carries them and teammates to greater heights in the face of that change.
Leading through change means being ruled by the hope of success versus the fear of failure, embracing setbacks as a chance to learn and excel, and never letting the pursuit of perfection hinder progress. In her Leading Through Change keynote, Robyn Benincasa shares incredible stories and videos from the worlds of adventure racing and firefighting that illustrate how great leaders succeed against all odds and triumph in the face of adversity.
Benincasa's stories and meaningful messages will not only entertain and amaze; attendees will walk away with a leadership skill that will help them shatter the norm, see challenges versus roadblocks, and inspire their teammates to once again see a future full of possibilities.
Leading Safer Teams: How Great Leaders Inspire "Commitment" Versus "Compliance"
In this keynote, safety speaker Robyn Benincasa takes her audience on a compelling and unforgettable multimedia adventure, including video footage and analysis of preventable disasters and thrilling safety success stories from the worlds of adventure sports and firefighting. This World Champion adventure racer, San Diego firefighter, and New York Times bestselling author offers unique, simple, yet extremely effective tools for inspiring the people that we work with and work for to be safer every day!
Here are the six factors in leading safer teams—the kind of teams that COMMIT to safety because they care, and COMMIT to ensuring everyone on their team goes home each day!
1. Conflict resolution—Resolving the four attitudes in conflict with our safety
2. Ownership—Inspiring the preparation and education to be a positive force for safety
3. Measure, then mitigate—Is it worth the risk? How do we mitigate that risk when faced with the unimaginable?
4. Mutual respect—Inspiring the leadership, loyalty and teamwork to safely cross any challenging finish line
5. Innovate, adapt, and overcome—Using our creativity, adaptability, resources and teammates to save the day
6. Teamwork—The essential elements required for building world-class teams that succeed against all odds!

SAFETY
Dangerous Attitudes, Deadly Consequences
In her "Why Bad Accidents Happen to Good People" Safety Keynote, World Champion Adventure Racer, San Diego Firefighter, and New York Times Best Selling Author, Robyn Benincasa takes your team on a compelling and unforgettable multimedia adventure, including video footage and analysis of preventable disasters and thrilling safety success stories from the worlds of adventure sports and firefighting, and offers some unique, simple, yet extremely effective tools for inspiring the people that we work with and work for to be SAFER every day!
Why Do Bad Accidents Happen to Good People? According to research, it's as simple as ABCD:
A = Attitude: Not Me, Not This Time, Not My Place, Not My Job
B = Background and Preparation
C = Circumstances (Preventable or Non-Preventable? Hint: 80% are preventable!)
D = Decisions
How Do We Inspire People to be SAFER?
S = Synergy—Seeing one another as TEAMMATES vs simply colleagues. We are better... together!
A = Adapt—Situational awareness, focus on what it takes to "win" when it comes to safety/survival versus "not lose"
F = Follow your R's!—Rules, Roles, Regulations and Routine Procedures restore order to extraordinary circumstances
E = Educate and Engage—Move your teammates from Compliance (because they'll be caught) to Commitment (because they CARE)
R = Respect the risk/benefit ratio of your actions, and respect yourself, your teamates and your family to DWR (Do What's Right)
Attendees will go home feeling truly inspired and empowered to keep themselves and their teammates safe because they 'want' to, not because they 'have' to. They will also leave with the desire to be a hero to their new teammates—not just the kind of hero that rushes into danger to save them, but the kind of hero that KEEPS them from endangering themselves and others. With a SAFER mindset, we ensure that the most important goal of all is achieved at the end of the day... Everyone Goes Home.
Robyn Benincasa Keynote Demo Video
This video reel highlights some of Robyn Benincasa's dramatic stories from adventure racing and applies the salient points to everyday life and the business world. She uses an interactive approach with audiences, as well as practical experience from endurance racing, to show that teamwork can be more effective than competition.
She talks about the tow-line concept her team created while endurance racing – why should stronger runners complain and be held back by slower runners on their team when they could literally help pull them along? She discusses having both hips replaced, which led her to focus on boating, and how she now holds the Guinness World Record for longest distance paddled by a female kayaker: 516 km in 24 hours. Every setback can be an amazing way to propel you forward in a different direction than you had ever dreamed.
Robyn shares the journey on which she takes her audiences with her inspirational motivational speeches. She says, "We're going to have an amazing adventure, we're going to explore Australia, New Zealand, Ecuador, but more importantly we're going to explore the human spirit, and the little things which allow ordinary groups of people to accomplish extraordinary things."
Showing how her experience as an Adventure Racer is applicable to the business world, she challenges her audience to think about the similarities between her endeavors and their own. "Before you think this is another crazy sports analogy, think about this and, if you didn't know it was a sport, how it would apply to your business. Small groups of men and women, trying to make it through a series of seemingly endless series of checkpoints in pursuit of a nearly impossible goal working against extreme time pressures and constantly changing conditions with the aim of doing it better than anyone else in the industry."
Encouraging audiences not to be afraid of heading for the heights, however difficult it may seem, she asks, "The higher you get up the mountain, what happens to the terrain? It gets steeper. Your ability to get to the next highest peak is not just a matter of you trying harder as an individual, is not just a matter of reaching up, it's a matter of reaching out to the people around you and creating what I call true Human Synergy."
Robyn Benincasa - Interview
Robyn Benincasa - How Winning Works
Robyn Benincasa - Project Athena
Speech Clips - Archive Demo Video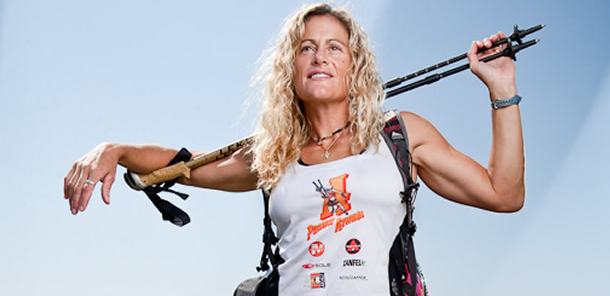 With a trio of Guinness World Records to her name, a CNN Hero designation and a world champion Eco-challenge Adventure Racer, few people are better placed than full-time firefighter Robyn Benincasa to talk about Human Synergy, the force which allows ordinary people to achieve extraordinary things. She brings her experience of leadership, teamwork and overcoming ... more