* Please note that while this speaker's specific speaking fee falls within the range posted above (for Continental U.S. based events), fees are subject to change. For current fee information or international event fees (which are generally 50-75% more than U.S based event fees), please contact us.
Top25 Speaker Voting

Robin Fisher Roffer needs 7 vote(s) to make it into the Top 25 speakers on Speaking.com!
Speaker Booking Tip
"Tip: ask your speaker to do a book signing or attend a VIP meal with your guests. "
For Event Planners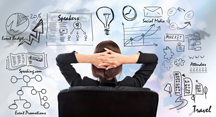 • Keynote Speaker Booking Toolkit.
• Booking a Celebrity Speaker.
• How to Find and Book the Right Speaker.
• Google+ Event Planning Forum.
• Tips for International Clients Booking U.S. Based Speakers.
Similar Speakers
Scott Deming

Scott Deming draws on over thirty years of real, in the trenches, corporate life. His business acumen is broad and deep because of his many…

Robin Koval

For over 25 years, Robin Koval has specialized in getting brands out of the shadows and turning them into household names. The marketing strategist was…

Jan-Benedict Steenkamp

Jan-Benedict E.M. Steenkamp researches global marketing; the effectiveness of such marketing strategies as branding, private labels and new products; interorganizational relationships; and marketing research techniques.…

I just wanted to send a quick follow-up note to say – THANK YOU! I appreciate your partnership, and perseverance in helping us to find the right speaker for our group. Our speaker was absolutely excellent! The group loved him; it was perfect.
DeVry Education Group
About SPEAKING.com
Established in 1994, we are exclusive agents for some of the world's leading experts, celebrities and professional speakers.
We offer event planners a fully staffed speaker logistics planning team, plus a personal SPEAKING.com Account Executive – a knowledgeable and trustworthy partner. We guarantee your satisfaction with your speaker and a smooth booking process.
Contact us today to book your favorite speaker.

"It is with great enthusiasm that I recommend Robin Fisher Roffer as a keynote speaker. She is the perfect choice to turn any conference into a delightful and motivational experience. Her presentation was outstanding. She was engaging, dynamic, and extremely motivating. She emphasized the importance of creating a personal brand strategy, drawing from her own experience and expertise. Robin convinced members of the audience to identify their personal strengths and talents. She then showed each of us, through comparisons with merchandise carried in our Clubs, how to design those thoughts into a brand statement. Essentially, she showed each woman how to market herself as her own best asset. I received nothing but positive feedback in the months following Robin's presentation. I recommend her for any speaking engagement."
Celia M. Swanson,
Executive Vice President,
Sam's Club

"We have received an outpouring of praise regarding your April 10th talk on personal branding for the Columbia Business School Alumni Club of New York. You really had an impact on the audience members who felt very inspired by what you had to say. One woman said she felt not only 'inspired' but also 'blown away' by your presentation! Your warmth and ability to connect with your audience are truly admirable. Although you were speaking to an audience of 200 people, you made each individual feel as though you were addressing his or her own needs. People could not wait to delve into your book. A number of people told me that they started reading it on the subway—one woman even stayed up all night to finish it."
Bonnie Halpern,
Marketing Co-Chair,
Columbia Business School

"As our keynote speaker, your talk on 'Make a Name for Yourself' perfectly hit the mark for our audience. The impact of thinking about ourselves, not just our product or service, as a 'brand' had a profound impact on many of the women business owners in the audience. We can be a tough crowd, and not everyone gets a standing ovation. That response to your talk was heart-felt by the audience, and again, I thank you for imparting such valuable information and inspiration in your talk. I personally have enjoyed augmenting your speech by reading your book. It is a valuable tool not only for business, but for our personal lives." Sandra Hernandez Adams,
President,
National Association of Women Business Owners
The Fearless Fish Out of Water: How to Succeed When You′re the Only One Like You
Everyone′s felt out of place at some point - be they female, minority, a geek, a non-conformist, or just boldly individual. Fearless Fish will show readers how to stay connected while maintaining a unique identity, how to fit in without blending in, how to transform exclusion and have an impact. After all, there is tremendous opportunity for influence when you′re on the edge — you′re already noticed! Fearless Fish will demonstrate how to make the most out of being noticed as you gain the tools for becoming more of who you are, instead of trying to change who you are. It will help readers use the tools they already have to find everything they want in their careers — without sacrificing their souls.
Order Here




Make a Name for Yourself: Eight Steps Every Woman Needs to Create a Personal Brand Strategy for Success
One of America′s leading brand strategists shares her step-by-step program for creating an unforgettable identity in today′s marketplace.
Order Here








GETTING IN FRONT OF THE STORY

If you don't tell your brand's story, others will tell it for you! In today's fast- paced business environment, the quality and relevance of your message and its proactive delivery can mean the difference between your company's success or failure. During this dynamic keynote, Robin Fisher Roffer will share the same secrets to influential storytelling she's applied at powerhouse companies like Microsoft, Food Network, Verizon, FOX and more. You'll learn to respond instead of react to the changing marketplace fearlessly armed with strategies to tell your brand's greatest story and galvanize your team behind it so it can authentically connect with customers, key stakeholders and the press.
THE NO FEAR CAREER
Business is changing at breakneck speed, and what seems like a groundbreaking idea today can be old news tomorrow. Many of us don't have the ability to thrive on change, so we become irrelevant and get discarded. The courageous among us don't ask Why is the happening to me? they declare, This is happening for me! During this inspiring keynote, Robin teaches attendees how to navigate their career fearlessly, push through adversity and let go of what no longer works by letting their intuition and personal vision be their guide. Regardless of the industry, Robin's tried-and-true system of clarifying true purpose and setting goals will transform careers and lives.
MAKE A NAME FOR YOURSELF
Having a strong personal brand is essential to standing out from the pack and bringing maximum value to employers, coworkers, and clients. Based on her seminal book, Make A Name For Yourself, Robin leads audiences through the same eight steps she uses to create and evolve world-class brands for media companies like Sony Pictures, Warner Bros. and Fox, and applies this methodology directly to professionals in your organization. From attracting mentors and sponsors, to owning and working the room to creating a captivating narrative for your career, Robin reveals the secrets to being unforgettable.
THE FEARLESS FISH OUT OF WATER
The tenor of our times, this presentation inspires professionals to celebrate their differences without selling out. The ideal keynote for a women's leadership or diversity event, Robin will reveal how to embrace, enhance and communicate your uniqueness so that you can live and work fearlessly and prosper in today's economy. From unearthing the real you and collaborating with other "Fearless Fish" to finding a signature cause and quieting your inner judge, you'll learn the secrets to taking your career to the next level. Whether you're a woman in a male-dominated environment, a minority, a geek, a nonconformist, or just boldly individual, being different doesn't have to hold you back—in fact, it can actually fuel your success.
MAKING A PRESENTATION THAT STICKS
This lively keynote offers the 10 sparks, which quickly ignite the delivery of a presentation so that it powerfully connects with clients and customers. Through experiential speaker training and demonstrations, Robin Fisher Roffer reveals the secrets to giving the presentation of your life by making a great first impression, taking charge of the room immediately, engaging with passion, using your voice to establish credibility, telling your greatest story, getting your swagger on and "being the brand" you represent so that you can "get to YES" and close deals with comfort and ease.

Robin Fisher Roffer - Demo Video
In this presentation, Roffer opens by asking the audience, "Why are you here?" She goes on to say that she wants to "inspire business owners and corporations to fearlessly reach their full potential." She goes on to explain ways to create powerful presentations and enhance your personal brand. "You need to drill down to what you do in that area that, well, nobody else can do, or you do better than anyone else," she says.
She continues by asking the audience, "What's stopping you from being a rock star in corporate America? …You need to launch and get on with it, a whole new way of thinking, branding. It's yours for the taking and the time is now." She concludes by encouraging the audience to "move and shake, make a name for yourself."