* Please note that while this speaker's specific speaking fee falls within the range posted above (for Continental U.S. based events), fees are subject to change. For current fee information or international event fees (which are generally 50-75% more than U.S based event fees), please contact us.
Top25 Speaker Voting

Robin Farmanfarmaian needs 1 vote(s) to make it into the Top 25 speakers on Speaking.com!
Speaker Booking Tip
"Tip: ask your speaker to do a book signing or attend a VIP meal with your guests. "
For Event Planners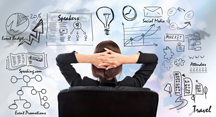 • Keynote Speaker Booking Toolkit.
• Booking a Celebrity Speaker.
• How to Find and Book the Right Speaker.
• Google+ Event Planning Forum.
• Tips for International Clients Booking U.S. Based Speakers.
Similar Speakers
Dr. William Sears

Renowned Pediatrician & Parenting Expert Dr. William Sears, one of America′s most renowned pediatricians, is the father of eight children, the author of more than…

Quint Studer

Quint Studer spent ten years working with special needs children before entering the healthcare industry in 1984 as a Community Relations Representative. From then until…

John R. Patrick

For the past three decades, internet visionary Dr. John Patrick has been one of the primary forces driving technology innovation. As vice president of Internet…

SPEAKING.com does a wonderful job! Our AE always responds promptly and is very professional, thank you!
AlphaNet
About SPEAKING.com
Established in 1994, we are exclusive agents for some of the world's leading experts, celebrities and professional speakers.
We offer event planners a fully staffed speaker logistics planning team, plus a personal SPEAKING.com Account Executive – a knowledgeable and trustworthy partner. We guarantee your satisfaction with your speaker and a smooth booking process.
Contact us today to book your favorite speaker.

Past Speaking Engagements, Partial List:

Exponential Medicine
Singularity University Conference on Accelerating Technology
impacting Medicine


Boston Scientific
Latin America Countryheads


Medscape
CME Video on Participatory Medicine and Technologic
Empowerment


Health 2.0
Digital Medicine and health IT


Differential Medicine
Entrepreneurship in Healthcare


Connected Health Symposium
Moving healthcare beyond the hospital and clinic and into the day-to-day lives of patients


Louisville Innovation Summit
The Future of Aging Care


Campus Link 2015
Simulcast to Universities in Mexico and the US


Future Med at Singularity University
NASA Research Park


Kellogg School of Management
Kellogg Innovation Network: KIN Global 2013


Future Med at the Del
Exponential Medicine


Society for Brain Mapping and Therapeutics
The Future of Technology and Patients


The Burrill Personalized Medicine Meeting
Lise Sciences Conference


Deloitte Life Sciences & Healthcare Network
Custom Program on Exponential Technology in Medicine


Wharton Fellows Master Class
For Senior Executives


Kairos Society Global Summit
Top 50 startups with game changing companies to improve the world


LSA Innovator Summit 2013
Closing Keynote Speaker on the Convergence of Accelerating
Technology and Entrepreneurship Opportunities


Frost & Sullivan Executive MindXchange
19th Annual Medical Technologies 2014


Downtown Project Speaker Series
Revitalizing Downtown Vegas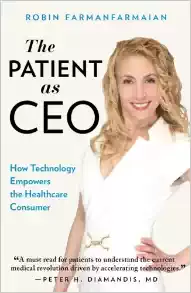 The Patient as CEO: How Technology Empowers the Healthcare Consumer
We are on the cusp of a healthcare revolution.
From wearable sensors, to improved point-of-care diagnostics to artificial intelligence and robotics, there are breakthroughs in biomedical technology on an almost daily basis which are set to fundamentally change the way that patients interact with their healthcare providers.
Author Robin Farmanfarmaian has seen this change first-hand. Misdiagnosed at age 16, she endured multiple surgeries and countless hospitalizations over the course of a decade before deciding to take charge of her own healthcare and changing her life overnight. Since then, Robin has worked on more than 10 early stage startups and become an entrepreneur, founding The Organ Preservation Alliance, Exponential Medicine at Singularity University, and Morfit.
In The Patient as CEO, she shines a light on the new and upcoming breakthroughs that will allow you, the patient, to be the key decision-maker – the CEO – of your own healthcare.

The Future of the Patient
From one of the founders of Exponential Medicine, this talk examines how exponential and accelerating technology will enable the healthcare consumer, or "unpatient", to be a key decision maker, executor, driver and ultimately the one responsible on the healthcare team.

The Future of the Doctor
Where doctors will need to become medical engineers, proficient in big data, genome literate, interact with Artificial Intelligence, technically adept, collaborative, and adaptable. Doctors will treat patients from thousands of miles away, utilizing technology like telepresence robots, tricorders, sensors, data tracking devices, and the cloud. Devices such as smart phone EKG machines and smart phone Ophthalmology Instruments will be ubiquitous, in every household in the world.

The Future of the Hospital
Enabled by sensors everywhere, combined with AI, voice activated EMRs, the patient experience becomes one of comfort instead of inconvenience or pain. The ER turning into a dispatch center, made possible by continuous, accurate biometric monitoring & point of care diagnostics. What can move out of the hospital, such as IVs and blood draws, enabled by robotic assistance and micro blood draws done in pharmacies.

The Patient as the CEO of the Healthcare Team
From one of the Founders of FutureMed, this talk examines how exponential and accelerating technology will enable the healthcare consumer, or "unpatient", to be the key decision maker, executor, driver and ultimately the one responsible on the healthcare team. Patient empowerment and engagement through technological advancements.

Robin's Personal Story
As a teenager, Robin was misdiagnosed with an autoimmune disease that resulted in 40 hospitalizations and 6 major surgeries. It was only a few years after her surgeries that medicine seemed to dramatically change – and none of her doctors saw it coming. From Dartmouth Hitchcock to Harvard's Mass General, none of her doctors said "wait! – in only a few years, surgery will be fundamentally changed with the widespread adoption of laparoscope surgery – reducing 5 of your surgeries to 1.

A few more years, and a new class of medications will become available to put you in remission, completely eradicating the need to ever have surgery." None of her doctors ever said "Technology is Hope". There was no reason for her to lose 3 organs.
Robin Farmanfarmaian, Healthcare Technology Speaker: Keynote
Robin Farmanfarmaian breaks down how technological advances in medicine are ushering in the era of "the patient as CEO." From wearables to storing vital signs in the cloud, from having your next check-up via Facetime to getting medicine delivered by drone, she explains what these changes mean for patients as well as companies within the healthcare sector.
"Technology is hope," she emphasizes. To put things in perspective she contrasts today's exciting developments aimed at informing and empowering the consumer with her own treatment experiences as an "ill" teenager when here doctors dominated 100% of the decision-making process. Unfortunately in her case, they misdiagnosed her, an error that led to irreversible consequences. "Had digital health IT, or even just plain old Dr. Google existed back when I had all my surgeries, I probably wouldn't have lost 3 organs," Robin notes.
Robin Farmanfarmaian, Healthcare Technology Speaker: Interview