* Please note that while this speaker's specific speaking fee falls within the range posted above (for Continental U.S. based events), fees are subject to change. For current fee information or international event fees (which are generally 50-75% more than U.S based event fees), please contact us.
Top25 Speaker Voting

Robert Tucker needs 6 vote(s) to make it into the Top 25 speakers on Speaking.com!
Speaker Booking Tip
"Tip: speakers bureaus can provide: speaker fee negotiation, insurance, smooth logistics and value add-ons such as extra sessions. "
For Event Planners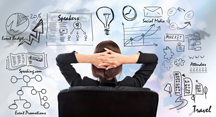 • Keynote Speaker Booking Toolkit.
• Booking a Celebrity Speaker.
• How to Find and Book the Right Speaker.
• Google+ Event Planning Forum.
• Tips for International Clients Booking U.S. Based Speakers.
Similar Speakers
Deanie Elsner

With more than 25 years of experience in marketing, Deanie Elsner is an industry leader in business transformation and strategic brand innovation. Named one of…

Thomas Kolditz

Retired Brigadier General Tom Kolditz is an internationally recognized expert on crisis leadership and leadership in extreme contexts. His time as a Leader Development Expert…

Gary Bradt

Clinical psychologist Dr. Gary Bradt is an expert in the field of adapting to, and leading through, change. He was awarded a BA in psychology…

Our Account Executive was a pleasure to work with to arrange our keynote presenter for the Sustainable Brands Sydney Conference. He was swift to respond and his communication was always clear. If I am looking for international speakers, I will think of SPEAKING.com in future.
Sustainable Brands
About SPEAKING.com
Established in 1994, we are exclusive agents for some of the world's leading experts, celebrities and professional speakers.
We offer event planners a fully staffed speaker logistics planning team, plus a personal SPEAKING.com Account Executive – a knowledgeable and trustworthy partner. We guarantee your satisfaction with your speaker and a smooth booking process.
Contact us today to book your favorite speaker.

"Your keynote helped set the stage for our symposium by addressing the theme with wisdom, energy, humor and countless examples that we could all relate to."
Wade Lovelace
Amgen, Inc. Biotechnology


"Excellent presentation… provided helpful insights for all of us to take back to our workaway world and use."
J.D. Borowski, Divisional Vice President
3M


"Upbeat, informative, spirited – thank you for a quality performance at this year's World Congress in San Diego."
Hazel Pankey
IDRC Conference Manager

"The 'Power Hour' talk show you hosted has been the talk of the town…your professionalism, energy and humor added tremendously to the success of this event."
Jane Peverett, President and CEO
Union Gas Toronto

Innovation is Everybody′s Business: How to Make Yourself Indispensable in Today′s Hypercompetitive World
Innovation isn′t something you do after you get your work done. It′s how you do your work.

Organizations all over the world are shedding jobs in record numbers. Yet today, they are desperately in need of people with the abilities and skills to think ahead of the curve, delight customers, motivate colleagues, slash costs, and achieve unconventional results.

In this practical road map to becoming irreplaceable, global innovation guru and bestselling author Robert B. Tucker reveals why honing your I-Skills (Innovation Skills) may be the smartest career move you′ll make. Based on interviews with forty-three innovation-adept managers and individual contributors, Innovation Is Everybody′s Business guides you in:

Mastering the seven essential I-Skills you need to become indispensable
Unleashing the "mindset, skillset, and toolset of the innovator" that enable you to anticipate and rise to the challenges your organization faces in a hypercompetitive era
Developing your Personal Innovation Strategy to address the critical components of becoming irreplaceable
Assaulting your assumptions at the personal, organizational, and industry levels
Building tools for work-life balance and creating your own job satisfaction

If you′re ready to stop talking about innovation and start adding value today – in your job, department or organization – you′re ready to read and benefit from the powerful message of Innovation is Everybody′s Business.
Order Here




Driving Growth Through Innovation


Business managers know that cost-cutting measures cannot create long-term growth. Greater revenues require sustained innovation. In this book, Robert B. Tucker provides a practical method any business can use to identify opportunities and encourage innovations that capitalize on them.

Readers learn to create an environment that nurtures and rewards innovation; to ensure that creative ideas lead to breakthroughs; and to analyze and predict the future of their industry and their customers. Numerous case studies explore companies that have excelled at innovative thinking, detailing how their methods, procedures, and corporate cultures create sustained success.
Leading Ahead of the Curve
In this program, Robert will inspire your audience with a keynote focused on driving GROWTH and preparing for today's rapid changes; mastering the five best practices of GLOBAL INNOVATION Vanguard; unleashing the OPPORTUNITY MINDSET to embrace new technologies and anticipate market shifts; and engaging your EMERGING LEADERS in cultivating a culture of change and relevance.
Driving Growth Through Innovation: How Leading Firms Are Transforming Their Futures
In this dynamic presentation based on three years of in-depth research, Robert B. Tucker will take you and your audience on a guided tour behind the scenes inside 23 Innovation Vanguard companies. You'll discover their secrets for building innovation into a powerful source of growth, profits, and competitive advantage. You'll learn unconventional methods to turn innovation into a systematic, imbedded process, and be stimulated to take action in your firm.
Innovation is Everybody's Business
Organizations all over the world are shedding jobs in record numbers. But they are suddenly, desperately in need of people with the abilities and skills to think ahead of the curve, delight and challenge customers and colleagues, slash costs, and achieve unconventional results. In this practical, highly interactive session, global innovation guru and bestselling author Robert B. Tucker provides the powerful tools and strategies to help your employees to hone their Innovation Skills (I-Skills) and learn to demonstrate initiative, add value, and get new things done more effectively and efficiently.
The Intelligent Talk Show
Ever wished there was a way to spice up those important, but often boring, panel discussions at your trade association meeting? Now there is. Recently, some of your fellow meeting planners have embraced an exciting new format, organized and hosted by Robert B. Tucker, that says good-by to snoresville, hello packed house. Panelists become "guests" on a "live show," and are more animated, more willing to tackle the tough issues that create industry buzz – and keep attendees coming back for more.
Robert Tucker: TED Talk
Robert B. Tucker presents his thoughts on innovation to a TED audience at Jackson Hole, saying "Innovation is probably the most overused word in English today, but all it is is simply this, coming up with ideas and bringing them to life. Take a look around the world we're living in today and you'll understand why your relationship with ideas is so critically important all of a sudden. "
Addressing the issues facing us in the 21st century, he says, "The world is more overwhelming today than ever before, those of you who are in business, business is more complex and fragile and fast changing than ever before, resources are scarcer today than ever before, and all it takes is new ideas."
Explaining how essential the subject of his talk is, Tucker says, "There is a vital need for new ideas, especially from those in this room, to come up with more ideas, to invite more ideas into our lives on a daily basis, to meet the challenges that this world faces."
Robert Tucker: Demo Video
Robert Tucker: Innovation is Everybody's Business
At a destination travel conference in Barcelona not long ago, a marketing exec confided to me that although his company has enjoyed double-digit growth during the past four years, there's a sense of unease. I asked him why. He explained that if a new competitor like Apple or Google or Amazon decided to enter the ... more