* Please note that while this speaker's specific speaking fee falls within the range posted above (for Continental U.S. based events), fees are subject to change. For current fee information or international event fees (which are generally 50-75% more than U.S based event fees), please contact us.
Top25 Speaker Voting

Robert Tercek needs 7 vote(s) to make it into the Top 25 speakers on Speaking.com!
Speaker Booking Tip
"Tip: speakers bureaus provide added value that you cannot get by booking speakers directly. "
For Event Planners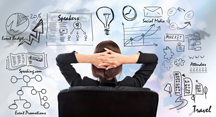 • Keynote Speaker Booking Toolkit.
• Booking a Celebrity Speaker.
• How to Find and Book the Right Speaker.
• Google+ Event Planning Forum.
• Tips for International Clients Booking U.S. Based Speakers.
Similar Speakers
Barbara Corcoran

The story of Barbara's life, extraordinary success and TV stardom is told in her latest book, Shark Tales. A self-made woman who sees no need…

Travis Bradberry

Dr. Travis Bradberry was awarded his BSC in Clinical Psychology by the University of California, San Diego, and holds a dual PhD in clinical and…

Joseph Grenny

Social scientist Joseph Grenny uses his cutting edge research on leadership practices, influence, and human behavior to boost business productivity and foster high performing work…

Working with your speakers bureau has been a pleasure. Everyone on your team was extremely responsive and informative, and really helped us to customize our event. I will be sure to reach out to your agency again in the future with any speaker needs that I may have.
The Advisory Board Company
About SPEAKING.com
Established in 1994, we are exclusive agents for some of the world's leading experts, celebrities and professional speakers.
We offer event planners a fully staffed speaker logistics planning team, plus a personal SPEAKING.com Account Executive – a knowledgeable and trustworthy partner. We guarantee your satisfaction with your speaker and a smooth booking process.
Contact us today to book your favorite speaker.

Robert is a consummate professional. An energetic, captivating speaker who has a passion for his topic and the experience, knowledge, and skill to back it up. His workshop and keynote were easily the most popular events of our conference. Highly recommend Robert for any company that would like assistance in their creative process.
Douglas MacDonald
Partnership Management, QTel Group
One of the exciting things for me about the games industry is being a part of its growth and maturation, especially with respect to the business side of things. Without a doubt, Robert created one of the best, most principled co-publishing arrangements that I have ever seen, let alone signed. If every publishing and distribution executive applied that much fairness, reason and good faith in their agreements, the games industry would be a far better place for creative people and talent to thrive. Thank you, Robert, for setting the standard by which I judge all other business relationships, and I look forward to working again sometime soon!
John Szeder
CEO and Founder, MoFactor
Robert Tercek ranks among the very best speakers I've ever encountered. His speeches on the topics of innovation and creativity have influenced industry leaders in many parts of the world. Mr Tercek is an electrifying public speaker. His passion for the subject matter is infectious. In just one hour, attendees gain a fresh perspective on the major trends that are transforming creativity and innovation in industries as diverse as media publishing, technology and telecommunications. More attendees have requested printed text from Mr Tercek's media and telecommunications keynote speeches than any other speaker.
John Kilcullen
President and Group Publisher, Billboard, The Hollywood Reporter, Backstage, ShoWest
Robert Tercek commands the respect of the global media industry, his peers, and countless conference attendees who have heard him speak. What sets him apart is that rare combination of visionary thinking, hard won practical insight, and tireless passion for the way media shapes our world. It was a privilege to have Robert speak at this year's seminar. He lit up the room. What's more he created a customized presentation, tailor-made hand-outs, and promoted the event using his own online show and social media clout. Make no mistake, Robert is far more than an inspiring keynote presenter. He is a catalytic partner committed to the success of your event.
Simon Mainwaring
Founder, We First Social Branding Seminar
Robert Tercek's speech at the Humanity+ Conference at Harvard University was excellent. Tercek provided valuable insight, a fresh perspective, and useful examples, all in an entertaining format. He worked closely with the event organizers to tailor his talk to the target audience; and the audience responded with a standing ovation and tremendous positive feedback. We were very lucky to have him!
David Orban
Chairman, Humanity+
Robert Tercek shares his vision of collaborative innovation at conferences, private corporate retreats, university symposia, and workshops around the world.
With more than 25 years' experience creating new services around the world, Robert Tercek is uniquely qualified to address the subject of transformation and innovation in the information economy. He speaks directly from his own experience and the lessons from role models who inspired him, and he provides audience with clear examples and suggestions to apply in their own ventures.
He has participated as a featured speaker at many industry events including the CMPA PrimeTime, GSMA Mobile World Congress, E3 Expo, The Game Developer Conference, Billboard's Digital Media and Entertainment Expo, the Consumer Electronics Show, the National Association of Broadcasters NAB Show, National Association of Television Producers, , MIPTV, Tokyo Game Fair, Digital Hollywood and many more. He served as Chairman of the Future of Television Summit and the Mobile Game Symposium at GDC.
He provides strategic briefings at corporate planning sessions and retreats, including events hosted by MasterCard, QTel, AT&T, Accenture, Lucent Technologies, Nokia, AMD, Sony, Qualcomm, NTT DoCoMo, and SK Telecom.
Tercek has a passion for education. He served on the faculty of the School of Cinema-Television at the University of Southern California as an adjunct professor and lecturer from 1997 until 2006 and has participated as a speaker at academic conferences at MIT, Harvard and UCLA.
INVENTING THE FUTURE: THRIVING IN A WORLD OF CONSTANT CHANGE
Today, massive change is a permanent feature of the business landscape. Mature businesses are under pressure to evolve rapidly, and new startup ventures face a throng of global competitors.
In this popular keynote speech which is constantly updated with new information and examples, Robert Tercek shares five proven strategies for identifying opportunity in a chaos field, motivating a team to unite around an inspiring vision and how to execute what was previously unimagined.
Tercek explains that it is no longer sufficient to respond to change: every leader must anticipate change, seek it out, understand the dynamics that propel it, and seize control and drive change. The best way to thrive in the future is to take an active role in its creation and evolution. Throughout his career, Robert Tercek has invented the future, and he can teach your team how to do it, too.
THE ACTIVATED AUDIENCE: HOW TO MASTER PARTICIPATORY MEDIA
The most significant change in our era is the shift in control from producers to consumers. Every company must now contend with an audience that is empowered to speak up, organize, and take action.
Is the activated audience a threat or an opportunity? For Rob Tercek, it is an enormous opportunity. In this keynote speech, Tercek explains how to harness the immense power of participation to build stronger connections to key audience segments.
Drawing from his experience as the producer of the highly successful online multiplayer games and the largest live seminars ever produced, Tercek reveals the keys to motivating audience engagement by providing roles and tools that direct willing participants towards constructive and purposeful interaction. Every organization that deals with end users will benefit from mastering these lessons.
THE VANISHING POINT: THE VIRTUALIZATION OF MODERN LIFE AND WHAT TO DO ABOUT IT
We are in the midst of a vast cultural change as products, businesses and even entire industries are vaporized. The transition from physical goods to virtual services is disorienting. Record shops, newspapers, travel agents, even dating have gone virtual. And many more businesses will soon follow down the rabbit hole, re-emerging as an app or a web service. Whole chunks of the consumer economy have turned into software that runs on an invisible network. Meanwhile, we're spending more of our waking time in these virtual environments every day.
Everyone has experienced this change, but few people know how to contend with it. Innovation expert Robert Tercek has the solution. In his talk "The Vanishing Point" he explains the hidden technology driving the great change, the economic impact, and he reveals the strategy for navigating this transition successfully.

TEDx Talk
Keynote Speech
Keynote Speech
Keynote Speech
Keynote Speech