* Please note that while this speaker's specific speaking fee falls within the range posted above (for Continental U.S. based events), fees are subject to change. For current fee information or international event fees (which are generally 50-75% more than U.S based event fees), please contact us.
Top25 Speaker Voting

Robert Safian needs 6 vote(s) to make it into the Top 25 speakers on Speaking.com!
Speaker Booking Tip
"Tip: find a speaker in your local area to save on travel costs. Most speakers will also reduce their keynote fee for local events. "
For Event Planners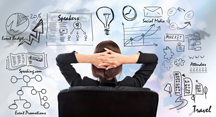 • Keynote Speaker Booking Toolkit.
• Booking a Celebrity Speaker.
• How to Find and Book the Right Speaker.
• Google+ Event Planning Forum.
• Tips for International Clients Booking U.S. Based Speakers.
Similar Speakers
Peter Bregman

A graduate of Princeton and Columbia Universities, Peter Bregman is the CEO of Bregman Partners, Inc, a management consulting firm which advises CEOs and leadership…

Nido Qubein

Dr. Nido Qubein came to the United States as a teenager with little knowledge of English, no contacts and only $50 in his pocket. His…

Frans Johansson

An expert in innovation and change management, Frans Johannson is in demand for speaking engagements throughout the world. Raised in Sweden by an African-American/Cherokee mother…

Our speakers were absolutely outstanding and top class. Once again, thank you for making this happen for us. You have been outstanding and the best speakers bureau we have ever worked with!
Volkswagen
About SPEAKING.com
Established in 1994, we are exclusive agents for some of the world's leading experts, celebrities and professional speakers.
We offer event planners a fully staffed speaker logistics planning team, plus a personal SPEAKING.com Account Executive – a knowledgeable and trustworthy partner. We guarantee your satisfaction with your speaker and a smooth booking process.
Contact us today to book your favorite speaker.

"Robert Safian was the perfect speaker for our Leadership and High Performance Conference. The audience loved him."
- Conference Director, HSM
"Yesterday's appearance was fantastic! Bob was a pleasure to meet and see in action. An interesting presentation and audience participation was exactly what VMware was looking for and they got it. He stayed and additional hour listening to the following panel discussion before departing."
- Event Planner, VMware
"€œBob Safian was an excellent speaker at our annual meeting. His keynote really resonated with our audience because of his intimate knowledge of events and the challenges that our attendees face on a day-to-day basis. His thought-provoking session provided valuable insight, allowing our audience to immediately connect with him. It was the perfect kickoff to start our annual event."
- CEO, Intl. Assn. of Exhibitions & Events
"I wanted to take a moment to thank you for delivering such a thought-provoking experience at our Leadership Forum this week. In talking to my team, it was clear that they heard your message. A "Fast Company€" must relentlessly question, collaborate and challenge assumptions. Thank you again for reminding us to use a wide lens on our work."
- President, Astellas Pharma US, Inc.
"Great Job Again! And he was so wonderful to work with. It no secret why we keep coming back to him."
- Senior Event Producer, August Jackson
"Thank you Bob for making our Sales Kickoff Meeting a huge success."
- Event Marketing Director, Abbott
The Secrets of Generation Flux
Modern business is pure chaos. To succeed in this climate requires a whole new approach. Organizations need to cultivate people who can thrive in an environment of constant change. They are the members of Generation Flux. Less a demographic designation than a psychographic one. Generation Flux describes a mindset that embraces instability and finds opportunity in disruption, recalibrating careers, business models, and assumptions.
Anyone can learn to be more GenFlux but the adjustments required are not simple. The vast bulk of our institutions -- educational, corporate, political -- are not built for flux. While many leaders talk about emphasizing agility, there is still an incomplete understanding on how to make that work.
Robert Safian, who coined the phrase Generation Flux, has delved deep inside cultures from Nike to Starbucks to Taco Bell, interviewing scores of GenFluxers, from established CEOs and leaders like General Stanley McChrystal to upstarts with diverse backgrounds and perspectives at places like Buzzfeed, FX Networks, Airbnb, Soulcycle and more. Safian offers a framework for understanding this rapidly changing playing field and compelling insights on how to recruit and empower GenFluxers to drive your future success.
Is Your Company a "Fast" Company?
With the rising pace of competition and ever-changing consumer demands, it can be very hard for business leaders to look toward the future. Robert Safian, editor of the award-winning innovative business magazine Fast Company, defines the important distinction of being "fast", and provides three distinct guidelines to help companies and business people determine how to ensure future success by incorporating elements of agility and adaptation. Audiences walk away with the tools necessary to assess and implement a "fast" approach to business.
How Breakthrough Leaders Thrive Amid Chaos
This may be one of the most intriguing leadership speeches you will ever experience. Safian shares the inside stories of amazing leaders who have transformed their organizations and their industries in the face of constant change in culture and business.
He explores how and why these leaders view rapid changes as a vast pool of opportunities, and how they develop and coordinate a talented workforce to creatively capture these opportunities. Both inspiring and educating, Safian shares the tools and knowledge necessary to become breakthrough leaders.
Lessons of the World's Most Innovative Companies
In this informative and enlightening presentation, Fast Company magazine's award-winning editor Robert Safian shares his firsthand experience with the likes of Apple, Starbucks, and Under Armour, offering insights on today's most innovative companies. He shows how companies can thrive, even in tough times, by embracing the power of innovative ideas and creative execution.
World-class Moderator
Getting to the heart of the story and digging to find insights that will resonate long after your event is over is Robert Safian's specialty. One of the best interviewers of our generation, he deploys a warm, disarming style, able to weave hard-hitting topics and emotional reflections into a compelling narrative. He also has an innate ability to tie varying speeches and panels together into one central message, creating more effective and entertaining general sessions. Take the time to learn more.

Robert Safian, Business Keynote Speaker: TEDxConnecticutCollege
Business keynote speaker and the award-winning editor of Fast Company, Robert Safian illustrates what kind of people will best thrive in today's volatile business environment and how you can become a member of a group he refers to as "Generation Flux." He clarifies that this group is not based on chronological age, but rather "a willingness or ability to creatively adapt to changes" that are unfolding around us.
Surveying trends from the Dot-com Era onward, Safian shows how the accelerated rate of change has led to a market that moves so quickly that we can no longer identify what it takes to have long-term success. "We are in a very real sense living in a time of chaos," he admits.
What distinguishes members of Generation Flux and drives their success is their ability to quickly and constantly add new skills to their tool kit. More often than not, this involves trailblazing new frontiers in areas that no one is trained for. "We're going to be over our heads a lot, and that's a good thing," Safian comments. "That's what we need to prepare ourselves for the world we're moving into."
Robert Safian, Business Keynote Speaker: Moderated Conversation with Michael Dell
Robert Safian, Business Keynote Speaker: Predictions for the Next 20 Years