Top25 Speaker Voting

Robert Richman needs 4 vote(s) to make it into the Top 25 speakers on Speaking.com!
Speaker Booking Tip
"Tip: speakers bureaus can provide: speaker fee negotiation, insurance, smooth logistics and value add-ons such as extra sessions. "
For Event Planners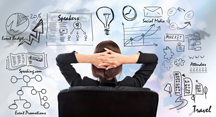 • Keynote Speaker Booking Toolkit.
• Booking a Celebrity Speaker.
• How to Find and Book the Right Speaker.
• Google+ Event Planning Forum.
• Tips for International Clients Booking U.S. Based Speakers.
Similar Speakers
Deborah Perry Piscione

Innovation methodology expert, Deborah Perry Piscione helps companies optimize their cultures so that they can develop the "next big thing" faster. A serial entrepreneur who…

Simon Mainwaring

Simon Mainwaring is the founder of We First, a leading brand and leadership consultancy that provides purpose-driven strategy, content, and training that empowers businesses and…

Ryan Estis

Ranked one of the top speakers in his field, Ryan Estis is known for his innovational strategies for improving communication and company culture. His methodology…

Once again our agent did an outstanding job. Not only did he provide me with a number of options for potential speakers but he helped with seeing who was available, when they could speak, and getting everything done in a timely fashion. I look forward to working with him again.
Auburn University
About SPEAKING.com
Established in 1994, we are exclusive agents for some of the world's leading experts, celebrities and professional speakers.
We offer event planners a fully staffed speaker logistics planning team, plus a personal SPEAKING.com Account Executive – a knowledgeable and trustworthy partner. We guarantee your satisfaction with your speaker and a smooth booking process.
Contact us today to book your favorite speaker.

"I originally hired Robert to come in as a consultant at Zappos to explore helping build out the model for Zappos Insights. Based on his great start and deliverables, we then brought him on full time to lead Zappos Insights. He helped develop the business strategy, the web site, the content, and the marketing. The result was a B2B culture consulting profit center within the Zappos Family of companies with participants from the likes of Google, Eli Lilly, and Toyota. Through the process he overcame the major challenges of managing a team of 20, consulted for Fortune 500 companies, and acted as a spokesperson for Zappos by speaking at conferences around the world. Overall, our ROI of working with Robert was staggering and I highly recommend working with him."
Aaron Magness, Senior Director of Brand Marketing, Zappos.com
"Robert Richman is AMAZING! He was a great presenter, very engaging, and I know the group learned a ton from his keynote. Robert definitely fit our goals and we have heard tons of positive feedback from our attendees. Please thank you him again on behalf of the entire NHRA Board and HR community here!
National Human Resources Association
(Engagement booked by SPEAKING.com)
"When we sent our team of ecommerce and customer-care managers to the Zappos Insights training, the experience was simply transformational. Robert and the Zappos Insights team deliver fast-paced, fun, thoughtful, challenging, and deeply impactful sessions on building and sustaining a high-growth, values-driven company like Zappos. Core values, customer service, hiring, benefits, dress code, meeting culture, team-building, leadership, a higher calling -- it′s all covered. And importantly, Robert takes care to ask probing questions and ensure that his audience takes home real lessons they can employ to improve their own businesses."
Tom Funk, Senior Marketing Manager, Green Mountain Coffee Roasters
"After Robert Richman delivered his keynote speech to our manager's strategy session we realized it was really BEYOND great and more like WOW!… Robert not only shared the Zappos culture, but also deeper insights about how culture and service work together. Our team was highly engaged and we had to cut people off because there were so many questions. While Toyota already has an excellent culture and award-winning service, Robert′s inspiration gave us ideas to take it to the next level."
Clay Cosse, Manager, Toyota
"What a fantastic experience it was learning about Zappos culture from Robert Richman. He gave tremendous insight into what makes their culture work and also gave practical applications of how we could be even more effective at Whole Foods Market. And our culture is very deep already! His examples of service and how to make immediate impact on the team were awesome… I can't recommend Robert enough!"
Richard Findlay, Vice President, Whole Foods Market
"We have been working together for 3 years now. You pushed me in ways that I was uncomfortable with, but in hindsight it was exactly what I needed. You taught me how to ask the right questions and to look at the business in a very different way. You have helped me become a better leader than I already was. And my success is in no small part due to what we′ve done together."
Jonathon Green, Director HQ Customer Service Operations, Verizon
"Thank you so much for speaking at our conference. In 8 years of the "Facilitating Leadership in Excellence" event, you were the BEST! I will be getting your information and I will work on making a cultural paradigm shift with our dealership teams! Your energy and passion stirred up revival! BRAVO!!!"
Cheryl Bauman, Facilitator in Standards for Excellence, General Motors
"I was one of 4000 store managers and corporate employees who saw Robert Richman speak and I was blown away. His insights and humor were so engaging, and he surprised us by giving us the entire Culture Blueprint audio book for free. I immediately listened to it on the way home and I've already started thinking like a culture hacker. I realized the importance of leading by example and I'm empowering my team to act as culture hackers, with the culture hacking framework... The Store Managers in my area who are listening to the book are sharing stories about how we're putting our company's values into action."
Suzanne Sully-Pniewski, Lowe's Store Manager, Buffalo, NY
Robert Richman creates an engaging, exciting experience with cutting edge information on the topics of culture, engagement, and customer service. Speech topics include:
Finding the Unicorn: Agile Enterprise Culture
(perfect for CIO's and other technology audiences)
Agility. It's now a requirement to outlast and out innovate the competition. It's a great strategy, and yet... Culture eats strategy for breakfast. Most agile transitions either don't work, or they're met with lukewarm results - all because the culture did not embrace it.
As CIO, you are at the intersection of technology, data and operations. What you may not know is that technology drives culture and thus you are more qualified than anyone to drive culture change.
Former Zappos.com Culture Strategist Robert Richman reveals how culture really works, and the secret to unleashing the untapped energy of your teams.
Developing an Outstanding Culture
After sharing stories of what makes for an amazing culture where people love to work while driving results, Robert opens up the audience′s eyes to what culture really is and how it works. Sharing this view of "The Matrix" behind what′s really driving the company, Robert shows how culture change can actually happen immediately, by demonstrating how the culture of the room can change in a moment. Now that the audience understands the power of culture, how it works, and how it can change, Robert leaves the group with three high leverage tools that can be used immediately to create long-term change.

WOWing with Customer Service
Robert starts by sharing a brief history of customer service so that everyone knows how we got to this historic moment in time where the customer is truly driving the economy. At this point everyone realizes the value of service and the severity of what will happen if everyone in the company does not view it as their job. Next Robert shares a service framework model that can be used to design any customer experience in a way that guides all employees and yet honors the artistry that is necessary for every interaction. People walk away feeling inspired by what service can not only do for the customers, but for their own every day experience.

The Values-Based Company
Values-based companies have employees who manage and motivate themselves. Robert shares stories of the strength of the core values at Zappos.com, then shares the science behind why they work so well. Once you learn the secrets behind how values work, Robert then takes the group through a process of becoming familiar with their own core values. Lastly, Robert leaves the group with a process to use in discovering and then implementing the values across the organization.

Employee Engagement
Engaged employees are productive, efficient, have a great time, and stay for decades. This means low turnover, and highly motivated employees you don′t have to micro manage. Robert shares his experiences from Zappos (A company that became the #6 Best Place to Work in America). He then shares the key to how engagement works and gives the audience a model they can use to immediately create their own engagement programs that can be implemented right when they return to the office.

The Key to Empowerment
So many managers are frustrated because they believe they are empowering their employees, and yet their people are not acting on it. Robert reveals the secret to why empowerment today does not work, and replaces it with a model that they can use to drive innovation and ultimately satisfy every customer.

Game-Changing Innovation
Innovate or die. The pace of change has become so rapid that even the best products today may not be here tomorrow (Tivo has stayed around as a word, but not as a brand). The companies that understand what their brands are truly about will channel that power into their new products and services and remain the champions. Robert shares the counter intuitive principles that actually drive innovation, leaving audiences inspired to take a new approach that is not only inspiring, but a lot more fun.

Conference Closer!
Have you ever had an amazing conference, and yet within a couple weeks it′s business as usual with no change? Most organizers plan an amazing event, but miss an opportunity to close it in a way that keeps people energized while holding them accountable. Robert Richman (formerly of Zappos.com, and author of the upcoming Culture Blueprint) is a closing speaker who helps your audience leverage their ideas into action. Rather than quickly flying in and out, Robert stays for the duration of the event, picking up the themes. He closes the event by talking about the culture within the room itself, summarizes what happened with wit and humor, and finally adds an accountability exercise to keep everyone on task. The ending is a high energy closer that gets people excited to get back to work. Ask yourself, are you willing to invest in follow-through, or will you leave it to chance?

Robert Richman: Speaking Reel
In this video, Robert discusses how to build a culture that engages employees. He says that "culture is all relationships." He tells the audience to get away from distraction and focus on their present goals. "Distraction is self-medication for something that we do not want to feel," he says.
Robert explains what makes a "great boss," and that "if you want something at your company… if you're not bringing it, then you're using the company as medicine for why your life isn't working. Anything you want, you have to give, and it will become more of it."
Open Space Cultural Blueprint Workshop Format
Team building isn't about ropes courses. It's about bringing people together based on the actual work. Open space does this with the highest level of engagement, getting work done while having fun and talking about the things people really care about.
Robert Richman: Full Speech
Speech Excerpts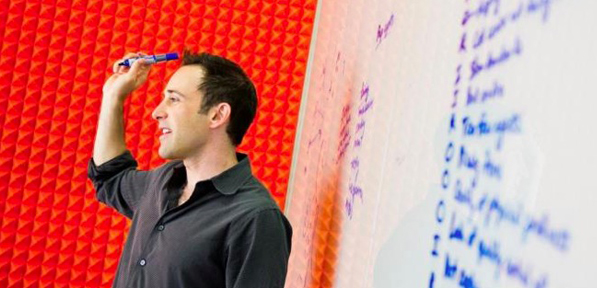 Robert Richman is a culture strategist and was the co-creator of Zappos Insights, an innovative program focused on educating companies on the secrets behind Zappos' amazing employee culture. The big challenge is to develop a culture that is strongly aligned but also has the freedom to be autonomous. SPEAKING.COM: What are some of the main ... more