* Please note that while this speaker's specific speaking fee falls within the range posted above (for Continental U.S. based events), fees are subject to change. For current fee information or international event fees (which are generally 50-75% more than U.S based event fees), please contact us.
Top25 Speaker Voting

Robert Kriegel needs 7 vote(s) to make it into the Top 25 speakers on Speaking.com!
Speaker Booking Tip
"Tip: ask your speaker to do a book signing or attend a VIP meal with your guests. "
For Event Planners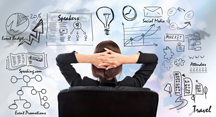 • Keynote Speaker Booking Toolkit.
• Booking a Celebrity Speaker.
• How to Find and Book the Right Speaker.
• Google+ Event Planning Forum.
• Tips for International Clients Booking U.S. Based Speakers.
Similar Speakers
Pat Richie

Pat Richie is an authority on building teamwork culture and has worked with over one hundred organizations developing corporate strategy and high performing teams. He…

Ruben Gonzalez

When Houston resident Ruben Gonzalez decided to try out luging, he had never even touched snow. Over 30 years later, he is the only winter…

Warren Macdonald

A catastrophic moment redefined Warren Macdonald's life in April 1997 when a one-ton boulder fell on him during an excursion on a remote Australian island.…

Everyone at your speakers bureau was incredibly attentive and easy to work with; you have been a conference organizer's dream!
ABS Capital Partners
About SPEAKING.com
Established in 1994, we are exclusive agents for some of the world's leading experts, celebrities and professional speakers.
We offer event planners a fully staffed speaker logistics planning team, plus a personal SPEAKING.com Account Executive – a knowledgeable and trustworthy partner. We guarantee your satisfaction with your speaker and a smooth booking process.
Contact us today to book your favorite speaker.

"I just wanted to drop you a quick line thanking you for truly a dynamic speech that continues to resonate through our organization. Survey results came back and were presented to our Marketing Excellence Council last week. Our US Marketing Organization truly felt that you delivered on the theme, while being engaging, entertaining, and quite humorous."
Bristol-Myers Squibb (Event booked by Speaking.com)

"The way you tailored the presentation specifically for us was great! Your examples were relevant, the tips and techniques practical and 'do-able' in our environment."
Kathy Moody, Western Regional Manager, AT&T

"Your willingness to go the 'extra mile' in learning about our business and meeting theme and incorporating that into your speech provided a high 'value-added' session. You are a true professional giving both energy and content."
Robert Taylor, Conference Coordinator, IBM

"Your address was the most in tune of all the speakers I have heard over the past several years, exposing challenges that dealers and advertising people really face."
Dennis O'Shaughnessy, Director of Merchandising, Cadillac Motor Car Division

"The time you took talking with our people  before the meeting really showed. You spoke our language. The agents directly related to your many examples and techniques for excelling in our industry... Standing ovations don't come easy."
Gail Solos, Chair, Annual Western Sales Meeting, Northwestern Mutual Life Insurance

"The time you spent becoming acquainted with our company and personalizing your talk make a significant difference over what we normally get as a canned program. Thanks a million for a contribution that will make a difference."
C. Lee Johnson, President, Distribution Services, The Limited

"Your talk went a long way in helping us get people to think about how to respond to changes and lead their organizations in a changing environment. Thank you for the time you took to prepare your talk so that it was tailored and specifically addressed some of the issues and challenges Pfizer is facing. Thanks again for your energizing speech."
CFO & Executive Vice President, Pfizer, Inc.

"Excellent presentation... Inspiring... unmatched by any other speaker I have ever seen."
John Blumberg, Director of Human Resources, Arthur Andersen & Co.

"Your inspirational presentation was absolutely sensational.  The standing ovation came from a very tough audience."
R.E. Garner, Vice President, Sales, Kraft General Foods

  "Your exciting and motivating speeches were the highlight of our management meetings.  You've earned the highest marks of any speaker in the past six years."
Michael Ekhardt, Manager, Management Development, Hewlett- Packard

How to Succeed in Business Without Working so Damn Hard: Rethinking the Rules, Reinventing the Game
The average workweek is 60 hours and rising. These days, it seems people are working harder than ever before. But does putting in longer hours necessarily translate into greater productivity? Robert J. Kriegel thinks not. All too often, individuals respond to a chaotic work environment by racing to meet deadlines, spinning their wheels, and missing opportunities to create positive change. Kriegel suggests that finding success in today's business world means breaking old habits and adopting new ideas that can dramatically increase performance levels, like having younger employees tutor the more senior, technology-phobic. As conventional systems are challenged, dramatic new solutions are revealed, and everyone gets ahead without working so damn hard.


If It Ain't Broke, Break It: and Other Unconventional Wisdom for a Changing Business World
A guide to unlocking creative thought in order to work smarter employs hundreds of real-life examples to teach readers how to break away from the pack; apply innovative principles to a career; and more.
INNOVATE OR ELSE!
Re-thinking the Rules, Reinventing your game
Winners don't respond quickly to change and new opportunities, they create them
If you use yesterday's thinking in today's game, you're going to be in trouble tomorrow
How to create the future rather than "wait and watch" it happen (for someone else)
5 strategies for developing innovative new ideas and opportunities
The 4 most common obstacles to innovation and how to overcome them
Don't compete, change the game
Playing to win vs. playing not to lose
How to turn innovation into action
Drawing on his 30 years of pioneering work with leaders and peak performers in all fields and his bestselling books, Dr. Kriegel's customized speeches and programs outline bold, innovative strategies and practical guidelines for excelling in these turbulent, rapid changing intensely competitive times.
He will teach you how to develop and lead Change Ready© people and organizations. You will learn how to round up "sacred cows" that cost money and inhibit change and new opportunities. He also outlines strategies for gaining the competitive edge by not competing but changing the game, leading customers not following them and rethinking rules, redefining roles and reinventing the game.
Each of Dr. Kriegel's presentations is individually designed to reinforce the objectives of your meeting, to address the specific challenges and concerns facing the audience, and to have practical take home value.
To gather information about your organization and the specific goals of your meeting, Dr. Kriegel will send you a pre-conference questionnaire, interview people in your organization and read relevant materials. Any of the following topics and bullet points can be combined into one customized speech. Kriegel's hard-hitting, high energy, humor filled presentations entertain, inform and inspire. You will learn tools and techniques to:
Develop and lead proactive Change-Ready© organizations
Differentiate from the competition
Surprise rather then satisfy the customer
Create change rather than respond to it
Streamline processes by rounding up sacred cows that are costly and prevent change and innovation
Turn innovative ideas into action
Perform at peak levels under pressure
THRIVING IN TURBULENT TIMES
The old rules for success no longer apply in this current environment of increased competition, change and uncertainty. If you use yesterday's thinking in today's world you won't be around tomorrow.
To survive today, companies need to be Change-Ready©—to drive change by constantly challenging old thinking and seeking bold innovative out of the box new ideas, opportunities and possibilities.
In these presentations you will learn bold innovative strategies for keeping ahead in these turbulent times.
Specifically Dr Kriegel will discuss how to develop Change-Ready© strategies that are proactive not reactive, leaders not followers, and out in front of the wave rather than struggling to keep up.
Four strategies for creating innovative new ideas, opportunities and possibilities.
How to overcome the three major obstacles to change and innovation
How to motivate people to become drivers of change
How to streamline operations by rounding up sacred cows that cost money and inhibit change and innovation
Why the tried and true needs to be dead and buried
The importance of constantly challenging the status "in the way it's always been done"
LEADING IN TURBULENT TIMES
How to create a Change Ready© culture in which innovation flourishes, people are open and excited about change and performing at peak levels
Three strategies for keeping people motivated and 'up' in tough times
How to overcome the most common obstacles to change and innovate new ideas
Three steps for developing can do thinking that turns new ideas into action and increases confidence, commitment and momentum
How to coach people to excel under pressure
DEVELOPING A CHANGE Ready© MIND SET
Create change not respond to it, lead not follow, proactive not reactive
How to out-think rather than out-work the competition
Three characteristics of Change-Ready© thinking
Three strategies for thinking 'out of the box'
Sacred Cow Hunts, streamlining productivity
Red/Green time - the 90% solution
CHANGE LEADERSHIP—DRIVING CHANGE IN YOUR ORGANIZATION
Creating an organization that fosters innovation
Creating the future not responding to it
Three strategies for motivating people and generating excitement about change
Four steps for turning innovation into action—Can-Do
Thinking How to overcome fear, firehosing and other major obstacles to change
The passion scale—how to keep people 'up' in down times
The Change- Ready© Zone
How to keep out of the Panic and Drone Zones
IF IT AIN'T BROKE…BREAK IT!
Surfer's rules for riding the wave of change without wiping out
Four Break-It! thinking techniques for developing bold innovative new ideas and opportunities:
flipping rules
looking outside
working backward
combining things that haven't been
thinking like a beginner
Bold, innovative 'out of the box' thinking strategies for:
keeping ahead of the wave
solving old problems in new ways
creating new opportunities and possibilities
how to create the Future not respond to it
SACRED COWS MAKE THE BEST BURGERS
How to Round up Sacred Cows; outdated policies, practices, systems and strategies that cost money and prevent change and innovation
How to eliminate thinking that creates sacred cows and enables them to 'graze' on profits and productivity
Rules for a Sacred Cow hunt
How to put sacred cows on a diet
The ripple effect
How to Streamline processes and operations
How to control email epidemics, paper piles and meeting mania
Cutting out vs. cutting down outdated policies and practices
SALES GROUPS: DON'T SATISFY THE CUSTOMER, SURPRISE THEM
Why the old conventional rules for selling don't work in these faster, more competitive, rapid changing times
How to keep out of 'commodity hell'
Do the impossible for the customer
How to win by out-thinking not outworking the competition
How to keep yourself 'up' all day
How to get yourself in the 'peak zone'
How to prepare for a major presentation
How to achieve goals by 'trying easier'
How to motivate your customer
RECOGNITION EVENTS: USING SUCCESS AS A SPRING BOARD TO GREATER HEIGHTS
How winners stay on top; The two main characteristics of perennial winners
Why some people keep winning and others don't
The most overlooked strategy for keeping on top
How to conquer the sabotage thinking that traps winners
Why you should always mess with success
Robert Kriegel: ON Sacred Cows
Robert Kriegel shares a crucial innovation strategy: hunting for "sacred cows," practices that long-time senior management view as an indispensable part of a company but in reality are out-of-date procedures or thinking holding the organization back. He stresses the need to have newcomers or outsiders with you on sacred cow hunts, because unlike company veterans, they are much more naturally prone to question the way things are done.
Dr. Kriegel offers the example of a tire company, which went to extensive measures to immaculately wrap its tires, a practice that probably originated many decades ago when 80% of drivers used whitewall tires. "And what have they been doing ever since? Not just wrapping tires, wrapping them faster and cheaper," he states, pointing out that today only 3% of tire purchases are whitewall tires. "We eliminated that operation and saved that company $24 million."
Robert Kriegel: Innovation
Robert Kriegel: On Change-Ready Thinking: