* Please note that while this speaker's specific speaking fee falls within the range posted above (for Continental U.S. based events), fees are subject to change. For current fee information or international event fees (which are generally 50-75% more than U.S based event fees), please contact us.
Top25 Speaker Voting

Robert Genetski needs 10 vote(s) to make it into the Top 25 speakers on Speaking.com!
Speaker Booking Tip
"Tip: speakers bureaus can provide: speaker fee negotiation, insurance, smooth logistics and value add-ons such as extra sessions. "
For Event Planners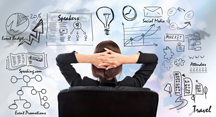 • Keynote Speaker Booking Toolkit.
• Booking a Celebrity Speaker.
• How to Find and Book the Right Speaker.
• Google+ Event Planning Forum.
• Tips for International Clients Booking U.S. Based Speakers.
Similar Speakers
Lawrence Chimerine

Dr. Lawrence Chimerine is one of the country's leading consultants on business trends and financial forecasts. Dr. Chimerines's no-nonsense analyses and practical advice have drawn…

Bill Conerly

Dr. Bill Conerly guides business leaders in building resilient plans adaptable to any economy. He has the unique combination of a Ph.D. in economics from…

Chris Thornberg

Dr. Christopher Thornberg is one of California's leading economists and Founding Partner of Beacon Economics, LLC. He holds a Ph.D in Business Economics from The…

SPEAKING.com / Core Agency were very helpful in every way possible. I would recommend them to others and we will most definitely secure all our future conference speakers through them again.
Babcock & Wilcox
About SPEAKING.com
Established in 1994, we are exclusive agents for some of the world's leading experts, celebrities and professional speakers.
We offer event planners a fully staffed speaker logistics planning team, plus a personal SPEAKING.com Account Executive – a knowledgeable and trustworthy partner. We guarantee your satisfaction with your speaker and a smooth booking process.
Contact us today to book your favorite speaker.

"Our Wealth Management′s ′Exceptional Exchange of Financial Insights′ was a marvelous success in large part because of your presentation. It was full of your charisma, optimism and most importantly, expert analysis and explanation of classic economic principles. Every one of our guests was delighted with your remarks, as were we. According to our evaluation forms, everyone found your insights stimulating, timely and informative. Everything ranked at the highest marks. I expect you get this input regularly, but still felt compelled to share it with you."
Sharon R.D′Alessandro,
The Private Bank and Trust Company

"Your participation was one of the crowning points of the morning. Over and over again people have been asking, ′How can we top this year's Annual Meeting?′ You have laid quite a challenge for us to come up with just half as good a speaker for next year as you were…."
Marlene Tegmeyer,
Elmhurst Economic Development Council

"Everyone I talked with spoke highly of the value of what you had to say, and encouraged the Program Advisory Committee to work harder to find more speakers with equally important information for our members."
Rand Baldwin,
Aluminum Extruders Council

"I want to say thank you for the talk to the AVDA group the first of last week. I would like you to know I had great reviews on your talk. The subject of the talk was just right for that group."
Bill Stovell,
American Veterinary Distributors Association

"On behalf of the entire TAVMA organization, many thanks to you for your service at last week′s National RESPA and Bundled Services Symposium. The feedback I′ve received from those in attendance has been phenomenal. Many people told me that this was the best conference they′ve ever attended! One example (from an e-mailer): ′I have never attended a more useful symposium than yours this week. I learned what to do and how to do it so I can advise my clients. That is what I needed, and I appreciate it.′ I lost count of the number of people who singled you out for praise. Some said they never thought that an economist could be such an effective and entertaining communicator. Others said your classical economic views reaffirmed what they understood to be the truth about how the market works. We had a lot of very good speakers but your presentation was the most talked-about of the conference... you were even quoted by some of the subsequent speakers!"
Jeff Schurman,
Executive Director, TAVMA
Classical Economic Principles & The Wealth Of Nations
Robert Genetski′s contributions in the world of economics and finance range from serving as Chief Economist for a major Midwest Bank to teaching at NYU and the prestigious University of Chicago′s Graduate School of Business. In between, he has managed to be crowned a top-five speaker in the field of Economics and Finance, and is renowned for the simplicity with which he explains critical elements and classical principles of economics.

After receiving his Ph.D in economics from New York University (NYU), Genetski worked in the banking industry and subsequently founded of his own economic and financial consulting service. He has served on the board of directors for several public companies. In his free time, he has also managed to author several other books, notably A Nation of Millionaires, Taking the Voodoo Out of Economics, and Winning with Money. Having made a name for himself in the Who′s Who in Finance and Industry, he also writes regularly for Japan′s leading business newspaper, Nikkei Financial Daily.

Dr. Genetski has been a longtime advocate of classical economic principles. Not unlike Adam Smith in The Wealth of Nations, he has used his knowledge of these principles to create economic forecasts, from correctly predicting stagnation in 1977, an economic revival in the 1980s and 1990s, to historically low interest rates in 2001. In early 2008 he warned of a financial collapse, six months before it occurred. The bottom line in all of these predictions is that the negative predictions correlate with a shift away from the implementation of the classical economic principles and vice versa.

Ultimately, Dr. Robert Genetski′s illustrious credentials make him the ideal fit to author Classical Economic Principles & the Wealth of Nations in an attempt to reiterate the economic formula that has catapulted the United States to the top for so many years.
Order Here




Nation Of Millionaires
Robert Genetski outlines a plan that would enable every American worker to retire as a millionaire.
Order Here





Outlook for the Economy and Financial Markets
Robert Genetski uses humor and anecdotes to explain how classical economic principles can help us anticipate where the economy and financial markets are heading. This presentation looks at upcoming government policy changes and how they are likely to impact various parts of the economy. This talk can be altered to focus on specific areas of the economy to accommodate different audiences.
Global Economic Development and Their Implications
This presentation focuses on the dynamic changes occurring throughout the world in terms of policies, growth, and financial markets. Robert Genetski explains what is driving these changes and the implications they have on our future.
Forecasting Financial Market Developments
This presentation deals with the key factors that determine movements in financial markets. Financial speaker Robert Genetski explains the key elements that determine both long-term and short-term movements in interest rates and stock prices. This presentation presents some of Genetski's original research into interest rate and stock market behavior.
Creating a Nation of Millionaires
This presentation, based on business speaker Robert Genetski's popular book, A Nation of Millionaires, examines policy changes that would turn the lowest paid worker in the country into a millionaire.

Economic Keynote Speech
Robert Genetski: Keynote Speech Excerpt
Dr. Robert Genetski outlines the key ingredients to prosperity, arguing from his lifetime of observation and research that there is a strong correlation between people's economic wellbeing, happiness, and level of freedom. He notes that by nature, you can't impose happiness or riches upon people, because they would become "slaves" to those impositions. "People are unique," he states. "They have to have free will. They have to have liberty to make the most out of their lives."
Leaders however can foster an environment that increases people's opportunities to pursue their own prosperity. "The policies that happen to give people the maximum amount of freedom just so happen to be the policies that give people the greatest amount of goods for the greatest number of people," he declares, listing those necessary policies: low tax rates, limited government, free markets, protection of property rights, and a stable currency.
Demo Video
Keynote Speech Excerpt
Keynote Speech Excerpt