* Please note that while this speaker's specific speaking fee falls within the range posted above (for Continental U.S. based events), fees are subject to change. For current fee information or international event fees (which are generally 50-75% more than U.S based event fees), please contact us.
Top25 Speaker Voting

Rob Jolles needs 6 vote(s) to make it into the Top 25 speakers on Speaking.com!
Speaker Booking Tip
"Tip: speakers bureaus can provide: speaker fee negotiation, insurance, smooth logistics and value add-ons such as extra sessions. "
For Event Planners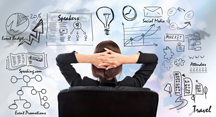 • Keynote Speaker Booking Toolkit.
• Booking a Celebrity Speaker.
• How to Find and Book the Right Speaker.
• Google+ Event Planning Forum.
• Tips for International Clients Booking U.S. Based Speakers.
Similar Speakers
Laura Stack

Laura Stack is America's Premier Expert in Productivity™. In 1992, Laura founded her company, The Productivity Pro, Inc., which specializes in business performance, strategy execution,…

Inma Martinez

Hailed as one of the world's top digital media strategists by Time, Fortune and Fast Company, experienced brand builder and serial entrepreneur, Inma Martinez delivers…

AmyK Hutchens

AmyK Hutchens turns smart leaders into brilliant leaders. The engaging coach and speaker draws from decades of working with thousands of executives worldwide, sparking their…

Working with your speakers bureau has been a pleasure. Everyone on your team was extremely responsive and informative, and really helped us to customize our event. I will be sure to reach out to your agency again in the future with any speaker needs that I may have.
The Advisory Board Company
About SPEAKING.com
Established in 1994, we are exclusive agents for some of the world's leading experts, celebrities and professional speakers.
We offer event planners a fully staffed speaker logistics planning team, plus a personal SPEAKING.com Account Executive – a knowledgeable and trustworthy partner. We guarantee your satisfaction with your speaker and a smooth booking process.
Contact us today to book your favorite speaker.

ABN & AMRO
Aetna Insurance Company
A.G. Edwards
AIM Funds
American Express
American General Securities
American Polygraph Assoc.
American University
AmeriStar Investments
Arvest, Inc.
AT & T
B.B.& T. Investment Services
Baan Corporation
Baltimore County Police
Bank of America
Bank of Oklahoma
Bank South Investment Service
Bankmark
BankOne
Barnett Bank
Black & Decker
Brenton Brokerage Services
British Aerospace
Brownell Travel
Brookhaven Laboratories
Cabela's
California Federal Bank
CCB Investor Services
Chemical Investment Services
Chubb Securities
CIMB Bank Malaysia
Citicorp
Columbia Management Group
Comet Industries
Compass Banks
Dean Witter
DOOR Training & Consulting
Edentec
Edison Plastics Company
Edward Jones
Elan Investments
Enterprise
Equitable
Essex Corporation
Fidelity Investments
Financial Network Investment
First Chicago Bank
First Citizens Investor Services
First Union Bank
Foundation Source
FMC Corporation
General Electric
Genosys Biotechnologies, Inc.
Genworth Financial
George Mason University
George Washington University
Glenfed Brokerage Service
Goldman Sachs
Granite Rock
Gruntle
Guaranty Bank
Harvard University
H.D. Vest Financial Services
Hibernia
Huntington Investment Co
Hy-Vee Corporation
IKON Office Solutions, Inc.
InterContinental Hotels Group
Investment Centers of America
Janus Funds
Jobson Marketing
KCH Services, Inc.
Kinkos Copy Centers
Kirkpatrick / Pettis
L-3 Communications
Lederle Laboratories
Legg Mason
Liberty Funds
Lincoln Property Co.
MACRO Consulting Group
Mallinckrodt, Inc.
Mark Twain Brokerage
Marcus Evans
Marketing One Securities, Inc.
Marymount University
Mercantile Bank
Merrill Lynch
Michigan Bell
Michigan State Police
Microsoft
Montgomery County Bar
Morgan Stanley
Motorola
Murphey Favre Inc.
Mutual Service Corporation
NASA
NASDAQ
Nations Bank
Nations Funds
Natus Medical
Network Software Associates
Nortel Network
Northrop Grumman
Norwest
Novametrix Medical
Park City Group
Paul Revere Insurance Group
Puritan Bennett
Quick & Reilly
Ralston Purina
Raymond James
RiverSource Investments
Roney & Co.
San Diego Business Journal
Sanwa Bank
Smith Barney
SouthTrust Securities, Inc.
Spaulding & Slye, Real Estate
State Street Global Advisors
Sun America Securities, Inc.
Sun Financial Group
Sun Trust Bank
Synovus Securities, Inc.
TDS Telecom
Time Warner
Total Gas Corporation
Toyota
Trustmark Financial Services
Union Bank Investment
United Motor Coach Assoc.
University of Houston
U.S. Chamber of Commerce
U.S. Endoscopy
USF & G
Valpak Direct Marketing
Van Kampen Funds
Waddell & Reed
Walt Disney Corporation
Wells Fargo
Xerox Canada, Egypt, Mexico
& USA
Zions Investment Services
ZYMED Laboratories
Customer Centered Selling: Sales Techniques for a New World Economy
Customer Centered Selling teaches you the secret of the world-famous Xerox sales training program. The secret, Robert Jolles reveals, is reversing the conventional selling practice of searching for customer needs. To truly create urgency, you must focus instead on the customer′s problems and decision-making process.

Jolles provides a systematic, repeatable, predictable approach that teaches you to anticipate and influence behavior as the customer moves through an eight-stage "decision cycle" and ultimately discovers his or her needs. The book includes a series of case studies, activities, and exercises that enable you to better understand the principles being taught, so you can immediately apply them to your own unique scenarios.

This book is a "must read" for all sales professionals, sales managers, and managers in need of a disciplined approach to persuading others.
Order Here




How to Run Seminars and Workshops: Presentation Skills for Consultants, Trainers and Teachers
Thoroughly revised edition of the bestselling skill-building consultant guide. A revision of its successful predecessor -- which has sold over 23,000 copies since it was first published in 1993 -- How to Run Seminars & Workshops has been completely revised throughout to provide the most up-to-date material currently available in the field. An entirely new chapter examines the state-of-the-art technology available to presenters, especially LCD projectors, laptops with PowerPoint, electronic white boards, documents cameras, 8mm players, and the idea-behind-distance learning.

Written by a tireless consultant and self-promoter, How to Run Seminars & Workshops is an essential resource for the ever-expanding consultant market.
Order Here




Mental Agility: The Path to Persuasion: Train the Mind to Think, ACT and Influence People... Faster
A sure-fire system for learning to think fast on your feet—the key to selling your message, influencing others, and captivating your audience.
Order Here





How to Change Minds
Surely you know plenty of people who need to make a change, but despite your most well-intentioned efforts, they resist. Why? Because people fundamentally fear change, and Rob Jolles knows this scenario all too well. Drawing on decades of research, he lays out a simple, repeatable, predictable, and ethical process that will enable you to lead others to discover for themselves what and why they need to change. Whether you hope to make a sale, or improve a relationship, Jolles's wise –illustrated through a bevy of sometimes funny, sometimes moving, always illuminating stories–will he you to ensure that changing someone's mind is never an act of coercion but rather one of compassion.

The Art of Urgency
Today′s salespeople are being methodically trained to adopt an order taking mentality in business and the repercussions are staggering. In this motivational and spirited conversation, a repeatable, predictable solution is offered. Participants are forced to focus away from the products or ideas they are selling and look instead at the way people make decisions and how to influence those behaviors. When participants are shown the disconnect between how people buy and how they are traditionally taught to sell, teaching how to increase a sense of urgency and decrease fear of change become apparent.

The Many Myths of Selling
There is simply no other occupation that carries the number of myths that surround the profession of selling. From the way we open to the way we close, so much of what we do is shrouded in mystery. In this presentation, Rob Jolles will not only expose many of these misunderstandings, he will teach critical lessons to keep these myths from affecting sales performance.

The Unique Art of Selling to Groups
Seminar selling is becoming more and more popular within the selling community. The potential sales results can be staggering. However, if these seminars are not conducted properly, sales results, time and future opportunities are wasted. The session begins with a unique look at the art of working with adult audiences. Each participant leaves with a copy of Rob Jolles′ book which covers the critical portions of the seminar, How To Run Seminars And Workshops.

MENTAL AGILITY: Communicating Quickly
There is one consistent trait that can be found in every successful salesperson: the ability to think quickly on your feet. In the MENTAL AGILITY program trainees are taught that thinking quickly can, in fact, be a learned behavior. Much like learning to play an instrument, with repetition, the outcome soon becomes effortless.

Sales Secrets from the Cinema
Can we truly learn about selling from the movies we have all watched and enjoyed for so long? You bet! From the chilling scenes within Glen Gary, Glen Ross to the light hearted Tinmen, this presentation packs a punch. Woven throughout the presentation are cinematic scenes that leave a lasting impression examining numerous movies and clips. The blending of carefully selected cinematic moments with the honest messages that they provide allow participants to be thoroughly entertained while informed and motivated.

No More Order Taking!
Today's salespeople are being methodically trained to adopt an "order taking" mentality in business and the repercussions are staggering. In this motivational and spirited conversation, Rob Jolles not only demonstrates proof that this problem exists, he also provides a repeatable, predictable approach to correct it. If you are looking for a keynote with a message that will address the business realities of today in an informative, entertaining, and most important impactful manner, you'll want to teach your company, "No More Order Taking!"
Rob Jolles: Speaking Demo Video
Rob Jolles examines sales from a fresh point of view, stating that often a sale person's mission is to empathetically guide a customer who fears change along a new path. Rather than coerce, a skilled sales person knows just the right questions to ask in order to connect with their client.
He points out that in personal life, we often do not hesitate to have "tough" conversations with loved ones concerning their problems, because in the long run, we realize that our intervention may save them a great deal of trouble. What then is stopping us from treating clients the same way? "We don't have these conversations with our clients, because it could be mean," Rob comments. "But it's not mean. It's merciful."
Keynote Speech