* Please note that while this speaker's specific speaking fee falls within the range posted above (for Continental U.S. based events), fees are subject to change. For current fee information or international event fees (which are generally 50-75% more than U.S based event fees), please contact us.
Top25 Speaker Voting

Rick Segel needs 5 vote(s) to make it into the Top 25 speakers on Speaking.com!
Speaker Booking Tip
"Tip: speakers bureaus provide added value that you cannot get by booking speakers directly. "
For Event Planners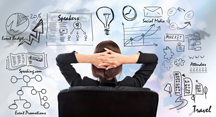 • Keynote Speaker Booking Toolkit.
• Booking a Celebrity Speaker.
• How to Find and Book the Right Speaker.
• Google+ Event Planning Forum.
• Tips for International Clients Booking U.S. Based Speakers.
Similar Speakers
David Glickman

David Glickman has dedicated 15 years to entertaining corporate and healthcare audiences. The certified speaking professional energizes audiences with clever humor and upbeat music that…

Jeff Tobe

Jeff Tobe is a Certified Speaking Professional with a background as an award-winning sales and marketing entrepreneur. He is the author of the popular book,…

Kare Anderson

It doesn't get much higher-level than a presidential campaign, and Kare Anderson created over 208 issues-formation teams for President Obama's first run for office. She…

Once again our agent did an outstanding job. Not only did he provide me with a number of options for potential speakers but he helped with seeing who was available, when they could speak, and getting everything done in a timely fashion. I look forward to working with him again.
Auburn University
About SPEAKING.com
Established in 1994, we are exclusive agents for some of the world's leading experts, celebrities and professional speakers.
We offer event planners a fully staffed speaker logistics planning team, plus a personal SPEAKING.com Account Executive – a knowledgeable and trustworthy partner. We guarantee your satisfaction with your speaker and a smooth booking process.
Contact us today to book your favorite speaker.

"As always, our seminar attendees were ′wowed′ by your presentations. The feedback we receive from your sessions is invariably outstanding."
Shannon Packard,
Show Manager, OASIS
The Organization of Associated Salespeople In The Southwest, Inc.

"I knew the meeting was a success when a merchant who is our biggest critic said it was the best annual meeting he′s attended since 1980."
Kathleen Holland,
Albany Mall, GA

"They loved you! We definitely want you back!"
Verba Valentine,
Billings Market Association

"Rick has a special ability to take complex problems and simplify them into workable action plans. His no-frills approach to consulting is a refreshing experience."
Marsha Hopper, Downtown Manager, Gardner, MA

"Not only is Rick easy to work with, his ideas come so fast and so good. Best of all, they make us money."
Gary Decker, American
Speedy Printing

"Learn and have more fun it′s this approach to training -- The Rick Segel Approach -- that keeps me coming back to your retail conferences."
Seminar Attendee Dallas Market Center, Texas

"A terrific presentation! Our merchants were amazed by how well they could relate to your information and how much they learned."
Christine Beckman Marketing Director The Empire/Empire East Sioux Falls, South Dakota

"You had our attendees in the palm of your hand as they laughed at your humor, while writing furiously to keep track of all your suggestions for their new-found ′sailing′ to success. We all look forward to your next session!"
Toni High Executive Director Western & English Sales Assn. Denver, Colorado

"He′s been in our shoes. He really knows what it′s like ..."
Seminar attendee
San Francisco International Gift Fair

"Many seminars I attend are interminably boring. But Rick′s humor grabbed our attention and kept us constantly focused."
Seminar attendee
INC. Magazine Conference

"Thanks for playing a major role in our first annual ′Small Business / Big Success′ seminar. The feedback we received on ′How to Increase Your Bottom Line′ was both exceptional and well-deserved."
Robin Comstock President & CEO Greater Portsmouth NH Chamber of Commerce

"Right on the money! Your presentation and prompt, efficient handling of the long distance details couldn′t have gone more smoothly."
Grace Murray Promotions Co-ordinator Truro Development Corp., Nova Scotia

"Your humor and insight were the perfect keynote address for our retail executives."
Jon B. Hearst Retailers Association of MA

"Here are some of the comments about your presentation:
′You should have him every year.′
′Funny, excellent for everyone.′
′We need Rick Segel more often.′
′Your presentation was simply outstanding. We want you back.′ "
Melanie Hodges, Retail Alliance, Norfolk, VA

---

Shell Oil
Sheetz Stores
Texaco
INC. Magazine
U.S. Postal Service
New England Grows
American Nursery & Landscape Association California Association of Nurserymen
Southern Nursery Association
Rhode Island Nursery & Landscape Association
Corning Mainstreet, Iowa
Idaho Small Business Development Association National Main Street
Whirlpool
Woodworkers Warehouse
Atlanta Merchandise Mart
Miami Merchandise Mart
Dallas Market Center
Vermont Retail Association
Seattle Gift Mart
Carolina Virginia Fashion
Canadian Gift & Tableware Association
Southern California Marketing Directors Association
Bridal Marketing Association of America
Retailers Association of Massachusetts
Ontario Fashion Exhibitors
San Francisco International Gift Fair
Jewelers of America
AARP
Dunkin Donuts, NH
NE Chrysler-Plymouth Dealers
American Speedy Printing
Hobby Industries of America
Customer Service Association
Chinese Economic Development Council
Baybrook Mall, TX
Fox River Mall, WI
Mashpee Commons, MA
Pheasant Lane Mall, NH
Scottsdale Fashion Square, AZ
The Mall at King of Prussia, PA
Harvard Sq. Business Association
Dillards
Bentley′s Luggage
Great Harvest Bread
Western Wear / WEMA
Dollar Tree Stores
Golf Day
Ohio Hospital Association
Mr. Tux
Gingiss International
National Association of Asian-American Professionals
American Speedy Printing
East Coast Seafood
Post Tool
Diving Equipment
Manufacturers Association
Aqua International

---
The Retail Sales Bible
Rick Segel and Matthew Hudson, PhD have simplified the retail selling process into a user-friendly book filled with concepts that are memorable, easy to master, easy to use and will become a part of the salesperson′s persona almost immediately. In this book you will learn:

The G.R.E.A.T Selling System, which is an acronym for the 5 stages of selling
Greeting, Researching, Experimenting, Add-ons and Tethering a customer to the store
Ways to increase every sales associate's ATS, Average Transaction Size
Ways to increase every sales associate's UTS, Units per Transaction
The greatest opening line ever written with proven results
The four words that increase a retailer's sale by 4 to 7 percent almost immediately
The five most powerful words that will engage the customer in conversation, learn the customer's true wants and needs and can establish trust instantly


Order Here




Becoming the Vendor of Choice
Becoming the Vendor of Choice: The Secrets to Powerful Retail Relationships is comprised of strategies that vendors can use to do more business with their retailers. This is the ONE BOOK that cuts through the clutter and helps you discover proven tactics for developing relationships with your customers, helping you realize the true value of customer loyalty as you become your customers′ first choice.

In addition to learning how to create relationships that cause retailers to call you for advice, you will learn how your greatest assets are your ideas and experience. From the do′s and don′ts of trade show participation from the retailer′s point of view to uncovering new ways to promote your company without spending lots of money, discover why there is always a budget for a vendor of choice.
Order Here




"Laugh & Grow Rich...How to Profit from Humor in Any Business" is a collection of tools that will serve as a blueprint for business success while you enjoy the process. Humor makes "cents". We are living in a user-friendly, instant gratification, entertain me now society that is willing to part with its hard earned money--if the process is made entertaining. Quality, service, price, and selection are no longer the only differentiators of a business. The use of humor in business is powerful because it not only attracts new business, keeps existing customers or clients, but makes the process enjoyable for both customers and employees alike. This book will show you how to make this "laugh and grow rich philosophy" a part of your business culture.
Pro-active Retailing
Pro-active retailing means NOT sitting back and waiting for customers to just walk through our front door. Those days are over.

In order to bring our businesses to the next level, we must design marketing plans that incorporate all of the strategies and tactics that will make our customers drive by other businesses and make our businesses their preferred choice--a true destination business. We accomplish that by adapting a customer-centric philosophy that shifts our focus to the Benefit Quotient for our customer.

Breakthrough Marketing
Breakthrough Marketing™ is a system to better understand your customer, reach your customer, keep in touch with your customer, and have your customer find you. It is a collection of "new age" marketing tools that when used together generate exceptional sales performance and optimal brand positioning.

Effective Suggestive Selling
The days of the high pressure "shake the customer until all the money comes out" way of selling is over. No one wants to be sold anymore, but they all want help in buying.

This program redefines selling into a non-threatening suggestion-driven soft approach that will increase store morale and improve the attidude of sales personnel while the customers are buying more than ever before.

How Do Customers Find YOU?
Marketing is constantly reinventing itself. The tools that worked two years ago might not be the solutions today. Discover the power of inbound marketing and how you can build a business through attraction.

This "going-with-the-flow marketing" is the latest marketing concept that justifies multiple landing pages and simply aligns the way customers find businesses today.

Learn the Ways to Differentiate and Stand Out in a Crowded Marketplace
In order for a business to succeed today, it must be different than its competitors and stand out in the crowd.

This program will explore the ways to differentiate a business with an emphasis on creating curb appeal, using signage as your silent salesperson, and creating interior displays that will keep the customer engaged while heightening the shopping experience.

Visual Merchandising for the Artistically Challenged and Financially Deprived
Visual merchandising is an art form unto itself that can make or break any business. But what do you do when you have no talent and less money?

This program will help those retailers improve their visual merchandising capabilities with easy-to-use and simple-to-understand tricks and tactics that just don′t cost a lot of money.

Signs Sell
Signage can be a retailer′s secret weapon - the silent salesperson that can produce more than the strongest salesperson.

Learn how to increase sales between 10-500% with the I.S.E.E. Formula for signage effectiveness and put your customers in a buying mood with creative signage.

The Essential Online Solution
This program, modeled from Rick Segel′s book of the same name, demystifies the use of ecommerce and online marketing tools for the average, non-technical, independent business. This is a marketing program that utilizes online tools to create dramatic financial successes.

Build Your Community, Build Your Business
There are many different types of communities today ranging from online communities to traditional communities - the places where we live and work. This program focuses on our traditional communities.

There is a nationwide movement to buy local, support local businesses, and to care about people and businesses within our community. Its not only the right thing to do but "cause marketing," as it is often referred to, can have significant and powerful marketing advantages for the savvy retailer.

Million Dollar Advertising Ideas on a Shoestring Budget
There are numerous ways to spend money in advertising today. This program explores all of the possibilities and teaches the tricks of effective marketing and advertising to get the biggest bang for the buck.

The 7 Essentials of Successful Retailing
Retail is detail. However, if you master these seven essentials, you will master the retail world. This program explores issues from defining your business to pricing to promoting to buying and more!

Optimizing The Customer
Customers love to buy but hate to be sold. Optimizing the Customer enables the store personnel to acquire the skills to make multiple sales while having the customer appreciate their efforts. However, in times like these where we will be seeing fewer customers, we also need to develop techniques that will position the customer as a true business asset.

Unconventional Marketing for Unconventional Times
"The Times, they are a-changin′."

Change is happening so fast and the "Rules of Retailing" are being rewritten as we speak. We are living in the age of the electronic wallet. We can no longer reject ideas, concepts, marketing vehicles, forums, or platforms that are on the fringe of mainstream thinking. We are all seeking to find, understand, and accept the "New Normal."

Customer Service: Who Needs It?
Customer service can be the greatest differentiator or detriment in your business. However, the problem is that customer service represents a variety of things to a variety of people. This presentation helps the audience to better understand the different types of service needed to serve the many different types of people.

Making Your Website More Competitive
When was the last time you shopped the competition? And what should we be looking for?

In this program, you will not only be given a guided tour of some of the best sites on the web but you will also learn some of the tricks and tools used in the sites that make them so successful. This will all be in terms that retailers understand, complete with an idea of the types of costs that are associated with them. Let Rick Segel be your mystery online shopper and uncover trends, tools, and treasures that will make you money. Let's enjoy the ride!

Becoming the Vendor of Choice
This program helps participants discover proven tactics for developing relationships with customers, helping them realize the true value of customer loyalty as they become the customers' first choice -- The Preferred Vendor.

In addition to learning how to create relationships that cause retailers to call for advice, learn how your greatest assets are your ideas and experience--from the do's and don'ts of trade show participation to uncovering new ways to promote your company without spending lots of money. Discover why there is always a budget for a vendor of choice.
Speech Excerpt 1
Speech Excerpt 2