* Please note that while this speaker's specific speaking fee falls within the range posted above (for Continental U.S. based events), fees are subject to change. For current fee information or international event fees (which are generally 50-75% more than U.S based event fees), please contact us.
Top25 Speaker Voting

Rick Searfoss needs 5 vote(s) to make it into the Top 25 speakers on Speaking.com!
Speaker Booking Tip
"Tip: ask your speaker to do a book signing or attend a VIP meal with your guests. "
For Event Planners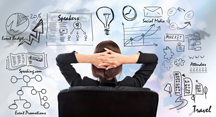 • Keynote Speaker Booking Toolkit.
• Booking a Celebrity Speaker.
• How to Find and Book the Right Speaker.
• Google+ Event Planning Forum.
• Tips for International Clients Booking U.S. Based Speakers.
Similar Speakers
Roberta Bondar

A true Renaissance woman, in her remarkable career Dr. Roberta Bondar has been an astronaut, physician, scientific researcher, photographer, author, environment interpreter and team leader.…

Scott Parazynski

With over eight weeks in space, forty-seven hours on spacewalks and 23,000,000 miles in orbit, astronaut Dr. Scott Parazynski brings an inspirational story and the…

Ed Gibson

For 21 years, astronaut Ed Gibson held the American record of 84 days in space. One of the U.S.'s first scientist astronauts, Dr. Gibson contributed…

Your speakers bureau was a tremendous resource for the NHL as we planned and executed our NHL Club Business Meetings. Their assistance with securing our keynote was invaluable. They provided detailed information in a timely manner which was crucial to the success of the event. The execution was seamless!
National Hockey League
About SPEAKING.com
Established in 1994, we are exclusive agents for some of the world's leading experts, celebrities and professional speakers.
We offer event planners a fully staffed speaker logistics planning team, plus a personal SPEAKING.com Account Executive – a knowledgeable and trustworthy partner. We guarantee your satisfaction with your speaker and a smooth booking process.
Contact us today to book your favorite speaker.

"The way you applied your team and leadership experiences to our business was phenomenal! As a business executive, I know the value of a great speaker, and your presentation brought incredible value to our conference. Your enthusiasm and passion along with those stunning visual images fit the tone perfectly. Your tailored presentation and the willingness to spend extra time with us put you at the top of my list of memorable speakers."
Paul Garcia, CEO and Chairman, Global Payments

"A perfect start - powerful, exciting, informative, and fun!"
Barry Grimm, Hernandez Engineering

"I appreciate your professionalism as well as your extremely courteous manner … "You completely enthralled them not only with the subject matter, but with your polished delivery. I have been with the Medical Society for seven years and have had the pleasure of engaging several outstanding speakers. You not only eclipsed those other speakers by attracting a record attendance, you also generated a phenomenal number of calls and notes from attendees expressing their appreciation for the evening. "
Dean Larson, Executive Director, Marion Polk County Medical Society

"Thank you for adapting your speech to our audience. Working with you was a pleasure; thanks for being so flexible. "
Barbara DeWitz, Houston Convention and Visitors Bureau

"... incredible how he tied our theme and work to his background in space exploration. Inspiring and a fantastic start to the entire week! "
Arlene Kaplan, International Right of Way Association

"I just wanted to thank you very much for the outstanding job you did speaking to our National Account Managers during their Top Gun Program Graduation Dinner. The feedback has been nothing short of stupendous. Honestly, they are still talking about how surprised they were to have such a prestigious speaker that not only took the time to find out about the audience but also took time during dinner and afterwards at the hotel to share your experiences with them! These folks have been in the pharmaceutical industry an average of 20+ years and have been exposed to numerous keynote speakers. They have all expressed their gratitude and surprise that they finally had a speaker that understood who they were, what their challenges were, and customized the talk to fit their needs. "
Joe Gilhooly, Senior Manager, Managed Healthcare Training, Aventis Pharmaceuticals

"Your message and ability to connect with various members of our team were right on target … a meaningful learning experience for our team and fun at the same time. That is a great combination. "
Dave Sorensen, Vice President, Purchasing, General Mills, Inc.

"Your real-life experience was both fascinating and entertaining. You were the star of the show. Your approachable style and amazing awareness of Microsoft products made you a perfect part of our event team."
Jack Miller, District Business Solutions Manager, Microsoft Corporation

"What to expect from one of the real astronauts. They′re bright, but are they entertaining? This one certainly is! We loved it!"
Dave Scott, President, Slanted Fedora Entertainment

PARTIAL CLIENT LIST

Lockheed Martin, Discovery Channel, BBC, America′s Freedom Festival, Council of Engineering and Scientific Society Executives, The Associates, Disney Cruise Lines, General Services Administration, U.S. Postal Service, Kennedy Space Center Visitors Complex, Siemens-Westinghouse, UUNet, Shell Oil, National Association of Student Financial Aid Administrators, International Aerospace Festival, Motor Trend Magazine, U.S. Chamber of Commerce, Fiesta Bowl, Midwest Association of Colleges and Employers, American Society of Appraisers, Invensys, UUNet, Family Motor Coach Association, Illuminating Engineering Society, Indianapolis 500 Festival, Florida Pharmacy Association, Genesee Hospital, Pisgah Astronomical Research Institute, Oakland University, Aspen Pet Products Company, American Association of Medical Instrumentation, Orlando Science Center, California International Auto Show, U.S. Chamber of Congress, Connecticut Education Association.
LEADERSHIP
Mach 25 Leadership – The Real Right Stuff
Purpose, Program, People, Perspective. True leaders balance all these elements to get the job done, build their organization, and uplift their followers. From personal experience, Colonel Searfoss knows that commanding a human space mission requires the utmost in competent, trustworthy, and service-oriented leadership: the real "right stuff." Too much is at stake for anything less. The challenges: formidable. The experiences: profound. The lessons learned: invaluable, for any leader, any profession, any time.

TEAMWORK
Apogee! – Taking Teams to the Top
Successful human space missions demand that hundreds of different teams perform flawlessly and consistently. A Space Shuttle crew must act in unity as one of the most finely honed teams possible, comparable to a Super Bowl or World Series team, with billions of dollars and their own lives riding on their performance. They also need to interact with and motivate the members of a huge variety of other specialized teams to truly prepare for a mission.

PERSONAL EXCELLENCE
Countdown to Success
The Competition to become an astronaut is fierce – less than one in a hundred qualified applicants is selected. What factors lead to such competitive success? Once selected, the training is long, rigorous, and constantly demanding. How does one progress from initial selection to making the extremely complex and difficult look easy during successful mission execution? Through constant, dedicated pursuit of individual outstanding performance.

PATRIOTISM
America the Beautiful from Space
America – truly a blessed land. One orbital view forcefully confirms the special beauty and place our country holds on Earth. Through the glorious medium of astronaut earth observations photographs, we'll take a breathtaking journey around America. A fascinating combination of inspiring historical, geographical, geological, and cultural stories with stunning images testifying of sublime beauty, wonder, and hope. This unique presentation will make you more proud than ever to be an American.

THE FUTURE
As We Dream – A Spacefarer's Vision
In a short 100 years humankind has gone from earthbound to living in space. What challenges and opportunities await us in the next 100 years? "Who is to say what is impossible, for the dreams of yesterday are the hopes of today and the realities of tomorrow?" With the rare perspective of having flown in space and ongoing direct involvement with private space ventures such as the Zero Gravity Corporation, XCOR Aerospace, and X Prize Foundation, Rick offers an enthusiastic and optimistic view of the technical and cultural possibilities.

CHANGE
Dare to Explore! – Adventurous Innovation
The six billion people on this jewel of a planet collectively share a very human need to explore. Yet at the same time, we all too often limit ourselves as we ponder fears and not hopes, fears usually revolving around the need for change. Change is real, its upon us, its ever-accelerating. Exploration, research, innovation, and charting the unknown as pioneered on the last frontier of space give startling examples of adaptability. Learn to embrace the opportunities change offers through this space explorer's insightful presentation.
Demo Video