* Please note that while this speaker's specific speaking fee falls within the range posted above (for Continental U.S. based events), fees are subject to change. For current fee information or international event fees (which are generally 50-75% more than U.S based event fees), please contact us.
Top25 Speaker Voting

Richard Hawk needs 5 vote(s) to make it into the Top 25 speakers on Speaking.com!
Speaker Booking Tip
"Tip: speakers bureaus provide added value that you cannot get by booking speakers directly. "
For Event Planners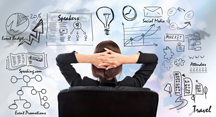 • Keynote Speaker Booking Toolkit.
• Booking a Celebrity Speaker.
• How to Find and Book the Right Speaker.
• Google+ Event Planning Forum.
• Tips for International Clients Booking U.S. Based Speakers.
Similar Speakers
Aaron McDaniel

Millennial expert Aaron McDaniel delivers timely aha moments and viable solutions on how to bridge generational gaps in the workplace and marketplace. Drawing from his…

Teri Yanovitch

Along with 85 percent of business leaders today, Teri Yanovitch thinks quality customer service is how your business can set itself apart. Through her enthusiastic,…

Lee Silber

When Lee Silber speaks, people listen. Audiences listen because Silber is a dynamic speaker who engages attendees with humor, magic and creative skill-building activities that…

SPEAKING.com does a wonderful job! Our AE always responds promptly and is very professional, thank you!
AlphaNet
About SPEAKING.com
Established in 1994, we are exclusive agents for some of the world's leading experts, celebrities and professional speakers.
We offer event planners a fully staffed speaker logistics planning team, plus a personal SPEAKING.com Account Executive – a knowledgeable and trustworthy partner. We guarantee your satisfaction with your speaker and a smooth booking process.
Contact us today to book your favorite speaker.

"You not only lived up to my expectations, you far exceeded them. Practical, insightful, funny and moving. Words can't even do justice to the information you gave us this week. You have inspired me to inspire others, as well as look at the way I handle things at work and in life. I can truly say that meeting you has altered my life in a way that is hard to explain."
- Jamie Williams, S&W Ready Mix
"Thank you for making our annual offsite event something truly special. You listened to our needs as a company and were incredibly creative and flexible in terms of structure and scheduling."
- Kate Callaghan, Suncor Energy
"We asked Richard to make a change in the program the night before, and he did without a moment's hesitation. It went great!"
- Andy Esposito, US Sugar Corporation
"It is difficult to find a speaker who is both a safety professional and an entertaining, humorous speaker. The way you combine substance with fun is the best way to captivate an audience. Participants at the conference continued to talk about your presentations throughout the conference. Thank you so much for helping make our conference a success. I am sure we will be in touch for future events."
- Melodye A. Turek President, Colorado Safety Association
"It's been several months since I attended your seminar, and I regularly use many of the things I learned there."
- Mark Craven, Dade Paper Co.
"Richard provided real tips and tricks that I can take back to my workplace and start using tomorrow."
- Jennifer Kness, Penn State Office of Physical Plant
"Everyone was so impressed with Richard and how much time he spent that day talking to folks. He's real. He's sincere. You can tell he actually believes what he's preaching."
- Sharon Ketelsen, Nebraska Public Power District
Find Your Focus: How to Reduce Accidents and Mistakes by Paying Better Attention
In today's fast-paced world, lack of focus and mental distractions are a major root cause of accidents. Every year, un-focused acts cost billions of dollars in damage and injury. "Find Your Focus" combats this problem by giving participants the tools to concentrate better, heighten their attention to detail and effectively manage distractions. The end result? A safer workplace.
Great Leaders Make Safety Fun!: Using Your Influence to Create a Vibrant Safety Culture
Leaders at Southwest Airlines, Google, Raytheon and other world-class companies know that when employees are in a good mood and enjoy their work – in other words, having FUN– they perform better. That means they make fewer mistakes and have fewer accidents. In this engaging program, leaders will learn how to leverage their influence to reduce employee apathy, encourage safe behavior and instill a stronger team spirit. Participants will discover new ideas they can put into action right away to create safety campaigns employees will love.
The Future of Safety: A Hawk-Eye View of New Trends on the Safety Horizon
During this insightful presentation, Richard Hawk shares what is on the horizon for the safety and health field and how you and your company can take advantage of emerging trends. Richard's work with dozens of companies in a wide array of industries every year allows him to see firsthand what is new, what is developing and what isn't working with respect to safety. Don't get left behind! Find out everything you and your team need to know to keep your safety program on the leading edge.
Bring It On Home!: Powerful Inspiration for Living a Safe and Healthy Life
According to the National Safety Council, "U.S. workers are safer on the job than in their homes or communities. Nearly all of workers' unintentional fatalities and more than 70 percent of disabling injuries occur off the job. For every two workplace injuries, there are five off-the-job injuries." During this engaging and convincing presentation, Richard Hawk moves audiences to change their day-to-day habits while they are away from the job. He offers practical, easy-to-remember tips and techniques to replace dangerous and unhealthy habits with behaviors for a safer and healthier life. Safer habits at home lead to safer habits at work.

Richard Hawk - Demo Video
Richard Hawk touches on tactics, philosophies, and balance that have strengthened his personal relationships and fueled successes throughout his life. He lowers audience inhibitions, engaging every member with the simple yet effective example of a balloon.
Instructing members to blow up the balloon and then let it go, he comments that balloons are really at their best when they are full. If you blow excess air into one, it pops. On the other hand, deflated and under inflated balloons are "wimpy" and not something you would present to a child. "That's how our life should be: full," Richard remarks.
Richard Hawk - Speech Excerpt
Richard Hawk Interview
Richard Hawk - Speech Excerpt