* Please note that while this speaker's specific speaking fee falls within the range posted above (for Continental U.S. based events), fees are subject to change. For current fee information or international event fees (which are generally 50-75% more than U.S based event fees), please contact us.
Top25 Speaker Voting

Richard Hadden needs 5 vote(s) to make it into the Top 25 speakers on Speaking.com!
Speaker Booking Tip
"Tip: find a speaker in your local area to save on travel costs. Most speakers will also reduce their keynote fee for local events. "
For Event Planners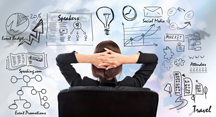 • Keynote Speaker Booking Toolkit.
• Booking a Celebrity Speaker.
• How to Find and Book the Right Speaker.
• Google+ Event Planning Forum.
• Tips for International Clients Booking U.S. Based Speakers.
Similar Speakers
Louie Gravance

For over a decade Louis Gravance designed and oversaw training for the Walt Disney Company, maintaining its reputation as "the happiest place on earth." Today…

Teri Yanovitch

Along with 85 percent of business leaders today, Teri Yanovitch thinks quality customer service is how your business can set itself apart. Through her enthusiastic,…

Richard Hawk

Security veteran Richard Hawk is the world's leading expert on making safety fun. A fresh and often comical presenter, he mixes style with practical tips…

SPEAKING.com / Core Agency were very helpful in every way possible. I would recommend them to others and we will most definitely secure all our future conference speakers through them again.
Babcock & Wilcox
About SPEAKING.com
Established in 1994, we are exclusive agents for some of the world's leading experts, celebrities and professional speakers.
We offer event planners a fully staffed speaker logistics planning team, plus a personal SPEAKING.com Account Executive – a knowledgeable and trustworthy partner. We guarantee your satisfaction with your speaker and a smooth booking process.
Contact us today to book your favorite speaker.

"When we invite individuals to speak to this group, we hope they are entertaining and also inspirational. You certainly measured up in both categories, and I must say I was particularly impressed with the research you did in preparing your presentation. Making your presentation so personal to so many individuals made this event very special."
Federal Reserve Bank of Atlanta
"You did it! You did it! Even before you sang, you had them all in the palm of your hand. Thank you for two terrific presentations. Not only did you win the popularity contest, you are on the radar screen for bigger and better things. Thank you so much for all the time you took to get to know the audience and the issues ahead of time—it impressed the crowd. I so appreciate what you brought to this event."
Independent Bankers Association of Texas
"On behalf of the Houston Human Resource Management Association, thank you for the terrific program to cap off the day of seminars. Your energy and humor brought several hundred people back to life. Many remarked to me and I concur that your presentation was the best dinner program, or luncheon for that matter, the organization has ever had. Having proposed you as the keynote speaker, I basked in the reflected glory.
"I also appreciated the professional way you took room arrangement and accommodations snafus in stride. It was a pleasure to spend time with you. Thank you again for a first class presentation with all the elements—information, humor, special effects, and entertainment."
Houston Human Resource Management Association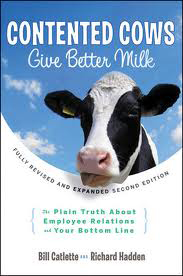 Contented Cows Still Give Better Milk, Revised and Expanded: The Plain Truth about Employee Engagement and Your Bottom Line
How to foster happier employees for a healthier bottom line
Managers could learn a lot from a message echoed by generations of dairy farmers: "Contented cows give better milk." This book is not, repeat, not a management tome. In this fully revised and expanded edition to a book which absolutely, positively makes the case that treating people right is one of the best things any business can do for its bottom line, Contented Cows Still Give Better Milk offers sound, practical advice for those who know that their reputation as an employer is as important as bandwidth.
Offers updated case studies and new examples from on-site research in a number of real organizations, as well as inspiring examples of companies that know how to do it right... and few that didn't
Fad-free prescriptive advice informed by the authors' combined four-plus decades of training and consulting with thousands of managers and employees, conducting employee engagement surveys, and translating the attendant learning to management audiences in a form they can appreciate and use
Coauthor Bill Catlette's Bottom Line Leadership Seminar has helped thousands of managers become more effective leaders
Direct from the horse's... actually cow's mouth, this fully revised and expanded second edition will teach readers that having a focused, engaged, and capably led workforce is one of the best things any organization can do for its bottom line.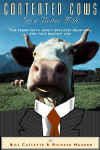 CONTENTED COWS GIVE BETTER MILK
Using facts, not faith, Contented Cows Give Better Milk makes the case that if you treat people right, you'll make more money.
Of course, treating your employees right is the right thing to do, but that's not the point. This is a business book in every respect, and like it or not, the lexicon of business is money. It's how we keep score. So, using real companies and real numbers, Contented Cows makes the case in terms business people understand. In a profound but simple way it establishes, for the first time we're aware of, clear linkage between an organization's employee relations practices and its bottom line.
Whether it's in heavy manufacturing, distribution, retail, services, high-tech, or professional sports, it is no accident that the organizations consistently identified as winners in their chosen field happen to be some of the best places on earth to work. This occurs not as an afterthought, but as a vital, premeditated element of business strategy. It's a relentless truth that those in the unenviable position of having to compete with the likes of Southwest Airlines, GE, FedEx, Hewlett-Packard, 3M, Wal-Mart, and scores of lesser known organizations we profiled have to face every day.
We did a full blown analysis of the ten-year financial performance of six organizations with well-deserved reputations as great places to work (the Contented Cows), and compared it to the performance of six of their competitors (the Common Cows).
The results were nothing short of astounding, and bear out a premise that would doubtless be echoed by generations of dairy farmers... Contented Cows Give Better Milk!
Going beyond the numbers, Contented Cows is an essential guide for you, if you're willing to consider the possibility that technology, capital spending, and restructuring alone will not lead to the promised land. We have taken pains to explode many of the myths about employee relations, including those based on the notion that "more is better", and instead, tried to offer practical, fad-free advice for transforming your workforce—be it a Fortune 500 or a start-up, into a lethal competitive weapon.
Contented Cows Give Better Milk – Your People… Your Profits
Leadership, and the Bottom Line Value of Creating a Great Place to Work, based on the principles in Bill's and Richard's popular book, Contented Cows Give Better Milk.

Work is Contractual…Effort is Personal
Based on our 2007 book, Contented Cows MOOve Faster, this is all about Discretionary Effort, Employee Engagement, and what good leaders do to get people to put more OOMPH! into their work.

Leading Through the Storm
An inspirational, yet practical message for leaders in a tough economy. Learn at least six ways to keep your workforce focused and fired up in uncertain economic times, and prepare your workforce for the recovery to come.

The Journey Thus Far: Foundations for a Fabulous Future!
Delivered by Richard Hadden only. Highly entertaining, motivational keynote celebrating your people, your organization, and your successes.

Recruiting and Retaining the Best in the Business
Presented as either a keynote presentation, or a more in-depth breakout or seminar, this program provides proven, practical, and prescriptive advice on how to source, recruit, find, hire, and engage the best available talent.

The Oomph Factor: Making the Extra Mile the Best Part of the Trip
What some of the most successful men and women do every day to keep their organizations thriving, and growing in the right direction – those who routinely demonstrate Employee Engagement and Discretionary Effort, and go above and beyond in pursuit of their organization's mission.

Keynote presentations are up to 90 minutes in length.

Seminars and Breakouts:

Any of the above keynotes can be presented as a breakout session, or a half- or full-day seminar. Our flagship seminar, Bottom Line Leadership. is a half-day or full-day seminar based on the book, Contented Cows Give Better Milk. It's full of sound, no-nonsense leadership lessons presented in a fast-paced, interactive format.
Richard Hadden: Demo Video
In this demo video, Employee Engagement speaker Richard Hadden discusses the "Contented Cow" philosophy, the role of Comfort Keepers in an organization and what distinguishes companies that embrace a strategy to become an "Employer of Choice."
Keynote Speech
Richard Hadden: Going the Extra Mile at Wegman's
Richard Hadden and Discretionary Effort