Top25 Speaker Voting

Richard Florida needs 8 vote(s) to make it into the Top 25 speakers on Speaking.com!
Speaker Booking Tip
"Tip: some speakers might provide one of their popular book titles as a free gift to your audience. "
For Event Planners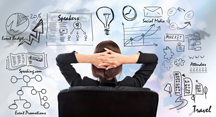 • Keynote Speaker Booking Toolkit.
• Booking a Celebrity Speaker.
• How to Find and Book the Right Speaker.
• Google+ Event Planning Forum.
• Tips for International Clients Booking U.S. Based Speakers.
Similar Speakers
Peter Sims

Bowdoin College graduate Peter Sims is much in demand for his expertise in entrepreneurship and innovation. His book Little Bets: How Breakthrough Ideas Emerge from…

Kevin Roberts

Worldwide CEO of the world's most famous advertising firm, Saatchi & Saatchi, Kevin Roberts has led the company to record financial success and outstanding international…

Erik Wahl

Erik Wahl is an entrepreneur, philanthropist, best selling author and graffiti artist. Wahl has also been described as the Picasso of Productivity, the Warhol of…

Our account rep was great to work with. He helped facilitate some specific requests on our part, kept us in the loop of any issues, and promptly replied to all communications. Thanks for making this a great event!
Foundation for Economic Education
About SPEAKING.com
Established in 1994, we are exclusive agents for some of the world's leading experts, celebrities and professional speakers.
We offer event planners a fully staffed speaker logistics planning team, plus a personal SPEAKING.com Account Executive – a knowledgeable and trustworthy partner. We guarantee your satisfaction with your speaker and a smooth booking process.
Contact us today to book your favorite speaker.

"It was fantastic to listen to Richard…the performance not only fulfilled our expectations but opened a new stage of inspirations for our Ministry to work on the development of regions."
Patrycja Artymowska, Office of President, Poland Ministry of Regional Development
"Your substantive insights on 'Creative Cities and Urban Development Reform' contributed greatly to the deliberations at the Conference."
Toshihiro Tanaka, Country Director, United Nations Development Program
"An urban-development expert…His ideas about revitalizing cities by attracting artists and high-tech workers have influenced a generation of urban planners."
Andrea Sachs, TIME
"…he's changed the framework for discussing social and economic inequality."
Herbert Muschamp, New York Times, Year in Review
"……Florida's work is challenging many of the verities of the field."
Salon.com
"Never before have I seen anyone capture so succinctly the values and desires of the new 'creative class' and the essence of human capital and the creative ethos."
John Seely Brown, Former Director, Xerox Palo Alto Research Center (PARC) and co-author of The Social Life of Information
"The creative-capital theory turned out – at least after preliminary testing – to provide the best explanation for Austin's high-tech transformation."
New York Times
"Florida's research and experiences over the past decade have given him the foundation on which to build a new view of business reality…"
Herbert Muschamp, InformationWeek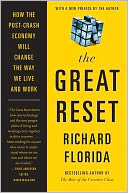 The Great Reset: How the Post-Crash Economy Will Change the Way We Live and Work
We′ve weathered tough times before. History teaches us that periods of "creative destruction," like the Great Depression of the 1930s, also present opportunities to remake our economy and society and to generate whole new eras of economic growth and prosperity.
In The Great Reset, bestselling author and economic development expert Richard Florida provides an engaging and sweeping examination of these previous economic epochs, or "resets," while looking toward the future to identify the patterns that will drive the next Great Reset and transform virtually every aspect of our lives.
He distills the deep forces that alter physical and social landscapes—how and where we live, how we work, how we invest in individuals and infrastructure, how we shape our cities and regions—and shows the ways in which these forces, when combined, will spur a fresh era of growth and prosperity, define a new geography of progress, and create surprising opportunities for all of us.
Order Here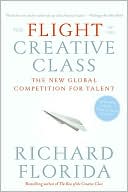 The Flight of the Creative Class: The New Global Competition for Talent
The most valued workers today are what the economist Richard Florida calls the Creative Class, skilled individuals ranging from money managers to make–up artists, software programmers to steady–cam operators who are in constant demand around the world.
Florida′s bestselling The Rise of the Creative Class identified these workers as the source of economic revitalization in American cities. In that book, he shows that investment in technology and a civic culture of tolerance (most–often marked by the presence of a large gay community) are the key ingredients to attracting and maintaining a local creative class.
In The Flight of the Creative Class, Florida expands his research to cover the global competition to attract the Creative Class. The United States was, up until 2002, the unparalleled leader in creative capital. But several key events––the Bush administrations emphasis on smokestack industries, heightened security concerns after 9/11 and the growing cultural divide between conservatives and liberals––have put the US at a substantial dis–advantage.
Order Here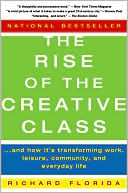 The Rise of the Creative Class: And How It′s Transforming Work, Leisure, Community, and Everyday Life
The Washington Monthly 2002 Annual Political Book Award Winner
The Rise of the Creative Class gives us a provocative new way to think about why we live as we do today-and where we might be headed. Weaving storytelling with masses of new and updated research, Richard Florida traces the fundamental theme that runs through a host of seemingly unrelated changes in American society: the growing role of creativity in our economy.
Just as William Whyte′s 1956 classic The Organization Man showed how the organizational ethos of that age permeated every aspect of life, Florida describes a society in which the creative ethos is increasingly dominant. Millions of us are beginning to work and live much as creative types like artists and scientists always have-with the result that our values and tastes, our personal relationships, our choices of where to live, and even our sense and use of time are changing. Leading the shift are the nearly 38 million Americans in many diverse fields who create for a living-the Creative Class.
The Rise of the Creative Class chronicles the ongoing sea of change in people′s choices and attitudes, and shows not only what′s happening but also how it stems from a fundamental economic change. The Creative Class now comprises more than thirty percent of the entire workforce. Their choices have already had a huge economic impact. In the future they will determine how the workplace is organized, what companies will prosper or go bankrupt, and even which cities will thrive or wither.
Order Here
Combining in-depth analysis, cutting-edge trends, compelling personal stories and a touch of humor, it is no wonder Richard Florida is one of the world's most sought after speakers, alongside luminaries such as Bill Clinton, Bill Gates and Supreme Court Justice, Sandra Day O'Connor. As a leading public intellectual, Esquire Magazine recently named him one of their Best and Brightest. Richard has also been appointed to the Business Innovation Factory's Research Advisory Council and recently named European Ambassador for Creativity and Innovation.
Suggested Speaking Topics:
Creativity and Innovation
The Rise of the Creative Class
The Breakthrough Illusion
Beyond Mass Production
The Great Reset

Speech
Richard Florida gets to the true root of prosperity: human creativity. Pushing Wall Street and the housing market aside, he proposes that our ability to harness our imagination is the true source of our success, citing it as the common factor behind every invention and technology humans have built and developed.
Surveying recent economic trends, he makes his case that we are entering a new economic paradigm grounded in one of humanity's most defining qualities. "It's the thing that distinguishes us from every other species," Florida declares. "Creativity is the new economy."
Speech
Keynote Speech
Keynote Speech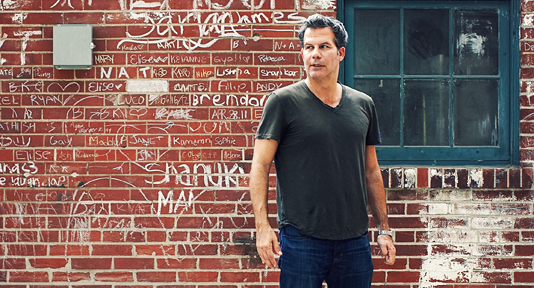 The best-selling author of The Rise of the Creative Class, social scientist Richard Florida is one of the key forces driving urban regeneration. Renown for his cutting-edge research, he has spent more than a decade helping city planners revitalize communities and convert some of the country's declining urban areas into inviting places to live. Florida ... more