* Please note that while this speaker's specific speaking fee falls within the range posted above (for Continental U.S. based events), fees are subject to change. For current fee information or international event fees (which are generally 50-75% more than U.S based event fees), please contact us.
Top25 Speaker Voting

Rich Horwath needs 6 vote(s) to make it into the Top 25 speakers on Speaking.com!
Speaker Booking Tip
"Tip: some speakers might provide one of their popular book titles as a free gift to your audience. "
For Event Planners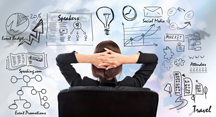 • Keynote Speaker Booking Toolkit.
• Booking a Celebrity Speaker.
• How to Find and Book the Right Speaker.
• Google+ Event Planning Forum.
• Tips for International Clients Booking U.S. Based Speakers.
Similar Speakers
Dr. Howard Wasdin

During his military career, Dr. Howard Wasdin was shot numerous times during a horrific battle and suffered structural deviations that altered the way he walked.…

Catherine McCarthy

Performance expert, Catherine McCarthy helps senior leaders bring out the best in their teams by breaking the paradigm of heavier workloads and longer hours. Over…

Jack Uldrich

Jack Uldrich is a renowned global futurist, independent scholar, sought-after business speaker and best-selling author. He leading expert in helping business adapt who has served…

My Account Executive was able to work within my quick turn around time and price limitations to find the perfect speaker for the job. Although I thought finding and booking a speaker for our sales meeting would be the most difficult part of the planning process, your agency made it the easiest.
Ales Group USA, Inc.
About SPEAKING.com
Established in 1994, we are exclusive agents for some of the world's leading experts, celebrities and professional speakers.
We offer event planners a fully staffed speaker logistics planning team, plus a personal SPEAKING.com Account Executive – a knowledgeable and trustworthy partner. We guarantee your satisfaction with your speaker and a smooth booking process.
Contact us today to book your favorite speaker.

"Rich has done an outstanding job in working with the Amgen organization and customizing his work to meet our specific objectives. He is very flexible and takes the time to listen and learn about our situation so that he is more effective in providing his expertise. Rich is a very effective presenter and focuses on engaging his audience while at the same time challenging them to think differently. The combination of his expertise, ability to listen and tailor a program to meet our needs and provide tools resulted in advancing our organizational competency in strategic thinking."
Lisa Hempy,
Director,
Amgen, Inc.

"Thank you for delivering the Keynote Speech at our North American Partner Kickoff Meeting. Your session on Strategic Thinking for Competitive Advantage was entertaining, thought-provoking and yet practical for a large audience of senior executives. It was exactly what we hoped for and was a big hit with the audience."
Bob Palumbo,
Vice President, Partner Development,
Progress Software

"Thank you for facilitating an outstanding strategic thinking session with our top CEO customers within our industry. The CEO′s believe that the program provided them with tools that will allow them to be more effective strategists. In addition, we received a lot of praise about your knowledge in the field of strategic thinking and your ability to deliver the information at the right level. Thanks again for a great program."
Dean Gregory,
Vice President, Strategy,
Baxter Healthcare Corporation

"Thank you for an excellent presentation on strategic thinking and strategic planning for Pfizer′s management team. Your professional and engaging presentation style combined with an expert command of the subject of strategy met and exceeded Pfizer′s high expectations. Most importantly, the region′s managers were able to take the information and tools you presented and begin implementing them the following week to positively impact their business. I relied on you to set the stage for our region′s strategic planning efforts and you successfully did so."
Dan Linden,
National Director,
Pfizer, Inc.

"I appreciated your ability to teach/facilitate/moderate and move us through the strategy development process in a productive fashion. Your modular and highly tailored approach of the process to our business fits our needs nicely. Thank you for your preparation and hard work in navigating our team through the strategy development process. One year later, I can say that your work had a dramatically positive impact on our business. In addition to the strong strategic plan we developed, you infused a new mind set into our organization that has created the strategic discipline to make important trade-offs and has unleashed a powerful energy of confidence. You've truly made a difference to our business."
Don Pogorzelski,
President,
Genzyme Diagnostics

"I wanted to write and thank you for your superb presentation at last week′s Society of Human Resource Management National Strategy Conference in Tampa, Florida. For me, it was by far the most memorable, most educational, and most dynamic of all the sessions I attended. You took a complex topic and condensed it into an easy-to-understand and entertaining event—a task not achievable by many. You are a gifted and dynamic teacher and I am thankful to have had the opportunity to sit under your instruction."
Tami R. Spear, SPHR,
Director of Human Resources,
Avis

"Thank you once again for the informative and thought-provoking session on Strategic Thinking that you conducted for our Federal Programs managers. Our Executive Vice President was extremely pleased with the session and has mentioned how successful it was to our CEO. Several others in the group mentioned that it is the best presentation that they have ever attended at Dewberry. I have also received feedback that your book, Sculpting Air: The Executive's Guide to Shaping Strategy is a great how-to-guide for using the tools and developing plans. As a presenter you did a great job of pulling together the appropriate material for our group based on the pre-assessment that everyone completed ahead of time. You managed to take what could be the complex topic of strategy and presented it in a very simple and engaging manner."
Leslie Keelty,
Director, Training & Development,
Dewberry Architectural Engineering

"Thank you for leading a valuable session on strategic thinking and planning for Amgen′s Rheumatology team. The presentation you delivered on strategy, critical decision making and the impact on resource allocation created a strong foundation for our group′s strategic plan development. The combination of strategy expertise and professionalism you bring provided for a valuable contribution. The result of the session is a better prepared team that understands the importance of resource allocation at both the strategic and tactical planning levels."
Andrew de Guttadauro,
Director, Marketing,
Amgen, Inc.

"At Baxter, we contracted with Rich Horwath to help us develop a robust strategic positioning and marketing strategy for one of our key business franchises within a 6-8 week period. Rich took our group through a variety of strategic exercises and templates that really flushed out a great deal of insights on our business, our customer base, our competition and the market environment. He then transformed this information into a very credible and most optimal strategic positioning for our business. In addition, Rich helped guide the team in developing strong, fact-based marketing strategies to build the foundation for propelling us towards our optimal strategic positioning. Throughout the process, Rich was a leader, listener, presenter, facilitator, team member-in essence, he played whatever role was necessary to get the job done in a very tight timeframe. For the next strategy/marketing project I have that needs outside assistance, Rich will be the first person I call."
Rob Schneider,
Group Market Manager,
Baxter Healthcare Corporation

"Rich does an excellent job in assisting individuals throughout various levels of an organization understand that while strategy is an abstract concept, there are a variety of tools and methods available to guide teams through a definable process that leads to a well structured and focused strategy development effort. His materials are thoughtfully constructed, understandable and useful in leading a group through a comprehensive and objective analysis of their business that ultimately results in action plans focused on differentiating themselves from the competition. His grasp of the topic of strategy along with a comfortable and upbeat presentation style is effective in facilitating the overall strategic thinking and development effort."
Jerry Casey,
Senior Vice President,
Genzyme Diagnostics

"Every senior executive who attended the ′Strategic Thinking for Competitive Advantage′ Workshop felt the workshop was extremely valuable. Through a series of activities and modeling, Rich's workshop provides the tools for strategically thinking through the business and channeling the resulting insights into an action plan to achieve an organization's goals and objectives. The C-Level executives rated Rich's content and effectiveness as a presenter as 'excellent' across the board."
Marti Hayes,
Americas Partner Marketing,
Progress Software

"Thank you very much for the excellent presentation for my Strategic Leadership offsite meeting. Everyone really enjoyed the stimulating session content. I look forward to future discussions and mapping out our path moving forward."
Laura Hamill,
Vice President & General Manager,
Amgen, Inc.

"Thank you for your assistance with the Service Map Program. The Service Map enabled our group to better document and understand the individual components of how we provide clients with our services. From this baseline, we will be able to benchmark our current performance and identify areas for improvement in the future. Your ability to begin at the conceptual level, concisely summarize research and insights and then guide the group to the finished product was very beneficial."
Cheryl Miles,
Director, Global Marketing,
MDS Pharma Services

"The session′s value was fueled by your ability to provide examples and make analogies that brought the concept of strategy to life for our group. You not only provided important strategy concepts but took it one step further and demonstrated the practical applications that are crucial for successful implementation and execution. The interactive exercises throughout the presentation kept everyone′s interest at a high level and nicely emphasized the key points. Your comprehensive preparation and ability to tailor the material to the business needs of our managers was clearly evident."
Dan Linden,
National Director,
Pfizer, Inc.

"The StrategyPrint was helpful in defining our market objectives over a specific period of time. This framework drove us to clearly articulate our market message and develop appropriate marketing strategies and tactics."
Reggie Blackburn,
Vice President, Sales & Marketing,
Proxima Therapeutics

"The StrategyPrint was a very effective tool that helped crystallize and prioritize our thoughts concerning how the product should be marketed. Within a matter of a few days, we were able to prioritize the most unique features and benefits of our new product, confirm how it should fit in the market and determine the most important benefits."
Ron Bruns,
Vice President, Sales & Marketing,
Sirius Laboratories

"Thank you so much for serving as a speaker at the Association Forum of Chicagoland Speed Learning Program. As you can see from reviewing the enclosed above average evaluation, your presentation on strategic thinking was a great success. The attendees thought you were excellent."
Pat Campbell, CMP
Education & Meetings Planner,
Association Forum of Chicagoland
Deep Dive:
Mastering the Three Disciplines of Strategic Thinking for Competitive Advantage

Strategic thinking is the #1 ranked most important leadership competency. Yet, 90% of directors and vice presidents have never had training on strategy. Managers are now being required to do more with fewer resources but they face daunting strategy challenges:
1. No time to work on strategy
2. Not enough strategy tools
3. Lack of foundational strategic thinking skills


Deep Dive: Mastering the Three Disciplines of Strategic Thinking for Competitive Advantage compares the varying levels of strategic thinking to four levels of divers (beach bum, snorkeler, scuba diver and free diver) to give managers a clear path to becoming "thinking free divers"; those valuable leaders that generate important strategic insights on a regular basis.

Based on new research with senior executives from 154 companies, Rich Horwath provides managers at all levels with a framework for reaching their maximum strategic leadership potential, the three disciplines of strategic thinking:
Acumen generating key business insights.
Allocation focusing resources through trade-offs.
Action executing strategy to achieve goals.


Using the three disciplines of strategic thinking, managers can drive both profitability (more resources invested in the right activities) and productivity (fewer resources invested in the wrong activities) to achieve competitive advantage and profitably grow their business.

BE STRATEGIC OR BE GONE
Strategic Thinking for Competitive Advantage

Recent studies on leadership by the Wall Street Journal and Chief Executive Magazine have found that the #1 ranked, most valued skill in leaders today is strategic thinking. But only 3 out of every 10 managers are strategic. In this interactive and highly relevant session, Rich Horwath helps employees at all levels understand what strategy is and how to think strategically on a daily basis to help their businesses. The result is that participants leave with a strategic thinking framework and practical tools to reach their true strategic potential.

Key Learnings:

What is strategic thinking?
Why is strategic thinking important?
The three disciplines of strategic thinking:

1. Acumen: how to generate new ideas
2. Allocation: how to prioritize activities
3. Action: how to stay focused on the important, not urgent

Effective ways for generating new ideas that grow profits
How to use resources (time, people and budget)

DEEP DIVE
Becoming a Truly Strategic Leader

The #1 cause of bankruptcy is bad strategy. Management teams that don't have solid, written strategies today, may not have a business tomorrow. In this interactive and practical session, Rich Horwath takes the mystery out of strategy, simplifies it and gives participants a five-step process for developing it. The result is participants leave with a common understanding of strategy, new tools for developing it and a process for actually using it to drive their daily activities.

Key Learnings:

What is strategy?
Why is strategy important?
The three secrets to great strategy
Understanding the difference between goals, objectives, strategies and tactics
How to transform a business from a commodity into competitive advantage.
Practical tools to develop strategies that increase profits and productivity.

Competing on Excellence: Three Principles for Sustained Success
The biggest challenge for leading companies that have been successful is not becoming complacent and resting on past success. The key to sustained success is competing on excellence. Excellence is defined as deviation from the norm. Whether your company is a leader or challenger, you must break from the pack in order to continually create new value for customers.

New York Times & Wall Street Journal bestselling author Rich Horwath provides an exciting and effective method for managers to reach new levels of excellence in their business performance. Using real-life examples from some of the leading companies in the world, Rich gives managers from all functional areas practical tips and tools to make excellence an ingrained habit in their daily activities. By competing on excellence as a primary value, managers can unlock their full potential and create continuous competitive advantage.

Key Learnings:

Understand what it means to bring excellence to your work each day.
Utilize the three principles of excellence to move ahead of the competition.
Design business and individual strategies based on the excellence principles.
Develop an excellence mindset that creates a continual hunger to get better.
Create a positive, proactive sense of urgency to drive business success.
Strategy Unplugged: From Zero to Strategy in 60 Minutes
Ask ten people for their definition of strategy and you're likely to get ten different answers. This inconsistent understanding of strategy leads to bad strategy. In fact, 67% of managers surveyed said their organizations were bad at developing strategy. Result: the #1 cause of business failure is bad strategy. If you and your team don't understand strategy today, you may not have a business tomorrow.
New York Times & Wall Street Journal bestselling author Rich Horwath provides managers with everything they need to know to understand strategy in 60 minutes. Introduced by Chief Executive Magazine as "The world's foremost expert on strategic thinking," Rich provides clear and concise definitions for the key business planning terms and helps managers apply them to their business. The result is a common knowledge and understanding of strategy along with the most important tools to develop, communicate and execute strategy effectively.
Key Learnings:

Understand once and for all a clear definition of strategy.
Avoid the five myths of strategy that can destroy your business.
Make strategic trade-offs to focus your resources and prioritize.
Communicate the difference between strategy, tactics, goals, objectives, mission, vision and values.
Design a StrategyPrint, or blueprint for your business, using the five phases of the strategy process.
Insight: The Key to Unleashing the Power of Innovation
Consider the most successful products, services and experiences of our time, from the iPhone to Uber to Cirque du Soleil. What do they all have in common? They all began with an insight. A study of more than 5,000 executives showed that the most important innovation trait for managers is the ability to come up with insights. But, the research also showed that only 35 percent of managers believe their strategies are built on insights. Products and services not built on insights become "me-too" commodities wrestling in the dirt for scraps of business.
New York Times & Wall Street Journal bestselling author Rich Horwath provides managers with a framework to fuse strategy and innovation into competitive advantage. Rich helps managers understand and acquire business acumen skills and practical tools to discover the strategic insights that lead to new revenue growth and breakthrough innovation.
Key Learnings:

Understand how insight fuels both strategy and innovation.
Discover practical tools to generate new strategic insights.
Design an insight network to harness your company's best ideas.
Identify the types of innovation most likely to grow your business.
Use strategic innovation techniques to create competitive advantage.
The Sales Strategist: Becoming an Elite Strategic Sales Force
In today's competitive environment, great sales leaders and experienced sales reps don't need another basic selling skills seminar or motivational mumbo jumbo. What they need is the ability to quickly diagnose a business situation, develop a differentiated strategy and create new value for customers—that's what drives business. In fact, research with thousands of sales executives showed that the two most important attributes contributing to sales manager excellence are strategy and innovation.
New York Times & Wall Street Journal bestselling author Rich Horwath provides your sales team with everything they need to know to become an elite strategic sales force. Rich shares a clear and concise strategy framework to help sales leaders and their reps think, act and sell strategically each and every day. The result is greater focus on the right customers, right activities and right metrics that drive increased sales and profits.
Key Learnings:

Understand the difference between goals, objectives, strategy, and tactics.
Develop strategies that create competitive advantage at the territory, district, regional and national levels.
Create a not-to-do list that eliminates wasted time and budgets.
Lead strategy conversations with customers to become a true strategic partner.
Prioritize time, activities and customers using two key criteria.
Strategy for You: Building a Bridge to the Life You Want
Are you where you want to be in your career? Are you where you want to be in your life? You and you alone can set your strategic direction. You and you alone will decide if you've reached your full potential. You and you alone will look back on your life with great joy or great regret. The choice is yours. Strategy is the power to get from where you are today, to where you want to go—the power to live strategically.
New York Times & Wall Street Journal bestselling author Rich Horwath provides audiences with tips and tools on the most important thing in the world: the direction of their lives. Based on the #1 selling book on Amazon.com, Rich has designed a set of principles to help people think, act and live strategically each day, in order to reaching their full potential at work and at home.
Key Learnings:

Apply the concept of strategy to your work and your personal life.
Discover your true purpose and channels for using it.
Effectively use your time, talent and budget at work and home.
Use the five-step process to build strategies to achieve your goals.
Identify the intersection of your passions, skills and knowledge to create extraordinary value.
Demo Video
Rich Horwath hits home the importance of strategy as a daily component of the way people conduct their business and life. Noting that most people go about their work and lives reacting rather than thinking, planning, and acting, he stresses that businesses will never see new results unless they try new ways of thinking.
He outlines the three "A's" that can help organizations gain focus and move forward: acumen, allocation, and action. By following this framework, companies can achieve excellence, or as Rich defines it: "deviation from the norm."
Rich Horwath, Business Strategist: Speech Excerpt
Rich Horwath, Business Strategist: Google Talk