* Please note that while this speaker's specific speaking fee falls within the range posted above (for Continental U.S. based events), fees are subject to change. For current fee information or international event fees (which are generally 50-75% more than U.S based event fees), please contact us.
Top25 Speaker Voting

Ray Kurzweil needs 6 vote(s) to make it into the Top 25 speakers on Speaking.com!
Speaker Booking Tip
"Tip: some speakers might provide one of their popular book titles as a free gift to your audience. "
For Event Planners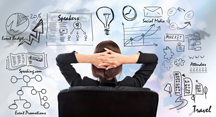 • Keynote Speaker Booking Toolkit.
• Booking a Celebrity Speaker.
• How to Find and Book the Right Speaker.
• Google+ Event Planning Forum.
• Tips for International Clients Booking U.S. Based Speakers.
Similar Speakers
Dr. Dambisa Moyo

Winner of the Hayek Lifetime Achievement award and named by TIME magazine as one of its "100 Most Influential People in the World," Dr. Dambisa…

Daniel Yergin

Daniel Yergin was educated at Yale University, where he founded The New Journal, and, as a Marshall Scholar, at Cambridge University where he was awarded…

Geoffrey Moore

As new challenges and opportunities arise, the tech industry has continuously looked to Geoffrey Moore for fresh ideas on management strategy. He has cofounded three…

Our event was what I would call 'over the top'... The survey results were at 92% very favorable. The speakers formed such a good relationship with myself and others at the conference. I am confident we will bring them back to do more. I will definitely contact you when we are in need of additional services. You have been the best!
American Express
About SPEAKING.com
Established in 1994, we are exclusive agents for some of the world's leading experts, celebrities and professional speakers.
We offer event planners a fully staffed speaker logistics planning team, plus a personal SPEAKING.com Account Executive – a knowledgeable and trustworthy partner. We guarantee your satisfaction with your speaker and a smooth booking process.
Contact us today to book your favorite speaker.

"The conference went very well and the clients (and myself too!) were very fascinated by Mr. Kurzweil's speech!"
Angelika Jahn, Head Investment Campaigns & Communication, Credit Suisse
"The event was a big success. The journalists I spoke to said they found Ray's speech 'awe inspiring' and he was in hot demand for one to one interviews the following day. We're collating feedback forms from the attendees – many of them gave Ray 5 out of 5!"
Susan Smith, Ketchum Public Relations
"Your keynote was invaluable and was received very positively by the audience - this was confirmed in the informal discussions I heard during the event. The overall feedback on the Forum thus far, both from participants and UBS colleagues, has also been highly positive. Delivering on our ambition to offer one of the world′s leading knowledge exchange platforms in philanthropy owes much to the presence of exceptional leaders and visionaries such as you. We are keen to work again."
Dr. Maximilian Martin, Wealth Management, Global Head, Philanthropy Services, UBS
"Ray's presentation went very well. I think overall the event was a great success."
Jon Piot, President, Technisource, Inc.
"Ray was an absolute knock-out. He got the conference off to a great start."
David K. Farkas, Professor,
Dept. of Technical Communication, College of Engineering,
University of Washington
"Ray's talk at the Diamond Exchange meeting last month was so well received we would love to bring him back..."
Caroline Calkins, Director of Innovation Research,
Diamond Management and Technology Consultants
"Ray was the star of the show! He did a terrific job. He tailored his remarks very well and thoughtfully for the med tech arena and truly laid a great foundation for the rest of our day."
Martyn Howgill, Executive Director,
InHealth
"Thank you so much for taking the time to make such an inspiring presentation to the students, team advisers and parents of eCybermission. The feedback from all of those I talked with was overwhelming. I think you understood that from the standing ovation you received and the eagerness of the students to ask questions after your talk. My guess is that the students could have continued to ask insightful questions for a couple of more hours."
Dr. John Parmentola, Army Director for
Research and Laboratory Management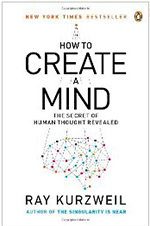 How to Create a Mind
Ray Kurzweil is arguably today's most influential futurist. In How to Create a Mind, he presents a provocative exploration of the most important project in the human-machine civilization: reverse-engineering the brain to understand precisely how it functions and using that knowledge to create even more intelligent machines. Kurzweil discusses how the brain works, how the mind emerges, brain-computer interfaces, and the implications of vastly increasing the powers of our intelligence to address the world's problems. Certain to be one of the most widely discussed and debated science books of the year, How to Create a Mind is sure to take its place alongside Kurzweil's previous classics.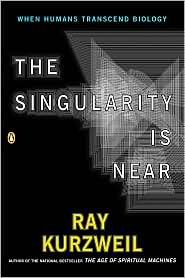 The Singularity is Near: When Humans Transcend Biology
At the onset of the twenty-first century, humanity stands on the verge of the most transforming and the most thrilling period in its history. It will be an era in which the very nature of what it means to be human will be both enriched and challenged, as our species breaks the shackles of its genetic legacy and achieves inconceivable heights of intelligence, material progress, and longevity.
For over three decades, the great inventor and futurist Ray Kurzweil has been one of the most respected and provocative advocates of the role of technology in our future. In his classic The Age of Spiritual Machines, he presented the daring argument that with the ever-accelerating rate of technological change, computers would rival the full range of human intelligence at its best. Now, in The Singularity Is Near, he examines the next step in this inexorable evolutionary process: the union of human and machine, in which the knowledge and skills embedded in our brains will be combined with the vastly greater capacity, speed, and knowledge-sharing ability of our own creations.
That merging is the essence of the Singularity, an era in which our intelligence will become increasingly nonbiological and trillions of times more powerful than it is today—the dawning of a new civilization that will enable us to transcend our biological limitations and amplify our creativity. In this new world, there will be no clear distinction between human and machine, real reality and virtual reality. We will be able to assume different bodies and take on a range of personae at will. In practical terms, human aging and illness will be reversed; pollution will be stopped; world hunger and poverty will be solved. Nanotechnology will make it possible to create virtually any physical product using inexpensive information processes and will ultimately turn even death into a soluble problem.
While the social and philosophical ramifications of these changes will be profound, and the threats they pose considerable, The Singularity Is Near maintains a radically optimistic view of the future course of human development. As such, it offers a view of the coming age that is both a dramatic culmination of centuries of technological ingenuity and a genuinely inspiring vision of our ultimate destiny.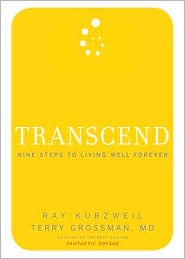 Transcend: Nine Steps to Living Well Forever
In 2004, Ray Kurzweil and Terry Grossman, MD, published Fantastic Voyage: Live Long Enough to Live Forever. Their groundbreaking book marshaled thousands of scientific studies to make the case that new developments in medicine and technology will allow us to radically extend our life expectancies and slow down the aging process. Soon, our notion of what it means to be a 55-year-old will be as outdated as an eight-track tape player.
TRANSCEND: Nine Steps to Living Well Forever presents a practical, enjoyable program so that readers can live long enough (and remain healthy long enough) to take full advantage of the biotech and nanotech advances that have already begun and will be occurring at an accelerating pace during the years ahead.
To help readers remember the nine key components of the program, Ray and Terry have arranged them into a mnemonic: Talk with your doctor, Relaxation, Assessment, Nutrition, Supplementation, Calorie reduction, Exercise, New technologies, Detoxification  This easy-to-follow program will help readers transcend the boundaries of our genetic legacy and live long enough to live forever.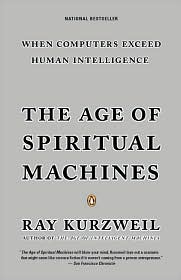 The Age of Spiritual Machines: When Computers Exceed Human Intelligence
Imagine a world where the difference between man and machine blurs, where the line between humanity and technology fades, and where the soul and the silicon chip unite. This is not science fiction. This is the twenty-first century according to Ray Kurzweil, the "restless genius" (Wall Street Journal) and inventor of the most innovative and compelling technology of our era.
In The Age of Spiritual Machines, the brains behind the Kurzweil Reading Machine, the Kurzweil synthesizer, advanced speech recognition, and other technologies devises a framework for envisioning the next century. In his inspired hands, life in the new millennium no longer seems daunting. Instead, Kurzweil's twenty-first century promises to be an age in which the marriage of human sensitivity and artificial intelligence fundamentally alters and improves the way we live.
The Age of Spiritual Machines is no mere list of predictions but a prophetic blueprint for the future. Kurzweil guides us through the inexorable advances that will result in computers exceeding the memory capacity and computational ability of the human brain.
According to Kurzweil, machines will achieve all this by 2020, with human attributes not far behind. We will begin to have relationships with automated personalities and use them as teachers, companions, and lovers. A mere ten years later, information will be fed straight into our brains along direct neural pathways; computers, for their part, will have read all the world's literature. The distinction between us and computers will have become sufficiently blurred that when the machines claim to be conscious, we will believe them.
In The Age of Spiritual Machines, the "ultimate thinking machine" (Forbes) forges the ultimate road to the next century.
The Acceleration of Technology in the 21st Century: the Impact on Business, the Economy, and Society
At the onset of the 21st century, it will be an era in which the very nature of what it means to be human will be both enriched and challenged, as our species breaks the shackles of its genetic legacy, and achieves inconceivable heights of intelligence, material progress, and longevity. The paradigm shift rate is now doubling every decade, so the twenty-first century will see 20,000 years of progress at today's rate.
Computation, communication, biological technologies (for example, DNA sequencing), brain scanning, knowledge of the human brain, and human knowledge in general are all accelerating at an even faster pace, generally doubling price-performance, capacity, and bandwidth every year. Three-dimensional molecular computing will provide the hardware for human-level "strong" AI well before 2030. The more important software insights will be gained in part from the reverse-engineering of the human brain, a process well under way. While the social and philosophical ramifications of these changes will be profound, and the threats they pose considerable, celebrated futurist Ray Kurzweil presents an inspiring vision of our ultimate destiny in which we will merge with our machines, can live forever, and are a billion times more intelligent...all within the next three to four decades.
Science, Technology, and Invention: Strategies to Create the Future
The democratization of innovation is a turbulent process with rapid creation, violent destruction, many winners and many losers. Despite the apparent chaos, we can discern predictable patterns. The pace of innovation itself is doubling every decade. The overall price-performance and capacity of every form of information technology grows exponentially, generally doubling in a year or less. As information technology achieves each new level of price-performance and capacity, new applications become feasible and existing business models lose their viability.
Another implication is that the tools of disruptive change have been democratized. A couple of students created Google on their thousand dollar laptops. A few years later, a couple of undergraduates created Facebook with tools that everyone has. The rate of change is now so rapid that even three to five year business plans need to consider that every level of an industry will undergo major changes during that period. It's not just the devices we carry around that are influenced by these exponential changes. Health and medicine is now an information technology with the collection of the human genome, the means of changing genes in a mature individual, and the ability to design interventions on computers and to test them on biological simulators. Even energy will be transformed as we apply nanotechnology to the design of solar panels and energy storage devices. The means to change the world are in everyone's hands.
The Acceleration of Technology in the 21st Century: the Impact on Healthcare and Medicine
We are now at a pivotal time in health technologies. With the collection of the genome in 2003 and the advent of techniques such as RNA interference that can actually turn off the genes that promote disease and aging, medicine has transformed itself into an information technology. As such, medicine is now subject to the "law of accelerating returns," meaning that these technologies will be a thousand times more powerful than today in ten years, and a million times more powerful in 20 years.
Up until recently, health interventions were hit or miss. We'd find something that seemed to work with only crude models of how they worked. Drug development was called "drug discovery," basically finding things that worked rather than designing them. Today it is within our grasp to slow the aging process and take full advantage of advances in bio- and nanotechnology that have already begun and will be occurring at an accelerating pace in the years ahead. Ultimately, we will merge with our machines, vastly extending human health and longevity, and greatly increasing our intelligence.
Ray Kurzweil: The Singularity
"Kasparov was told that Deep Blue assessed 300,000 moves a second, and he was asked how many he assessed, and he said 'one'," recounts Ray Kurzweil as he examines the interaction between computer technology and the human brain and expounds his thesis that ultimately the two will become inextricably intertwined. He tells his audience, "It is increasingly looking conservative to say we will have models of all the brain regions within twenty years."
Ray Kurzweil Keynote Speech
Ray Kurzweil: The Mind and How to Build One