* Please note that while this speaker's specific speaking fee falls within the range posted above (for Continental U.S. based events), fees are subject to change. For current fee information or international event fees (which are generally 50-75% more than U.S based event fees), please contact us.
Top25 Speaker Voting

Randy Pennington needs 8 vote(s) to make it into the Top 25 speakers on Speaking.com!
Speaker Booking Tip
"Tip: find a speaker in your local area to save on travel costs. Most speakers will also reduce their keynote fee for local events. "
For Event Planners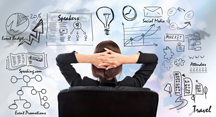 • Keynote Speaker Booking Toolkit.
• Booking a Celebrity Speaker.
• How to Find and Book the Right Speaker.
• Google+ Event Planning Forum.
• Tips for International Clients Booking U.S. Based Speakers.
Similar Speakers
Ariane de Bonvoisin

Whatever sort of change you are going through, whether you are starting a business, losing your job, dealing with depression or reducing debt, Ariane de…

Yossi Ghinsberg

Isolated in the Amazonian jungle after his raft went over a waterfall, Yossi Ghinsberg should have perished. Instead the Israeli, a 22-year-old youth at the…

O'Shea Report

Tim and Kris O'Shea are former corporate professionals in sales, training and human relations who left the corporate world to become writers and comedians. They…

Your speakers bureau was a tremendous resource for the NHL as we planned and executed our NHL Club Business Meetings. Their assistance with securing our keynote was invaluable. They provided detailed information in a timely manner which was crucial to the success of the event. The execution was seamless!
National Hockey League
About SPEAKING.com
Established in 1994, we are exclusive agents for some of the world's leading experts, celebrities and professional speakers.
We offer event planners a fully staffed speaker logistics planning team, plus a personal SPEAKING.com Account Executive – a knowledgeable and trustworthy partner. We guarantee your satisfaction with your speaker and a smooth booking process.
Contact us today to book your favorite speaker.

"Pennington is an expert on developing cultures that deliver results."
Jobing.com
"You have again delivered a product that is focused on today's business needs."
EDS
"Our members have to produce results in the real world, and you provided information that can be implemented immediately."
National Asphalt Pavement Association
"Its rare for someone to show how concepts normally associated with the private sector can work in the public sector."
IRS, Wage & Investment Division
"He redefines the word customization!"
Meeting Professionals International
"The improvement during the past year has been remarkable. Highlighted by our $25 million profit turnaround… your involvement and leadership has been extremely beneficial in achieving this transformation."
Inland Paperboard & Packaging
"We have, as you know, had 16 consecutive corporate retreats and now you are only the second presenter we've asked back for a return engagement. The other was Ed Foreman, and he's legendary, so you are in a special class and as I told you in person, this material was even better than your first with us."
First Texas Bancorp, Inc.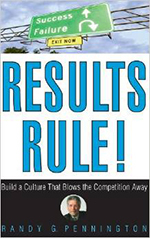 Results Rule!: Build a Culture That Blows the Competition Away
In a competitive environment in which products and services are frequently interchangeable, what sets a great business apart from the competition? Everyone shares the same tactics, the same buzzwords, and the same technology, so why do some businesses consistently dominate their competitors? The answer lies in intangibles—the factors broadly defined as the organization's culture.
Over the course of his twenty-plus years as a business performance consultant, Randy Pennington has learned two vital truths about the most successful companies: they never lose focus on results, and they always create a compelling organizational culture that engages all employees in the company's mission.
These intangibles are what separate truly great companies from everybody else—and lead to consistent results. Results Rule! provides principles and strategies for building a remarkable organizational culture that will make you the standard by which the competition is measured. Applying its lessons will enable your organization to execute more effectively, engage all staff members in every project, and quickly respond to competition and changing markets.
The right culture can make all the difference. It will help you and your people focus on the fundamentals of your business; create better, more effective partnerships and teams; and encourage everyone to do what's best for the company rather than what's easiest for them. Pennington not only shows you how to create this culture, but gives real-world examples of people and companies who excel at getting results. You'll see what works for major organizations like Southwest Airlines, Wal-Mart, and GE, as well as smaller, less well-known companies that lead, innovate, and get results in their own industries. Delivering results ultimately comes down to choices, and Pennington providesthe six principles you need to make and implement the right choices for long-term consistent results.
An endless number of books claim to solve your business's problems with the latest buzzwords and overhyped methodologies. Those books might make you feel better about yourself, but they probably won't make you feel any better about your business. The secret to success is simple: results rule! If you want to build a business that gets results, start here.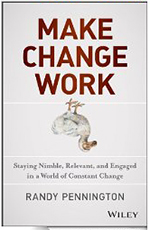 Make Change Work: Staying Nimble, Relevant, and Engaged in a World of Constant Change
Remain competitive, inspire innovation, and ensure success
Constantly adapting, improving, and changing is more important than ever for companies to remain competitive in today's marketplace. Make Change Work presents real solutions to thriving in a world of constant change. This book educates managers and leaders on how to lead change, with strategies for creating urgency, building support, and ensuring successful change. Get the guidance you need to be bold in the face of change, and learn how to make your company faster, better, cheaper, and friendlier—by simply listening to your customers.
Advises leaders on how to design and implement a strategy that allows you to successfully lead change and deliver meaningful business results Author Randy Pennington is a 20-year business performance veteran, author, and expert in helping organizations build a culture focused on results Learn how to establish a clear and purposeful goal, inspire a culture relentlessly focused on customers, and create an environment where your talented team wants to Make Change Work.
What would be different in your organization if every person at every level was focused on and committed to...
Delivering results that matter for your customers and your organization?
Building and leveraging relationships from a foundation of trust, transparency, and integrity?
Modeling accountability and personal responsibility in every area of their performance?
What would it mean for your performance? Your reputation? Your ability to adapt and thrive in any economy?
Randy Pennington is a 20+ year business performance who helps leaders deliver results, leverage the power of strong relationships, and promote accountability. He also just happens to excel as a presenter, educator, facilitator, and strategic consultant.
Randy's unique skill set and experience provides you incredible flexibility in choosing a resource to assist your organization.
Want an engaging presenter who can "go deep" and provide more than a book report?
Need a keynote speaker who can also facilitate a panel discussion or provide an interactive breakout session?
Would you like a resource who can design a totally interactive learning experience, facilitate an executive level retreat, or work with you to implement ideas and drive lasting change in your organization?
Randy Pennington has the range of expertise and experience to do all that and more.
RESULTS RULE!® Be a Hero in a "Me Too" World
Your organization is either a hero, has-been, or wanna-be. That's where creating a Results Rule! culture will turn your uniqueness into a competitive asset that clears the playing field.
Results Rule! is all about getting focused on producing results year... after year... after year and breaking out of the "me too" club.
The marketplace never lies—Results Rule!
Establish a clear distinction between you and… the other guy
Build and grow a culture that can change to meet the demands of your marketplace to produce results
Create the catalyst for enhancing customer value and increased effectiveness in everything you do
ON MY HONOR, I WILL: The Journey to INTEGRITY-DRIVEN® Leadership
What if you could have a blueprint for becoming the leader you always wanted to be… one who achieves results and inspires trust?
What if that blueprint had been field-tested by hundreds of thousands of leaders from all walks of life?
Here's the news—the blueprint exists.
Earn a reputation for doing what's right through the discipline of personal integrity
Build and sustain partnerships with others by mastering the art of interpersonal integrity
Grow an organization and develop a culture that lives the integrity of its values
MAKE CHANGE WORK
Change no longer influences the environment—it is the environment. The challenge we face is to make change work.<.p>
That's why this session is so important—it provides practical tools to help individuals and organizations meet the on-going challenge of change. Participants in this entertaining, fast-paced session receive practical information based on over 20 years of experience helping organizations initiate and manage change. The specific content will be designed and customized for you from the following list of objectives:
Why the ability to continuously adapt is critical for success and survival
Four reasons individuals and organizations have difficulty with change
How to initiate and build support for change in the organization
Six steps for successfully leading change
Stepping up when the change is a crisis
Personal strategies enabling individuals to thrive in the midst of change
How to make change a way of life
The ability to anticipate, embrace, and react to change as it comes at you sets the heroes apart from the wanna-be's.
FORMAT: Keynote or Seminar ranging in length from 30 minutes to three hours.
Randy Pennington: Demo Video
Randy Pennington: On Leading Change
Randy Pennington: Lessons for Leading Change from the Debt Ceiling Debate