* Please note that while this speaker's specific speaking fee falls within the range posted above (for Continental U.S. based events), fees are subject to change. For current fee information or international event fees (which are generally 50-75% more than U.S based event fees), please contact us.
Top25 Speaker Voting

Randal Pinkett needs 7 vote(s) to make it into the Top 25 speakers on Speaking.com!
Speaker Booking Tip
"Tip: speakers bureaus can provide: speaker fee negotiation, insurance, smooth logistics and value add-ons such as extra sessions. "
For Event Planners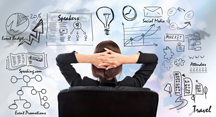 • Keynote Speaker Booking Toolkit.
• Booking a Celebrity Speaker.
• How to Find and Book the Right Speaker.
• Google+ Event Planning Forum.
• Tips for International Clients Booking U.S. Based Speakers.
Similar Speakers
Stephanie Decker

Stephanie Decker became a national hero after she saved her children, shielding them from the falling debris of their collapsing house with her own body…

Scott Burrows

Scott Burrows is a motivational speaker with an extraordinary story of persevering through tremendous adversity and beating the odds to achieve great success. As a…

Craig Karges

The "Extraordinist" Craig Karges is an award-winning entertainer, author, and speaker, who has made over four thousand appearances across four continents, seventeen countries and all…

Everyone at your speakers agency were professional and helpful throughout the process, making it easy to book, communicate, and prepare for our event.
Hewlett Packard
About SPEAKING.com
Established in 1994, we are exclusive agents for some of the world's leading experts, celebrities and professional speakers.
We offer event planners a fully staffed speaker logistics planning team, plus a personal SPEAKING.com Account Executive – a knowledgeable and trustworthy partner. We guarantee your satisfaction with your speaker and a smooth booking process.
Contact us today to book your favorite speaker.

Colleges and Universities
Duke University
Alabama A&M University
Tennessee State University
Spelman College
New York University
Morehouse College
Georgia Tech
Rutgers University
MIT
Princeton University

Corporations
Wal-Mart
Ford Motor Company
Pepsi
General Electric
Prudential Financial
Miller Urban Entrepreneurs Series
Hewlett-Packard Company
Macy′s
Dell

Government and Nonprofit
United Way
U.S. Small Business Administration
National Minority Supplier Development Council
National Black MBA Association
National Society of Black Engineers
U.S. Dept. of Housing and Urban Development
Jack and Jill of America
Junior Achievement
Black Faces in White Places: 10 Game-Changing Strategies to Achieve Success and Find Greatness
As an African American, you've heard the adage that you need to work twice as hard as white counterparts to succeed. So you play "the game" and anticipate being rewarded for your talents and hard work. Now you're up for a prized promotion, landmark business deal, or other professional breakthrough—this is your moment….

It's at this point that many African-American professionals experience a "black faces in white places" moment: a point at which it becomes all too clear that just playing well isn't enough— because the rules can change on you in a heartbeat. This scenario plays out countless times each day in American workplaces, and for Randal Pinkett it played out on national television—when Pinkett's seemingly storybook ending during the finale of The Apprentice was about to get an unexpected twist.

Black Faces in White Places is about that very game—the one played in the competitive world in which we all live and work. While exploring the ideals and realities of identity, meritocracy, opportunity, and society, the book lays out ten concrete strategies to help you become a "game changer." The ten strategies will advance you to the next level of personal and professional success and unleash the greatness that lies within you.

Along the way, you will:

Learn how to use your ethnicity as an asset
Expand yourself beyond your comfort zone
Recognize and demonstrate the four facets of excellence
Build beneficial relationships and powerful networks
Identify different mentors and learn from others' experiences
Discover ways of working with others to facilitate collective action
And much more

The book also examines social responsibility, institution building, and longstanding traditions of giving throughout African-American culture and history.

Based on interviews with dozens of prominent African Americans and the authors' considerable experience in business, in the public eye, and in the minority, Black Faces in White Places shows how as an African-American professional you can (and must) think and act both entrepreneurially and "intrapreneurially"; combine the strengths of your peers with the wisdom of others; and plant the seeds of a positive and lasting legacy.
Order Here




Campus CEO: The Student Entrepreneur′s Guide to Launching a Multi-Million-Dollar Business
Every year, hundreds of thousands of students in the U.S. enter college totally clueless as to their choice of a major, and even less sure about what they will do with the rest of their lives. But for a growing number of students, the financial pressures of college are far more taxing than the academic rigors of campus life. As a result, many students rely heavily on financial aid, loans, part-time jobs, strict budgets, and whatever money their parents can afford to send them. Many students take dead-end jobs with no relevance to their college programs, while others even work on a full-time basis—sacrificing grades for dollars—and unwittingly setting themselves up to become college drop-outs.

However, students don't have to suffer through a penniless college existence, nor must they wait until after graduation to find a career and make money. Instead, they can generate income by launching their own businesses while on campus, taking advantage of the period in their lives during which any number of once-in-a-lifetime perks and resources are readily available to them. The Campus CEO walks any would-be entrepreneur through all the necessary steps to launching a profitable, campus-based business, while simultaneously achieving academic success. Regardless of major, background, or area of interest, readers of The Campus CEO will learn how to turn their academic and professional dreams into reality.

Features:

How to develop a successful business plan, secure funding, maintain a healthy balance between work and school, and manage a successful endeavor
How and where to find the many perks hidden away on college campuses
How to achieve both entrepreneurial and academic success


Order Here





Suggested Programs:

Campus CEO: The Student Entrepreneur's guide to launching a multi-million dollar business
Black Faces in White Places: 10 Steps for African-Americans looking to redefine the game
Narrowing the Digital Divide: The potential and the limits of the U.S. community technology movement.
TEDx Talk
NAF Keynote Speech