Quint Studer spent ten years working with special needs children before entering the healthcare industry in 1984 as a Community Relations Representative. From then until he founded Studer Group he served as Department Director, Vice President, and Senior Vice President at a number of organizations and as president of Baptist Hospital in Pensacola, Florida.

Each of these experiences built a platform for creating tools, techniques and systems aimed at improving organizational performance and—most importantly—patient care. In 2000, after numerous requests by organizations for assistance, Studer Group was formed.

A recipient of the 2010 Malcolm Baldrige National Quality Award, Studer Group implements evidence-based leadership systems that help clients attain and sustain outstanding results in more than 700 hospitals and organizations across the US. Together, they serve a "national learning lab" in which best practices are harvested, tested, refined, and shared with all health care organizations through peer-reviewed journal articles, Studer Group publications, and products designed to accelerate change.

Quint has written five (5) books, two of which are bestsellers, and has a sixth one in progress. His first book, BusinessWeek bestseller Hardwiring Excellence is one of the top selling leadership books ever written for healthcare. More than 350,000 copies have been sold. His second book, 101 Answers to Questions Leaders Ask, offers practical, prescriptive solutions to some of the many questions he′s received from health care leaders around the country. Results that Last—written to teach non-healthcare leaders how to apply Studer Group tactics and strategies to their organizations—hit the Wall Street Journal′s bestseller list of business books. Straight A Leadership teaches senior leaders how to create organizations that can execute swiftly and well in response to a rapidly shifting external environment. Most recently, he coauthored The HCAHPS Handbook: Hardwire Your Hospital for Pay-For-Performance Success. His new book, The Great Employee Handbook (2012), is aimed at employees at all levels.

Quint remains in the field creating tools and techniques designed to make organizations better.
Speeches / Speaking Engagements
EXCELLENCE

Going From Good to Great
How to Sustain a Culture of Excellence

LEADERSHIP

How Passion Plays a Major Part in Leadership
What Makes a Great Leader
Medical Staff Leadership in Challenging Times
Reducing Leadership Variance
Leadership Development Strategies
Accountability

SERVICE

Service Excellence
Astonishing Our Patients, Astonishing Ourselves
Service Excellence in Competitive Times - How to Thrive
Service Excellence in Health Care - Why is it Important to Me?

NURSING EXCELLENCE

Creating an Environment of Excellence for Nursing
How Magnet Ties into the Five Pillars of Excellence

HUMAN BEHAVIOR

Behavioral Competencies in Health Care by Discipline and Leader Role
Conflict and Communication Strategies

STAFFING, TRAINING AND MANAGING

Critical Communication Skills for Leaders
Workforce Skill Development
Peer Interviewing and Early Retention
Using Management by Strengths Behavior Style Tools to Support Teamwork
Managing the People Side of a Merger
Managing High Middle Low Performers
AIDET and Managing Up: Exceeding expectations of both internal and external customers

* Please note that while this speaker's specific speaking fee falls within the range posted above (for Continental U.S. based events), fees are subject to change. For current fee information or international event fees (which are generally 50-75% more than U.S based event fees), please contact us.
Top25 Speaker Voting

Quint Studer needs 7 vote(s) to make it into the Top 25 speakers on Speaking.com!
Speaker Booking Tip
"Tip: some speakers might provide one of their popular book titles as a free gift to your audience. "
For Event Planners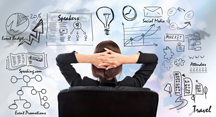 • Keynote Speaker Booking Toolkit.
• Booking a Celebrity Speaker.
• How to Find and Book the Right Speaker.
• Google+ Event Planning Forum.
• Tips for International Clients Booking U.S. Based Speakers.
Similar Speakers
Dr. Aaron Carroll

Leading pediatrician and Director of the Center for Health Policy and Professionalism Research at Indiana University School of Medicine, Dr. Aaron Carroll has built a…

Dr. David Nash

An internationally recognized expert on outcome management, medical staff development and quality of care improvement, Dr. David Nash appears frequently on Modern Healthcare's list of…

Julie Gerberding, M.D.

The first female director of the CDC, Dr. Julie Gerberding is highly respected for her solid track record in curtailing public health crises. She continues…

THANK YOU for your consistent communication, organization, and hard work. It truly has been a pleasure partnering with you too, we would love to stay connected with you for future events.
National Human Resources Association
About SPEAKING.com
Established in 1994, we are exclusive agents for some of the world's leading experts, celebrities and professional speakers.
We offer event planners a fully staffed speaker logistics planning team, plus a personal SPEAKING.com Account Executive – a knowledgeable and trustworthy partner. We guarantee your satisfaction with your speaker and a smooth booking process.
Contact us today to book your favorite speaker.

Results That Last: Hardwiring Behaviors That Will Take Your Company to the Top
Praise For Results That Last:

"Quint Studer is a superb communicator with a deep belief in the power of relationships. His informal tone, sense of humor, and real-world stories bring his business principles to life. Results That Last has a vital, optimistic quality that will keep readers re-reading long after other leadership books have been relegated to a dark corner of the shelf."
—Nido Qubein, author of How to Get Anything You Want; President, High Point University; Chairman, Great Harvest Bread Company; and founder, National Speakers Association Foundation

"Results That Last is long overdue and fills a big gap in effective business management. There are legions of books that show us the way to achieve successful results in business, but very few that teach us how to institutionalize success. In reality, achieving success is the easy part. The real challenge is to achieve results that last. Quint Studer not only proves it is possible to hardwire a culture for lasting results, but lays out a simple, logical, and effective way to do so. Anyone who wants to make success a habit needs to read this book."
—Bob MacDonald, former CEO, Allianz Life of North America and author of Beat the System: 11 Secrets to Building an Entrepreneurial Culture in a Bureaucratic World

"I have always been fascinated by how the various parts of an organization work together to achieve strategic objectives. In Results That Last, Quint Studer explores the complex subject of performance improvement in a fresh, readable, and easy-to-grasp way. By standardizing certain business practices and leader behaviors, any company in any field can create an environment that allows it to achieve and sustain long-term results."
—David F. Giannetto, coauthor of The Performance Power Grid: The Proven Method to Create and Sustain Superior Organizational Performance
Order Here




Hardwiring Excellence

How do you take your organization to the next level?
With passion, purpose, and worthwhile work.
In Hardwiring Excellence, Quint Studer helps health care professionals to rekindle the flame and offers a road map to creating and sustaining a Culture of Service and Operational Excellence that drives bottom-line results.
Learn tools, tips, and techniques to hardwire key behaviors as expressed by the Nine Principles to:
Increase employee, physician, and patient satisfaction;
Lower employee turnover;
Improve quality;
Grow market share; and
Increase revenue while reducing costs
. As the results occur, momentum builds, and the Healthcare FlywheelSM turns, making health care a better place for patients to receive care, employees to work and physicians to practice medicine.

Order Here


101 Answers to Questions Leaders Ask

In 101 Answers to Questions Leaders Ask, Quint Studer offers practical, prescriptive solutions to some of the many questions he′s received from health care leaders around the country since the debut of ′′Ask Quint′′ on the Studer Group website more than four years ago.
Informed by best practices in a national learning lab of health care organizations, Quint shares his insights on how to deliver excellent patient care, engage employees, and improve physician relations for access, growth and strong financial performance. In short, Quint′s answers accelerate the leadership learning curve.
Questions are organized by topic, making the book valuable as a reference point for specific issues or on-the-spot problem-solving.
Order Here

EXCELLENCE

Going From Good to Great
How to Sustain a Culture of Excellence

LEADERSHIP

How Passion Plays a Major Part in Leadership
What Makes a Great Leader
Medical Staff Leadership in Challenging Times
Reducing Leadership Variance
Leadership Development Strategies
Accountability

SERVICE

Service Excellence
Astonishing Our Patients, Astonishing Ourselves
Service Excellence in Competitive Times - How to Thrive
Service Excellence in Health Care - Why is it Important to Me?

NURSING EXCELLENCE

Creating an Environment of Excellence for Nursing
How Magnet Ties into the Five Pillars of Excellence

HUMAN BEHAVIOR

Behavioral Competencies in Health Care by Discipline and Leader Role
Conflict and Communication Strategies

STAFFING, TRAINING AND MANAGING

Critical Communication Skills for Leaders
Workforce Skill Development
Peer Interviewing and Early Retention
Using Management by Strengths Behavior Style Tools to Support Teamwork
Managing the People Side of a Merger
Managing High Middle Low Performers
AIDET and Managing Up: Exceeding expectations of both internal and external customers

Demo Video
Quint Studer Introduction
Quint Studer Full Speech