Top25 Speaker Voting

Philip Kotler needs 13 vote(s) to make it into the Top 25 speakers on Speaking.com!
Speaker Booking Tip
"Tip: find a speaker in your local area to save on travel costs. Most speakers will also reduce their keynote fee for local events. "
For Event Planners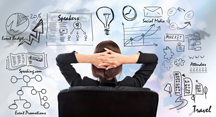 • Keynote Speaker Booking Toolkit.
• Booking a Celebrity Speaker.
• How to Find and Book the Right Speaker.
• Google+ Event Planning Forum.
• Tips for International Clients Booking U.S. Based Speakers.
Similar Speakers
Bill McDermott

One of the world's most recognized authorities at putting the customer front and center, Bill McDermott is widely credited for turning around tech giant SAP's…

Chip Conley

Chip Conley's incredible business success story has been based upon transformational leadership practices and an innovative design formula. Chip's methodology has been featured in TIME,…

Jeffrey Gitomer

Sales guru Jeffrey Gitomer shows groups how to build powerful relationships with customers that will take both them and their customers to success in times…

Our event was what I would call 'over the top'... The survey results were at 92% very favorable. The speakers formed such a good relationship with myself and others at the conference. I am confident we will bring them back to do more. I will definitely contact you when we are in need of additional services. You have been the best!
American Express
About SPEAKING.com
Established in 1994, we are exclusive agents for some of the world's leading experts, celebrities and professional speakers.
We offer event planners a fully staffed speaker logistics planning team, plus a personal SPEAKING.com Account Executive – a knowledgeable and trustworthy partner. We guarantee your satisfaction with your speaker and a smooth booking process.
Contact us today to book your favorite speaker.

Partial Client List
Communications:
Ameritech
AT&T Wireless
BellSouth
Benefon
Motorola
SBC Communications

Technology:
Anystream
Cenus Technologies
IBM
Lotus Development Corp.
NextPage
Nortel Networks
SciQuest

Financial Services:
First American National Bank
JP Morgan
Northwestern Mutual

Paper & Forest Products:
Champion International
Louisiana-Pacific
Papel e Celulose
Weldwood of Canada

Healthcare
Baxter
Bayer Pharmaceuticals
Blue Cross Blue Shield
Malinckrodt Veterinary
Novartis
Pfizer

Petro-chemicals:
Amoco Chemical
Shell Chemical

Others:
Boots Contract Manufacturing
Ford Motor Company
Grainger
Grupo Industrial Saltillo
KitchenAid
Levi Strauss & Co.
Mavesa
McDonald′s
Michelin
Powergen
SAS Airlines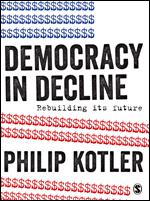 Democracy in Decline: Rebuilding its Future
An examination by the 'father of modern marketing' into how well a long cherished product (democracy) is satisfying the needs of its consumers (citizens), bringing conversation and solutions on how we can all do our bit to bring about positive change.
At a time where voting systems are flawed, fewer vote, major corporations fund campaigns and political parties battle it out, democracies are being seriously challenged and with that the prospects of a better world for all.
Philip Kotler identifies 14 shortcomings of today's democracy and proposes potential remedies whilst encouraging readers to join the conversation, exercise their free speech and get on top of the issues that affect their lives regardless of nationality or political persuasion.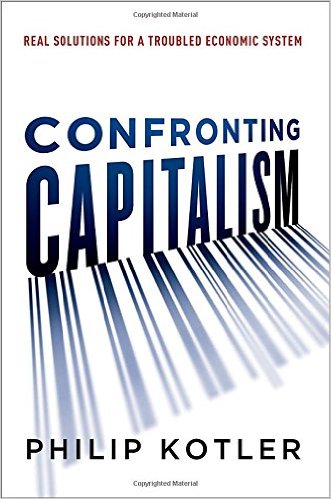 Confronting Capitalism: Real Solutions for a Troubled Economic System
With the fall of the Berlin Wall, one economic model emerged triumphant. Capitalism--spanning a spectrum from laissez faire to authoritarian--shapes the market economies of all the wealthiest and fastest-growing nations. But trouble is cracking its shiny veneer. In the U.S., Europe, and Japan, economic growth has slowed down. Wealth is concentrated in the hands of a few; natural resources are exploited for short-term profit; and good jobs are hard to find.
With piercing clarity, Philip Kotler explains 14 major problems undermining capitalism, including persistent poverty, job creation in the face of automation, high debt burdens, the disproportionate influence of the wealthy on public policy, steep environmental costs, boom-bust economic cycles, and more. Amidst its dire assessment of what's ailing us, Confronting Capitalism delivers a heartening message: We can turn things around. Movements toward shared prosperity and a higher purpose are reinvigorating companies large and small, while proposals abound on government policies that offer protections without stagnation. Kotler identifies the best ideas, linking private and public initiatives into a force for positive change. Combining economic history, expert insight, business lessons, and recent data, this landmark book elucidates today's critical dilemmas and suggests solutions for returning to a healthier, more sustainable Capitalism--that works for all.

Marketing principles are only as effective as the people who apply them. Kotler Institute combines its expertise in marketing with an expertise in training. He works with clients to develop training programs that are tailored specifically to their unique needs in order to deliver a high quality program that is practical, relevant and is designed to deliver meaningful results.
Mapping Marketing Competencies
Companies today want to apply more business discipline to developing and evaluating their marketing personnel. In response, Kotler Marketing Group works with clients to define and develop marketing competencies customized to their business and organizational needs.
Armed with a well-defined set of marketing competencies, companies and individual employees are able to guide decision-making in the following areas:
Job Performance: What are the specific skills that marketing personnel need to be successful? How do these skills vary across businesses, job functions and grade levels?
Career Development: What marketing skills do individuals need to master to advance their careers?
Recruitment & Selection: What marketing skills and experiences should potential employees exhibit?
Succession Planning: What is the right progression of responsibilities and skills within an organization?

Ultimately, an effective set of competencies offers individual contributors and managers a roadmap of where people are going in the organization. Employees can create their own path by choosing which skills to master over time, and then work with their managers to create that path. This helps motivate employees and reduce turn-over. It also allows managers to see their organization from the point of view of their employees. It can also help streamline the review process.

Value-Based Marketing

For nearly two decades Kotler Marketing Group has worked with leading companies to solve marketing and sales challenges. We specialize in helping B2B suppliers – from the Global 1000 to startups – implement a value-based sales and marketing approach. Our suite of consulting and training services is designed to help clients:
Defend their pricing, and
Accelerate sales
Training front-line personnel on how to articulate the value of their offering.

B2B suppliers face intense, challenging sales environments and their sales people need the skills to accelerate the sales cycle and defend pricing and margins. Our sales training and negotiation programs can be integrated with our clients' existing training programs and are designed to leverage the investment made in sales tools and other forms of collateral. Our programs are industry-specific and can be delivered on-site at client facilities.

Marketing Training

Marketing and sales strategies are only as effective as the people who implement them. That is why training is an integral part of any company's effort to achieve marketing and sales excellence.

Other Marketing Program Topics:

Business Marketing
Consumer Marketing
New Product Development
Innovation
Brand Management
Marketing Planning

Keynote Speech
The "inventor of modern marketing," Dr. Philip Kotler discusses how our unchecked capitalism will implode if we do not make some much needed changes. From back-breaking student debt to the elimination of jobs, there are numerous reasons that more people today have less money to spend, which ultimately contributes to the economic slowdown.
Dr. Kotler presents quite the opposite of "Trickle Down Economics," suggesting that a redistribution of wealth from senior management to lower ranking employees coupled with higher tax rates for millionaires and billionaires would help our economy by boosting the spending power of the significant portion of the population stuck at the bottom of the socioeconomic pyramid. "Every poor person is a future consumer," he points out.
On a deeper level, he recommends that in order to more accurately assess how well we're doing as a nation, we should turn our attention to measuring wellbeing as oppose to just our economic performance. "The GDP goes up when you make more ammunition, when you sell more guns, when people smoke more," Dr. Kotler illustrates. "Good and bad things make up the GDP. To know how well we're really doing, we need a wellbeing index."
Philip Kotler, Marketing Authority: Keynote Conversation, What's Ailing Capitalism?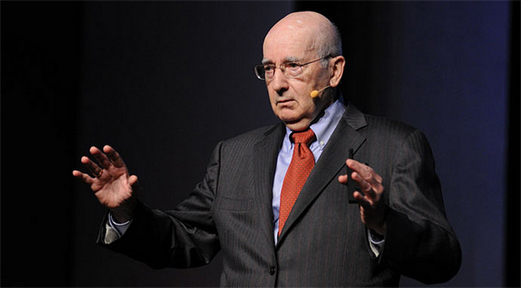 Dubbed "The Marketing Guru" and "The Most Influential Marketer of All Time," Dr. Philip Kotler has secured standing as one of the great business thinkers of the past century. While academic communities, governments, and organizations around the world seek his insights and expertise on marketing, Dr. Kotler's most recent work focuses on how trends and ... more