Top25 Speaker Voting

Phil Hansen needs 7 vote(s) to make it into the Top 25 speakers on Speaking.com!
Speaker Booking Tip
"Tip: some speakers might provide one of their popular book titles as a free gift to your audience. "
For Event Planners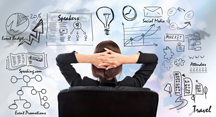 • Keynote Speaker Booking Toolkit.
• Booking a Celebrity Speaker.
• How to Find and Book the Right Speaker.
• Google+ Event Planning Forum.
• Tips for International Clients Booking U.S. Based Speakers.
Similar Speakers
John Rives

Rives's way with words has been called a "demonstration of what the English language is capable of." The poet, performing artist, and event host touches…

The Capitol Steps

The Capitol Steps began as a group of Senate staffers who set out to satirize the very people and places that employed them. The group…

Dayton Duncan

Dayton Duncan is an Emmy award-winning writer and documentary film maker, best known for his stunning series The National Parks, America's Best Idea. An artistic…

THANK YOU for your consistent communication, organization, and hard work. It truly has been a pleasure partnering with you too, we would love to stay connected with you for future events.
National Human Resources Association
About SPEAKING.com
Established in 1994, we are exclusive agents for some of the world's leading experts, celebrities and professional speakers.
We offer event planners a fully staffed speaker logistics planning team, plus a personal SPEAKING.com Account Executive – a knowledgeable and trustworthy partner. We guarantee your satisfaction with your speaker and a smooth booking process.
Contact us today to book your favorite speaker.

"Phil's message of self-reinvention and the power of transforming adversity into opportunity is one that translates well across audiences—regardless of the industry. His message inspires, motivates and re-energizes the creative spirit in us all."
- Ford Motor Company
"A number of years ago at our sales meeting we had a very expensive performance painter present. I can say that the impact of Phil's talk with the fingerprint art project provided much more impact and value. Being able to connect all employees to a single work of art is absolutely incredible."
- Bethany Quam, General Mills President, Convenience & Foodservice Division
"Phil Hansen offered our sales team an uncommon, uncharacteristic and unexpected twist on traditional meeting presentations. His message was innovative, imaginative, and left us wanting more!" -
-Shawn O'Grady, General Mills President, Sales and Channel Development
"There are really smart speakers, there are really inspirational speakers, and there are really human speakers. Phil is all three. Can't wait to hear him again!"
- Brian Lewis, CEO, International Society for Technology in Education
"Phil Hansen is a master storyteller and shares his personal journey of challenge and triumph with sensitivity and humor. He is an engaging speaker who can connect with any audience. Phil is also one of the most creative artists I have seen. You never know what he will pick up next to make into a surprising and inspiring work of art."
- Barbara Shepherd, Director of National Partnerships, The John F. Kennedy Center for the Performing Arts
"Phil will wake up your employees in a way you as a leadership team cannot".
- Lars Dalgaard, Founder of SuccessFactors, Executive Board Member of SAP
"This year we assembled a dozen or so of the most influential executives in healthcare to explore how to best handle the enormous, disruptive wave crashing upon our industry. We wanted an outside perspective that would inspire us to think differently about constraints and inspire us to create entirely new approaches. Phil delivered on both of these fronts and did so with a warmth and humility that touched each of us. I would highly recommend Phil for any group looking for a fresh perspective."
- Andy Parham, President and CEO, Dātu Health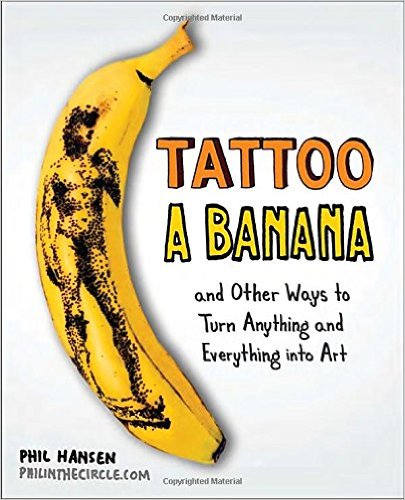 Tattoo a Banana: And Other Ways to Turn Anything and Everything Into Art
Entertaining, clever, witty -- Tattoo a Banana is an innovative approach to creativity by internationally recognized artist Phil Hansen. This fun and captivating guide will have you creating art with anything at hand - like a piece of toast, your own fingerprints, or a stack of marshmallows - showing how to develop everyday creativity with offbeat techniques.
Whether you want to jumpstart, rediscover or further your creative pursuits, this book will help you build your creative muscles by experimenting with the unexpected. Once you tattoo a banana, print on marshmallows, or mold a Mona Lisa sugar cookie, you'll definitely be curious about what else is possible!

Embrace the Shake: Transforming Limitations into Opportunities
Like Phil's art, his empowering message of "Embrace the Shake" defies conventional thinking by approaching limitations as opportunities. We live in an increasingly changing business environment where success depends on "creativity and innovation" as a continuous process. This means we need to fearlessly look in unexpected places for possible solutions. To get there, we have to stop relying on external resources and tap into the most important internal resource, our own creativity.
Along with jaw dropping visuals, Phil's incredible keynote will surely challenge your team to rethink their approach towards obstacles, discover their new creative capacity, and bring fresh ways of viewing the world, to succeed with the task at hand.
Are you ready to Embrace your Shake?
The Art of Collaboration: An Interactive Art Experience
In addition to his inspiring talk, Artist Phil Hansen designs a hands-on interactive art experience that brings your audience together to create a stunning and unexpected work of art. This fun, engaging and collaborative project furthers the experience of embracing challenges through teamwork, and demonstrates the power of coming together to create something new. Client keeps the final artwork. Note: There is a separate fee to add experience on to the keynote (based on the amount of people participating)

Phil Hansen, Artist: TED Talk "Embrace the Shake"
After permanent nerve damage left his dominant hand trembling, artist Phil Hansen was forced to re-examine everything he knew about art. Upon getting a steady paycheck for the first time he visited an art supply store where he splurged on materials only to take them back to his home and stare at them uninspired.
"I realized I was actually paralyzed by all of the choices that I never had before," he reflected. Phil thought back to his shake and wondered if embracing limitations could actually spur creativity. He went to his local Starbucks, asked for fifty cups, and proceeded to make the most-out-of-the-box art he had produced in years – and for only 80 cents. "It really became a moment of clarification for me," he states, "that we need to first be limited in order to become limitless."
Presentation Excerpt
Phil Hansen, Artist: ISTE EdTekTalks
Phil Hansen: The Art of Collaboration How-To Demo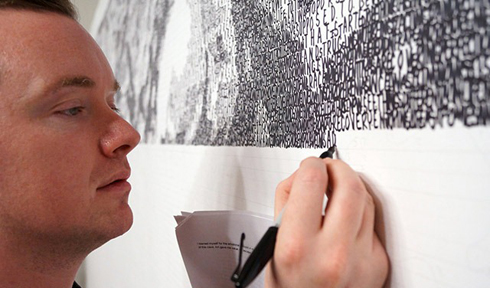 When Phil Hansen's dedication to his art led to permanent nerve damage and a shaking hand, he turned a limitation into a creative catalyst that took his art to new heights. Hansen's skillful use of unconventional materials – from matches to hamburger grease – has attracted the attention of high-end clients such as Disney, the ... more