* Please note that while this speaker's specific speaking fee falls within the range posted above (for Continental U.S. based events), fees are subject to change. For current fee information or international event fees (which are generally 50-75% more than U.S based event fees), please contact us.
Top25 Speaker Voting

Peter Thum needs 9 vote(s) to make it into the Top 25 speakers on Speaking.com!
Speaker Booking Tip
"Tip: speakers bureaus provide added value that you cannot get by booking speakers directly. "
For Event Planners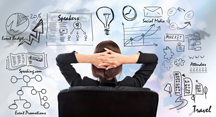 • Keynote Speaker Booking Toolkit.
• Booking a Celebrity Speaker.
• How to Find and Book the Right Speaker.
• Google+ Event Planning Forum.
• Tips for International Clients Booking U.S. Based Speakers.
Similar Speakers
Faisal Hoque

One of the prime forces behind business technology convergence, technological entrepreneur Faisal Hoque began his first business at age 14 assembling stereos from scrap parts…

Margaret Heffernan

CEO, entrepreneur, and author Margaret Heffernan doesn't play the game; she writes the rules. The experienced television writer, producer, and business woman helps leaders and…

Shaun Tomson

One of the greatest surfers of all time, legend Shaun Tomson brings a message of optimism and positivity to over 100,000 young people and adults…

This has been one of the most outstanding speaker agencies I have had in my 25+ years in the hospitality industry. They have helped my company secure speakers for years to the delight of my attendees. They have secured high profile speakers, even within the confines of a tight turnaround and an even tighter budget. I recommend their services without hesitation. They are truly leaders in their profession looking out for their clients: excellent is all I can say!
AHIMA
About SPEAKING.com
Established in 1994, we are exclusive agents for some of the world's leading experts, celebrities and professional speakers.
We offer event planners a fully staffed speaker logistics planning team, plus a personal SPEAKING.com Account Executive – a knowledgeable and trustworthy partner. We guarantee your satisfaction with your speaker and a smooth booking process.
Contact us today to book your favorite speaker.

Peter Thum, the Matthew McConaughey lookalike who founded Ethos water (Starbucks' bottled water) took the audience through a motivational challenge to explore angel investing. He also shared his latest project called Fonderie 47, which is currently working to disarm child soldiers in Africa by buying AK47s and melting them down into jewelry and other objects of beauty.
-TED CONFERENCE
In his inspiring keynote speech at Blackbaud's annual conference for nonprofits this week in North Charleston, Thum spoke about his experience — from delivering his water to yoga studios and coffee shops with a Volvo station wagon to having it distributed in more than 5,000 stores across the nation. Thum then became an entrepreneur working within a company rather than outside of it. Through that role, he was able to get Starbucks to agree to $10 million in grants by 2010 and donate a portion of the proceeds to clean water programs.
-BLACKBAUD SOFTWARE
Things went great with Peter. His talk went great and he did an excellent job answering questions and spending time with some students and faculty members who wanted to speak with him after. Peter was easy to work with and I definitely appreciated that. No complaints here.
-Rivier College
Ethos Water, Realizing My Dream To Help Millions & Address the World Water Crisis (Environmental)
Peter's venture has raised millions of dollars, engaged tens of millions of consumers, and helped hundreds of thousands of people around the world get life-saving water. From an idea he wrote on a napkin, Peter built Ethos through to its acquisition by Starbucks in 2005. In his experience you see the importance of both an unwavering belief in your ideas and the perseverance needed to make them come to life in the in the face of great adversity. But the path to change the world can change you too. In this keynote speech, Thum tells of his personal eight year journey from working in elite circles and advising the Fortune 500 to driving a borrowed station wagon and eventually selling his company to Starbucks. Along the way he has traveled the world and helped save and change the lives of some of the planet's poorest people. His inspiring and motivating story shows what one person with a dream can realize.
Are You Seeking Out Deeply Moving Experiences? (Social Responsibility)
Deeply moving experiences lead to meaningful moments and happiness. In his thought-provoking presentation, Peter Thum shares his personal journey of how he was inspired to seek out, and accomplish, his own success and fulfillment, while ultimately helping others. He stresses that everyone can achieve these moments through caring about the world and striving to make a difference.
Successful Social Entrepreneurs
Thum outlines his credo for helping others become successful social entrepreneurs and thereby create successful businesses.
Leading Forward, The Role of Social Responsibility in the Corporate World
As corporations play an ever-expanding role in our lives, it is now more imperative than ever before that they take the steps necessary to improve the lives of their employees, their consumers, their communities and of society at large. A dedicated social entrepreneur who has successfully established businesses that are driven by a social mission of helping those in need, Peter Thum delivers lessons on the importance of corporate social responsibility from which any organization can learn and benefit. From ethical branding and leveraging philanthropy, to emboldening a corporate message, to building a culture where giving back is a standard operating procedure; Thum helps companies of all sizes to understand the steps they need to complete to put social responsibility at the core of their mission and performance.

Peter Thum: Keynote Speech
Peter Thum addresses the problems of overpopulation in this speech to the Chicago Ideas Week attendees. He explains, "With more than 7 billion of us on the planet today, it feels like we have more problems than ever before, and if you want to go after seemingly impossible problems, you have to have radical solutions, and radical solutions need angel investors, and I know this is true because 10 years ago when I was in South Africa working on the Ethos project I met people who didn't have access to clean water, and I found out that the people who were suffering and dying didn't have a voice."
Explaining how this experience led to his developing a vision for improving matters, he says, "I thought there's a huge global market, and I can use this global market in a way that it hasn't been used before, by creating a brand that would act as a mechanism in a very easy way to basically allow people to become investors in a solution."
Thum explains how his new ideas were not initially well-received: "At the time, when we talked to new investors and foundations, the venture capitalists, they weren't interested in the model, as a non-profit or as a for-profit. But Angel investors got it in a way that they didn't, and they still get these ideas today, and they were important to Ethos and they are important to what I'm doing right now."
Keynote Speech
Why Women are the Glue of the Developing World with Peter Thum of Ethos Water & Fonderie 47
TEDx Speech