* Please note that while this speaker's specific speaking fee falls within the range posted above (for Continental U.S. based events), fees are subject to change. For current fee information or international event fees (which are generally 50-75% more than U.S based event fees), please contact us.
Top25 Speaker Voting

Peter M. Ricchiuti needs 5 vote(s) to make it into the Top 25 speakers on Speaking.com!
Speaker Booking Tip
"Tip: speakers bureaus provide added value that you cannot get by booking speakers directly. "
For Event Planners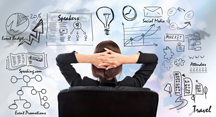 • Keynote Speaker Booking Toolkit.
• Booking a Celebrity Speaker.
• How to Find and Book the Right Speaker.
• Google+ Event Planning Forum.
• Tips for International Clients Booking U.S. Based Speakers.
Similar Speakers
Paul Tiffany

Paul Tiffany is an award-winning professor, consultant and speaker with an M.B.A. from Harvard University and a Ph.D. from University of California at Berkeley. He…

David Pearce Snyder

Consulting Futurist David Pearce Snyder is a data-based forecaster whose thousands of seminars and workshops on strategic thinking have been attended by representatives from most…

Bruce Tulgan

Bruce Tulgan is a best-selling author, business advisor and internationally recognized expert on leadership, management and young people in the workplace. He has worked with…

I will certainly recommend to others that they contact you for guest speakers in the future. It was a pleasure working with you as well. We all appreciate your professionalism and exemplary service.
BASF
About SPEAKING.com
Established in 1994, we are exclusive agents for some of the world's leading experts, celebrities and professional speakers.
We offer event planners a fully staffed speaker logistics planning team, plus a personal SPEAKING.com Account Executive – a knowledgeable and trustworthy partner. We guarantee your satisfaction with your speaker and a smooth booking process.
Contact us today to book your favorite speaker.

"Not only was your presentation insightful, it was, by a wide margin, the most energetic and entertaining presentation I have ever seen."

Morgan Stanley, Santa Monica, CA


"Thank you so much for a wonderful performance last week! The attendees, I think, want you to conduct the whole meeting! "

ValMark Securities Inc., Akron, Ohio

"You′re right - you are the professor we all wished we had in college! What a great presentation! You would think people would be ready to go home on the last morning of a conference, but I do believe they would have stayed for another hour or two to enjoy your work. Thank you for closing our conference with a "bang" and giving our attendees food for thought on their way home."

Missouri Association of Public Employee Retirement Systems,
 Lake of the Ozarks, MO


"All I can say is that you outdid yourself. There were many, many favorable comments from attendees, and everyone was just thrilled that you had been asked to be a luncheon speaker at the Conference. Your enthusiasm and energy is contagious, and it carried over through the balance of the entire evening."

Western Pension & Benefits National Conference, Beaver Creek, CO


"Professor Ricchiuti′s presentation was Off the Chart!"

LIMRA International, Baltimore, MD


"Thank you for a fantastic presentation at our forum. You really wowed the group and will make future events much harder to plan since you raised the bar considerably!"

Stable Value Association, Washington, DC

I reviewed the evaluations closely and the average rating ranged from 6 to 7, and even though the scale only went up to 7, you received a few "8′s"!

Specific comments include:

"His session was better than what was described in the newsletter."
"Outstanding-best in a long time!"
"Excellent, Energizing!"
"Bring this guy back!"
"Awesome!"

The Financial Planning Association, Pittsburgh, PA

---

Partial Client List:

Academy of Financial Services
Accredited Investors
Allianz Life
Amedisys Incorporated
American Capital Strategies
American Institute of Certified
Public Accountants
American Society of CLU & ChFC
American Stock Exchange
Ameriprise
Ameritus/Acacia Group
Ameritas Investment Corporation
Arkansas Bankers Association
Association of High Technology
Distributors
Association of Non-Woven Products
Atlanta Society of Certified Financial Planners
AXA Financial Distributors
Bancorp South
Bank of Ireland
BKR International
Broker Dealer Financial Services Corp.
Building Contractors Association of New Jersey
Canadian Association of Insurance and Financial Advisors
Capital Resource Advisors
Caterpillar Investments
Chartered Financial Analyst Society of Atlanta
Capital Resource Advisors
Capitas Financial
Carter Financial Management
Chicago Teachers Retirement System
Citi-Corp
Citigroup
Colorado Public Pension Conference
Commercial Finance Association
Commercial Food Equipment Service Association
Community First Bankshares
Commonwealth Bank Group (Australia)
Dallas Association of Financial Planners
Dayton Securities
Delaware Investments
Driehaus & Co.
Duplantier, Hrapmann, Hogan & Maher, LLP
Eastern Association of Colleges & Universities Business Officers
Edison Electric Institute
Enterprise Funds
GE Capital
Fenimore Asset Management
Financial Planning Association of Atlanta
Financial Planning Association of Australia
Financial Planners Association of Baltimore
Financial Planning Association of Boston
Financial Planning Association of Illinois
Financial Planners Association of Michigan
Financial Planners Association of Ohio
Financial Planners Association Philadelphia Tri State Area
Financial Planning Association of New Zealand
Financial Planning Association of Pittsburgh
Financial Research Associates
First Global
First Union Securities
FiServ Le Mans
Franklin Templeton
Georgia Society of CPAs
Government Financial Officers Association
Graduate Banking School of the South
Gulf South Banking Conference
Hancock Bank Economic Symposium
Hospitality Asset Managers Association
Howard County (MD) Government Retirement System
Illinois Bankers Association
Illinois CPA Society
Illinois Public Retirement Systems
Independence Investment Associates
Independent Sealing Distributors
Industrial Asset Management
Information Management Network
ING/Aeltus Investment Management
Insight 2000
Intel Corporation
Institute for Certified Financial Planners
Institute for International Research
International Factoring Association
International Group of Accounting Firms
INVESCO
Investment Management Consultants Association
Investment Management Institute
Investment Performance Services
Investment Program Association
Iowa Bankers Association
J.P.Morgan
Jackson National Life
Kansas Public Employees Retirement Systems
Kentucky Society of CPAs
Lifemark Inc.
LIMRA International
Lincoln Financial Advisors
Louisiana Bankers Association
Louisiana Graduate School of Banking at LSU
Louisiana Graduate School of Banking at LSU
Louisiana & Mississippi Credit Unions






Louisiana Press Association
Louisiana Publishing Group
Louisiana Society of CPAs
Lowe, Brockenbrough & Co.
Management Circle Inc.
Maryland Society of CPAs
Massachusetts Bankers Association
Massachusetts Consolidated Retirement System
Massachusetts Public Pension Conference
Material Handling Equipment Distribution Association
Mellon Asset Management
Mellon Financial
Merck
Michigan Society of Certified Financial Planners
Midland National
Midwest Health Commercial Financial Associates
Million Dollar Round Table
Minnesota Society of CPAs
Mississippi Bankers Association
Mississippi Economic Development Council
Mississippi Power Company
Mississippi Public Employment Retirement System
Mississippi Young Bankers
Missouri Association of Public Employee Retirement Systems
Missouri/Kansas Bankers Association
Missouri Society of CPAs
Money Watch Live
Morgan Stanley
Murphy Oil
Mutual Service Corporation
NASDAQ
Nassau Association of Insurance and Financial Advisors
National Association of Food Equipment Manufacturers
National Association of Government Deferred Compensation Administrators
National Association of Homebuilders
National Association of Personal Financial Advisors
National Association Philadelphia Tri State Area
National Association of State Retirement Administrators
National Association of State Treasurers
National Association of Treasurer's for Religious Organizations
National Bankers Association
National Pre-Retirement Education Association
National Tax Shelter Accounts Association
Nationwide Financial
Nationwide Insurance
New Jersey Carpenters Association
New Mexico Bankers
New Orleans Saints
Non-Woven Textile Industry
Nordea Investment Management
North Carolina Insurance Conference
NYU Real Estate Conference
Offshore Marine Service Association
ONESCO
Opal Financial Group
Phelps Dunbar, LLP
Philips Medical Systems
Phoenix Contact
Portland Cement Association
Prudential Insurance Company
Prudential Investment Management
Recreational Vehicle Association
Robert Baird & Co.
SCANA Corporation
Sisterhood of Shir Chadash
Securian Financial
SmithBarney
Society for Financial Service Professionals
South Dakota Bankers Association
Southern Arkansas University
Southern Economic Development Council
Southern Employee Benefits Conference
Southern Companies
Stable Value GIC Association
State Farm
Sunlife/Clarica
T. Rowe Price
TD Waterhouse
Tennessee Valley Association
Texas Municipal Employees Retirement System
Texas Public Employment Retirement System
The Association of Home Office Underwriters
The Boston Company
The Common Fund
The Institute for Certified Financial Planners
The Legend Group
Travelers Life & Annuity
UBS/Paine Webber
Union Central Insurance
U.S. Department of Economic Development
University of South Carolina Board of Regents
ValMark Securities
Western Insulation Association
Western Pension Benefits Association
Woodmen of the World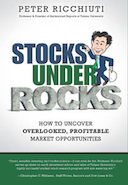 Stocks Under Rocks
How to Uncover Overlooked, Profitable Market Opportunities
Find great stocks "in your own backyard": master do-it-yourself research techniques for uncovering today's best small-cap equity opportunities! Peter Ricchiuti reveals the secrets of Tulane University's Burkenroads Reports program, where he and 200+ business students work together to uncover less-followed, frequently misunderstood, and seemingly un-sexy companies that often produce superior investment returns. Their research on these "orphan stocks" powers The Burkenroad Mutual Fund, which has outperformed 99% of all stock funds over the past eleven years.
You've seen them on CNBC, CNN, and the Nightly Business report... read about them in The Wall Street Journal and The New York Times. Now, Ricchiuti shows how they do it—and how some well-informed stock sleuthing can pay off big for you, too. You'll discover why "underfollowed" small-cap equities now offer exceptional investment opportunities, and how to leverage the surprising hidden advantages available to individual investors—including the ability to trade in stocks that don't generate the volume and liquidity institutional investors require.
Fact is, there's very little innovative equity research on Wall Street anymore. That gives you a powerful advantage—and Ricchiuti gives you the principles and simple techniques you need to take advantage of it. Stocks Under Rocks will be the next classic for every personal investor who wants to find great investments and have fun doing it!
MARKET SIGNALS; What The Financial Markets Are Telling Us Now
"If the majority of people were right, the majority of the people would be rich…and they're not!" Following the herd has rarely produced superior long-term results. Tulane University's Peter Ricchiuti will share his informative and entertaining perspective on financial markets, the importance of proper diversification and the cyclical nature of both stocks and investment sectors. He will also tell us about the unusual securities research program he heads up with his students.
Outline of topics covered:
Politics and Your Investments
Outlook for the Deficit and Interest Rates
Outlook for Energy Prices
Market Valuation Techniques
Pros and Cons of International Investing
Uncertainty Brings Opportunity
Following the herd has rarely produced superior investment results. Current volatility gives advisors an opportunity to provide real value to clients and additional market opportunities for their practice. Tulane Professor Peter Ricchiuti brings this to us in a fresh and entertaining format. He will also talk to us about the unique stock research program he runs with his students.
The Four Most Dangerous Words In Finance:
"THIS TIME IT'S DIFFERENT!"
The truth is that, despite the media hysteria, the financial markets and the economy follow historical patterns. Recognizing and understanding these trends can pay big dividends.
Peter Ricchiuti: "The Economic Winds: Where Will They Take Us?"
"I keep hearing the four most dangerous words in finance, 'This Time It's Different' and it's never different," explains Peter Richutti, as he explores the latest trends in an economy emerging from recession; "It's the same cycle over and over again. Market memory in this country is terrible."
Peter Ricchiuti: RedChip Emerging Growth Showcase
Peter Ricchiuti: Demo Video