Top25 Speaker Voting

Peter Bregman needs 6 vote(s) to make it into the Top 25 speakers on Speaking.com!
Speaker Booking Tip
"Tip: some speakers might provide one of their popular book titles as a free gift to your audience. "
For Event Planners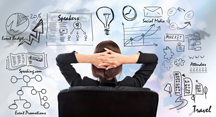 • Keynote Speaker Booking Toolkit.
• Booking a Celebrity Speaker.
• How to Find and Book the Right Speaker.
• Google+ Event Planning Forum.
• Tips for International Clients Booking U.S. Based Speakers.
Similar Speakers
Subir Chowdhury

Selected multiple times by Thinkers 50 as one of the "top 50 management thinkers in the world," Subir Chowdhury's thoughts and techniques on performance improvement…

Bill Taylor

As the co-founder and founding editor of Fast Company, Bill Taylor has dedicated his career to showcasing companies around the world who are getting ahead…

Costas Markides

Repeatedly ranked among the globe's top business thinkers by the Thinkers50, Professor Costas Markides is recognized as one of the world's foremost experts on strategy…

SPEAKING.com / Core Agency were very helpful in every way possible. I would recommend them to others and we will most definitely secure all our future conference speakers through them again.
Babcock & Wilcox
About SPEAKING.com
Established in 1994, we are exclusive agents for some of the world's leading experts, celebrities and professional speakers.
We offer event planners a fully staffed speaker logistics planning team, plus a personal SPEAKING.com Account Executive – a knowledgeable and trustworthy partner. We guarantee your satisfaction with your speaker and a smooth booking process.
Contact us today to book your favorite speaker.

Four Seconds: All the Time You Need to Stop Counter-Productive Habits and Get the Results You Want
In
Four Seconds
, Peter Bregman shows that the answer is to pause for as few as four seconds—the length of a deep breath—to replace bad habits and reactions with more productive behaviors. In his trademark style of blending personal anecdotes with practical advice, Bregman reveals some of our most common counter-productive tendencies and describes counter-intuitive strategies for acting more intentionally, including:
Why setting goals can actually harm your performance
How to use strategic disengagement to recover focus and willpower
Why listening—not arguing—is the best strategy for changing someone's mind
How taking responsibility for someone else's failure can actually help you succeed
Drawn from Bregman's hugely popular Harvard Business Review blog, this engaging and wise book provides simple solutions to create the results you want without the stress.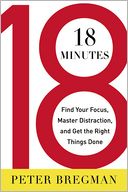 18 Minutes: Find Your Focus, Master Distraction, and Get the Right Things Done
Based upon his weekly Harvard Business Review columns (which is one of the most popular columns on HBR.com, receiving hundreds of thousands of unique page views a month), 18 MINUTES clearly shows how busy people can cut through all the daily clutter and distractions and find a way to focus on those key items which are truly the top priorities in our lives.
Bregman works from the premise that the best way to combat constant and distracting interruptions is to create productive distractions of one′s own. Based upon a series of short bite-sized chapters, his approach allows us to safely navigate through the constant chatter of emails, text messages, phone calls, and endless meetings that prevent us from focusing our time on those things that are truly important to us.
Mixing first-person insights along with unique case studies, Bregman sprinkles his charming book with pathways which help guide us -- pathways that can get us on the right trail in 18 minutes or less.
Order Here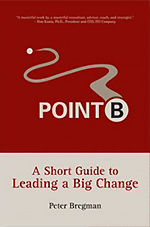 Point B: A Short Guide To Leading a Big Change
Seventy percent of all corporate change efforts fail because people resist the change. But there is another way. A way that will enable your change to succeed. That way is captured in this book. This is a guidebook - it reveals the mindset, strategies, and steps to help you lead people from point A to point B.
"Much has been written about managing change, most of it theoretical. What makes this book different is that Peter Bregman is in the trenches. His real life experiences and simple step-by-step guidance make this the most valuable book you′ll ever read as you lead people to point B." - Doug Stern, President and CEO, United Media

"If you are responsible for moving people from point A to point B, then read this book! You could probably do it without reading this book, but why wouldn′t you want to get it right the first time?" - Philip Weisberg, CEO, FXall

"Point B has given me a simple, useable approach to leading people through change. It′s all here in one place. Everything you need to know to execute your strategy by leveraging the skills, wisdom, capability, and energy of the people in your company." - Barbara Kurka, Senior Vice President, Katz Media Group "If you need to motivate change in others, then you need to read this book. Peter Bregman is a creative thinker, an engaging storyteller and an insightful advisor. Whether you are leading a 100,000 person organization or a small team, following the principles he outlines will give you the confidence and the skills you need to move people from point A to point B." - Dr. Allan Rosenfield, Dean, Columbia University Mailman School of Public Health
Peter Bregman is the CEO of Bregman Partners, Inc., a global leadership development and change management firm. He has advised leaders in many of the world′s premier organizations throughout the U.S., Canada, Europe, Asia, and Australia. Peter graduated with a B.A. from Princeton University and an M.B.A. from Columbia University.
Order Here




Four Seconds: All the Time You Need to Stop Counter-productive Habits and Get the Results You Want
Drawing from his most recent book, Bregman points out the funny places where our intuitive—but counterproductive—knee-jerk reactions get us in trouble, and shows audiences how to replace them with counter-intuitive, but productive, ones.
Bregman shows how a few individual changes can transform an entire organization—moving it from a silo mentality to collective leadership. In this session, he offers practical ideas, tools and tips to help people work together in a way that benefits them and their entire organization. Bregman will show audiences:
How to build a foundation of strength that inoculates them from getting triggered by what others do and say.
How and why we often they say the wrong things, and what to do and say instead to build relationships and get the most important things done together.
A three-step process for transforming poor habits into productive ones.
18 Minutes: Find Your Focus, Master Distraction, and Get the Right Things Done
Drawing from his book, 18 Minutes: Find Your Focus, Master Distraction, and Get the Right Things Done, Bregman sets out new and simple rules for leading in a way that brings focus to an organization and makes the best use of everyone's talents.
In this engaging, story-based talk, Bregman offers ideas, practices, tips, mind hacks and gentle nudges to help leaders bring focus to their people and their organization. Bregman will show audiences:
An 18-minute plan to manage their day and empower them to get the right things done.
How to get traction, stick to their focus, ignore non-priorities, avoid the allure of unproductive busyness, and master their boundaries so they can resist distractions.
How to build a plan that places people at the intersection of their strengths, weaknesses, differences and passions to maximize their success and impact on the organization.
Leading with Emotional Courage
Emotional courage distinguishes powerful leaders from weak ones. It means standing apart from others without separating yourself from them. It means speaking up when others are silent and remaining steadfast, grounded and measured in the face of uncertainty. It means responding productively to political opposition—maybe even bad-faith backstabbing—without getting sidetracked, distracted or losing your focus.
In this engaging and interactive talk, Bregman not only shares real-life stories of emotional courage in action, he gives audiences a taste of it by showing them:
What emotional courage looks like and why it is so important.
What it feels like—experientially—to have emotional courage through fun and effective exercises.
How to grow emotional courage that will help them take bolder moves in their work, their lives and the world.
Managing Change without Resistance
Bregman has successfully designed and executed major change efforts that involve thousands of people at some of the world's most prestigious companies. The key insight he shares with his audience: "People don't resist change. They resist being changed." Bregman shows audiences how most change is executed poorly and why most change management is counterproductive, creating stress in the leaders and resistance in everyone else.
In this speech, Bregman teaches the audience how to shift their thinking and implement some simple strategies that can completely transform the way managers and leaders lead. Change instantaneously becomes an opportunity to deepen engagement and ownership, and to create a workplace where everyone feels responsible for the success of the organization. In this lively, participative speech, Bregman presents a case study of a successful change that involved 2,000 people in a global financial services firm. He shares with the audience:
Three change rules that must underlie any organization change effort.
How to use the "engagement continuum" to diagnose and describe their own change initiatives.
Seven strategies to engage the workforce during change and shift the responsibility from leaders to the people who must take the daily actions to make the change successful.
Peter Bregman TEDx Speech
"Pretty deliverables, centralized control, answers for everything… these are all pretty good indicators that things are going to crash," says Peter Bregman.
Drawing on his own experience, Peter explains how becoming too focused on organization, rather than talent, is a recipe for disaster.
TEDxMillRiver - Peter Bregman
18 Mintues by Peter Bregman
Peter Bregman Interview

Peter Bregman is the CEO of Bregman Partners, Inc., a company that strengthens leadership in people and in organizations through leadership programs, coaching, and as a consultant to CEOs and their leadership teams. He is the author, most recently, of Four Seconds: All the Time You Need to Stop Counter-Productive Habits and Get the Results ... more