Top25 Speaker Voting

Peter Boyd has been currently voted into the Top25 speakers on Speaking.com, congratulations! To help keep Peter Boyd in the Top25, vote below:
Speaker Booking Tip
"Tip: speakers bureaus can provide: speaker fee negotiation, insurance, smooth logistics and value add-ons such as extra sessions. "
For Event Planners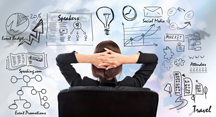 • Keynote Speaker Booking Toolkit.
• Booking a Celebrity Speaker.
• How to Find and Book the Right Speaker.
• Google+ Event Planning Forum.
• Tips for International Clients Booking U.S. Based Speakers.
Similar Speakers
Dayton Duncan

Dayton Duncan is an Emmy award-winning writer and documentary film maker, best known for his stunning series The National Parks, America's Best Idea. An artistic…

Eleanor Clift

Eleanor Clift is a contributor to Newsweek magazine and the Daily Beast website. She writes about politics and policy in Washington, and the partisan clashes…

Christine Ervin

Christine Ervin is one of the nation's top authorities on green energy, building, and consumer markets. Over the past 20 years, she has been one…

Our account rep was fantastic; he is very responsive, handled registration for our speaker, submitted the contract and invoice quickly - so easy to work with. Thank you!
Deloitte
About SPEAKING.com
Established in 1994, we are exclusive agents for some of the world's leading experts, celebrities and professional speakers.
We offer event planners a fully staffed speaker logistics planning team, plus a personal SPEAKING.com Account Executive – a knowledgeable and trustworthy partner. We guarantee your satisfaction with your speaker and a smooth booking process.
Contact us today to book your favorite speaker.

"We were delighted with Peter's keynote at the Canadian Solar Industries Association conference. Peter was exactly the speaker we needed at the event, bringing a refreshing global perspective on climate change, deep insight, energy, knowledge and delightful sense of humour to the stage. The feedback received was very positive and his insights have helped catalyze some substantial progress on renewable energy matters and the climate change dialogue across Canada as a result. Having previously seen Peter work before as a moderator among Caribbean heads of state for the Carbon War Room, I was impressed with his ability to hold a room of 500+ people enraptured, imparting knowledge, hope and crisp insights to a room of seasoned business professionals. I would definitely use Peter as a speaker at future events."
- Thomas J. Timmins Vice-Chair, Canadian Solar Industries Association Global Chair, Renewable Energy, Gowling WLG
"We were delighted with Peter's keynote at our recent Solar conference. Peter brings energy, passion and knowledge about the wider subject of climate change and the world's potential solutions to addressing it. He manages to mix a big-picture background and on-the-ground experience of the world's climate negotiations with a clear business case-spelling out the compelling economic opportunity in front of us all. He is also refreshingly focused at ensuring his talk makes a difference for the lives of the delegates after the conference, ending his talk with an actionable to do list for everyone in the room. Our attendees were very engaged and gave Peter high marks on our post- conference survey. I would definitely use Peter as a speaker at one of our other events."
- Gary Thuro, Vice President, Marketing and Sales, Solar Energy Trade Shows
"Peter is an exceptional keynote speaker - he lights up the room with his brilliance of knowledge, passion, spirit and an uncanny ability to deeply connect with everyone!"
- Yasmin Glanville, Founder of Rethink Sustainability International
For all talks, Peter brings a blend of energy and passion for the subject as well as an obvious drive to ensure the audience does something better/different when they get back from the event to their desks.
Topic: It's Time4Good – Maximizing Your Impact
Peter has an innovative and highly practical take on the concept of time and productivity, drawing from the focus of his start-up company, as well as over ten years in senior positions at the Virgin Group, global NGOs and government, and latterly advising CEOs of growth companies.
He describes time as one of the biggest market failures in society. He covers two common frameworks to approaching time and workplace productivity, and shows how we can create an overarching framework to yield genuinely actionable insights that can help Leaders prioritize their time. It can extend to how Leaders engage with the outside world and their social media presence; as well as optimize the allocation of time across their organization. If interested, please speak to one of our consultants, and Peter as appropriate, to assess the specific fit with your audience.
To the extent it is interesting or useful to the event, Peter can also introduce his newly-built platform Time4Good.net. Time4Good talks could take the form of a one-way informative speaking engagement, but also evolve to more interactive workshops to ensure the executives yield the most benefit.
Specific output could include a guaranteed One-Page Master To-Do List for every executive, and a suggested method to synchronize this initiative across their team.
Topic: Net-Zero By 2050 – The Opportunity Of Our Generation
Peter has been working on, and talking about, the economic, social and environmental opportunities of solving climate change since 2009.
Whether it is addressing ship-owners in Greece, solar executives in Canada, or a cross-sector audience in Singapore, his emphasis is always on getting across a compelling and tailored message to the audience, that they can feel positive and change their to-do list when they get back to work. Example flow:
Climate Change is important, is part of a larger system of changes we've created as a world, and affects us all – including those in the room
There are profound changes that have taken place in the last 12-18 months – critical sparks for action include the UN's adoption of the Sustainable Development Goals and the creation of the Paris Agreement at the UNFCCC climate talks COP21.
There are huge opportunities – both economy-wide and sector-specific – for the audience in the room to profoundly affect their job over the coming months and years. It's time to take advantage.

Peter brings high energy and assumes no prior knowledge in the subject of climate change. He brings a wealth of solution examples from working with the Shipping Industry and Island governments at the Carbon War Room; to accelerating green student start-ups at Yale University's Center for Business & The Environment at Yale University. He has observed international climate negotiations in Copenhagen, Durban, Cancun, Paris and Marrakech.

Peter can liaise with the organizers pre-event to create a tailored message to create the biggest change from the audience in the room – whether it is a clean-tech audience, broader business, the ngo world, or community and faith-based organizations.

Peter Boyd, Sustainability Keynote Speaker: TEDx Vilnius
Sustainability keynote speaker, Peter Boyd explains why we should look at climate change as an opportunity rather than a crisis. He uncovers several ways that businesses can reduce carbon while actually making a profit and examines why companies have yet to tap into these opportunities.
One example he highlights are changes that could be made within the shipping industry, which if counted as a nation would be the sixth largest carbon emitter between Japan and Germany. Boyd details that there are between 50 to 60 new technologies ranging from better paint to better propeller caps that could drastically cut down emissions, because they would reduce the amount of fuel needed, saving the industry up to 70 billion dollars per year. However, there are two main reasons that this hasn't occurred.
"One, poor information," Boyd relates. "It's hard to tell a dirty ship from a clean ship." In other words, even if you do the work, it's difficult for potential clients to notice the difference. "Second is split incentive," Boyd continues. "70% of the fuel in the shipping industry is paid by the cargo owner, not the ship owner." He goes on to share how he and the Carbon War Room worked with industry leaders to overcome these market failures.
Peter Boyd, Sustainability Speaker: Keynote, Solar Canada
Peter Boyd, Sustainability Speaker: Keynote, Yale University
Peter Boyd, Sustainability Keynote Speaker: Introduction to the Carbon War Room
Peter Boyd, Sustainability Keynote Speaker: TEDWomen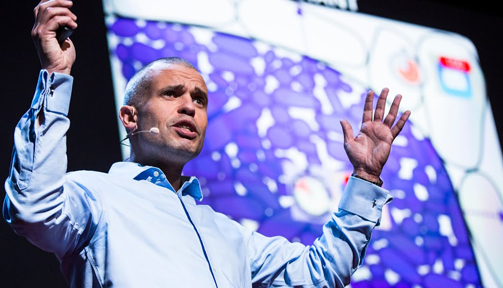 Business and environment expert, Peter Boyd helps companies accelerate the adoption of business solutions that lower carbon emissions and increase long-term profits. Driven by his personal motto that "There is no Planet B," Boyd has been at the forefront of the green business revolution for nearly a decade. He has been launch director and COO ... more