* Please note that while this speaker's specific speaking fee falls within the range posted above (for Continental U.S. based events), fees are subject to change. For current fee information or international event fees (which are generally 50-75% more than U.S based event fees), please contact us.
Top25 Speaker Voting

Peggy ONeill needs 8 vote(s) to make it into the Top 25 speakers on Speaking.com!
Speaker Booking Tip
"Tip: ask your speaker to do a book signing or attend a VIP meal with your guests. "
For Event Planners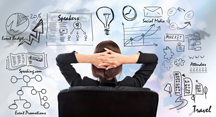 • Keynote Speaker Booking Toolkit.
• Booking a Celebrity Speaker.
• How to Find and Book the Right Speaker.
• Google+ Event Planning Forum.
• Tips for International Clients Booking U.S. Based Speakers.
Similar Speakers
Dr. Jo Ann Pina

Dr. Jo is an ethnically diverse speaker who truly excels in cross-cultural communication. Dr. Jo is the daughter of a migrant worker, a first-generation Hispanic…

Michael Soon Lee

For over 25 years, Michael Soon Lee has been the go-to expert for how to boost sales to diverse populations. Michael equips teams with the…

Sondra Thiederman

Sondra Thiederman, Ph.D., is President of Cross-Cultural Communications, a San Diego-based training firm. She has served as a consultant to the University of California and…

I'm extremely impressed with your speakers bureau's follow-through, responsiveness and willingness to understand our needs so that he could match the best speakers with what we are looking for. I will definitely work with you again in the future. Thank you for all that you did to help us create an exceptional learning experience for our attendees.
American Society of Association Executives
About SPEAKING.com
Established in 1994, we are exclusive agents for some of the world's leading experts, celebrities and professional speakers.
We offer event planners a fully staffed speaker logistics planning team, plus a personal SPEAKING.com Account Executive – a knowledgeable and trustworthy partner. We guarantee your satisfaction with your speaker and a smooth booking process.
Contact us today to book your favorite speaker.

"We would definitely recommend you as a speaker to any group or company wishing to walk tall and overcome any difficulties."
  - Art Rancis, VP, Ball Aerospace- Commercial Products and Technologies

"An uplifting experience. Peggy is truly a diamond!"
- Rick Doty, CPA

"Peggy′s story is unique, and she has a way of delivering it that is very effective."
- Susan Escalantes, Diversity Coordinator. Storage Technologies

"You were so easy and pleasant to work with."
- Lucy Jones, Prog. Director, US West

"Your message not only touched our hearts, but also gave us a new sense of encouragement. You may be a "little person" physically, but your message was tremendous."
- Beverly Weston, Pres., Weston Image Consulting

"Excellent style, humor and rapport with audience."
- Fred Johnston, Lucent Technologies

"The people here are all feeling uplifted and optimistic after hearing you today. And I'm having a much better afternoon."
- Chris Brummer, Pres. Dynamic Essentials Inc.

"Your sense of humor delighted us."
- Denis Maloney, Dir. of Telecom Services, Univ. of Colorado

"Peggy is a dynamic woman who has struggled with physical and social challenges that have made her stronger and more alive than most people of average size." 
- John Quiggley, Boulder Daily Camera Newspaper

"Peggy was such a highlight and a positive addition to this conference. Her speaking ability is genuine and easy to get involved in. I love the way she involves and interacts with the audience."
- Jennifer Knowlton, Co. Mental Health

"The group was very inspired by your message of finding the gift in their disability. You gave us several useful tools to work with. Thank you."
- Larry Dolan, Pres. Boulder Epilepsy Group

"Your message is priceless and truly touched so many of our employees… Your personal experiences, expressive personality and vibrant delivery truly made the presentation one-of-a-kind and memorable."
- Shannon Beatty, Washington Mutual Bank

"You have a gift to move us to greater and more profound thoughts on our challenges. I was mesmerized by your presentation."
  - Beverly Day, CPA

"This was an awesome keynote. The positive energy that flowed was great. I learned more about me in this keynote than the whole conference."
- Jan Altman, Co. Coalition for Child Mental Health

"Your topic was very timely as I have been experiencing some difficulties of my own. You gave me some good tools and I've already started using them."
- Trish Newell, Boulder Board of Realtors

"I think you are the BIGGEST person I know."
- Darlene Walter Veterans Officers Assoc.

"Your sense of humor delighted us."
- Denis Maloney, Telecom Services, Univ. of Colorado

"Your presentation, without a doubt, was one of the most impressive presentations I have had the pleasure to attend. Your humor, spirit and confidence projected a message that we all accepted and appreciated. Thank you for making a difference."
- Robert Hansen, Santa Barbara Rotary Charitable Foundation

"You were so easy and pleasant to work with."
- Lucy Jones, Prog Director, US West

"We've had a lot of feedback from our managers. We would definitely recommend you as a speaker to any group or company wishing to walk tall and overcome any difficulties.
- Art Rancis, VP Ball Aerospace

"Peggy′s story is unique, and she has a way of delivering it that is very effective."
- Susan Escalantes, Diversity Coordinator. StorageTek
PROGRAMS for BUSINESSES & NON-PROFITS

Peggy is a captivating professional speaker, award-winning author, life-coach and advocate for positive living.

Using insight, compelling storytelling, powerful questions and humor she has endeared herself to individuals, small groups and large audiences throughout the United States.

She doesn′t just deliver a dynamic speech; her impact on an audience leaves something lasting, something that touches them deeply and changes them in positive ways.

TRANSFORMING CONFLICT INTO CONNECTION:
The Gift of Non-Violent Communication
How much more productive and constructive would any team be whose members knew how to minimize conflict, and when it did arise, knew how to skillfully resolve that conflict? … Infinitely!

Attendees will learn to:

Develop communication skills, preventing distressful disputes
Master active-listening & non-reactive speaking
Navigate a solution that works for all
Build trust & create connections with ease

CELEBRATING DIVERSITY IN THE WORKPLACE:
Getting Along ... Better ... Together …
Learning to build unity amidst the unprecedented diversity in today's workplace is an essential survival skill for any modern business or organization. Being a successful businessperson living with a significant difference, Peggy has unique, personal expertise in bridging differences, finding a common ground and evolving from tolerating differences to celebrating them! In this enlightening and humorous keynote, Peggy helps us learn to find the value in diversity, to open our minds and hearts, while turning our focus to the "sameness" that connects us all.

Attendees will learn to:

Dissolve biases & stereotypical judgments & fears
Realize and enjoy the benefits of being more inclusive
Communicate in ways that build cooperation, connection & social accord
Prevent unnecessary conflict and hurt

WALKING TALL:
Overcoming Today's Challenges &Stepping into Your Greatness
In this powerful, poignant and humorous presentation, Peggy weaves together her unique story of trials, triumphs and transformation that guide, encourage and inspire us all to triumph over whatever challenges may be weighing us down, shed our fears of being great, and to express and exude our inherent magnificence; in short, to Walk Tall!

Attendees will learn to:

Conquer the diminishing effects of undue challenges, set-backs & self-doubt
Build and sustain resiliency, optimism & fortitude during difficult times
Break free from whatever is keeping you "small"
Embrace adversity to grow more empowered

DISSOLVING BIASES BIG & SMALL:
Increasing Disability Awareness, Inclusion and Respect
Attendees will learn to:

Increase acceptance, appreciation, and dignity of all humans
Decrease separation, condescension, and pre-judgment
Heighten awareness of the contributions and skills of people with disabilities
Remove stereotypical cultural & employment barriers

These programs (and others of similar topics) are customized to your organization′s current challenges, and can be done in a format from one hour to two days.
Peggy O'Neill, Motivational Speaker: Highlights Reel
Peggy O'Neill shares how she struggled with her size for the first part of her life, secretly wishing each night that she would wake up "six-feet-tall" the next morning. Around age 35, she began to realize that her size was only a deterrent to her happiness if she let it be, and that the most important qualities that determine our lives are the intangible characteristics - traits she could control and strengthen.
Referring to these traits as "our inner size," O'Neill compares them to the roots of a tree: we can't see them, but they complete a vital function. "The deeper [the roots] grow, the bigger the storm they can weather," she explains. "The bigger we are on the inside, the more capable, confident, resilient, and loving we become, and that's what being an incredible leader is about."