* Please note that while this speaker's specific speaking fee falls within the range posted above (for Continental U.S. based events), fees are subject to change. For current fee information or international event fees (which are generally 50-75% more than U.S based event fees), please contact us.
Top25 Speaker Voting

Peg Neuhauser needs 5 vote(s) to make it into the Top 25 speakers on Speaking.com!
Speaker Booking Tip
"Tip: speakers bureaus can provide: speaker fee negotiation, insurance, smooth logistics and value add-ons such as extra sessions. "
For Event Planners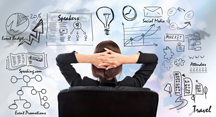 • Keynote Speaker Booking Toolkit.
• Booking a Celebrity Speaker.
• How to Find and Book the Right Speaker.
• Google+ Event Planning Forum.
• Tips for International Clients Booking U.S. Based Speakers.
Similar Speakers
Eileen McDargh

For over 35 years, Eileen McDargh has been resuscitating organizations with her second-to-none talent for engaging groups, reframing their thinking, and inspiring them to take…

Garrison Wynn

With talents that established him as a Fortune 500 leader and professional stand-up comedian, Garrison Wynn, CSP, fuses comic timing and research to deliver motivational…

Valorie Burton

Valorie Burton is dedicated to helping individuals succeed, even in the face of challenges. Ms. Burton has been called one of the top 100 thought…

It was an extreme pleasure to work with our account rep. She was friendly, flexible, and knowledgeable about all their speakers. She made the process simple. I cannot begin to put into words the impact that our speaker had on our audience. People are still taking about his presentation and his program set a standard on all diversity programs.
FDIC: Federal Deposit Insurance Corporation
About SPEAKING.com
Established in 1994, we are exclusive agents for some of the world's leading experts, celebrities and professional speakers.
We offer event planners a fully staffed speaker logistics planning team, plus a personal SPEAKING.com Account Executive – a knowledgeable and trustworthy partner. We guarantee your satisfaction with your speaker and a smooth booking process.
Contact us today to book your favorite speaker.

Partial Client List:

AARP
American Airlines
American College of Cardiologists
American Institute of Banking
American Heart Association
American Hospital Association
American Society of Association Executives
American Medical Association
Baxter Healthcare Company
Center for Association Leadership
Coldwell Banker
Consolidated Edison Utilities
Cox Communications
Deloitte and Touche
Dupont
General Mills
GlaxoSmithcline
Hewlett-Packard
IBM
Johnson & Johnson
Liberty Mutual
Lockheed Martin Corporation
Mass Mutual Insurance Company
Merrill Lynch
NORC/University of Chicago
Oracle Corporation
Organization of Nurse Executives
Pacific Gas & Electric
Phillips Micro Electronics
Siemens Corporation
St. Paul Insurance Companies
Stanford University
State Farm Insurance
Sunoco
Texas Instruments
Treasury Department
Tyson Foods
United Methodist Publishing House
University of Iowa Health System
University of Notre Dame
USAA
Vanderbilt University Medical Center
Verizon
I Should Be Burnt out by Now. . . so how Come I′m Not?: How You Can Survive and Thrive in Today′s Uncertain World
There has been a great deal of talk during the past two decades about the serious problem of stress and burnout. Most of the discussion focuses on the pessimistic side of the story. The underlying assumption is that we are in a fierce struggle, one that we frequently lose. Burnout is presented as almost inevitable, and solutions focusing on recovery are offered.

But there is another, more optimistic side to the story. What about the people who endure tough times with courage and grace, or bounce back from crises with renewed energy when logic tells you the situation should have left them depleted and discouraged? For all the talk about burnout, the fact is that the majority of people spend most of their lives coping amazingly well.

Being good at not burning out is a skill more than a genetic personality trait. Just like any skill, you have to work at it. You can learn to manage your behavior and your thinking, but it takes discipline and practice to do it.

There are thousands of success stories every day about people who continue to survive and make the best of tough times. So how do they do it? What are the real stories of how individuals survive and thrive during uncertain and difficult times? And what is their advice on preventing burnout? This book answers these questions.
Order Here




Culture.com: Building Corporate Culture in the Connected Workplace
Culture.com tackles the question of how to create a corporate culture that matches the new .com business strategy. It explains how a company' s internal culture must adapt to complement, support, and be properly aligned with the organization's external business strategy. And it shows how failure to adapt can undermine, or even destroy, a company's ability to carry out its objectives.

Culture.com is a highly practical guide to the pressing corporate culture issues that face every e-business, from .com start-ups to traditional organizations making the transition into the clicks-and-mortar world.

Explains the 9 key characteristics of a .com culture that are vital for all organizations.
Offers practical tips and strategies to ensure that your corporate culture can be a competitive advantage, rather than a liability, in the .com world.
Provides hands-on advice on changing your corporate culture to reflect the new realities of e-business: debugging on the fly, rapid risk taking and decision making, developing a culture of collaboration, building corporate culture in virtual organizations, and much more.
Shows how to break old organizational habits that no longer fit in the world of e-business, and how to learn now ways to think, believe, and behave.
Features examples and interviews from a wide range of companies, government settings, and not-for-profits.


Order Here





Nuts & Bolts of Organizational Change: Practical Strategies for Changing Your Organization's Culture
Change is a constant part of any organization. It is difficult to chart the course for your organization's future, but even harder to execute on that strategy if it means changing the way people in your organization function. Changing the culture means changing the habits in your organization - individually, teams, procedural, technical. Change the habits and you change the culture. Peg provides down to earth, practical tips and strategies for changing those habits. To be able to target these changes where they are in need and to do so rapidly is an essential skill for a successful organization in today's world.

The New Normal: Rethinking the Way You Lead and...
Moving On: Healing from the Turmoil and Adapting to the New Realities:

Uncertainty is the word that best captures the thinking of most individuals and organizations these days. People say it's like working in a fog. Is the recession really over? Will things return to normal? If so, when? If not, what will the new normal be, and how do we succeed in that world?

What do 90% of top execs rank as the critical organizational skill needed today – agility.

Here are some practical definitions of what they mean by organizational agility:

Capacity to identify and capture opportunities more quickly than a rival does
Combining patience and boldness
Jumping on the moment the fog lifts just enough so the choice is more than a crap shoot, but before things are clear to everyone including competitors

Help your leaders and employees understand the new normal in your organization and adapt as leaders and employees to these new realities.

Click here for examples of topics included in each presentation. Contact Peg for more information or to discuss a customized presentation for your organization. Each organization's circumstances are different, so the presentation must be tailored to your needs.

Building a Corporate Culture that Helps Your Organization Succeed
Corporate CultureThere is no one "right" culture for all organizations. The right culture is the one that helps you succeed in accomplishing your goals. Peg Neuhauser's presentation offers practical tips for how to build and maintain your corporate culture to succeed in today's world. Neuhauser has written three books on corporate culture: Tribal Warfare in Organizations, Corporate Legends and Lore, and Culture.com. Click here for more information.

Tribal Warfare in Organizations: Breaking Down the Silos in Your Organization
This presentation is based on Peg Neuhauser′s book Tribal Warfare in Organizations. It takes a humorous and entertaining look at turf battles between departmental and professional groups in organizations...IT, HR, lawyers, paralegals, nurses, doctors, sales, back office or whatever the silos are in your organization. Neuhauser offers practical tips on the do′s and don′ts of tribal communication. The goal is to produce more effective collaboration and problem solving that makes life easier for everyone and provides service to customers.

I Should Be Burned Out by Now . . . So How Come I′m Not?
Everyone's work life has been affected by this era of uncertainty. The world we are living in today operates at a much faster pace than a decade ago. In addition to the increased speed, there is great uncertainty triggered by economic and I should be burned out by now...So how come I′m not?world events. In this presentation, Peg C. Neuhauser provides dozens of practical tips for coping with one of the most serious dangers of the high speed, uncertain world of work — burnout. Peg covers three areas where actions can be taken to reduce burnout in your organization:

Corporate culture strategies
Leadership actions
Personal tips

In this interactive and entertaining presentation, Neuhauser will discuss ideas with the audience and tell stories about how people are surviving and even thriving in this era of uncertainty.

Retaining your best employees: Coping with Culture Clashes in Your Organization
There is a great deal of talk these days about organizational culture and its impact on the long term performance of a company. It is generally agreed that culture is important, Coping with Culture Clashes in Your Organizationbut many people are not at all clear what their organization′s culture is, what it should be, and whether there is really any hope that it can be changed if needed. As an organization struggles to become more customer driven, quality focused, or innovative, the people inside that organization know there needs to be fundamental change in how the organization operates. Exactly what needs to change and how to go about changing it is not so clear.

With all the mergers, partnerships, and restructuring going on in organizations these days, clashes between the cultures are inevitable. People do not give up their old ways or blend two groups with different customs and histories without a struggle. Ordering people to change rarely works. The conflicts do not go away; they just go underground. To change or blend cultures requires negotiation to develop new ground rules and common agreements about how the groups will work together in the future. This presentation guides participants through their own current cultures and to help them identify specific changes and common agreements that are needed.
Demo Video
This compilation features Peg Neuhauser touching on her different specialties, perhaps the most well known of which is resolving "tribal warfare" within organizations. This label, she states, is no exaggeration; tribal warfare is a basic part of human nature that we have not evolved past and it's not a matter of "if" but "when" it affects your organization.
Though she admits there will always be friction and differing opinions in any organization she encourages leaders and managers to use this to the group's advantage. According to Neuhauser, "some of the best ideas you'll get" come out of conflict if you can manage it properly. "I often think of it as you want the best of the collective IQ of the group you're dealing with," she explains.