* Please note that while this speaker's specific speaking fee falls within the range posted above (for Continental U.S. based events), fees are subject to change. For current fee information or international event fees (which are generally 50-75% more than U.S based event fees), please contact us.
Top25 Speaker Voting

Paul Orfalea needs 8 vote(s) to make it into the Top 25 speakers on Speaking.com!
Speaker Booking Tip
"Tip: some speakers might provide one of their popular book titles as a free gift to your audience. "
For Event Planners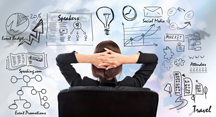 • Keynote Speaker Booking Toolkit.
• Booking a Celebrity Speaker.
• How to Find and Book the Right Speaker.
• Google+ Event Planning Forum.
• Tips for International Clients Booking U.S. Based Speakers.
Similar Speakers
Ram Charan

World-renowned consultant, author and speaker Ram Charan has made an extraordinary life journey, from working in the family shoe shop in a small town in…

Peter Guber

Peter Guber brings his experience in communication, entrepreneurship and leadership to his keynote addresses, experience gained as founder and CEO of Mandalay entertainment. This visionary…

Jason Jennings

Named the Number 6 Global Guru for Leadership in 2015 and 2016, Jason Jennings is an internationally in-demand business thought leader and speaker. His breakthrough…

Our speakers were absolutely outstanding and top class. Once again, thank you for making this happen for us. You have been outstanding and the best speakers bureau we have ever worked with!
Volkswagen
About SPEAKING.com
Established in 1994, we are exclusive agents for some of the world's leading experts, celebrities and professional speakers.
We offer event planners a fully staffed speaker logistics planning team, plus a personal SPEAKING.com Account Executive – a knowledgeable and trustworthy partner. We guarantee your satisfaction with your speaker and a smooth booking process.
Contact us today to book your favorite speaker.

American Management Association Corporate Branding Conference
Association on Higher Education And Disability
Brand Source
Cosby Foundation
Entrepreneur Organizations (multiple)
Entrepreneurship Week USA
First Five Commission of California
Fortune Small Business Conference
Gateway Computers
Harvard University
Hyundai Motors
International Car Care Association
International Learning Disabilities Association
Intuit Software
Los Angeles County Office of Education
Library of Congress
MIT – Gathering of Titans
National Association of Workforce Boards
Notre Dame Business School
New York Times & American Express Small Business
NYU Entrepreneurial Conference
Princeton University
UC Berkeley Haas School of Business
UCLA Anderson School of Business
Working Woman Magazine Conference
Yale Center for Dyslexia, Creativity, & Other Learning Abilities
Young Presidents′ Organization
Paul Orfalea's autobiography, Copy This! Lessons from a hyperactive dyslexic who turned a bright idea into one of America's best companies is available now in bookstores and online retailers.

COPY THIS! is filled with life lessons on overcoming obstacles – perfect for every business owner looking to grow a company, every manager helping their team perform, every visionary trying to launch a new idea, and for every mother and father of a child suffering from learning challenges. This is the story of how Paul Orfalea, a hyperactive dyslexic who failed two grades, opened a small copy shop called Kinko's in 1970 and turned it into a $2 billion-a-year company, while barely being able to read, write, or sit still through a business meeting.

Paul succeeded in using his learning differences and unorthodox approach to business to mold a compassionate, unconventional, partner-driven culture that allowed Kinko's to thrive, and made it, according to Fortune, Forbes, and Mother Jones one of the best places to work in America.

Paul Orfalea's royalties from the book will be donated to nonprofit organizations for children with learning challenges.

WHAT PEOPLE ARE SAYING ABOUT COPY THIS!

"Paul Orfalea is a true inspiration to anyone who has been told 'no, you can't' because of a learning difference."
– Bill Cosby

"Irresistible. Paul Orfalea is witty, charming, and wise. If I could live my life over, I would sit at his feet and listen to everything he has to say."
– Bill Moyers

"For entrepreneurs and kids both, resiliency is a crucial ingredient in success, and there's no better way to reinforce that quality than by reminding us, as Paul Orfalea does, that being different isn't a bad thing and that we each have something uniquely our own to contribute."
– Charles Schwab

"Orfalea's exuberant and irreverent attitude…will entertain many readers, and his sanguine acceptance of his dyslexia will inspire many others."
– Publishers Weekly Magazine, July 11, 2005



When speaking to associations, organizations, conferences and educational institutions nationally, Paul Orfalea discusses the following key topics and areas of focus:

Business Motivation
Customer Loyalty
Early Care Importance
Entrepreneurship
Financial Management
Global & Current Events
Investing
Learning Differences
Work-Life Balance
Moderated Conversation with Paul Orfalea at UC Santa Barbara
Paul Orfalea talks about the importance of being bored and how these still moments of non-activity allow us to get to know ourselves, our passions, and set our own agendas. The self-made multi-millionaire credits the founding of Kinko's to his own boredom and being broke.
One of the biggest missteps he sees people making today with children is a preoccupation with keeping them busy. This includes our ubiquitous technology, which we've come to depend upon for company. "There's something about being with yourself and reflecting and figuring out what's really going on," Orfalea notes. "Busyness is not your friend. Anxiety and ambition are your best friends."
Interview with Paul Orfalea Part I
Interview with Paul Orfalea Part II