* Please note that while this speaker's specific speaking fee falls within the range posted above (for Continental U.S. based events), fees are subject to change. For current fee information or international event fees (which are generally 50-75% more than U.S based event fees), please contact us.
Top25 Speaker Voting

Pat Richie needs 5 vote(s) to make it into the Top 25 speakers on Speaking.com!
Speaker Booking Tip
"Tip: speakers bureaus can provide: speaker fee negotiation, insurance, smooth logistics and value add-ons such as extra sessions. "
For Event Planners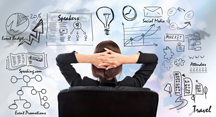 • Keynote Speaker Booking Toolkit.
• Booking a Celebrity Speaker.
• How to Find and Book the Right Speaker.
• Google+ Event Planning Forum.
• Tips for International Clients Booking U.S. Based Speakers.
Similar Speakers
Shaun Tomson

One of the greatest surfers of all time, legend Shaun Tomson brings a message of optimism and positivity to over 100,000 young people and adults…

Ruben Gonzalez

When Houston resident Ruben Gonzalez decided to try out luging, he had never even touched snow. Over 30 years later, he is the only winter…

Warren Macdonald

A catastrophic moment redefined Warren Macdonald's life in April 1997 when a one-ton boulder fell on him during an excursion on a remote Australian island.…

Working with your speakers bureau has been a pleasure. Everyone on your team was extremely responsive and informative, and really helped us to customize our event. I will be sure to reach out to your agency again in the future with any speaker needs that I may have.
The Advisory Board Company
About SPEAKING.com
Established in 1994, we are exclusive agents for some of the world's leading experts, celebrities and professional speakers.
We offer event planners a fully staffed speaker logistics planning team, plus a personal SPEAKING.com Account Executive – a knowledgeable and trustworthy partner. We guarantee your satisfaction with your speaker and a smooth booking process.
Contact us today to book your favorite speaker.

"Pat's warmth, wisdom and authenticity are contagious. He just makes you want to listen."
Patrick Lencioni, President-The Table Group

"Pat is one of the most natural, engaging speakers I know. Not only is funny, but he′s wise. A rare combination. He can find a way to connect to any audience, and help them learn and expand."
Bert Decker, NBC TODAY Show

"I attended Pat′s "The Five Dysfunctions of a Team" presentation and I was on the edge of my seat the entire time! His way of presenting was both informative and entertaining. I took copious notes and have utilized his materials to help my sales team work harder towards our collective goals as a team. Pat is packed with passion, knowledge, humor and real life experiences that will help any team accomplish their goals".
Karen Fry, National Sales Manager
The Five Dysfunctions of a Team: Hand-picked by Patrick Lencioni to Serve as an Official Interpreter.....A Leadership Fable


In The Five Dysfunctions of a Team Patrick Lencioni once again offers a leadership fable that is as enthralling and instructive as his first two best-selling books, The Five Temptations of a CEO and The Four Obsessions of an Extraordinary Executive. This time, he turns his keen intellect and storytelling power to the fascinating, complex world of teams.

Kathryn Petersen, Decision Tech′s CEO, faces the ultimate leadership crisis: Uniting a team in such disarray that it threatens to bring down the entire company. Will she succeed? Will she be fired? Will the company fail? Lencioni′s utterly gripping tale serves as a timeless reminder that leadership requires as much courage as it does insight.

Throughout the story, Lencioni reveals the five dysfunctions which go to the very heart of why teams even the best ones-often struggle. He outlines a powerful model and actionable steps that can be used to overcome these common hurdles and build a cohesive, effective team. Just as with his other books, Lencioni has written a compelling fable with a powerful yet deceptively simple message for all those who strive to be exceptional team leaders.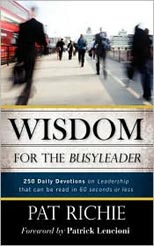 Wisdom for the BusyLeader
written by Pat Richie
In the year 2000 Pat Richie began sending a weekly email devotion to 30 NFL coaches and administrators called "Wisdom for the Busy SportsLeader." Each could be read in about 20 seconds. By the end of the year about 500 people from all walks of life asked to be included on the mailing list. Eventually people requested that the devotions be compiled into a book. This book is the result of those requests.
"Wisdom for BusyLeaders" has been somewhat re-written to apply to a broader audience, although you will read much that comes from sports. Mike Holmgren says, "This book is 250 devotions, full of interesting quotes, practical wisdom, and most importantly verses from God′s Word. I try to take a few minutes each day to read this devotion and make a commitment to improve an area of my life or learn an important lesson I want to remember."
Pat Richie is a speaker and consultant in the areas of teamwork and leadership to Fortune 500 companies, professional and college sports organizations, and government agencies. From 1981-1998 he served as team chaplain of the San Francisco Forty-Niners. Three times he was awarded Super Bowl Rings for his contributions to the team. In 1990 he was inspired to encourage NFL players to pray on the 50-yard line at the conclusion of the game. This prayer has become a tradition across football and today every NFL, major college, and many high school games end in prayer between opponents.
Pat now works with CEO′s and executive teams building cohesion, leadership and organizational clarity to drive results, and create a more enjoyable, productive work environment. He also leads strategic discussions for companies in many fields.
The Five Dysfunctions of a Team
Great success stories, like those told during the championship years of the San Francisco 49ers, are more often than not the result of something all too elusive and rare-teamwork. Based on the model found in The Five Dysfunctions of a Team, by strategic partner Patrick Lencioni, Pat Richie brings real teamwork to life with behind the scenes stories from his years with Superbowl champion San Francisco 49ers. In this talk, Pat identifies the five root causes for team dysfunction and provides solutions to help any team succeed.
Why Build a Champion When You Can Build a Dynasty?
We′ve all scratched our heads wondering how a company or sports team can fall from grace so quickly. One year profits or wins pile up, the next few years they′re down significantly, and there is no clear change in the market or product. What happened? Pat delivers the four key ingredients that go into building long term success. Your group will come away with a proven blueprint for continued winning.
Leadership Lessons from the Legends of Sports
Fast moving and filled with little known insights from football, baseball, hockey Pat shares the key qualities of great leaders from the world of sports. Using pointed stories and humorous examples, Pat explains how leaders can change their behavior to yield greater credibility and higher productivity.
Other Popular Speaking Programs:
Teamwork, Leadership and the Currency of the Truth
The Four Disciplines of a Healthy Organization
The Vision of a Champion
The Day that Changed Football
Courage Beyond Comprehension
Demo Video
Pat Richie discusses why he thinks, "vulnerability is the secret to great leadership." He says that most people think that leaders should be in a position where they are powerful and strong, "but in reality, great leadership is based on the fact that the leader is vulnerable."
He goes on to say, "We don't handle the truth well. In fact, we want to deal in a currency, something other than the truth." He says that he asks people to "deal in the currency of the truth, the truth about me, the truth about you, and the truth about us."