* Please note that while this speaker's specific speaking fee falls within the range posted above (for Continental U.S. based events), fees are subject to change. For current fee information or international event fees (which are generally 50-75% more than U.S based event fees), please contact us.
Top25 Speaker Voting

Pat Croce needs 6 vote(s) to make it into the Top 25 speakers on Speaking.com!
Speaker Booking Tip
"Tip: find a speaker in your local area to save on travel costs. Most speakers will also reduce their keynote fee for local events. "
For Event Planners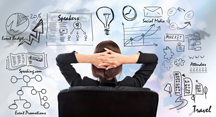 • Keynote Speaker Booking Toolkit.
• Booking a Celebrity Speaker.
• How to Find and Book the Right Speaker.
• Google+ Event Planning Forum.
• Tips for International Clients Booking U.S. Based Speakers.
Similar Speakers
Richard Sherman

Arguably the best cornerback in the league, Richard Sherman crafted a global name for himself within three years of getting drafted by the Seattle Seahawks…

Jimmy Johnson

Jimmy Johnson is one of the all-time greatest NFL head coaches, one of only five in league history to lead a team to back-to-back Super…

Hale Irwin

Hale Irwin is the most decorated golf player in history. The winner of three U.S. Opens, two U.S. Senior Opens and one victorious U.S. Ryder…

Working with your speakers bureau has been a pleasure. Everyone on your team was extremely responsive and informative, and really helped us to customize our event. I will be sure to reach out to your agency again in the future with any speaker needs that I may have.
The Advisory Board Company
About SPEAKING.com
Established in 1994, we are exclusive agents for some of the world's leading experts, celebrities and professional speakers.
We offer event planners a fully staffed speaker logistics planning team, plus a personal SPEAKING.com Account Executive – a knowledgeable and trustworthy partner. We guarantee your satisfaction with your speaker and a smooth booking process.
Contact us today to book your favorite speaker.

"You will sense that the learnings Pat shares are really his 'earnings.' In other words he earned these lessons, often the hard way. Moreover, he's so authentic and so in touch with these processes of growth that, at times, you will feel you are overhearing his most intimate conversations."
Stephen R. Covey, Author, The Seven Habits of Highly Successful People
"It is rare that an outside speaker connects so well with the heart and minds of a group. You and Collin Powell are the two best I have had the pleasure of experiencing."
George Morrow, EVP, Worldwide Sales, Amgen
"You helped us do what we set out to do – energize and motivate our high performance sales team. Your enthusiasm and energy made our afternoon memorable and valuable."
Chris Rooney, President, AT&T
"Thank you for your outstanding presentation at the recent Ford Customer Service Division meeting in Las Vegas. Your high energy and genuine delivery style certainly resonated with all 650 attendees. I need you in Detroit!"
Randy Ortiz, General Sales Manager, Ford Motor Company
"Your stories are inspiring, your energy is contagious and your key messages are right on target with our core values – to keep striving for the best and working toward achieving ones' goals, both personally and professionally – no matter what obstacles and challenges lay ahead."
Paul Bossidy, CEO, GE Capital
"Pat Croce is simply the best speaker we've ever had – and we've had the biggest names on the circuit – because at the end of the day, his inspirational style makes our people feel great!"
Stephen Stefano, SVP, NeuroHealth Division, GlaxoSmithKline
"Since we work in the world of entertainment, creativity, marketing, selling and programming, it's often difficult for us to find a speaker who can meet the energy level that our people possess and it's even harder to really cut through and get the motivated people more motivated. Somehow, you did it! Quite honestly, you were terrific!"
Joel Hollander, President, CBS Radio
"I'd like to thank you for your inspiring presentation. Your unrelenting optimism, "seize the day" mentality and commitment to customer service were just the right messages for our leadership team to hear at this exciting juncture in our company's history."
Joe Neubauer, Chairman, Aramark
"Pat Croce is a true inspiration to anyone who has ever had a dream."
Brian Roberts, CEO, Comcast Corporation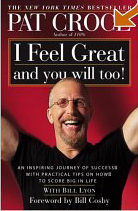 I Feel Great and You Will Too!: An Inspiring Journey of Success with Practical Tips on How to Score Big in Life
Passionate, spirited, and brimming with enthusiasm, Pat Croce′s can-do keys to success in business and in life speak volumes about positive achievement. Croce, a former personal trainer who overcame odds and adversity to become president and part owner of the Philadelphia 76ers basketball team, shares the winning attitude that has helped him realize stunning goals. Learn his secrets to positive advancement, and the ethical values that have helped him steer a course to phenomenal success. Croce faced his biggest challenge recently, when a motorcycle accident almost cost him his leg. His positive outlook on life and his unfailing determination have resulted in a remarkable recovery of this extraordinary man. This compelling, rags-to-riches story distills the inspiring philosophy that Croce shares in his role as one of the country′s top motivational speakers, sought after by Fortune 500 companies and profiled in Success magazine. Bill Lyon is an award-winning Philadelphia Inquirer sports columnist.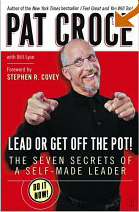 Lead or Get Off the Pot!: The Seven Secrets of a Self-Made Leader
Each and every one of us -- regardless of our age, position, or station in life -- has the opportunity to take control of, and improve, our lives...and the lives of those around us. In Lead or Get Off the Pot!, the irrepressible count of carpe diem shares his bold vision and unorthodox strategies for developing personal passion, a can-do attitude, and the motivation essential for cultivating leadership skills.
Motivation Mojo
Inc. has called him the "Dale Carnegie of the 21st Century." Sales & Marketing Management magazine named him the "Best Motivator." Nationally renowned motivational speaker Croce brings audiences to their feet, motivating them to reach their fullest potential and realize their dreams. Calling on his background in physical therapy and athletic training, and his persistence to land a job in professional sports, Croce encourages his audience to look at their skills and training against their dreams to discover their opportunities. He shares with audiences how to pursue those dreams and what it takes to get where they want to get.
Spinning Plates
Over the course of one day, Croce oversees or is involved in business endeavors, community initiatives, outdoor adventures, personal appearances, and family commitments. He successfully juggles dozens of "plates" by maintaining equal focus on each one, never putting his total focus on just one for a prolonged time period. Croce shares with audiences how he achieves this feat using discipline, organization and high-energy support from family, friends and staff. Audiences will leave equipped with tools for balancing all areas of life to achieve success.
Freakin' Fitness
Croce has always been a fitness enthusiast, even going back to his high school days. In 1980, he became the first physical conditioning coach in the NHL; he later joined the Philadelphia 76ers to provide his physical therapy and conditioning magic there, as well. In many ways, Croce created the concept of personal training before there was a name for it. He also built—and sold—a physical therapy/fitness empire in 11 states in less than 10 years. In this presentation, Croce shares some of his fitness secrets, including his cross-training program that uses a variety of strength, stretching and aerobic techniques, equipment and systems.
Keynote Speech
Pat humorously takes us through his first solo helicopter flight, in which he mentally swung from overbearing confidence to extreme panic and was ultimately reminded of a lesson his father taught him several years ago.
"There was not even a street view when we took the trial run," Pat refers to the practice run he did with his instructor immediately before embarking on his own. "What I believed to be the airport runway when I was at the five-mile landmark was instead a huge K-mart parking lot. I was lost. I was lost in space. I misplaced an entire airport."
After being guided back to the actual airport by air traffic control, Pat reflected on the flight. "I'd been taught at a very early age that opportunity sometimes knocks softly. Well, that horrible helicopter flight was a sledgehammer of a reminder that an opportunity can turn into a nightmare when you don't listen intently. Listen, listen, listen."