* Please note that while this speaker's specific speaking fee falls within the range posted above (for Continental U.S. based events), fees are subject to change. For current fee information or international event fees (which are generally 50-75% more than U.S based event fees), please contact us.
Top25 Speaker Voting

O'Shea Report needs 21 vote(s) to make it into the Top 25 speakers on Speaking.com!
Speaker Booking Tip
"Tip: speakers bureaus provide added value that you cannot get by booking speakers directly. "
For Event Planners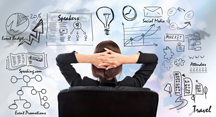 • Keynote Speaker Booking Toolkit.
• Booking a Celebrity Speaker.
• How to Find and Book the Right Speaker.
• Google+ Event Planning Forum.
• Tips for International Clients Booking U.S. Based Speakers.
Similar Speakers
Randy Pennington

Randy Pennington is a business performance veteran, author, and an expert in helping organizations build a culture focused on results. His professional accomplishments and credentials…

Edwin Miller

Founder and CEO of 9Lenses, Edwin Miller used his extensive experience in turnaround and growth strategy to revolutionize the consulting industry. His 9Lenses software platform…

Murray Banks

Murray Banks combines his natural flair as a speaker with the skills of an experienced educator who has taught at every level from grade school…

SPEAKING.com does a wonderful job! Our AE always responds promptly and is very professional, thank you!
AlphaNet
About SPEAKING.com
Established in 1994, we are exclusive agents for some of the world's leading experts, celebrities and professional speakers.
We offer event planners a fully staffed speaker logistics planning team, plus a personal SPEAKING.com Account Executive – a knowledgeable and trustworthy partner. We guarantee your satisfaction with your speaker and a smooth booking process.
Contact us today to book your favorite speaker.

"Thank you for again for doing a great job at our annual Awards Banquet. You were a huge hit. You exceeded all my expectations. We will definitely be suggesting your services to our sister divisions as well as our Corp offices. I look forward to working with you again some day."

Steven Nicolazzi
Vice President of Sales
US Food Service Allentown

---

"We wanted to kick off a campaign for our builders and sales force in an upbeat and enthusiastic way. Your program hit our target square on the mark, and our sales professionals left smiling, okay giggling in some cases, and ready to charge into selling in a challenging market."

Robyn Reals
Director of Member Services
Northern Virginia Building Industry Association

---

"Tim O′Shea and Kris O′Shea engaged our audience members, both figuratively and literally, to the delight of all. They hit a home run for us with perfectly blended wit, philosophy, knowledge of the audience, and improvisational zaniness. The O′Sheas are exuberant professionals who give their all and are a delight to work with."

Ralph Johnson
Executive Director
Colorado Veterniary Medical Association

---

"One of the goals of our meeting was to create a sense of teamwork, breaking down any walls and creating a relaxed, fun environment where people could get to know one another better. I believe your program solidified these objectives and also fostered a more friendly environment in subsequent meeting days. We will definitely keep you in mind for future meetings."

Vicki Keller
Director
Travelers Express/MoneyGram

---

"I have had the pleasure of working with Tim and Kris O'Shea on two separate occasions. Their onstage performance and comedic timing are flawless. They completely engaged members of our staff. Comments from the staff included 'no one ever stays for the breakfast and The O′Sheas kept us in the room and engaged.' Some members of the Aims audience had tears flowing as they giggled uncontrollably while watching The O′Sheas work the room with their fellow co-workers. It was clear to everyone in the room that their humor and insight into the organization was right on target, resulting in a standing ovation at the end of their presentation. Tim and Kris have contributed to the beginning of a positive cultural transformation at Aims."

Jennifer Naimark
Program Coordinator, Center for Professional Development
Aims Community College

---

"After days of intense training and meetings, your outrageously funny comedic portrayals of ACS brought gales of laughter and a sense of camaraderie to the entire group. The variety of talent you both possess made us feel like we were at a Saturday Night Live performance with our organization as the star. You left us all feeling connected to one another and committed to bringing more laughter to our workplace."

Rosie O′Connel
Corporate Relations Manager
American Cancer Society

---

"Your program was both humorous and enlightening and our employees loved it! You captured the attention of our employees from the start and helped us convey a very important message to them."

Tim Tribby
Manager
Nordstrom

---

"I would highly recommend Kris and Tim O′Shea to any group who is looking for an uplifting and motivational message. We look forward to you presenting again at our Annual Member Celebration."

Jennifer Lester
VP, Supplier Management
Buyers Access

---

"I have received numerous calls and emails from people thanking me and letting me know what a marvelous time they had. Your attention to detail adds so much to your presentation, along with the fact that you did your homework about learning and understanding our organization. You truly connected with our audience and the humor segments of your program tickled all of us until we thought we couldn′t laugh anymore. You provided a sensational program which will be remembered for a long time to come."

Pat Ahern
CEO
Red Rocks Federal Credit Union

---

Partial Client List

Corporations:

Hewlett-Packard
Miller-Coors
Kaiser Permanente
State Farm
Nordstrom
GMAC Realty
SunGard Financial
U.S. Olympic Committee
Taco John's
Colas North America
U.S. Foodservice
Next Day Gourmet
Travelers Express MoneyGram
Energy Solutions
Nexstar Network
Bark Busters USA
Arrow Electronics
Dayton Superior Corporation
Allen Tate Realty
Image Integration Systems
Buyers Access
Sonitrol
Amcor Rigid Plastics

Associations and Non-Profit:

American Payroll Association
American Society of Healthcare Systems Pharmacists
American Cancer Society
Association of Manufacturing Excellence
Association of Governmental Risk Pools
Association of YMCA Professionals
Alaska Forum on the Environment
Business Professional Women-USA
Canadian Payroll Association
Colorado Municipal League
Colorado Association of School Boards
Healthcare Convention & Exhibitors Association
Idaho Association of School Boards
International Association of Speakers Bureaus
International Customer Service Association
Meeting Professionals International
Montana Conference of Education Leadership
National Affordable Housing Management Association
National Association of Court Reporters
Nevada Association of School Boards
Professional Convention Management Association
Virginia Community Colleges Association
The O'Shea Report: Change 180
The world is changing...fast. Fast enough that by next week, the iPad will be thought of as Amish furniture.
It′s time to laugh about it.
Change 180 takes you on a hilarious journey through the ups and downs of dealing with change. Through motivational humor, The O′Sheas help audiences snuggle up to change, stomp on suspicion, and open their minds to progress.
The O′Shea Report: Change 180 will help your audience laugh as they examine:
How to change the "soap opera" of the office by changing your perspective
From Leave It To Beaver to texting--the evolution of communication
How workplace personalities the conserver, the pragmatist, and the originator deal with change
The value of staying current, being flexible, and creating a supportive environment
Packed with humor and insightful tips, this keynote is ideal for organizations looking for a lighthearted way to deal with the heavy topic of change.
The O'Shea Report: Teamwork 180
If there's anybody that knows about the dynamics of successful teamwork, it's The O'Sheas. They work together, run a business together, and are married…and yet, they still haven't killed each other.
In this keynote program, The O'Sheas share the techniques that make them a successful team. Through audience interaction and relevant humor, this program will get your people feeling good about working together.
Highlights include:
Effective communication, power struggles, and team dynamics
The dos and don'ts of getting along at work
Creating a supportive environment
Building momentum as a team
In their hilarious and insightful style, The O′Sheas will show you what′s funny about teams while giving you tips and techniques on how to have a successful relationship with your co-workers.

O'Shea Report Sample Performance Clips
In this presentation, The O'Shea's discuss ways to deal with change in today's fast paced world. They perform skits, including, "The Conference Call," where they have trouble understanding an IT professional over the phone. They act out a modern conversation where both of them are glued to their mobile devices instead of talking to one another. They illustrate teamwork by bringing audience members onto the stage to provide "sound effects" while they act out different activities.
The O'Shea's then address the generational gap by putting on wigs and pretending to be members of the baby boomer and millennial generations. "He doesn't know this, but I'm getting his job when he retires," says Kris. "She doesn't know this, but I'm never going to retire," says Tim. Time closes the presentation by saying, "Remember, if you can't laugh at yourself, somebody else probably will."