* Please note that while this speaker's specific speaking fee falls within the range posted above (for Continental U.S. based events), fees are subject to change. For current fee information or international event fees (which are generally 50-75% more than U.S based event fees), please contact us.
Top25 Speaker Voting

Norm Smallwood needs 6 vote(s) to make it into the Top 25 speakers on Speaking.com!
Speaker Booking Tip
"Tip: speakers bureaus provide added value that you cannot get by booking speakers directly. "
For Event Planners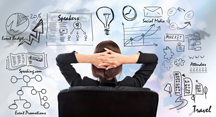 • Keynote Speaker Booking Toolkit.
• Booking a Celebrity Speaker.
• How to Find and Book the Right Speaker.
• Google+ Event Planning Forum.
• Tips for International Clients Booking U.S. Based Speakers.
Similar Speakers
Ryan Estis

Ranked one of the top speakers in his field, Ryan Estis is known for his innovational strategies for improving communication and company culture. His methodology…

Tony Schwartz

After enjoying great success as a journalist with his book Trump: The Art of the Deal, employee relations and human resources expert Tony Schwartz decided…

Adrian Gostick

A global thought leader on corporate culture, employee relations and human resources management, Adrian Gostick has published several successful books on employee engagement. These include…

Once again our agent did an outstanding job. Not only did he provide me with a number of options for potential speakers but he helped with seeing who was available, when they could speak, and getting everything done in a timely fashion. I look forward to working with him again.
Auburn University
About SPEAKING.com
Established in 1994, we are exclusive agents for some of the world's leading experts, celebrities and professional speakers.
We offer event planners a fully staffed speaker logistics planning team, plus a personal SPEAKING.com Account Executive – a knowledgeable and trustworthy partner. We guarantee your satisfaction with your speaker and a smooth booking process.
Contact us today to book your favorite speaker.

Media


AOL-TimeWarner
Australia Post
Emmis Communication
Handelsblatt
MDI International
Simon & Schuster
Time

Pharmaceutical / Healthcare


Abbott Laboratories
Amgen
AstraZeneca
Boston Scientific
Bristol-Myers Squibb
Eli Lilly
Glaxo Smith Kline
Merck
Novartis
Pfizer
Piramal Group
Teva Pharmacuetical
Baxter Healthcare
Cardinal Health
Quest Diagnostics
Dade Behring

Technology


Cedia
Cisco Systems
Dell Inc.
Hewlett-Packard
Hitachi
IBM
Infosys
Intel
Microsoft
Novell
Quantum
Sony
Texas Instruments
Storage Tek

Consumer Goods


Coca-Cola Enterprises
Fuji Film
Gap
Gillette
Hallmark
Johnson & Johnson
Kraft Foods
Nestle
Proctor & Gamble
Reebok
RJ Reynolds
Sara Lee
SC Johnson
Schreiber Foods, Inc.
Sears
Unilever
Walmart
Walt Disney Corporation
Yum Brands
Duracell
General Mills
Starbucks

Construction


Georgia-Pacific
Halliburton
ICI
ITT Industries
LaFarge
Orica
Saint Gobain

Financial


ABN AMRO
Abu Dhabi Investment Authority
Allmerica
American Express
AXA Australia
Bank of America
BankOne
CheckFree
CitiGroup
Deutche Bank
Fannie Mae
Hinduja Group
ICICI Bank
National City
Prudential Financial
Standard Chartered Bank
Sterling Commerce
Swiss Re
Tata Group
UBS Warburg
Wells Fargo
Zurich Financial

Hospitality


Brown-Forman
Cathay Paciific Carlson Companies
Harrah's Entertainment
Hilton Hotels
Holiday Inn
Intercontinental Hotel Group
Marriott

Government


Hong Kong Provincial Government
Royal Mail
Singapore Civil Service
US Navy
Why the Bottom Line ISN′T!


In Why the Bottom Line Isn′t! authors Dave Ulrich and Norm Smallwood argue that sustainable shareholder value comes increasingly from assets not accounted for on an organization′s balance sheet. These assets include a company′s reputation, its ability to attract talent, and its ability to react quickly to new opportunities in the marketplace. Why the Bottom Line Isn′t! harnesses research from a number of disciplines including human resources, finance, and leadership to establish a hierarchy of such intangibles. The authors extrapolate from these intangibles to establish leadership tools that will help create sustainable shareholder value. The book offers a broad, expansive perspective on leadership while eschewing convoluted theory for concrete practice.
Change Champion′s Field Guide


What People Are Saying:
"I found the Fieldguide to be intellectually exciting and emotionally inspiring. In a single volume we are given the distilled thinking of an amazing collection of authors who are among our most respected experts in the fields of change and leadership development. I cannot imagine any executive who would not profit from reading this book - providing its ideas are put into immediate practice." —author of "The Six Pillars of Self-Esteem" and "Self-Esteem at Work" - Nathaniel Branden

"Highly recommended! This step-by-step manual provides a roadmap of best practices in a clear and accessible format." —Author of The Female Advantage, The Web of Inclusion and Thriving in 24/7 - Sally Helgesen

"Will become one of the most quoted, referenced, and used business books in the first decade of the 2000′s." —Earl C. Daum 1924 Professor of International Business, Director, Center for Global Leadership, Tuck School of Business, Dartmouth College

"Essential tools for change agents - both business leaders and human resources professionals." —Senior Vice President, Human Resources, Unilever BestFoods, Rotterdam, The Netherlands - Sandy Ogg
Leadership Brand


Your company's brands hold intangible value and differentiate your firm from rivals. So does your leadership brand—a shared identity among your organization's leaders that differentiates what they can do from what your rivals' leaders can do. —In Leadership Brand, Dave Ulrich and Norm Smallwood show how branded leadership delivers unique value for firms' investors, customers, and employees—elevating market value and creating a sharp competitive edge.

The authors present a six-step process for creating leadership brand in your organization. A wealth of tools helps you differentiate your firm's leaders from those of rivals, craft a unified identity among them, and articulate a unique statement of your brand. Additional chapters and tools show you how to assess and measure your leadership brand, where to invest in the brand, which practices instill the brand, and how to communicate the brand to your many stakeholders.

With its compelling new model and hands-on approach, this book helps you clarify what makes your leaders unique—and use your leadership brand to leave rivals far behind.
Note: Norm Smallwood is a co-founder of the RBL Group.

Leadership Topics

How Leaders Build Value
Market value is comprised of two parts--earnings and intangibles. Intangible value is the confidence that investors have in your business compared to other businesses in the same industry. Learn the four steps that guide wealth-creating leaders as they increase stakeholder confidence in the future.

Increasing Personal Proficiency
Ultimately, your ability to lead others begins with yourself. What does it mean to be prepared to lead? Leaders who are grounded in their values and beliefs, emotionally mature in their knowledge of themselves and their response to changing circumstances, curious and eager to learn and improve, and able to nurture themselves while maintaining a passion for what they do are able to inspire others to greater effectiveness. Building individual resources for personal proficiency is critical for overall leadership effectiveness.

Ensuring Ethics
Many of the most significant management and social problems derive less from a crisis of talent than from a crisis of ethics. The ethics of leadership is the critical factor that inspires trust and loyalty in employees and customers. We must develop the ability to recognize the unanticipated ethical implications of all management decisions and actions.

Leadership Brand
Leadership Brand occurs when an organization is recognized both internally and externally as a leader feeder firm- an exporter of talent. Market share increases because investors have confidence that current and future results will be achieved the right way. When a company has leadership brand leaders at every level ensure that employees deliver the desired customer experience every time anywhere in the world.

Leadership Code
If you Google the word "leader" there are 176 million hits. What does it all mean? Why are there so many conflicting theories about what effective leaders must do? The Leadership Code synthesizes years of research to build a unified theory of leadership, and explains 60-70% of what makes a leader in any company or industry effective.

Leadership Pipeline
Leaders must develop in specific ways as they move through the leadership pipeline. Promoting the best technical expert to a management role often results in "losing a good engineer (or sales person, or IT contributor, or whatever) and getting a lousy manager." Learn what skills, knowledge, and perspectives must shift as leaders move through the pipeline.

Results Based Leadership
Much of current leadership practice is focused on developing leadership competencies. In Results-Based Leadership we argue that this is half right. The other half of effective leadership is delivering the right results to organization stakeholders such as employees, customers, investors, and line leaders.

What′s Next in Leadership?
For the last fifty years, leadership has been framed as how the individual leader builds the right mix of competencies to implement strategy. We see two trends for the next steps in leadership. The first trend is to consider both individual and organizational issues-- we need individual leaders and we also need an organization capability to build future leadership. The second trend is the need to deliver on both internal and external issues. Leaders must execute business strategy (internal), and they also must create investor and customer confidence in the future (external). The intersection of these trends-- building an organization capability that creates confidence in external stakeholders--is what we call Leadership Brand.

Strategic HR Topics

Developing HR Professionals and Leaders
For the past 20 years, RBL principals--together with the support of the University of Michigan and HR associations around the world--have studied HR professional and leadership competence. What are the competencies of top performing HR professionals and leaders? And what are the practices that deliver top performance and development?

Developing Talent
Talent management is the issue of the next decade. But it′s not as simple as the finding and retaining of high potential employees. RBL research points out that great companies like GE, P&G, and United Technologies get 10 things right in building superior talent engines and the reputation that makes them magnets for talent.

Differentiated Workforce
In strategy implementation it's critical to know what are the true wealth-creating positions that must be in place for growth and profitability. High performing organizations know their "A" positions not only their "A" players.

Future of HR
The RBL Group has a global vantage point from which to assess key trends and developments in HR strategy, priority, and professionalism. How are CEO expectations changing? And how are the most innovative HR leaders changing the practice of human resource management?

HR Business Partnership
What does great HR business partnership look like? What do HR business partners do differently? RBL has focused considerable attention on the skills and behavior that define and differentiate outstanding HR business partners, and developed a very clear framework for both assessment and developing business partner competence.

HR Strategy and Strategic HR
We see the role of HR as creating value for the business and helping business leaders convert customer expectations into employee actions. How do the best HR departments do this? What practices make the difference in ensuring that HR is an essential and powerful contributor to the achievement of business strategy?

HR Transformation
What is the best process for transforming HR? In our new book, RBL principals lay out a disciplined approach to ensuring that the HR department creates the greatest possible value to business performance, defines clear goals and roles, and manages the change process effectively and efficiently.

Measuring the Impact of HR
Some measurements are easy: cost, number of people who receive training, process improvements, and how quickly problems are resolved. But these measures don't tell us whether HR is making a strategic contribution. How do you assess the impact of HR on the real bottom line: growth, profitability, and satisfying customers?
Speech Excerpt