* Please note that while this speaker's specific speaking fee falls within the range posted above (for Continental U.S. based events), fees are subject to change. For current fee information or international event fees (which are generally 50-75% more than U.S based event fees), please contact us.
Top25 Speaker Voting

Noreena Hertz needs 7 vote(s) to make it into the Top 25 speakers on Speaking.com!
Speaker Booking Tip
"Tip: speakers bureaus provide added value that you cannot get by booking speakers directly. "
For Event Planners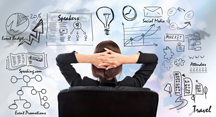 • Keynote Speaker Booking Toolkit.
• Booking a Celebrity Speaker.
• How to Find and Book the Right Speaker.
• Google+ Event Planning Forum.
• Tips for International Clients Booking U.S. Based Speakers.
Similar Speakers
Bill McDermott

One of the world's most recognized authorities at putting the customer front and center, Bill McDermott is widely credited for turning around tech giant SAP's…

Gabor George Burt

As an expert on overstepping boundaries, Gabor George Burt helps companies expand and succeed by teaching them how to eliminate perceived limitations. He provides an…

Linda Hill

As faculty chair of the Leadership Initiative at Harvard Business School, Linda Hill, the Wallace Brett Donham Professor of Business Administration, has chaired numerous HBS…

I just wanted to send a quick follow-up note to say – THANK YOU! I appreciate your partnership, and perseverance in helping us to find the right speaker for our group. Our speaker was absolutely excellent! The group loved him; it was perfect.
DeVry Education Group
About SPEAKING.com
Established in 1994, we are exclusive agents for some of the world's leading experts, celebrities and professional speakers.
We offer event planners a fully staffed speaker logistics planning team, plus a personal SPEAKING.com Account Executive – a knowledgeable and trustworthy partner. We guarantee your satisfaction with your speaker and a smooth booking process.
Contact us today to book your favorite speaker.

"On behalf of all at UCL, thank you so much for your expert hosting of our Campaign launch event. It really could not have been done better, and we were all overwhelmed by how brilliant you were."
UCL, Campaign Launch in London
"Most highly rated speaker by our clients in 20 years."
Swedbank
"Noreena was excellent at our event yesterday evening. I've received many comments from employees and colleagues about how insightful she was – drawing from examples that really helped stretch our employees' thinking and challenge what we perceive doing the right thing to mean…definitely delighted with our choice."
RBS, London
"Thank you for doing a fantastic job. The feedback on you has been all positive. We so much appreciated how much time you put into understanding who we are and coming prepared. Both the session and breakout were wonderful and I am not obligated to say that, I promise."
GS1, 40th Anniversary Event, Los Angeles
"Thank you for an excellent, lucid and fresh talk at the WIRED event. You were a hit."
WIRED 2011 Conference
"Thank you for your outstanding opening address… Your intervention and the ensuing 'Questions and Answers' set the appropriate tone for the day … the executives present found your contribution both challenging and stimulating. Your description of the challenges that we face as an iconic global company set the scene and created an atmosphere ripe for the harvesting of new ideas… many thanks for your willingness to share your ideas with us."
McDonalds Europe, Brussels
"Professor Hertz' contribution touched all the participants. Professor Hertz makes every single person feel his or her responsibility towards this world and give everybody the energy and belief they can contribute to a more sustainable future. We've received many very positive responses on her contribution and it has been a pleasure and honour working with her."
Green Spring Festival (Neprom), Rotterdam
"Having heard you speak yesterday there is no doubt in anyone's mind that you are the 'shining light of your generation'. Your knowledge and erudite speaking around such a relevant and pertinent topic set the tone for the whole event. The feedback has been tremendous, thank you so much for making it such a success."
The Big Lottery Fund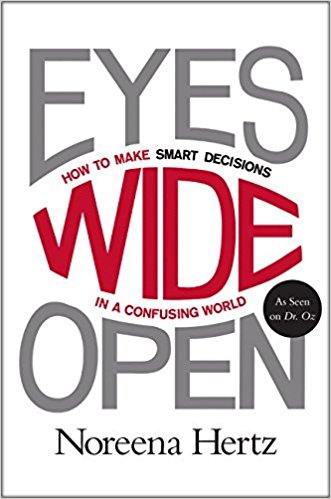 Eyes Wide Open: How to Make Smart Decisions in a Confusing World
Eyes Wide Open: How to Make Smart Decisions in a Confusing World
is Noreena Hertz's practical, cutting-edge guide to help you cut through the data deluge and make smarter and better choices, based on her highly popular TED talk.
In this eye-opening handbook, the internationally noted speaker, economics expert, and bestselling author of IOU: The Debt Threat and Silent Takeover reveals the extent to which the biggest decisions in our lives are often made on the basis of flawed information, weak assumptions, corrupted data, insufficient scrutiny of others, and a lack of self-knowledge.
To avert such disasters, Hertz persuasively argues, we need to become empowered decision-makers, capable of making high-stakes choices and holding accountable those who advise us.
In Eyes Wide Open, she weaves together scientific research with real-world examples from Hollywood to Harry Potter, NASA to World War Two spies, to construct a path to more astute and empowered decision-making in ten clear steps. With a razor-sharp intellect and an instinct for popular storytelling, she offers counter-intuitive, actionable guidance for making better choices—whether you are a business-person, a professional, a patient, or a parent.

Some of the topics she has spoken on most recently include:
A world in flux: global trends & challenges & how to manage them.
In this Keynote Speech Noreena Hertz lays out what she sees as the key Global Trends of our times, identifies the challenges this means we face, and provides a series of insightful and counterintuitive steps we need to take if we are to successfully manage them.
How to make smart decisions in a complex world.
Here Noreena Hertz lays out concrete and counterintuitive steps we all can take to become much smarter and wiser decision makers ourselves. Steps that include hiring a Challenger-in-Chief, becoming a Digitally-Attune Information-Hunter-Gatherer, encouraging Dissent and Difference and Tapping into your Organisation's Wisdom Within.
Truer faster: to succeed in the super-transparent world of Twitter, Facebook and Wikileaks.
This Keynote Speech reveals how successful corporations use the 3Cs to their advantage and lays out how new technologies can be deployed to deliver a competitive advantage. She also challenges her audience to think anew about what they can do differently, who they should join forces with, and how they can become truer, faster themselves so as to succeed in this super-transparent new world.
Doing business in the post financial crisis era: how to front run regulation and gain a competitive advantage.
Noreena Hertz identifies the key socio-political forces that every business leader needs to monitor in order to be able to triumph in this new post financial crisis environment, as well as the concrete steps to take so as to be able to front run regulation and gain competitive advantage.
Generation K: What you need to know about today's teenagers, tomorrow's consumers.
Based on her cutting edge proprietary research on this demographic Noreena Hertz shares in this Keynote Speech who this generation are, what they care about, how they behave, what they want, how they consume. Shaped not only be technology but also the worst recession in decades and also a world of heightened geopolitical threat, this generation is manifestly different to previous generations. Whether you are an employer, marketer or politician if you want to future proof your organisation, it's essential you get to grips with Generation K.

Noreena Hertz, Economic and Strategy Keynote Speaker: How to Reach Generation K
Economic keynote speaker Noreena Hertz reveals what your business needs to know about today's teenagers and how they drastically differ from every generation that has come before them. In addition to being the first generation to have virtually no memory of the pre-digital world, they have grown up in a period marked by instability and extremism. Together these three factors have shaped one of the most anxious cohorts in history, who at the age of 14 and 15 are already worrying about how they will deal with climate change, terrorism, inequality, and a shrinking job market.
The optimistic news is that Generation K, as Hertz refers to them, is determined to face these challenges head on rather than just passively accept the reality they will inherit from older generations. "If you are to deeply connect with this generation, you will need to embody their values in an authentic way," she advises corporate representatives. "This means taking a stance on the social, environmental, and ethical issues that they are so passionate about."
Noreena Hertz, Economic and Strategy Keynote Speaker: The Secret to Making Good Decisions
Noreena Hertz, Economic and Strategy Keynote Speaker: TED-Ed
Noreena Hertz, Economic and Strategy Keynote Speaker: Moderated Conversation about "Eyes Wide Open"