* Please note that while this speaker's specific speaking fee falls within the range posted above (for Continental U.S. based events), fees are subject to change. For current fee information or international event fees (which are generally 50-75% more than U.S based event fees), please contact us.
Top25 Speaker Voting

Nirmalya Kumar needs 7 vote(s) to make it into the Top 25 speakers on Speaking.com!
Speaker Booking Tip
"Tip: some speakers might provide one of their popular book titles as a free gift to your audience. "
For Event Planners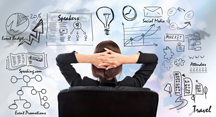 • Keynote Speaker Booking Toolkit.
• Booking a Celebrity Speaker.
• How to Find and Book the Right Speaker.
• Google+ Event Planning Forum.
• Tips for International Clients Booking U.S. Based Speakers.
Similar Speakers
Faith Popcorn

Faith Popcorn, best-selling author of EVEolution, Clicking, The Popcorn Report, and most recently Dictionary of the Future, is founder of Faith Popcorn's BrainReserve, futurist marketing…

Daymond John

Marketing and branding expert Daymond John drew his inspiration and his first successes from the hip-hop scene in his native community of Hollis, Queens, New…

Keith Yamashita

Consultant, author and speaker Keith Yamashita helps companies turn their struggling businesses around and rebrand themselves. He helps organizations become stronger by encouraging their members…

SPEAKING.com does a wonderful job! Our AE always responds promptly and is very professional, thank you!
AlphaNet
About SPEAKING.com
Established in 1994, we are exclusive agents for some of the world's leading experts, celebrities and professional speakers.
We offer event planners a fully staffed speaker logistics planning team, plus a personal SPEAKING.com Account Executive – a knowledgeable and trustworthy partner. We guarantee your satisfaction with your speaker and a smooth booking process.
Contact us today to book your favorite speaker.

"Marketing as Strategy provides top executives with an excellent holistic framework, based on proven solid theory, for how to navigate in today's fragmented, fast-moving, and digitalized marketplace. Professor Kumar transforms marketing into a strategy process that enables organizations to advance into unknown territory and serve consumers' ever changing needs."
Matti Alahuhta
President, Nokia Mobile Phones, Finland

"Nirmalya Kumar sets out very clearly how marketing transformations such as focusing a brand portfolio can be a critical factor for creating long-term profitable growth and significant value for the business."
Anthony Burgmans
Chairman, Unilever N.V., Netherlands

"In Marketing as Strategy Nirmalya Kumar provides brilliant insights into how his strategic approach to marketing can transform corporations and enable them to build sustainable growth platforms. All marketers would do well to heed his insights and follow his sage advice."
Bill George
Former Chairman and CEO, Medtronic Inc.

"Kumar has succeeded admirably in opening up a new page in the theory and practice of marketing."
Philip Kotler
Northwestern University
Customer Value Management
Today, marketers in Business Markets face tremendous price pressure from customers. The presentation will outline how to meet this challenge using an customer value management approach, based on a forthcoming book entitled Rare Commodity: Moving Business Markets Beyond Price to Value by Professors James Anderson, Nirmalya Kumar, and Jim Narus. The central argument will be that only by demonstrating and documenting value to customers, can firms be successful in business markets.

Key points:

Creating customer value

Capturing the value of supplementary services

Designing attractive market offers

Pricing for profit

Getting Closer to the Customer
Increasingly, companies are serving multinational customers who are demanding in terms of service and prices. These customers expect a high level of service delivery across multiple, globally distributed, locations. Customer delight and customer retention are the key to success especially in the face of aggressive, lower priced competitors seeking to pry the account open. Companies are challenged to provide value added solutions to customers rather than simply selling products.

The session will use the Tetra Pak case to highlight how a company embarked on a journey to get closer to its major key customers by providing solutions and increasing customer satisfaction.

Key Points:

How to get closer to customers

From selling products to providing solutions

Managing customer satisfaction initiatives

Successful key account management

Building a Culture of Innovation: The IDEO Way
The session will examine how IDEO, a design firm, has built a culture of innovation to develop creative new products. A 20-minute video presentation will be followed by a discussion of how competences, processes, structure, people, and assets can help generate a culture capable of producing repeated innovation.

Building Killer Brands
The session will use the Black & Decker case to highlight the essence of successful brand marketing strategies. The case examines how to compete against an industry leader. The presentation will focus on the challenge of building killer brand strategies.

Key Points:

How to develop a killer brand

Differentiating the brand from competitors

Overtaking industry leaders

Brand portfolio management

Marketing Innovation
The session will examine innovation from a marketing perspective. The presentation will use examples and videos from consumer products (e.g., Sony), services (e.g., easyJet), and business marketing (e.g., Dow Corning).

Key points:

Marketing as a driver of innovation

Creating breakthrough customer value

Being market driving rather than market driven

From Market Driven to Market Driving
The session is based on the article by the same title co-authored with Lisa Scheer and Philip Kotler. It will examine the difference between incremental and radical innovation. How to create breakthrough customer value by being ahead of the customer? How to create radical innovation in established firms? The presentation will use examples and videos from consumer products (e.g., Sony), services (e.g., Zara, easyJet), and business marketing (e.g., Dow Corning).

Key points:

Radical innovation in established firms

Creating breakthrough customer value

Being market driving rather than market driven

From One store to Global Dominance in 40 years
Firms today face the challenge of growth and profitability, especially in the face of emerging low-cost business models (e.g., Aldi, Dell, Huawei, IKEA, Southwest). Understanding the key success factors behind these low cost business models as well as how they operate and grow is critical, regardless of whether one wishes to join them or beat them.

The session will use the Wal-Mart case to demonstrate how the company went from a single store in 1962 to the largest company in the world in 2002. A comprehensive approach will be adopted that examines the firm's mission, strategy, operations, human resources, financial model, and marketing.

Key points:

Understanding retailer strategies

Partnering with powerful retailers/distributors

Growth and execution as differentiators

Getting ordinary people to achieve extraordinary goals

Creative Segmentation and Differentiation Strategies
Increasingly, companies face competitors with much lower costs and prices. In response, differentiating one's value proposition and creatively segmenting the market become critical to success. In addition, a disciplined approach to selling value requires documenting and demonstrating the value delivered to customers.

The session will use the easyJet case to demonstrate how a new entrant can create value through creative segmentation and unique value propositions. The presentation will focus on the challenges of developing unique value propositions, competing against low cost players, and value based pricing strategies.

Key Points:

Differentiating from competitors

Creative segmentation

Competing against low cost business models

Marketing as Strategy
The presentation will be based on the recently published book entitled Marketing as Strategy: Understanding the CEO's Agenda for Driving Growth and Innovation. Marketing as Strategy is the first book to cast marketing strategy in terms of the CEO's agenda. Based on more than fifteen years of researching, teaching, and counselling top executives at multinational organizations, the book outlines seven strategic, cross-functional, bottom-line oriented transformation efforts that address the burning issues on the minds of CEOs.

Private Label Strategy: How to meet the Store Brand Challenge
As retailers have become more powerful and global, they are increasingly focused on their own brands at the expense of manufacturer brands. Rather than simply selling on price, retailers have transformed their private labels into brands. Consequently, manufacturers such as Johnson & Johnson, Nestle, and Procter & Gamble, now compete with their largest customers - major retail chains like Carrefour, CVS, Tesco, and Wal-Mart.

The growth in private labels, and its changing character, has huge implications for managers on both sides. Yet, brand manufacturers still cling to their outdated assumptions about private labels. Based on the new book, Private Labels: Competing With and Against Store Brands, this presentation describes the new retailer strategies for private labels, and challenges brand manufacturers to develop an effective response. Most important, it lays out actionable strategies for competing against—or collaborating with—private label purveyors.

Strategies to Fight Low- Cost Rivals
Based on the best selling article in the Harvard Business Review (December 2006). It′s easier to fight the enemy you know than one you don′t. With gale-force winds of competition lashing every industry, companies must invest a lot of money, people, and time to fight archrivals. They find it tough, challenging, and yet strangely reassuring to take on familiar opponents, whose ambitions, strategies, weaknesses, and even strengths resemble their own.

CEOs can easily compare their game plans and prowess with their doppelgängers′ by tracking stock prices by the minute, if they desire. However, this obsession with traditional rivals has blinded companies to the threat from disruptive, low-cost competitors. All over the world, especially in Europe and North America, organizations that have business models and technologies different from those of market leaders are mushrooming. Such companies offer products and services at prices dramatically lower than the prices established businesses charge, often by harnessing the forces of deregulation, globalization, and technological innovation.

By the early 1990s, the first price warriors had gobbled up the lunches of several incumbents. Now, on both sides of the Atlantic, a second wave is rolling in. These low-cost combatants are changing the nature of competition as executives knew it in the twentieth century. What should leaders do?

TEDx Talk
With the outsourcing of basic office tasks and software services to India, western countries are becoming more and more skeptic of free trade agreements, claiming that it transplants jobs from their economies to the developing world. Based on belief that innovation drives competitive advantage rather than free trade agreements, Nirmalya Kumar and his team decided to explore what it would take to transform India into an innovation hub only to find out that it already was.
"India is very well represented in innovation," Dr. Kumar states, "but the innovation that is being done in India is of a form we did not anticipate." While India bears little resemblance to Silicon Valley, Kumar outlines the four types of "invisible" innovation coming out of India today and how they are affecting different players in the global economy.
TEDx Talk 2
Speech