* Please note that while this speaker's specific speaking fee falls within the range posted above (for Continental U.S. based events), fees are subject to change. For current fee information or international event fees (which are generally 50-75% more than U.S based event fees), please contact us.
Top25 Speaker Voting

Nido Qubein needs 7 vote(s) to make it into the Top 25 speakers on Speaking.com!
Speaker Booking Tip
"Tip: find a speaker in your local area to save on travel costs. Most speakers will also reduce their keynote fee for local events. "
For Event Planners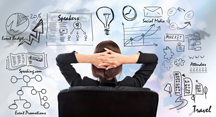 • Keynote Speaker Booking Toolkit.
• Booking a Celebrity Speaker.
• How to Find and Book the Right Speaker.
• Google+ Event Planning Forum.
• Tips for International Clients Booking U.S. Based Speakers.
Similar Speakers
Susan Packard

One of the strongest voices for women in the workplace, Susan Packard grew cable channel HGTV into a multimillion dollar business. Honored numerous times as…

Rasmus Ankersen

Former football player Rasmus Ankersen, a.k.a. "The High-Performance Anthropologist," has carved himself a unique niche in the worlds of coaching and performance improvement. Always sought-after…

Annie Duke

Championship poker player, Annie Duke draws from her twenty-year poker career and cognitive psychology studies to teach people how to make smart decisions in high…

I just wanted to send a quick follow-up note to say – THANK YOU! I appreciate your partnership, and perseverance in helping us to find the right speaker for our group. Our speaker was absolutely excellent! The group loved him; it was perfect.
DeVry Education Group
About SPEAKING.com
Established in 1994, we are exclusive agents for some of the world's leading experts, celebrities and professional speakers.
We offer event planners a fully staffed speaker logistics planning team, plus a personal SPEAKING.com Account Executive – a knowledgeable and trustworthy partner. We guarantee your satisfaction with your speaker and a smooth booking process.
Contact us today to book your favorite speaker.

"My good friend Nido Qubein is one of America ′s top talents and consultants. His zest for life mesmerizes audiences all over the world."
Art Linkletter
Beverly Hills, California

"Nido′s purpose definitely is to serve his clients. He does a fantastic job of communicating the information. His biggest value, though, is the information the audiences take home - it inspires people to take action."
Charlene White
President and CEO
Progressive Concepts
Norfolk, Virginia

"I never cease to be impressed with the standard of excellence Nido sets every time he takes to the platform. The mastery of his techniques is equaled only by the content of his messages."
Casey Kasam
Hollywood, California

"Nido really knows how to move, motivate and communicate with people. His presentation had a positive impact that reflected in increased performance and results."
Graeme Clegg
Chairman
New Image International
Auckland, New Zealand

"You wowed them! Our people kept telling me how much they enjoyed your presentation and, more importantly, how much they learned."
Joseph J. Jacobs, Ph.D
Chairman of the Board
Jacobs Engineering Group
Pasadena, California

"Your presentation was both educational and informative. You set a positive and dynamic tone for our special event."
Susan G. Vinson
President
Consolidated Distributors
Monroe, Louisiana

"There are many so-called professional speakers on the circuit today. I am pleased to say that Nido is in a very distinguished class and that we will invite him back soon."
R. K. Sehgal
Chairman and CEO
Law Companies Group
Atlanta, Georgia

"It′s an honor to recommend Nido Qubein. His presentations to our two most important sales management meetings were outstanding. He did such a great job for us."
Neil L. Jones
Director of Sales Training
Radio Shack
Fort Worth, Texas

"Thank you for the wonderful job you did as our opening speaker at our national convention. You were a smashing success."
Harold L. Waddell
President
Realty World
Burnaby, Canada

"His commitment and follow through made Nido′s presentation at our convention tremendous. He did his homework to understand our philosophy and then used his skill and knowledge in teaching the points we asked him to cover. The benefits have been unbelievable."
Lowell E. Foletta
President
Water Resources International
Phoenix, Arizona

"Your considerable skills showed well at our annual sales meeting. You did a superb job."
Michael K. Dugan
President
Henredon Furniture Industries
Morganton, North Carolina

"Your presentation was very effective and made our dealers feel like you knew who they are and what is going on in our industry. You gave us an outstanding presentation."
David A. Slikkers
President
S2 Yachts
Holland, Michigan

"On our seminar evaluations, Nido Qubein was marked outstanding by every single participant. His materials gave us ideas we could put to work immediately. He provides inspiration with substance."
Martie Ormsby
President and CEO
GN Danavox
Minnetonka, Minnesota

"The accolades keep rolling in! Your message was just what our attendees needed. Many thanks for a great job."
Joseph P. Logan
Director of Finance
American Furniture Manufacturers Association
High Point, North Carolina

"Thank you for the superb program. Very few speakers have the ability to captivate an audience of normally antsy and impatient sales people for even an hour much less three and a half hours as you did. You were the most popular speaker we have had at any of our National Sales Meetings."
Thomas C. Fishburne
Division Vice President
United Guaranty Residential Insurance Co.
Greensboro, North Carolina

"You were terrific! You helped make this our most successful conference ever. Thanks for making our company look so good."
David Churilla
Director/Group Marketing
Companion Life Insurance Company
Columbia, South Carolina

"Your style of delivery, your words of encouragement and your wisdom, captivated the audience."
Pat Sharpe
Sales Director
AT&T
Charlotte, North Carolina

"I knew you′d be terrific, but you exceeded my expectations."
Dan Maddux
Executive Director
American Payroll Association
New York, New York

"Your message for the general assembly was ′LIFE CHANGING'…and then to top it off, your conversation in the hall afterwards on "transformational impact" is exactly what I needed to hear! It was so profound and hit the pit of my spirit...Thanks again for being transparent enough for me to see where I am and what I need to do...to get where I want to go!"
Audience Member
Bethesda, Maryland

"WOW!! I take to heart your teachings and was astounded to hear an accomplished man cement what I have felt deep down for a long time. You've reminded me that what limits us is our own beliefs and mindset. I′ve always known that I would succeed, but you′ve helped me in a very motivational way."
Audience Member
Topeka, Kansas

"What a fantastic speaker you are! You are definitely someone who has achieved success and not because of what you have accomplished financially, but what you have provided humanity."
Audience Member
Chicago, Illinois

"Your words and outlook on life are extraordinary. Thank you for sharing your story and insights with all of us."
Audience Member
Irvine, California

"I want to thank you for the impact you have made on my life over the past few days. I honestly believe my life will never be the same again. You are truly gifted, and I know that God has given you this gift to inspire greatness in others. You definitely challenged me to take life to a new level of significance. It was an honor and a privilege to hear your insight, and I hope to have the opportunity to cross paths with you many more times in life."
Audience Member
Charlotte, North Carolina

"Your presentation was outstanding, energizing, and applicable to so much more than just the world of business. I found many of the points you made to be helpful in my personal life as well as my business life. I am proud that you represent the best in all of us. Thank you again for reaffirming so many positive aspects that we all need to hear again to keep heading in the right direction."
Audience Member
Greensboro, North Carolina

"We expected good. What we got was great!"
William Sheridan
Director/Sales & Marketing
AmerUS Life
Des Moines, Iowa
How to Be a Great Communicator: In Person, on Paper, and on the Podium
The author gives you the knowledge you need to excel at all types of business communication. He shows that all successful business communication, whether a speech from a podium or a face-to-face conversation, stems from the same basic principles. By using his Five Keys to Successful Communication anyone can unlock the potential to become a great communicator in any medium.
Order Here




Stairway to Success: How to Achieve and Enjoy Success, Wealth and Happiness at Work and at Home
Success is not a matter of luck, an accident of birth, or a reward for virtue. As this hardcover book outlines, success is a matter of decision, commitment, planning, preparation, execution and recommitment. Success doesn′t come to you; you must go to it. This book will help you find the right steps to achieve greater things in both your personal and professional life. Read it and discover a whole new you!
Order Here





Change
Change is an eternal concept. In today′s competitive marketplace, organizations must be able to grasp the reigns of change to ride it to a successful future. Many people are afraid to alter their behaviors, but it often proves more threatening than challenging. Nido Qubein transports audiences on a journey through business examples from his careers as a university president, business leader, corporate executive, and public speaker. He talks about change in an enlightening and transformational way so that audiences actually want to change for the better! Whether it is reculturing an organization or changing the mindset of an individual, this topic is as popular and timely as ever.

From Success to Significance
Out of adversity emerges abundance. Difficult times often are filled with opportunities. Nido Qubein came to the United States as a teenager with little knowledge of English, no contacts and only $50 in his pocket, yet ended up a mega-success story. Today, he is president of a leading university and chairman of a national retail company - and one of the most sought-after leadership speakers on the professional circuit. Qubein will share his own story, and his ideas and strategies for succeeding through even turbulent times. This dynamic, authentic, entertaining speaker delivers a powerful, inspiring message on finding focus, balance and meaning in business, and in life. You′ll leave this presentation entertained, and inspired to be impactfully innovative.

Achieving Peak Performance
This presentation will show you how to prepare your employees for high productivity and your company for maximum profitability. Learn how to grow a well-trained, educated and motivated team. Nido Qubein makes an important point: Teaching people skills without giving them a vision for a better future—a vision based on common values—is only training. He goes beyond dictionary definitions to show that yesterday's thinking looks at the tasks people perform today and asks "How can we train our future employees to do these things?" Tomorrow's thinking looks at the kind of people needed to execute corporate strategy and finds ways to educate employees to become those kind of people.

How To Sell, Serve and Succeed
To sell effectively in today's ever-changing, competitive world, one must master sales skills and behavioral knowledge. Nido Qubein teaches both with humor and audience involvement. He focuses on the Law of Identification (when something becomes personal it becomes important; treat every customer as if you're about to lose them) and teaches participants to ask penetrating questions (how must this person feel first so that this person will buy from us?). Nido Qubein emphasizes: Prospects don't want to buy your product; they want to buy the product of your product. Remember: Your service and product must be better than your competitors and your customer must readily acknowledge that.

If I wanted to Buy What You Sell, Would I Buy It From You?
Why should people do business with you? How easily can someone else imitate what you do? Do your customers think of you first? Nido Qubein shares dynamic principles for personal and corporate achievement. It doesn't matter how much you know or what you can do. What matters is what your customers and colleagues believe and perceive you can do for them. Do they understand and value what you are offering? Your positioning reflects other people's confidence in your ability to do whatever you do with professional competence and expertise-how much they trust you to meet their needs. Your positioning is the way people feel about you and your work; it's about the way you make them feel when doing business with you. Nido Qubein shows your audience how to "position" for maximum results using a practical approach and a professional strategy.

Communicate Like a Pro
Communicating effectively with people, inside your company and beyond, is a minimum-requirement skill in our ever-changing global marketplace. This presentation is designed to help your audience develop the communication skills required and to wield them with power and effectiveness. They'll learn not only the basics, but many of the finer points Nido Qubein has picked up during a long and successful career as a professional speaker, author, and advisor to top executives and to successful companies, including specific strategies used to "connect" for persuasion and results. To date he has written a dozen books, delivered thousands of speeches, and showed millions the art of effective communication. Entertaining and educational. An audience favorite!

Change Management/Reculturing an Organization
Change is an eternal concept. In today′s competitive marketplace, organizations must be able to grasp the reigns of change to ride it to a successful future. Many people are afraid to alter their behaviors, but it often proves more threatening than challenging. Nido Qubein transports audiences on a journey through business examples from his careers as a university president, business leader, corporate executive, and public speaker. He talks about change in an enlightening and transformational way so that audiences actually want to change for the better! Whether it is reculturing an organization or changing the mindset of an individual, this topic is as popular and timely as ever.
Interview
Speech Excerpt