* Please note that while this speaker's specific speaking fee falls within the range posted above (for Continental U.S. based events), fees are subject to change. For current fee information or international event fees (which are generally 50-75% more than U.S based event fees), please contact us.
Top25 Speaker Voting

Nick Sarillo needs 6 vote(s) to make it into the Top 25 speakers on Speaking.com!
Speaker Booking Tip
"Tip: speakers bureaus can provide: speaker fee negotiation, insurance, smooth logistics and value add-ons such as extra sessions. "
For Event Planners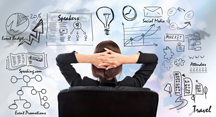 • Keynote Speaker Booking Toolkit.
• Booking a Celebrity Speaker.
• How to Find and Book the Right Speaker.
• Google+ Event Planning Forum.
• Tips for International Clients Booking U.S. Based Speakers.
Similar Speakers
Dr. Brian Wong

Brian Wong, MD, MPH, CEO As a nationally recognized "organizational diagnostician," and CEO of The Bedside Trust, Dr. Brian Wong helps organizations generate relational answers…

Anne Mahlum

At age 26 social entreperneur, Anne Mahlum launched Back on My Feet, a nonprofit organization that aims to foster self-sufficiency in homeless participants through the…

Nicholas J. Webb

Nicholas J. Webb is one of the most prolific business thought leaders in the United States. He is a Senior Partner at Lassen Scientific, Inc.…

Finding the appropriate speaker for an event is a challenge. Your stellar speakers agency made the process extremely easy. I would recommend your agency to anyone.
Mercury University
About SPEAKING.com
Established in 1994, we are exclusive agents for some of the world's leading experts, celebrities and professional speakers.
We offer event planners a fully staffed speaker logistics planning team, plus a personal SPEAKING.com Account Executive – a knowledgeable and trustworthy partner. We guarantee your satisfaction with your speaker and a smooth booking process.
Contact us today to book your favorite speaker.

"Nick was great. I received nothing but positive comments from the attendees. I asked for feedback from several customers. Their responses ranged from "I liked it," to "I'm making changes tomorrow!" He delivered exactly what I wanted."
David Hancock
Director of Business Resources, Sysco Central Illinois
"Nick brought passion to a whole new level while telling his story at Summer Brand Camp. He delivered a unique and heart felt message that left the audience with actionable items to take back and implement at their own organizations. Attendees were touched and motivated by his story and talked about it for weeks after the event! Nick would be a great addition to any speaker line up."
Sarah Atkinson
Director of Marketing People Report & Black Box Intelligence
"We were thrilled to feature Nick Sarillo as a presenter to over 100 Ann & Robert H. Lurie Children's Hospital of Chicago leaders. He quickly connected with our leaders through his genuine and powerful storytelling style. Nick provided practical, relevant and thought-provoking tools which included his Trust and TrackTM process. In addition, Nick shared with our leaders his proven methods to improve team retention, productivity and customer service. Most gratifying was to hear from a number of our leaders having implemented those tools within their teams."
Cynthia Riehman
Director Leadership & Organizational Development Ann & Robert H. Lurie Children's Hospital of Chicago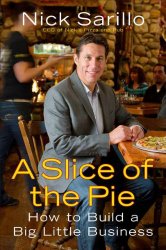 A Slice of the Pie: How to Build a Big Little Business
How does a suburban pizza joint end up profiled on national magazine covers and network TV news? (Hint: The secret is not in the sauce.)
When Nick Sarillo decided to open a family-friendly pizza restaurant in the suburbs of Chicago, people thought he was nuts. Having worked as a carpenter for much of his adult life, he lacked any formal experience in restaurants or in managing a small business. Everyone told him no one else would ever care about his place the way he did. They warned he'd have to work 20-hour-days and monitor every employee just to stay in business.
But Sarillo saw things differently, and set out to run his business in a radically different way. Today Nick's Pizza & Pub is one of the top ten busiest independent pizza restaurants in the country, with two locations that gross about six times the revenue of the typical pizza restaurant. And in an industry where most employees leave within less than a year, Nick's annual turnover rate is less than 20 percent.
How did he do it? The secret lies in Nick's purpose-driven culture, in which every employee—from the waiters to the chefs to the managers—is equipped with the tools necessary to do their jobs while also advancing the company's overall mission. The result is higher sales, a dedicated team, and a big little business that is beloved by the entire community.
In A Slice of the Pie, Sarillo tells the story of how he built his extraordinary culture and shows how anyone can follow his methods. For instance, Nick's managers engage the staff by tracking and rewarding unusual metrics, such as how many guests request a particular server or the average check amount of each carryout host. Likewise, team members of all ages and levels of experience are encouraged to express themselves, acquire new skills, and suggest ideas to help the business grow.
A Slice of the Pie will help transform even the smallest, simplest, and most ordinary business into a successful, high-performance organization.

Build a Big Little Business: How to Lead High Performance through Purpose and Values
Do your employees love to come to work? Join Nick Sarillo, author of A Slice of the Pie, and Founder of Nick's Pizza and Pub as he shares his success secrets to turning any small business into a successful, high-performance organization. One where employees do love to come to work – and it shows, each and every day through their performance. Nick's is one of the top ten busiest independent pizza companies in the United States with per-store sales and nearly 200 employees. Margins are often twice those of the average pizza joint, while employee turnover is less that 20 percent per year in an industry that averages more than 150 percent.
Trust & Track Leadership™: Learn a New Leadership Approach to Small Business Success
The restaurant industry is known for having 150-200 percent employee turnover rates. With almost 200 team members, Nick's Pizza & Pub maintains less than a 25 percent turnover annually. How can that be? Today's ever-changing business environment requires a new type of leader to be more effective in the way we coach and develop our people. Be inspired to shift from the dated command-and-control style of leadership and join the Trust and Track Leadership™ movement.
Customer Service: "It's A Wonderful Life": Support Your Customers by Supporting Your Team
Have you ever left a $1000 tip for a $35 restaurant bill? At Nick's Pizza and Pub this has happened four times. Nick Sarillo's compelling and surreal "It's A Wonderful Life" story about an everyday business that was able to rally and unite an entire community serves as a great example of how clearly defining your company's purpose and values can create a world-class culture of customer service in any organization and any industry. Enhancing customer service starts with turning your employees into leaders rather than followers.

The Big Little Business : Nick Sarillo at TEDxNaperville
Nick talks about the importance of establishing trust with your employees and tracking their achievements. Too many businesses fail to achieve their full potential or just plain fail because unhappy workers lead to low productivity and high turnover. Shifting from the traditional management style of "command and control" to Nick's "trust and track" strategy can supercharge your business, profits, and contribution to your community.
Creating a culture of trust, one slice at a time: Nick Sarillo at TEDxTU