* Please note that while this speaker's specific speaking fee falls within the range posted above (for Continental U.S. based events), fees are subject to change. For current fee information or international event fees (which are generally 50-75% more than U.S based event fees), please contact us.
Top25 Speaker Voting

Nick Bontis needs 5 vote(s) to make it into the Top 25 speakers on Speaking.com!
Speaker Booking Tip
"Tip: ask your speaker to do a book signing or attend a VIP meal with your guests. "
For Event Planners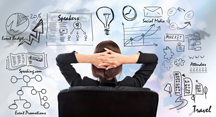 • Keynote Speaker Booking Toolkit.
• Booking a Celebrity Speaker.
• How to Find and Book the Right Speaker.
• Google+ Event Planning Forum.
• Tips for International Clients Booking U.S. Based Speakers.
Similar Speakers
Susan Ershler

History-making mountain climber and Fortune 500 executive, Susan Ershler has scaled mountains in both the natural world and business world. During ten years she and…

Dennis Snow

Customer experience expert, Dennis Snow shows organizations across all industries how to stand out from their competition by delivering world class service. For 20 years,…

Dr. Howard Wasdin

During his military career, Dr. Howard Wasdin was shot numerous times during a horrific battle and suffered structural deviations that altered the way he walked.…

Finding the appropriate speaker for an event is a challenge. Your stellar speakers agency made the process extremely easy. I would recommend your agency to anyone.
Mercury University
About SPEAKING.com
Established in 1994, we are exclusive agents for some of the world's leading experts, celebrities and professional speakers.
We offer event planners a fully staffed speaker logistics planning team, plus a personal SPEAKING.com Account Executive – a knowledgeable and trustworthy partner. We guarantee your satisfaction with your speaker and a smooth booking process.
Contact us today to book your favorite speaker.

"Immediate feedback indicates it was one of the most well received presentations we have offered in many years. The subject matter was fresh, the pace was perfect and your own energy level was infectious. For the duration of the convention, delegates were quoting your presentation and engaging in considerable discussion about it."
Ontario Road Builders′ Association
"Do NOT design a conference program without considering him as your main event keynote speaker. He is, defacto, the reason why any one should attend an event he speaks at!"
ING Bank
"Nick' reputation as a world expert in his field is indisputable. However, the real magic occurs when he steps in front of a crowd. His charisma acts like a magnet and captures everyone's attention."
United Nations
"Not a single person left the room without a vision and a commitment!"
Uniglobe Travel
"Bontis' talent for forcing the audience to think differently was of great benefit – a completely new view on how organizations can be left behind should they decide not to change."
London Drugs
"I personally very much enjoyed his dynamic and refreshing presentation. His efforts and dedication are already showing rewards."
Treasury Board of Canada
"He delivers true wisdom. I felt motivated to carry the message to almost anyone who would listen."
The Strategy Institute
"Dr. Bontis is an enthusiastic and engaging speaker. He articulates leading edge thinking"
Ernst & Young
"You leave his sessions not only feeling energized but having also learned so much!"
Bank of Montreal
"He was the funniest, yet most insightful business speaker I have ever heard!"
Young Presidents Organization
"You did an outstanding job! The best speaker I've seen in 15 years! From humorous to inspirational speaking you have offered a motivational message like no other. You have brought excitement, expertise, and inspiration to the members of our group. Your topics were key in opening the mind with refreshing thoughts and visual gestures."
Cascades Boxboard Group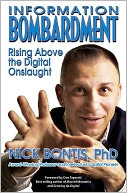 Information Bombardment
Information Bombardment provides proven, real-world solutions for proactively managing the onslaught of information we face each day both in and out of the office.
Dr. Nick Bontis weaves humor and personal stories with industry best practices and uses a simple framework of multilevel analysis to show you how to transform this real threat to productivity into an inimitable and sustainable competitive advantage for you and your organization. By teaching you how to work smarter, not harder, Dr. Bontis essentially gives you back your time. It is nothing short of amazing.
It′s Time to Work Smarter, Not Harder!

Improve your ability to sort through all of the e-mails, tweets, posts, instant messages, Web sites and other digital items that overload you
De-stress your life so that you can eliminate information-induced pressure, stress, anxiety, fear and other health-related problems
Reprioritize and simplify your informational sources so you can accelerate productivity and lift performance to higher levels
Speed up innovation through increased collaboration among your team members, colleagues and other stakeholders
Achieve industry-leading competitiveness by harvesting the full intellectual capital potential of your organization
Leverage key learning insights to stay ahead of the technological challenges that will face knowledge workers in the future
Order Here
Think Ahead! Take a Knowledge Journey
Are you overwhelmed by information bombardment? Do you have too much to do and not enough time to do it? By the 1930's, all the information that existed in the world doubled every 30 years. By the 1970's, this rate shrunk to 7 years. By the year 2010, all the information that exists in the world, will double every 11 hours! Information bombardment is the single most damaging threat to productivity. But, it doesn't have to be this way. Why not transform this threat into a sustainable competitive advantage for you and your firm? During this enlightening and action-packed presentation you will learn how to:

Cope with information bombardment
Improve your ability to manage change
Lift productivity and efficiency
Speed up innovation
Achieve industry leading competitiveness
The Ultimate Performance Accelerating Activity for Teams
Employees spend in excess of 50% of their time looking for answers and then spend 20% of their time replicating answers for others. Is your team suffering from the same dilemma? Does your team seem to be spinning its wheels? High performance teams are supposed to harvest the synergy embedded in all of their members to create value above and beyond what each person could do on their own. During this inspirational and engaging presentation you will learn how to achieve your team's full potential as well as:

Enhance team collaboration and coordination
Avoid waste and duplication costs
Promote knowledge sharing vs. hoarding
Accelerate your team's productivity
Unleash new ideas and creativity
A Competitive Edge for Leaders
The average Fortune 500 company loses $64 million dollars a year because of ineffective knowledge sharing. Firms generally leverage only 2% of their employees' talent, which is also the #1 reason why employees leave their jobs. As your organization's leader, it is your responsibility to make sure that your firm is fully engaged and operating at optimum capacity. Unfortunately, some leaders misallocate their resources. Or worse, some leaders have no clue what strategic initiatives are necessary to achieve great performance. Let Dr. Bontis navigate you towards the best performance you have ever experienced. Using a unique causal modelling methodology he developed you will learn how to:

Understand exactly what impacts revenue and profit
Decrease expenses by reducing waste
Retain loyal and committed employees
Appreciate exactly which investments are worth making
Optimally allocate your scarce resources
Selling in the Nick of Time
Today's sales environment is competitive and complex, with businesses selling through many channels including direct marketing, value-added resellers and e-commerce. To stay ahead of the game you need to learn how to sell "in the Nick of time". The days when customers relied solely on the salesperson for information are long gone. Information is abundant and at everyone's fingertips. Successful salespeople use customer knowledge as their main competitive weapon for nurturing long-lasting relationships. Learn how to attain loyal and committed customers, with less effort then ever before.

Discover tomorrow's trends today, keeping you ahead of the curve
Embrace the concept of "Re" which will keep you current and topical
Learn the one sales tool that will have you working smarter not harder
Empower the analytical skill within you to provide more than just information
Experience synergies never before realized with your sales and marketing team
Combating the Biggest Threat Ever! Organizational Dementia
Baby-boomers carry a massive amount of know-how in their heads and are generally responsible for the smooth functioning of almost every organization. They hold a lifetime of experience and expertise, and soon they will simply walk out the door. Capturing this intellectual capital (brainpower of the organization) before the imminent threat of retirement is a crucial task for every manager. However, do Gen Xers and Gen Yers realize their role in sustaining the memory of every organization. Furthermore, does your organizational leadership appreciate that something must be done now instead of later? During this presentation you will learn:

How to turn this pending threat into an advantage
What challenges lay ahead
How to ensure a smooth transition
Why various scenarios of knowledge loss affect performance in different ways
What you can do to retain more critical knowledge in the face of major turnover
Speaker Demo Video
With his typically dynamic style Dr. Nick Bontis dispels some of the myths about what is really important in becoming the best you can be in the corporate world. He asks his audience, "What is the most scarce resource? Time? Put your hand up if you said time? You're wrong. On my watch here it says 9:20 AM, tomorrow at 9:20 AM I will have 24 hours, guaranteed. There's nothing scarce about that, if it is guaranteed for you. You got as much time as you want, guaranteed in perpetuity."
Talking from real-world experience, Nick speaks of the lessons he has learned from his own son: "What's the only thing a one-year-old child wants to do? Play. And what's daddy doing? Checking on the BlackBerry… and a one-year-old child can analyze too, he sees what you're doing, when I'm not looking he swipes the BlackBerry and throws it in the toilet. That gets my attention. The scarcest resource we have as analysts is not time, but attention."
Challenging his audiences to think about their conventional processes, he says, "Put your hand up if you're sitting next to someone you know. That's the biggest mistake you've made today so far. I want you after my session is done to sit next to somebody you don't know, because socialization is key in the analytical world."
Speech Excerpts