* Please note that while this speaker's specific speaking fee falls within the range posted above (for Continental U.S. based events), fees are subject to change. For current fee information or international event fees (which are generally 50-75% more than U.S based event fees), please contact us.
Top25 Speaker Voting

Nicholas J. Webb needs 3 vote(s) to make it into the Top 25 speakers on Speaking.com!
Speaker Booking Tip
"Tip: ask your speaker to do a book signing or attend a VIP meal with your guests. "
For Event Planners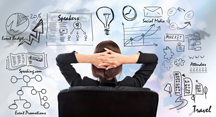 • Keynote Speaker Booking Toolkit.
• Booking a Celebrity Speaker.
• How to Find and Book the Right Speaker.
• Google+ Event Planning Forum.
• Tips for International Clients Booking U.S. Based Speakers.
Similar Speakers
Greg Smith

Motivational and Keynote Speaker, leadership speaker Greg is a high energy speaker that brings practical ideas that can be immediately applied to the workplace. He…

Sasha Strauss

One of the most brilliant minds in marketing, Sasha Strauss is the founder and manager of the consulting firm, Innovation Protocol. From Fortune 500 companies…

Stephen Harvill

Steve Harvill, President and CEO of Creative Ventures, has been sharing his concepts and strategies with companies for 30 years. From the Fortune 500 to…

Working with your speakers agency on our training projects during the year proved to be a great business choice. I felt that my account reps were always around when I needed them, willing to help and listen. They showed flexibility when it was required and were reliable and dependable.
KPMG, Europe
About SPEAKING.com
Established in 1994, we are exclusive agents for some of the world's leading experts, celebrities and professional speakers.
We offer event planners a fully staffed speaker logistics planning team, plus a personal SPEAKING.com Account Executive – a knowledgeable and trustworthy partner. We guarantee your satisfaction with your speaker and a smooth booking process.
Contact us today to book your favorite speaker.

Industries We Serve
The rules of innovation apply across all industries. However, our wide range of industry experience provides a unique and special benefit to your organization. We understand the market drivers and other environmental factors that affect your organization. This industry-specific expertise allows us to deliver a world-class customized training program.

Biotechnology
Consumer goods and retail
Electronics
Energy
Financial services
Healthcare delivery
Medical device industry
Digital media
Software
Telecommunications
Automotive
Consumer packaged goods
University technology transfer
State agencies
Chemical and process industries
Fresh produce and farming
Supply-chain management
Purchasing
Services industries
Innovation management
Private equity
Aerospace and defense
Consumer & industrial Hardware
Manufacturing

And here′s what some of our clients are saying about Nicholas Webb′s keynote programs...

"Nicholas Webb's keynote was ranked NUMBER ONE out of the 25 professional speakers at this years Orthoworld annual meeting. His message provided real-world answers not theories or concepts."
Jack Detweiler,
Vice President, Business Development,
ORTHOWORLD

"Nick's program taught us how to turn a failed product into a multi-million technology. Now that's a great return on investment."
John Konefes,
University of Northern Iowa

"Our audience loved Nicholas's message, but more importantly they respected him because of his real-world expertise. Our selection committee has already asked him back for the 2010 conference."
Michael Good,
Pharm.D., MBA,
VCRI

"Very inspiring and real. In a world of hype, Nick cuts through to the core."
John Lopker

"Nick cut out the u and provided real substance that could be immediately implemented as soon as you leave."
Mike Kirkpatrick

"A wonderful seminar experience. One of the most professional and positive experiences of my career!"
Charlie Childers

"Excellent to be provided a system to use in evaluating the viability of a product."
Joanne Angell

"An easy to follow plan. To get to point "D", you must rst go to 'A' through 'B' through 'C' and if your ideas make it through the proper steps, then and only then do you do 'D.'"
Bruce Engles
The Digital Innovation Playbook: Creating a Transformative Customer Experience
Praise for The DIGITAL Innovation Playbook

"The Digital Innovation Playbook is the product of Nicholas′s inventive mind, countless hours of research, and keen perspective on all things digital. Not only do I value Nick′s advice, but I also enjoy the passion with which he delivers it. That said, I couldn′t imagine leaving you in more capable hands."
—Steve Faktor, Vice President, Business Growth and Innovation, American Express, from the Foreword

"Nicholas Webb′s theories on innovation and innovation management are so insightful, practical, and visionary that they have becomes the best practices of innovation management for future."
—Dr. Johan Kotze, Innovation Manager Racquet sports,HEAD Sport GmbH
Order Here




The Innovation Playbook: A Revolution in Business Excellence
If 84% of top business leaders think innovation is critical to their organization′s success, then why do 95% of new products fail in the marketplace and less than 1% of the 2,000 patents issued each week ever return a profit to their company? Addressing the dismal failure rate of corporate innovation head on, The Innovation Playbook provides a complete road map to a revolution in business excellence founded on innovation.

Written by successful innovator Nicholas J. Webb—who has launched more than 300 innovations and has been awarded more than 35 patents by the U.S. Patent Office—Part I of The Innovation Playbook highlights the importance of innovation in today′s corporate world and details the reasons why so many of today′s organizations can′t get it done. Part II then lays out in six chapters the Nicholas Webb solution to achieving success through innovation.

Whether you are a business owner, C-level manager, R&D manager, marketing manager, or inventor, here, you will discover:

Why innovation isn′t working in today′s organizations
The obsession with risk and risk management
Common "myths" about what innovators and innovative organizations should do
The magic combination of customer focus, process, and culture that separates true innovation superstars from the rest of the pack
The crucial concept of net customer value, including Webb′s "value strata" set of standards of excellence and how to achieve it
How you can get really close to customers and establish the "conduits of connectivity" necessary to truly understand net customer value
A unique, modifiable framework and toolbox to find new ideas from external and internal sources, filter those ideas, and move them through the development process at utmost speed
The key cultural components in an organization that support good innovation and tips for how to get there, with particular emphasis on using today′s digital media tools to support innovation
Case examples of companies that have "made it," how they did it, and how to become a superstar using the Certified Innovation Superstar certification and training program

Complemented by a companion web site that helps you put theory into practice, The Innovation Playbook′s blueprint to success prepares managers and inventors to get their Innovation Superstar certification as well as implement a successful innovation culture in real corporate life.
Order Here




The Cost of Being Sick


Healthcare futurist and medical product inventor Nicholas J. Webb, explores seven key predictions regarding the future—and the reality—of America's current health care system. Based on current studies, The Cost of Being Sick follows today's trends to their logical finales. Avoiding this imminent crash, however, can be done. With health benefits slipping while the cost of treatments continues to escalate all in the face of poor health routines that feed the disease process, there is only one possible course of action. Each of us must accept the responsibility for our own health—not only for ourselves, but for our children as well.

And here's the silver-lining: Not only does The Cost of Being Sick expose the cause of our failing health-care system, but it also presents the cure. And the cure promises more than just relief from the problems we are facing. This cure also promises a better lifestyle and a strengthened financial position.

So what exactly is "the cost of being sick?" The price is more than you will want to pay—but it is a bill you can avoid.
Customer Service Topic Introduction:
The old days of delivering customer service are completely obsolete. The best organizations in the world know that they must gain far better customer insights, across the entire customer journey. Moreover, they need to engineer each and every customer touch point in order to compete in a hyper-competitive and digitally connected economy. Nicholas Webb is the country's top thought leader in the area of consumer insights and customer experience engineering. In Nicholas's keynotes he provides actionable takeaways that your audience can use immediately to drive market-leading customer experiences.
Innovation Topic Introduction:
The word "innovation" is used a lot. Unfortunately, most organizations are struggling to apply this powerful word to their businesses to drive growth, profit, and customer loyalty. Nicholas Webb is one of the world's top innovation thought leaders. Unlike other innovation speakers, Nicholas is a multiple award-winning inventor that has launched hundreds of products and technologies to the market place. As a senior partner at Lassen Innovation, Nicholas works with organizations to apply the latest principles of innovation best practice into their enterprise. Nicholas delivers actionable insights that your audience can apply immediately.
The Future of Business Topic Introduction
The marketplace and the economy are the subject of explosive change! Unfortunately, most organizations have not developed the necessary infrastructure to drive innovation and customer loyalty. World-renowned corporate strategist and business futurist, Nicholas Webb outlines the future of technology, business and digital engagement. In his powerful keynote address, Nicholas walks your audience through the economic effect of "hyper-connectivity" and what it means to your business. Nicholas is an award-winning innovator and advisor to some of the top brands in the world. His keynote will leave your audience with the tools to succeed.
The Future of Healthcare Topic Introduction
The best way to describe healthcare is with one word, "disruption". Most organizations are clamoring to understand the trajectory of change in healthcare. In Nicholas Webb's upcoming book, Wave Three, Webb predicts the future of healthcare in America, in stunning detail. In Webb's first healthcare book written nearly 15 years ago he predicted all of the current changes that are now taking place. So, if you're looking to understand the future of change and what it means to your organization look no further.
The Future of Technology Topic Introduction
There is a groundswell of change that will affect every organization in the world. Driven by the hyper connected economy, many organizations will become obsolete in the next 36 months. Technology futurist and successful inventor, Nicholas Webb walks you through the effects of API'S, 3D printing, laser scanning, hyper influencing social networks, and hyper connectivity. Organizations that ignore these trends will quickly find themselves irrelevant. Nicholas will leave your audience with actionable insights and takeaways that they can apply to their jobs and businesses immediately.

Keynote Speech
Nicholas points out the possibility that innovation itself has been reinvented. Using engaging video clips and illustrations to accent his keynote, Nicholas helps companies see how important it is to keep up with the technological and organizational change. "Good is out. Exceptional, layered, and dynamic value rules the day."
Nicholas speaks about innovation and the dangers posed to companies that refuse to adopt it. Nicholas says, "The baseline level of expectation is where most companies live, and it's the beginning of the end."